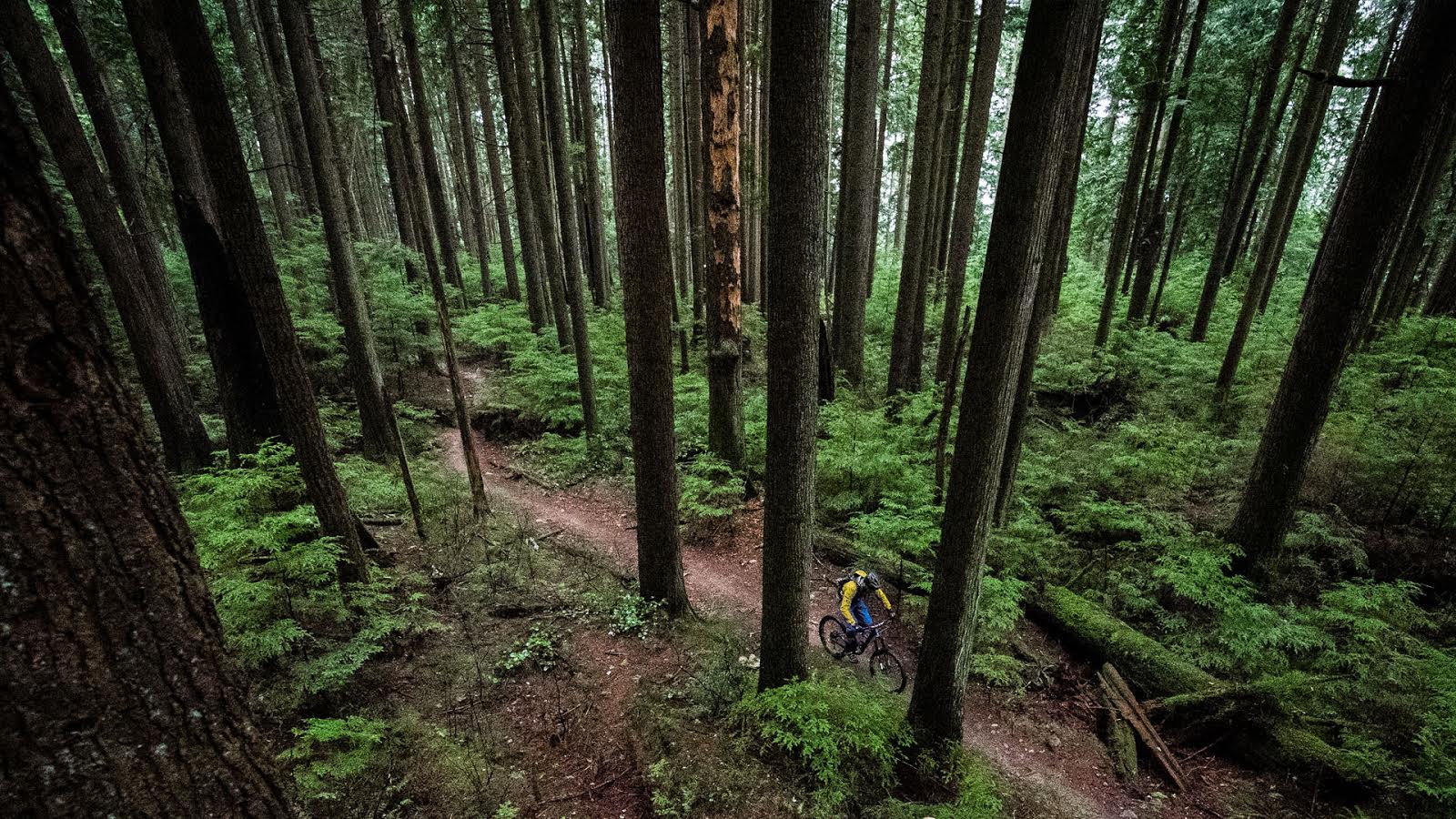 Born Again Hardtailer
I have a thing for old mountain bikes. Pre dually that is. The first squishy bikes are now great as installation art, but I wouldn't want to ride one. I have however harboured residual lust for the third mountain bike I ever owned – a 1994 Dekerf 'mountain'. Some bikes add up to more than the sum of their parts. This bike just seemed to sing when it hit the trail. It was dead silent and the chromoly frame – Reynolds 853 I believe it was – seemed compliant and eager to go.
I bought the lovely tangerine frame off a friend of a friend for $450 and then started putting the hurt to it. I mounted what was then a long travel fork – a 75mm travel Rock Shox Judy – and we were off.

Good as new. This 15 year old frame hardly looks like it's seen dirt – thanks to the paint gun and torch of Chris Dekerf.
At the same time my riding began to get more aggressive. I took a trip to Rossland and for the first time ever *gasp* lowered my saddle for a downhill. I wasn't proud of the move at the time but I didn't look back on the decision. I spent 1998 in Italy with my wife – I took my 1984 Ritchey with me instead – and came back to find my Dekerf just as eager to ride as before.

I won't be mounting a 203mm rotor on the rear – even with the micro gusset. I'm thinking a 160 will have to do.
Then one day I was on Fromme with Trevor, riding GMG – what may be the burliest trail on the North Shore – and I messed up a drop in. The bar turned so the wheel was at right angles to the frame and it dug in. The force lifted the rear wheel off the ground and I felt something give. I tried not to think about what might have happened, pointed it downhill and continued the ride. There used to be a huge, mostly buried old log to ride over close to the bottom of the trail. It wasn't really a stunt and it smoothly transitioned from wood back to dirt. As I rode off the log my frame slowly melted into the ground. When I brushed myself off I noticed that the headtube was no longer attached to the main triangle.

Chris Dekerf was surprised to see the gusset under the downtube of this Generation model. Perhaps it was repaired once upon a time? I couldn't resist the mango Chris King headset.

I literally bit the Bullit (an orange one no less) at that point and became a dually rider – but my fondness for the Tangerine Dekerf never faded.
Five years ago my buddy and former numb team rider Colin Miller was cleaning out his bike room when he came across a 19.5″ Dekerf Generation frame. The Generation was a lower price point model without the integrated seat collar and fillet brazed wishbone seatstays. I believe it also had a heavier, less expensive tubeset. Colin asked me if I'd like his old frame and I jumped at the chance…and then did nothing about it for years.

Ritchey vertical dropouts artfully support the rear wheel. Or they will.
I was reminded of the frame when a press release came around in Sept. 2006 announcing that Chris Dekerf was hanging up his torch. I sent Chris an email asking if my frame could be painted and updated. And then about a month later Dekerf was back in business and I no longer needed to hurry. Orders had flowed in with enough volume to keep the doors open. Almost four years later he's still at it.

I'm looking forward to building the frame up – but not looking forward to getting it dirty and scratched. I'm tempted to frame it rather than build it – but I won't.
A couple of years ago I finally took the frame out to Chris in Richmond B.C. and just recently I got it back. (I think it went AWOL for a time actually) The love is back. I chose Tangerine once again, one of the two original colours, had the canti posts removed, a disc tab added as well as the appropriate cable guides and voila!

Tidy and clean. I've never seen a steel hardtail I like as much as those made by Dekerf.
The frame weighs around 4.5 lbs and it looks brand new. Now the project begins. My vision is to make an all mountain hardtail with thoroughly modern componentry. Chris cautioned me about what a 6″ fork will do to the geometry but I'm pretty sure I want it a little slacker. Of course I'll be putting on some nice wheels, perhaps a little carbon and even a remote adjustable seatpost – since there's no QR on this collar. Please don't call it an XC bike either because I'll be spinning on some flat pedals and pointing it down some steep lines here on the Shore. Will it be up to the punishment I plan to dish out? Can my body handle the punishment it will dish through my spine? Is riding a hardtail fun any more? This experiment should answer all of those questions.
My last hardtail was burly. It was a Norco Rampage built up with DH wheels and tires, a dual crown fork, big rotors, DH bars – it was heavier than my current DH bike. But it could handle anything I could handle as a rider. My favourite part about riding it was what it did for my technique. It made my hyper aware of my rear wheel and when I went back to a big bike I felt like Sam Hill. I'm not asking as much of this bike – but it still may prove to be too much.

And now the fun begins. Time to build her up.
Once she's all built up and ready to roll I'll be back with the final spec along with weights and some ride characteristics. Stoked!
---
Any component suggestions? I've got most of the bits chosen but there is still some decisions to be made. Should I abandon this nonsense and go back to my usual diet of bikes with 6″ or more of rear travel? Does anyone think I'm on to something? Comments welcomed…