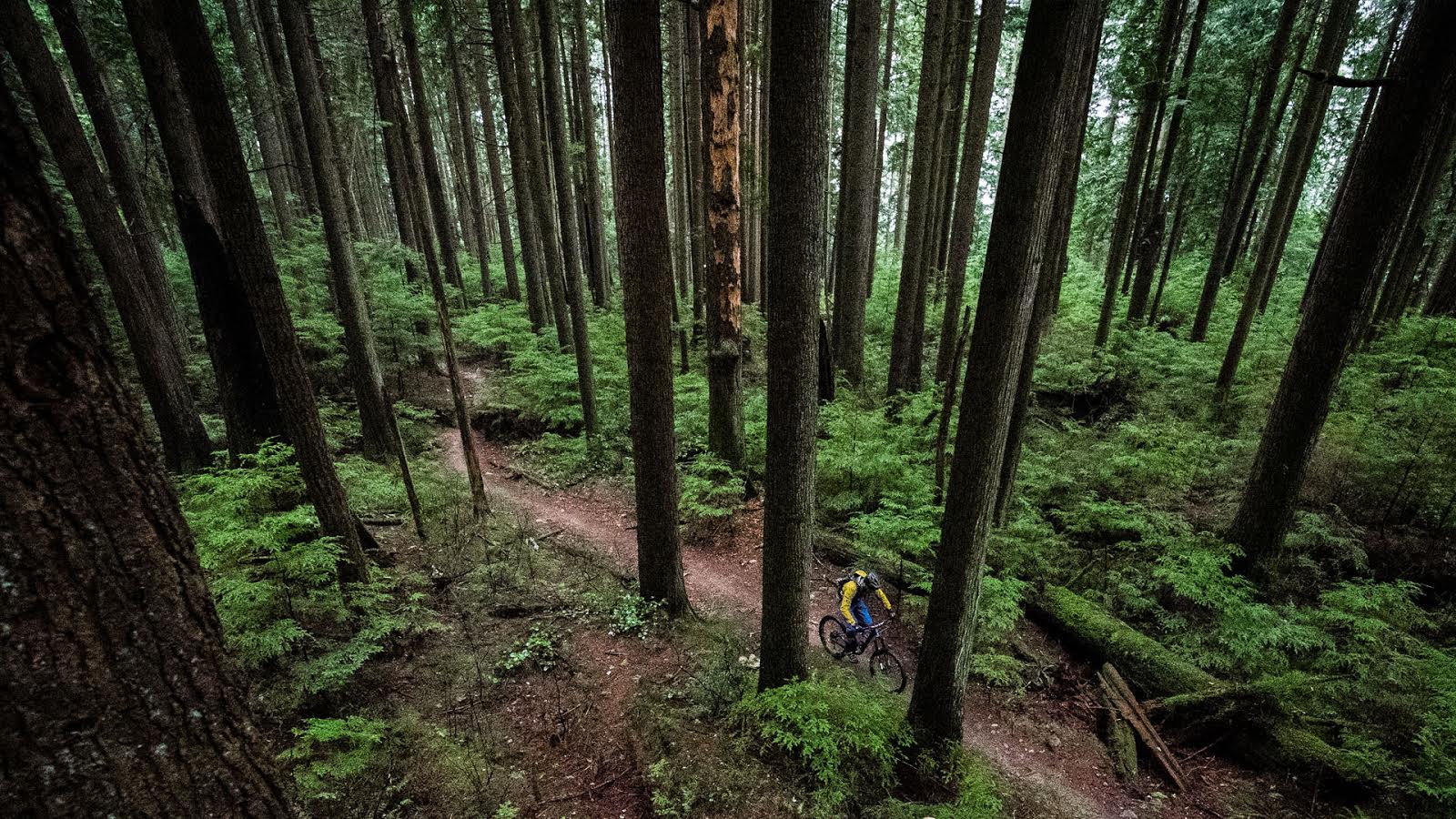 Digger is Back
It was a long break. Todd 'Digger' Fiander hadn't been maintaining his trails for three years.  There were some knee issues that required surgeries and the need to make some real money operating his concrete business, but other factors kept Digger off the mountain as well.  The District of North Vancouver hasn't been happy with his need to build on his own terms and as a result he has been threatened, scolded and shunned by DNV Parks for years.  At least that's the way he tells it.

  The original sign near the top of Ladies Only.
I was hiking Fromme one Sunday afternoon when James Wilson and I stumbled upon Digger working on one of his marquee trails; Ladies Only.  We were awestruck. There is no trailbuilder on earth who can match Todd's attention to detail, his ingenuity, creativity nor his technique.  And if you don't believe me you can ask him.  He had taken lines that seemed beyond repair and made them glorious.  Covered with 'gold,' his name for the hard found mineral soil that makes the best trail surface, this was world class building.

  Pete Chambers – amazed by Digger's trailbuilding art.  The portion of trail you see in the foreground is suspended so water can flow underneath to a water bar lower down.

Early in the fall I walked Ladies wondering if some grant money could be applied to it.  My conclusion was that it didn't need anything.  The trail has been maintained in recent years by the hard work of Ken Bigelow and Trevor Hawkins.  Once rotten and falling down, they replaced many of the structures and the trail was more than rideable from a North Shore perspective.  It was also rough and uncivilized – which is perhaps why I liked it so much.
  Bart's Bridge before Digger's reno.
In light of this, my first reaction was that Digger was going too far.  Many of us have taken years to master these lines and he was making them easier.  The bonus of course is that he's also making it faster, more accessible in the end more fun. When he isn't building for one of his films Digger's always been a builder for the people.  He makes his trails fun and challenging but also accessible to solid riders.  You don't have to be Wade Simmons to have fun on a Digger-built line.

  Bart's Bridge after.  A smooth apron, covered with gold, leads you down to the double drop.  It's a much easier move than before – but less satisfying as well.  Chambers dials it in with ease.

This past Sunday Pete Chambers and I went for a pedal with Ladies in mind.  Knowing we'd see Digger, I packed my point and shoot camera and we were surprised to find him near the beginning of the trail, several hundred metres above where he'd been working earlier.  Water is the biggest enemy here on the Shore.  Without the rainfall that sometimes comes in biblical volumes, trail building around here would be a much simpler task.  If you build a line straight down the hill with no thought to runoff it'll be destroyed in a couple of seasons.  Digger's approach to the Ladies reno is to deal with water problems first and then move on to other issues.

  The cheeriest man on the North Shore.  Nobody works with cedar, rock and soil like Todd Fiander.
The section he had just completed had no easy water solution – so Todd cribbed and suspended the trail above the hard pan and routed the water off lower down.  He's essentially built an aqueduct below the trail.  He told us that the earth that hits your tires is a combination of three different types of soil for optimum drainage, traction and aesthetics, including the aforementioned gold.

  If it's too easy just go faster.
Every time Todd picks up his shovel and his hammer something new comes out of it.  This time it's rungs suspended on their own to allow water to flow through culverts.  The end result keeps you off the roots as well.

  Another buffed section lower down.  Be warned if you haven't ridden Ladies – most of the trail hasn't yet seen Digger's tools.  If you are looking for a less challenging ride drop in to Pipeline right next door. 
Building trails is what Digger loves to do.  In other communities like Whistler, Rossland and Squamish there are paid builders who maintain existing trails and develop new ones.   Considering the frigid relations that have existed between the DNV and Digger it's unlikely they'll thaw enough  for Todd to be that man any time soon.  But it's certainly something to lobby for.  Not only would the trails be impeccably maintained, they would drain better and be more sustainable.  You'll notice replanting and narrowing anytime Diggs has been working on something – with an eye to lower the impact we have on the surrounding forest.  nsmb.com has been working wtih MEC on a project to rebuild a trail called King of the Shore as a beginner trail, and Trevor Hansen has recruited the Shore's most senior builder to help out – so we'll be able to get him some cash.  What then?

  Your tax dollars at work. The District of North Vancouver brought in a machine as well as tonnes of gravel and stone and spent a bundle upgrading this section of Cedar Trail. What was wrong with it before?  I'm not sure actually.  It was a wide line through the forest that was probably once a skidder trail left over from logging operations.  I'd hate to see something like this traversing the lower flank of Fromme above Dempsey Street all the way to the second switchback. 
The District of North Van has plans to build a trail from the Dempsey and Braemar intersection to the second switchback on Fromme. There was some talk that it would be a road but I'm hopeful they will abandon that horrendous scheme.  If left to themselves, to build with union labour, this trail would become a wide, smooth crushed gravel path like the one that was replaced Cedar Trail near the first switchback.  I'm not sure if anyone would prefer that option to a narrow, natural trail made with found materials – and who better to build that than Digger?  His line would blend in with the surroundings, deal with runoff efficiently and be a complement to the exisitng trail network – rather than an obtrusive scar across the mountainside.
Here's my Vote for Digger as North Shore trail master.
---
Have you ridden the partially renovated Ladies Only?  Want to put some support behind the District putting Digger on the payroll?  Send some props to Digger?  Anything else to say about building, maintaining and riding trails here on the Shore?  Soapbox here…