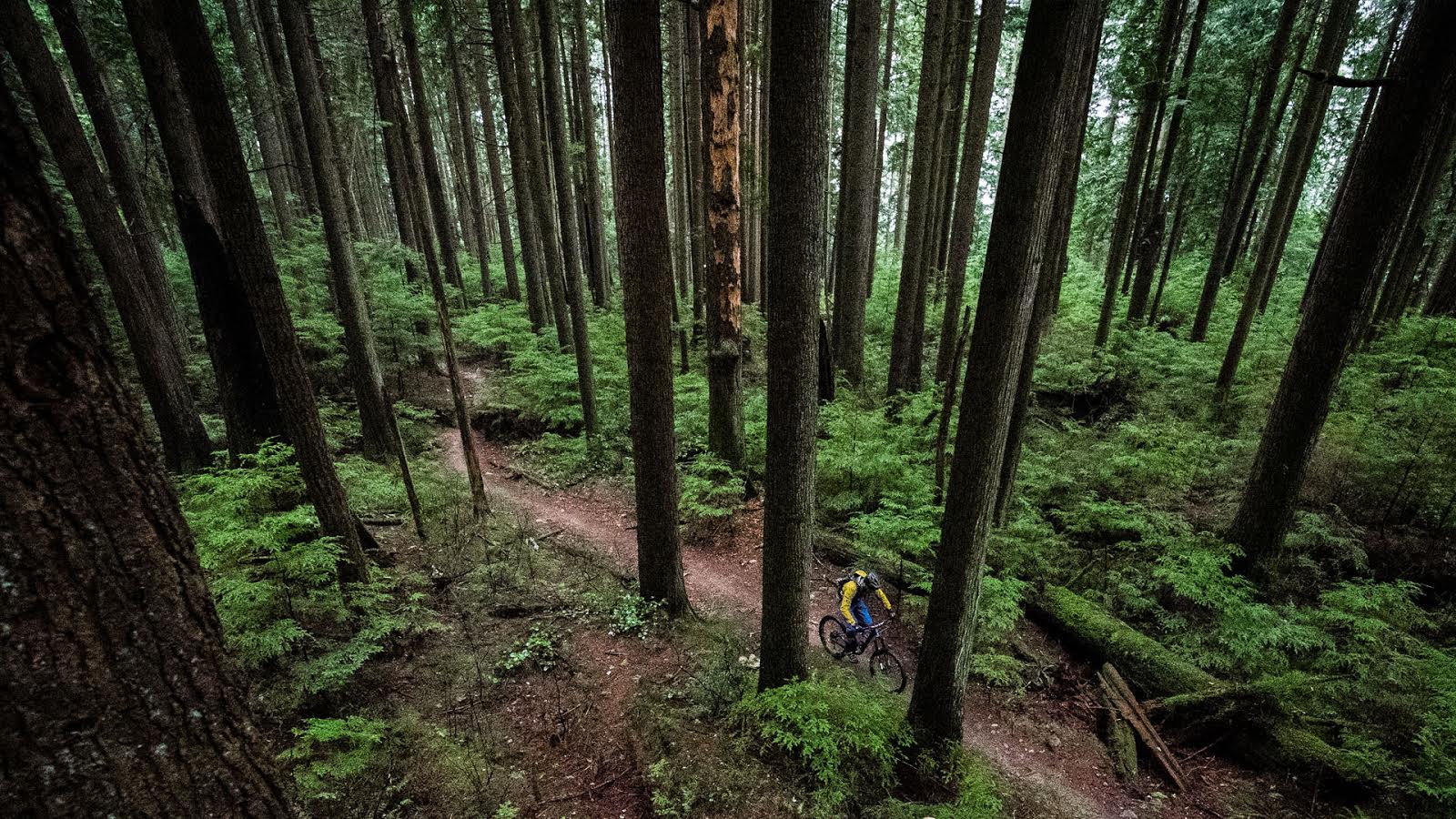 Wade's Wisdom Winner
I would like to congratulate William Jackson! He is the winner of the Bell Drop helmet and Oakley Proven goggles. Thanks for sharing your stories.
---
Just in case you missed it yesterday – here is William's tale of skinny jeans and cuddly creatures.
Hey Wade,
Here's a brief recounting of my most memorable ride of 2009.  I actually wanted to ride the Seven Summits trail in 2008, but a sprained back and stolen car prevented that (whoops!).  This summer I was trying to round up some friends to make the drive out there and ride the trail with me, but work and injuries prevented everyone else from making it (with some morning of departure cancellations even).  So after work the third weekend of September, I packed up my car and hit the road for Rossland hoping for the best.  Unfortunately, about halfway there I realized that I'd left my shorts/jersey in the change room at work, so I was going to be riding in Jeans and a TShirt…  Luckily the drive out there was fun enough that I didn't really think about it again until I got there.
After a mostly uneventful drive, (besides the insane hill climb leaving Osoyoos and the road check in Greenwood), I rolled into Rossland around 11.30. Instead of trying to find a campground I just rocked out with some ghetto fab style at the tourist center/decommissioned weigh scales.
The night was mostly delightful, with a beautifully clear sky and a number of shooting stars. However, I had no idea that this tourist center/decommissioned weigh scales was the most bussy place in Rossland. I saw RCMP parked there picking off cars, about a million friggin trucks using engine retarder brakes and maybe a drug deal. All I know was there were two trucks and a lot of garbage bags involved. 
Here's my room with a view for that night.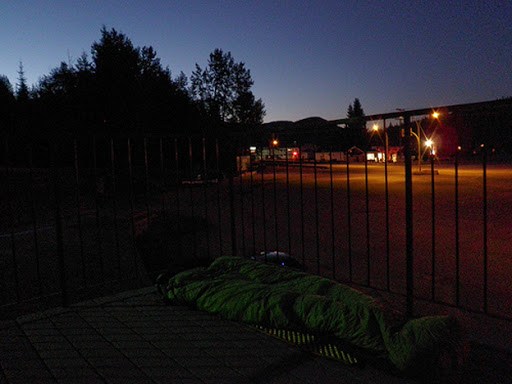 I woke up at the crack of dawn on Saturday from my delightful little gypsy bed and headed into Rossland to see about getting the shuttle up to the 7 Summits and some breakfast. I checked the temperature and my car (that reads 4 degrees too warm) informed me that it was a balmy 9 degrees overnight. Good thing my sleeping bag is warm to -12C… 
As you can see here, I'm super excited to discover that you need to have at least 2 people before they'll shuttle you to the trailhead and I forgot my shorts at work so I'm riding in my skinny jeans… Lolz.  All 3 of the people that I met on the trail gave the exact same comment –
"Dude, you're riding this in jeans?!  Hardcore."
"Yeaaaah, I totally meant to…"
Anyway, I took it pretty easy on the twenty-something kilometer pedal up the highway to the North Trailhead, and only saw one bear on the highway just outside of town!  F*cking bears…
Having done this trail now, I understand why the only people I met on the trail were shuttling to the North trailhead and then riding to Plewman and out (although personally I would have gone to Old Glory and out – there's no way that Plewman is more fun than the stretch of the 7 Summits between those two trails).
YESSSSSS!!!!  Although I definitely took it easy on the way up, I was already down 600ml of Gatorade by this point.  These signs mark the trailhead on the North end of the trail (and there is a nice little parking lot/sign area on the South side of the highway).
So, after riding the 3.5ish km from the North trailhead to Lepsoe basin, I'm greeted by a group of riders driving to this point in their truck… Not so stoked on that (purely out of jealousy).
Regardless, I took off at a good clip while they unloaded, thinking that they'd catch me pretty easily, but apparently not.  Even when I got hella paranoid about bears and started taking a million pictures at any vantage point I could to kill time and wait for someone to catch up.
So Touristy right now.  Also so happy since someone had finally passed me and was now what I would consider "bear food".
When I reached the "Highest Point on the trail" sign, my stoke was out of this world.  I'd killed four of the Gatorades I had with me already and a couple of the energy bars (each one has 24% of your daily Protein requirements!  And they're made in West Van!!).  I was also back in the lead on the trail by this time, but I'm more than alright with that.  Although the uphill was demoralizing, the downhill to come is easily the most amazing single track I've ever ridden.  Every corner that should have a berm was bermed, every rock that could have some dirt in front of it to make it a launch did, so many rollers to pop off of, everything was linked together perfectly… Seriously, it was barely believable.  It would be like taking the best trails I've ridden on the Sunshine Coast, North Shore and interior of BC, putting them on the top of some mountains, and then making them about a million times better.  Seriously.  Unreal.
The only time I stopped to take a photo of me riding during the first half of the trail; it was just way too much fun to stop for photo ops.  Just putting some more distance between myself and civilization (and anyone else on the trail).
There was a new section of trail that went up and over one of the ridges that it used to skirt around.  Although I don't know for sure how the other way looks, I can say for sure that the high road has an incredible view (and really isn't that hard of an up or down).
My little rock atop the pile, looking East out along the Kootenays.  If you look carefully, you can see Rossland WAY down there in the valley below.  Also, the highway that I pedaled up.
After clearing the descent with delights, I hit the Old Glory trail that would take you back to Highway 3B along another long descent.  Being the foolhardy individual that I am, I said, "Heck no!" to that and continued my quest to ride the entire trail.  Partly because I'd just descended for about 5km straight (yes, please, I want more) and partly because I'd been led to believe that from Red Mountain out was mostly downhill with a few small up hills.
Too bad that it was all uphill from the junction with Old Glory to the Record Ridge, which is where the adventure really began.  Also too bad that I only figured I should keep going because it was going to be mostly down, as I had only 1 gatorade and 1 energy bar left at this point.  What's not too bad – making the decision to put the Bear Banger in my front pocket when I was on the highway after seeing the first bear, and having the bear spray in my water bottle pocket on my backpack.
Record Ridge –  There were points shortly before this that I wasn't too sure I was going to make it.  I was so incredibly thirsty and hungry, and saving the last half of my Gatorade and energy bar for this point.  It was when I rolled onto this skree slope that I began to think of the "Mountains" episode of Planet Earth where the bears are digging in the rocks for roosting moths in the fall, looking for their high fat content to give them the stores they needed to last for the winter.  An ominous thought, to say the least…
It was about 100m from here that I zipped around a corner and scared the shit out of two bears that were digging in the rocks for moths about 5m from me. I immediately stopped, and somehow didn't poop myself, and the two bears both stood on their hind legs, which I figured was a pretty bad sign. I calmly removed the bear banger from my pocket while shrieking like a girl and shot it off (note: bear bangers are not as loud as I thought they would be). Luckily, this had the desired effect and both bears started ripping up the mountain away from me (and holy shit can they ever haul ass uphill), and I then rode the next 6km of trail in less time than I've ever ridden any 6km, in what felt like forever. So, needless to say, there are no pictures for the next 6km of trail. That being said, what I remember of it, was SUPER awesome.
It should also be noted, that prior to thinking I was going to be eaten by bears, I was feeling pretty tuckered out, but that whole adrenaline/fight or flight thing really does kick shit up a notch. I wound up out of the trail starving and incredibly thirsty, but otherwise with no fatigue.  Great success!
By the time I calmed down enough from my bear scare, I was at the end of the Alpine/sub-Alpine riding, and the start of the sooooooo fun singletrack that rips/rolls through a forest of mostly elms/poplar/aspen/maple trees.  Holy shit fun.  This trail is truly off the hook.
Here I am, SO pumped to have finally ridden this trail.  Also, so pumped to make it back to the car and a Subway, free of bears and full of subs and 3 Large Iced Teas.
I would recommend this trail in a heartbeat to pretty much any rider I know, as it really does have something that caters to everyone (minus the dirt jump/street only riders).
That being said, now that I've done the whole thing, I have little desire to do it again in one go without a few changes:
1. I would do it about a month earlier in the year so there's less likelihood of bears being up there, without being as hot as July.
2. I would not do it alone (because I'm infinitely less paranoid about bears in a group).  Also, you need a minimum of two people to get the local company to shuttle you.
3.  I'd shuttle it.
4.  I'd do it more slowly, take more water and more food.
If I was a local, (without having access to a helicopter), I'd probably do what the three other people I met on the trail did -> shuttle to the North Trailhead, push to Plewman and then either continue to descend on Plewman, or ride till Old Glory and take that out.  Every day.  Because it was that good.
Anyway, that was my most memorable ride of 2009, and although I'm SUPER stoked to have done it alone I'm hoping that I get the chance to share it with some friends this year as well.  I would have posted this to the forum, but I've been lurking for years now without an account… please don't tell anyone!
Take care,
Billy Jackson
Holy s%#t Billy
 Do you have feeling in your balls back? This ride will go down in Dirtbag history! The perfect makings of a "trip of the year". Who needs all the fancy bike clothes anyway huh. It's even more funny that you work at the premier outdoor clothing company Arc'teryx. Bangers are fun. I carry bear bangers when traveling in the Chilcotins. The only problem that I see with them is that if it goes past the bear and explodes behind, it could cause the bear to run towards you, not good. You can get flares for them to if one gets really screwed up, which it sounds like you could have been close! I wish I had been there to see you 5hrs in wearing jeans…that would be hilarious.
 Great adventure.
Ride on,
Wade
---
Anything to add?  Pile it on here…