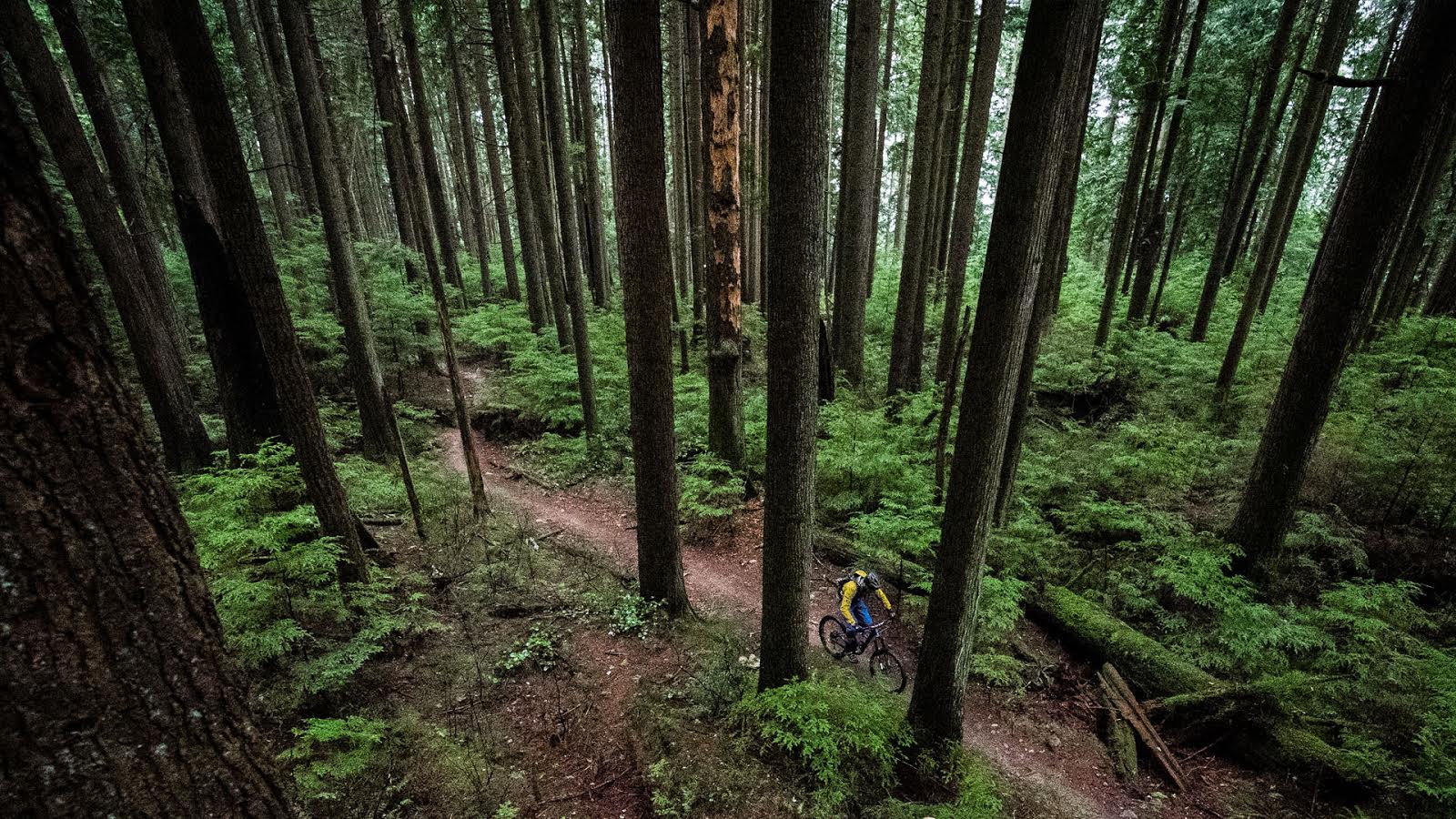 Train For The Season
First a little about James – and then on to his training tip:
Yeti Cycles Hires MTB Strength Training Systems for Team Training
Mountain biking has been slow to catch up with a lot of other sports when it comes to using strength training to enhance performance. Strength coach James Wilson has been working for several years to change that and his revolutionary training programs have helped produce the current US National Downhill Champion, Aaron Gwin. Thanks to his ability to consistently produce faster riders James has recently been hired to handle all of the training for the Yeti Cycles World Cup Team.

  If you can have a guy who rides like this give you training tips – why not?  Photo ~ Tim Zimmerman
 
"Team Yeti is consistently one of the top 3 teams in the world and I am stoked at the opportunity to help them achieve even more. When I got the call asking if I would be interested in an official position training their World Cup riders it didn't take me long to say yes," explains James. "This has been a goal of mine for a while now and really helps to establish MTB Strength Training Systems as a leader in the industry."
 
James and MTB Strength Training Systems have helped hundreds of mountain bikers around the world become faster, more confident riders. Utilizing a unique blend of targeted strength, mobility and cardio training James is changing how mountain bikers look at performance training. Riders that would like more information on the unique training programs offered by MTB Strength Training Systems can visit bikejames.com or send an e-mail to james@bikejames.com.
---
Building Leg Strength
Increasing leg strength for mountain biking is not as simple as you may think. It's tough to imagine a rider who wouldn't want more horsepower to sprint into a section of trail or up a steep climb. The problem is that not all pedaling is created equal and you need to train your legs to handle both seated and standing pedaling efforts.
While it seems like it may not really matter, the truth is that your body powers standing pedaling much differently than seated pedaling. When you jump out of the saddle to pedal your body uses much more core strength to stabilize itself – the seat no longer provides any stability for you. You also need to use your hips (glutes and hamstrings) to drive the pedals – when seated you can use more quads.
Lastly, you need more muscular strength to turn the pedals over. When you are standing you can not spin at a constant, high RPM. Slower RPMs and acceleration efforts, both typical of standing pedaling, are powered by the body differently than when you are seated and able to maintain a steady, constant rhythm.
In corresponding with hundreds of riders around the world I have yet to have someone tell me that they were happy with their endurance when they had to stand and pedal a lot on a trail. It is always the red line efforts – like a steep climb or a long downhill section – that make riders feel like they are going to blow up, not spinning flat sections of single track. This makes building single leg strength a priority for riders looking to ride more aggressively on the trail.
One of the best exercises for building the specific type of leg strength you need for mountain biking is the Bulgarian Split Squat. This exercise builds core and leg strength in a way that emphasizes the hips, which is exactly what we are looking for.
Here is how to execute this essential exercise:
•    Start by placing your back foot on a bench or a chair. Make sure that you keep your hips and shoulders square. Get tall and thin and think about keeping your belly button pointed straight ahead.
•    Staying square, squat straight down until you lightly touch your knee on the ground. Drive your self back up by pushing through the heel of your lead leg squeezing your glute and getting tall and thin at the top.
•    Make sure that you keep you hips and shoulders square and that you keep you weight back on the heel of your lead leg. You also want to keep your torso upright and fight the urge to lean forward as you descend. Think about dropping straight down and driving straight back up.
I advise starting with bodyweight on this lift and make sure that you can do 12 perfect reps before adding load. Once you do add load start by holding a dumbbell in the hand opposite the working leg. Once that gets too heavy you can start holding a dumbbell in each hand.
Start with 2 sets of 8 reps and add 2 reps each week until you can get 12 reps. Get strong on this lift and watch how much easier standing pedaling becomes. Building the type of core and leg strength you get from this exercise will serve you well on the trail.
———————————————————–
James Wilson is the founder of MTB Strength Training Systems, the only company in the world dedicated to addressing the unique demands of mountain biking through 21st century strength and conditioning programs. James' clients include current US National DH Champ Aaron Gwin, the Yeti World Cup Team and many other pro and amateur gravity riders around the world. Riders can visit www.BikeJames.com to get a free bodyweight workout program and find out more about MTB Strength Training Systems.
---
A good tip?  Are you the sort who sits on the couch and then rides back into shape or might you try this?  Have your own training regimen?  Tell all here…