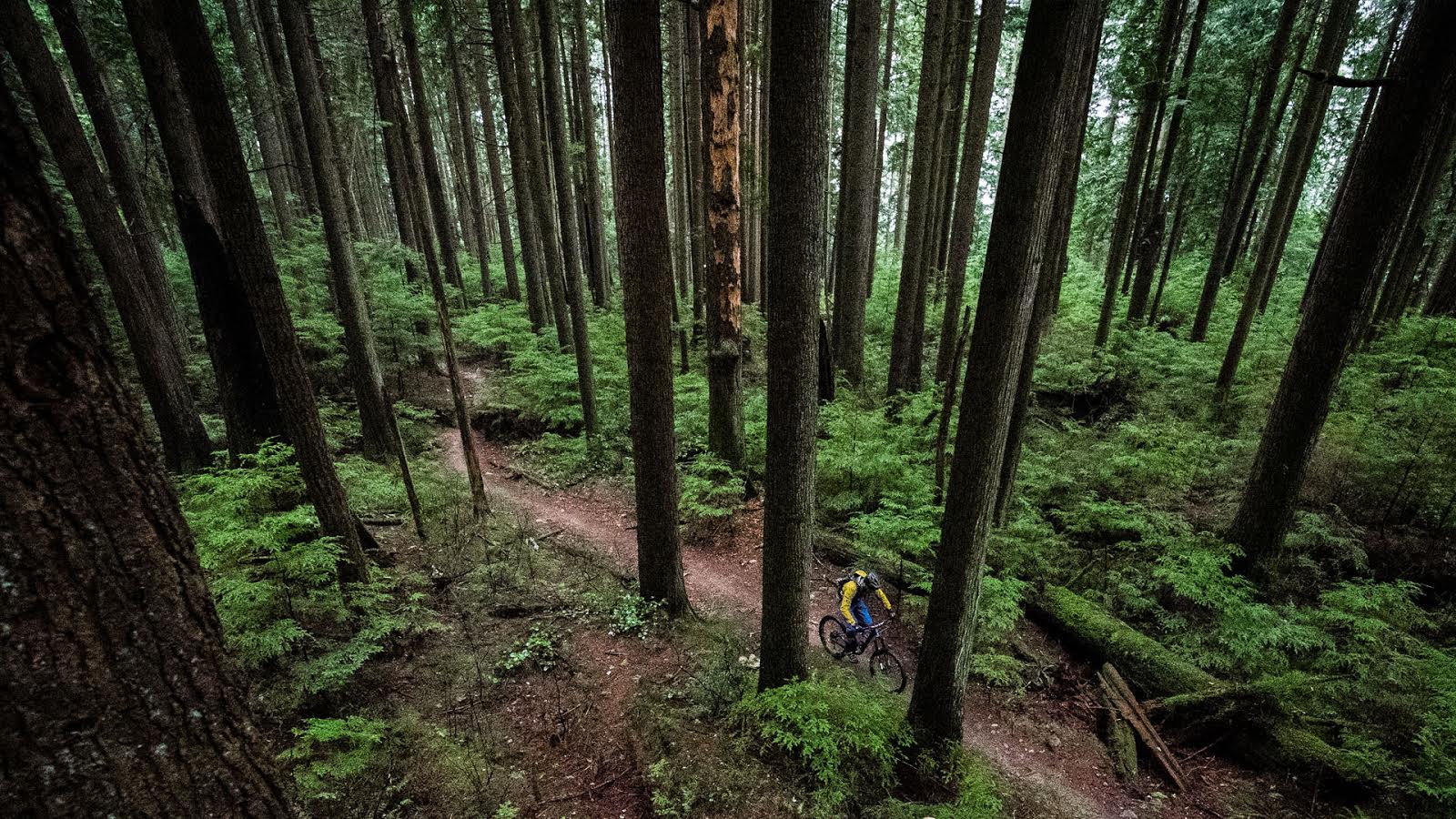 2010 Trek Session 88 DH
Gravity enthusiasts have never had as many options as they do today so it pays to do your homework. Trek's Session 88 platform, introduced at Sea Otter in 2008, integrated many of Trek's recent suspension technology innovations. It appears the only change to the 2010 Session 88 is the upgraded Fox DHX RC4 rear shock and Trek World Racing team paint. 

It would be tough to custom build a gravity machine with a better spec than the 2010 Session 88. While the factory race team paint won't make you a better rider, it'll do just about everything else – washing your bike is no longer a chore!

  The 2010 Session 88 is designed to be a World Cup ready machine right out of the box.  Here's what Connor did once this one was removed from cardboard. Photo ~ Derek Dix
A good chunk of the $7,000 price tag ($6499 in the US) comes from the World Cup-tuned Fox suspension front and rear. The Fox40 comes with all the latest WC technology including Fit RC2 w/Ti coil spring, high/low speed compression and rebound adjustments and internal travel adjust if you want to drop down to 7." In the rear is Fox's new DHX RC-4 with a custom 'DH race tune.' Adjustability is made easy and accessible with velocity sensitive damping, bottom out force adjust, bottom out progressiveness, and rebound. 

  The Trek Session 88 DH enjoying the view of Howe Sound above Squamish on Brohm Ridge.  There are no longer FR and DH designations.  The two models based on this platform are now called the Session 88 and the Session 8. Photo ~ Derek Dix
Some people were disappointed to see Trek's house brand Bontrager Big Earl wheels on such a premium build; however, so far they are rolling great. It seems Trek shares my personal preference for dual 2.5" 3C Maxxis Minion fronts.  Seems to work for Sam Hill too.  The drivetrain uses Sram's XO rear derailleur and shifter with a hint of red ano, hollow pin chain, 12-26 cassette, 38 tooth ring but swaps to Shimano for Saint cranks. 
The loser levers come in the form of Avid Elixir Carbon Magnesiums.  These are seriously light brakes and impressive pieces of machinery.  If you crash make sure to cover the lever bodies with your head. Other components include a Cane Creek Frustum SE Light Edition headset specifically matched for Treks custom E2 head tube, a custom Bontrager Factory Race Team saddle and bar, and a white Race Face Atlas direct connect flip flop stem to top everything off. 

  Man and bike vs. mountain. Photo ~ Derek Dix
Treknology
Trek designed the Session 88 to be fast; however we also like to be in control and that requires braking occasionally. This is when some bikes perform poorly. Thanks to the engineers and designers at Trek, and their countless hours behind computers, the Session 88 comes loaded with their ABP (Active Braking Pivot) technology.  This puts the rear suspension pivot concentric (shares the same center) to the rear wheel axle, as opposed to the Horst link where the pivot is located on the chainstay ahead of the axle. The goal is to have the suspension remain active so the rider can stay in control while braking. I have already noticed a major improvement in stability and control. This isn't just some Slap Chop invention. 

  Thus far Connor approves of the performance of Trek's ABP technology.  Photo ~ Connor Macleod
You will notice that the shock on the Session 88 is not mounted to the frame above the bottom bracket, rather a mounted pivot attached to the swing arm; therefore, it "floats" in between two suspended attachment points. The idea here is that the leverage ratio is adjustable for specific suspension setups (air vs. coil, spring rates, valving, ect.).  Trek is shooting for supple and nimble on small bumps/chatter, control through midstroke, and progression up into ending stroke.  
Trek's attention to detail is solid.  The linkage is colour matched with smooth edges and subtle graphics. The Session 88 uses Trek's patented EVO link, a one-piece welded aluminum link that is lighter and, Trek claims, stiffer, stronger and more compact than its previous design.  Each aluminum EVO link is put through an advanced Keronite immersion process, receiving a hard outer layer for corrosion resistance.
Aluminum is aluminum right? Wrong. There are different grades of aluminum just like gas.  That's why Trek builds its competition bikes like the Session 88 with a unique premium aluminum alloy, dubbed Alpha Red. This is ZR9000 or 7000 series aluminum that has been hydroformed or mechanically formed into sophisticated shapes with optimized butting profiles for maximum strength and minimum weight.

  All aluminum isn't created equal.  Some of it is even called aluminium. Photo ~ Connor Macleod
Trek designed the E2 head tube for performance; it just so happens to look pretty cool. The E2 head tube starts out with a conventional 1 1/8″ diameter up top then flares to a beefy 1 1/2″ at the fork crown. This allows the stiffness of 1.5 where it counts, and the reduced weight of the regular size up top, resulting in increased front end stiffness and precision steering. It also provides a larger welding surface to join the top and bottom tubes. Lastly the E2 allows for integrated headsets, further lowering the front end for better handling.
Initial Impressions
Geometry has always been the most important part of a bike for me. There is definitely a trend towards slack head angles these days; but if you go too slack and the bike loses responsiveness and maneuverability. It's a fine line and Trek seems to have nailed all the angles on this bike.  Trek went with a 65 degree head angle, 58 degree seat angle and 59.6 cm (23.5″) effective top tube (medium). These dimensions put the rider in natural yet aggressive riding position.  

  The Session 88 DH handling the ruts. Photo ~ Derek Dix
I was comfortable enough on the Session 88 after one day that I was up to race pace with some of Canada's top racers. As ridiculous as all this may sound, the Session 88 makes DH easy in comparison to some other bikes. I found I could go the same speed as other bikes but without the physical toll, meaning you can push harder with more control right through the finish line. Speaking of finish lines the Session 88 loves to sprint weighing in at 39lbs (stock large).  Stiffness combined with a highly tuned suspension make it pedal like a champ.
Back in October photographer Derek Dix and I set out into the backcountry to see what the Session 88 could do. After a long 4×4 into the coastal mountains we scouted the alpine for some nuggs to shoot. We immediately found an epic mountain background with a spot for a jump at over 5500ft of elevation. Sunlight limited our ability to buff run-ins, jumps, and trannys so the result was much like a beaten DH track. The shot required a quick sweeping sprint over loose frozen ground into a steep jump. The landing was merely cleared of boulders and snow, making it tight, technical, and rough.  My first attempt came up short and off-line, yet the Session 88 remained controlled allowing me to ride it out. I was amazed at how forgiving and stable the Session 88 was. We continued to shoot the jump, allowing me to experience the bikes maneuverability and versatility.  The Session 88 loves to comply and defy gravity. 

  Shiny and new.  The chainstay protector is further evidence of Trek's attention to detail. Photo ~ Connor Macleod
After we got the money shot we looked for the Session's next testing ground. We found a rutted and washed out descent to see how the Full Floater, ABP, and Fox Suspension really work.  I appreciated one characteristic of the Session 88 immediately; its ability to maintain geometry. Many DH bikes want to rock back and forth or dive under impact but the Session always felt level and predictable. During one shot I slipped into a rut Derek was laying in, with little resistance I was able to exit the rut and change direction narrowly missing his camera and face.  He may have eaten Maxxis if I'd been on another bike. Time after time the Session 88 continued to impress me with its agile handling. 

  Connor with a head of steam in the alpine.  Photo ~ Derek Dix
The 2010 Trek Session 88 is certainly an eye catching ride no matter how you look at it. As a DH race enthusiast I was eager to test this highly anticipated and engineered bike. The Session 88 is living up to my expectations thus far and I'm looking forward to explore its limitations.
Stay tuned for the long term review along with more eye candy courtesy of Derek Dix Photography.
Shout outs to Obsession Bikes, and Derek Dix for your help!
Click here for more on the Session 88
---
Anything to say about Connor's first impressions?  Does he seem smitten?  Click here…