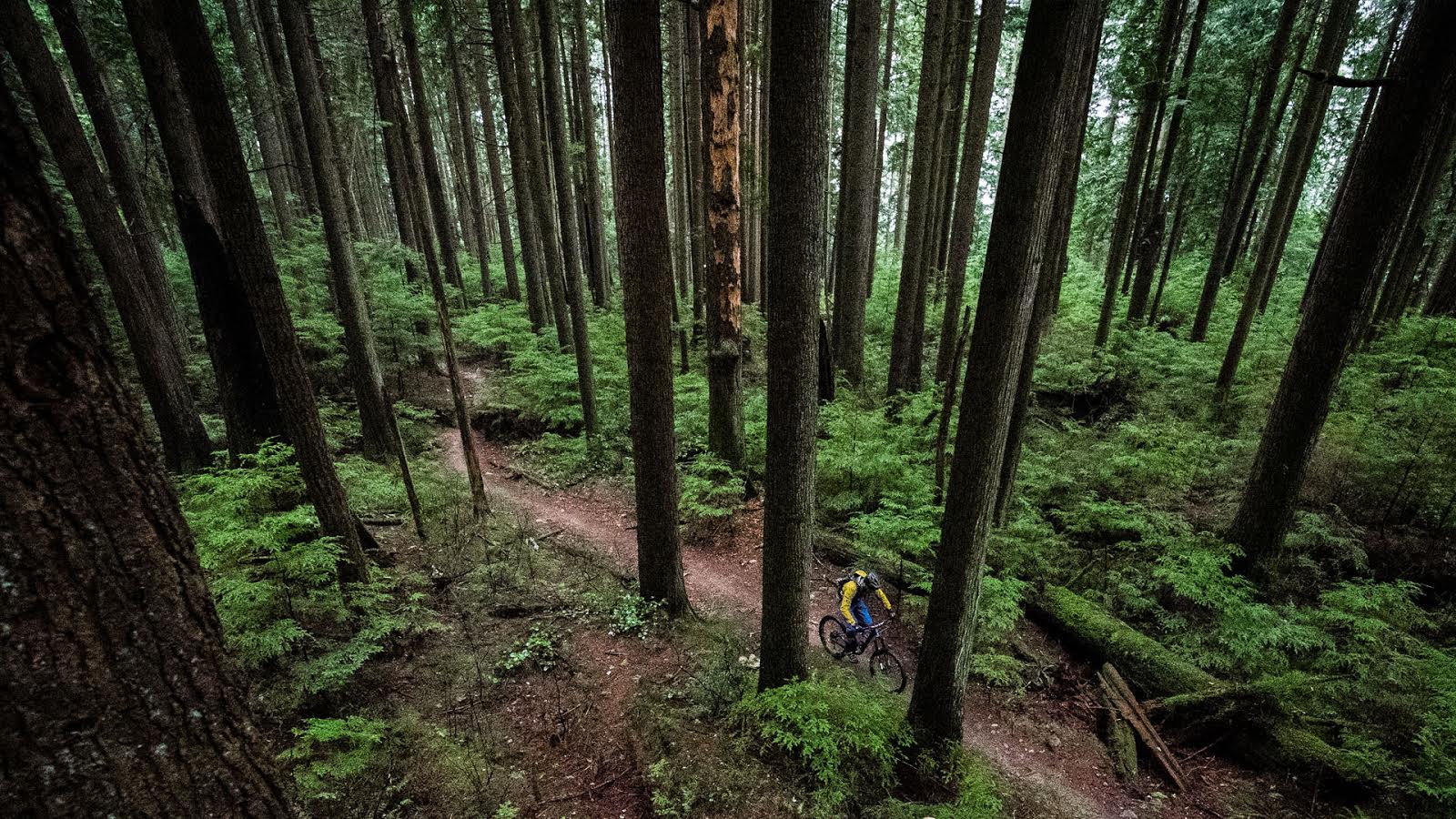 Anthill On The Shore
I grew up in West Vancouver and moved to Whistler in 1997. It was a great experience growing up on the North Shore during that time as it gained international attention in the mountain bike world. I helped my youngest brother and his friends build a trail called Roach Hit on Cypress Mountain. It was not one of the first trails on the mountainside but it is known as a classic today. Roach Hit was an effort to combine shore style stunts with sections of downhill racing flow an effort to add speed to the classic North Shore style of trail building. Roach Hit still exists; the sign and the stunts have long been destroyed but the line remains. I watched as Wade Simmons went from being a bike mechanic in Deep Cove, known as one of the best riders on the Shore by reputation alone, to becoming the godfather of free ride mountain biking. I was there for Thomas Vanderham's first days filming for Cranked 5 on Cypress, on a bike he had purchased off of Andrew Shandro (also a North Shore legend). I've been lucky enough to have had a few first hand experiences in the history of the North Shore and now I feel like we're creating a new piece to the story with Sam and Thomas' North Shore segment for 'Follow Me'.
To the Shore to move some rocks, logs and earth….
Monday November 2, 2009 I left Pemberton and made my way to the North Shore to help Vanderham complete a line he had been working on. The line is a very good expression of the types of features Thomas likes to ride. The line begins with a natural rock take off cliff drop that gaps over an old fallen tree to a semi hipped landing. It's about 15' down and 15' feet out. You cannot see the landing as you take off and there is no option to come up short and going too big would bring negative consequences rapidly. Upon landing you accelerate along a flat stretch, over a roll and into a step down off another rock face to an on off pad made of golden mineral soil. This steps down into the top of the run-in for a dirt jump take off and 25' gap to a landing that is perpendicular to the jump – overall a large sized North Shore hip. It is a nice line that incorporates speed and three technical features in the dank environment of the Shore. You will see the photos and the footage this spring 2010 when the movie is released. Plus keep an eye out for a feature article in Bike Mag's May issue.
As we finished the cliff drop line we began to wonder if Sam would hit it. We had no doubt that he could but we weren't sure if he would want to. We wondered if he would reject the line as being too wet and freshly built and not worth the risk to his health? After all Sam is the World Cup DH Champion and he has fulfilled all of his sponsor obligations this year to the highest degree, he obviously has nothing to prove. As things turned out Sam was stoked to hit the cliff drop. He said he hadn't ridden anything like the cliff drop line since he'd started professional racing. He said he would be stoked to see something like a cliff drop integrated in to a world cup downhill racecourse, as they are a representative aspect of mountain biking. A statement most North Shore riders would be stoked to hear.
Shooting in the forest on a wet fall day…
When shooting on Seymour we routinely meet at the Lazy Bay Bean Around The World coffee shop to start our day. This café is located at the base of Seymour Mountain in the Mt. Seymour Parkway mall where a vehicle with a Dakine pad over the tailgate or a Deep Cove bike shop sticker is a regular sight in the parking lot. This morning I am sitting at the table with the Vanderham brothers, Thomas and Ryan, Anthill filmmakers Darren McCullough, Colin Jones and Darcy Wittenburg, plus photographer Sterling Lorence and Sam Hill. Everyone is enjoying some version of an espresso-based drink in front of him except for Sam. Our faces are gradually revealing signs of happiness as the coffee works its magic to help prepare us for our day in the forest. I catch a glimpse of Sam as he surveys the table and appraises everyone's satisfaction with their caffeinated beverages. Suddenly the look on his face says the soy chai latte in front of him will not do. Sam stands up and says to us he will be back in a moment. He is going to get a Monster energy drink from the supermarket next door. Sam doesn't like coffee. He likes Monster energy drink. F-yeah I think to myself, this guy means business, game on.
The relevance of the coffee situation hits home when we step outside. It's pissing and we are about to spend the whole day in the forest. Sam is with us for 5 days – four days of filming. That's it. We will get what we get. No alternatives. And what we have for this shoot is rain and moisture and lots of it. A massive weather system is smashing into the south coast of BC and the North Shore will bear the brunt of it. Collectively the entire crew is worked over to some extent. The riders will be soaking wet, muddy and cold. The riding conditions will be severe, slippery and challenging. Our camera gear will be exposed to water, something that is not good for digital equipment. And, the available natural light in the forests will be drastically diminished. At one point during an A grade action session on Vanderham's moto hip some extra thick fog rolls in and Sterl laughs as tells me that he is now shooting his Canon DSLR in H-mode – a special low light exposure setting that he doesn't even know the ISO of!
BUT, and this is a big but, there is a reason why everyone on the crew knows we are not losing this battle. This is the North Shore and these are the usual weather conditions for the fall season and we're ready for it. While the filmmaking process will be challenging, in the end the segment will be a very accurate and true representation the riding experience on the Shore.
For the four days of filming we were all wearing full rain suits, except for the riders. One highlight was a session we had on Cypress Mountain. It snowed on us as we scoped a section of the trail called Coiler (the day before we were very lucky to have filmed on the Mystery Downhill trail with no snow, a trail that lies just above Coiler). We retreated down the mountain to below the snow line and found ourselves at the double slick rock roll down at the top of Sex Girl trail. Sex Girl was in fine form if you like to ride in savage conditions. A steep and technical line in a super saturated forest. Vanderham and Hill entered this section on a glistening granite rock face that rolls into a narrow chute of forest loam muck. The riders waited patiently at the top as we moved the cameras around to capture all of the angles that we wanted. The request every rider loves to hear was the only thing besides the squeal from the disc brakes to interrupt the consistent sound of the heavy rain penetrating the forest canopy… 'Oh hey Thomas we are going to need another take please.'
This segment will represent the lifestyle motto of the North Shore rider: "ride any trail, any day, in any conditions". The worse the conditions, the harder and more fun the trail becomes. Riders on the Shore are stoked to clear a rooted rocky section any day but when you clear these sections with the roots and rocks so wet that they appear to be reflective, people become fired up. This is the experience that Vanderham wanted to share with Hill.
Final thoughts…
Sam is a relatively quiet guy. He is also aggressive, competitive, and talented. I am thrilled to have spent some time with him filming the North Shore segment for 'Follow Me' and to learn what he thinks about some things. What does he think about riding with Vanderham? What does he think about the lines that we have selected to film? What is he looking forward to with his mountain biking career?
Sam Hill showed up to ride the North Shore with his bike and tires coloured red with Australian dirt. His bike is burley, light and simple. His tires are fat and covered with dirt because he is a shredder. Sam left the North Shore with his bike caked black with dirt and forest loam. If a bike could smile, Sam's bike would.
Anthill Filmmaker Jonathan Schramm
---
I for one can't wait to see this footage. Most folks think the Shore is only about stunts and skinnies. It'll be great to show a different perspective. What do you think? Tell us here…