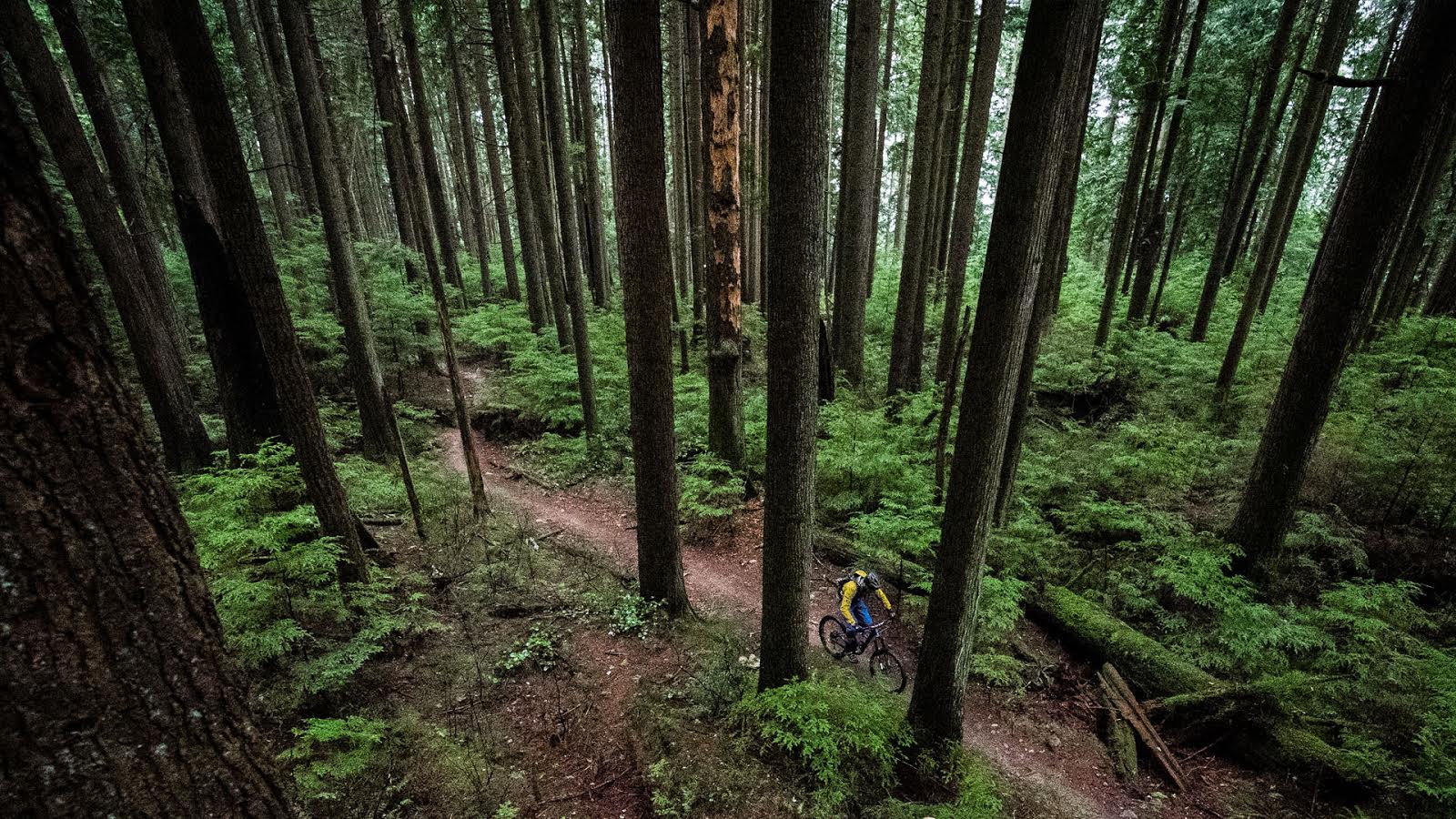 Readers' Rides: Lahar M9
I've been riding bikes off road for a quarter century now, and have always been a tech geek at heart.  I'm intrigued by alternative and innovative design, pioneering technology and purveyors of the unique; people with neat ideas and the ability to transform bits of metal into functional works of kinetic art. Whether cobbled together out of scraps or elegantly fillet brazed and ornately lugged, I love many forms of two wheeled creativity. Consequently my bike choices tend to be on the esoteric side.
Lahar has been on my radar since '02, when I saw an early version at Whistler under a visiting Kiwi. I was immediately entranced. It had a gearbox. It was carbon. It was freakishly alien. It pushed all my buttons and I wanted one. Alas, information was nonexistent, and I wrote them off as unnatainable. Fast forward to 2006. A new design was launched – the M9 (the 9th dh iteration), as well as a website, thus suggestions of a tangible production based company.
The new frame was significantly more refined than previous versions, and it grew on me. I dug up a bit of information regarding the pedigree of these bikes that went a long way towards dispelling my initial concerns of viability as a competent dh bike. The earlier versions were holding up to several seasons of pro abuse, and junior Kiwi ripper Cameron Cole was riding the new bike for the '06 season (he went on to win the Junior Worlds at Rotorua). It seemed to be a capable and bomber chassis. A flurry of email exchanges with owner / designer / sole employee Aaron Franklin further assuaged my fears, and lust for the exotic overwhelmed caution and I fired off a deposit. And waited. A few months, and a fat bank transfer later, a nondescript package from NZ had arrived on my doorstep – M9 #007.
On to the ride. Despite its unorthodox appearance it still feels like a (somewhat) conventional dh bike. It's long & slack. 64 degree head angle with slammed Boxxer / 14.25″ BB / 18″ chainstays,  and 47 1/4″ wheelbase. Travel is 9″ – super supple off the top, with a nice mid stroke ramp to a non-perceptible bottom. The result is a bike that's ridiculously stable and plush – in my hands impossible to get out of shape at speed. The best chunder leveling bike I've ridden (surpassing even my old V10). Definitely something to be said about high pivot designs. It does however like to stay stuck to the ground and is relatively tough to manual and bunnyhop. Not as playful a setup as some bikes I've had, but definitely efficient at getting down the mountain. There's no perceptible suspension / drivetrain interaction, so suspension is always active. With the bb slightly higher than what's currently in vogue this bike excells at pedalling through the rough.  It does however exhibit less anti-squat than some of the current vpp-esque designs, so it wallows a bit when you hammer on the pedals. Tight drivetrain (no chainslap) and non-resonant material makes for a quiet ride.
Riding with the rohloff gearhub is an easy enough adaptation. I was inntially sceptical of the grip shifter, but it turned out to be effective and foolproof. I run it inboard so only my thumb is on it; feels natural and never miss-shifts. Multiple gear dumps are quick and effortless, and instantly engage regardless if you're pedalling or not. Great for pre-selecting corner exit / slower section gearing; you never get stuck trying to grind out a too tall gear.
Weight as pictured (with single ply tires) is 36.6lbs; 38lbs flat with the Michelin dual plies (sans tubes) that I'm currently running. The frame without Rohloff & floater is a freaky light 9lbs flat w/ shock & ti spring; the gearhub adds about 4lbs of soul crushing mass.
Upper front bits: e13 stem w/ ti bolts, stripped and polished Deity D30 bar, ESI silicone grips, Avid Ultimate brakes and a Rohloff gripshift. Nifty details include internal cable routing and a headset that consists of standard cartridge bearings pressed directly into the frame – simple and light, with a super stubby stack height.
Boutique bikes can have positive and negative attributes. I've owned a few over the years and I've had a range of experiences. In several instances I've had opportunity to talk with guy that designed and/or built my bike (typically the same person) which is really neat – passionate and talented individuals. On the flip side, longterm product support can be uncertain. Unfortunately Aaron ran into business difficulties; after an M9 production run of less that 20 units, he disappeared into the ether. Fortunately the bike is holding up well after 3 seasons, but if something grenades, I'm on my own. Such is the price of excusivity. Regardless, it's been a brilliant ride that's served me well – I love the thing. And when the bike finally gets retired it'll make fine sculpture.
---
DH bikes don't get more exotic than this.  Forget Ferrari or Lambo – the Lahar M9 is Mclaren F1 exotic.  Are you lusting for one of the X-teen remaining M9 frames?  Too much for you?  Pipe up here…