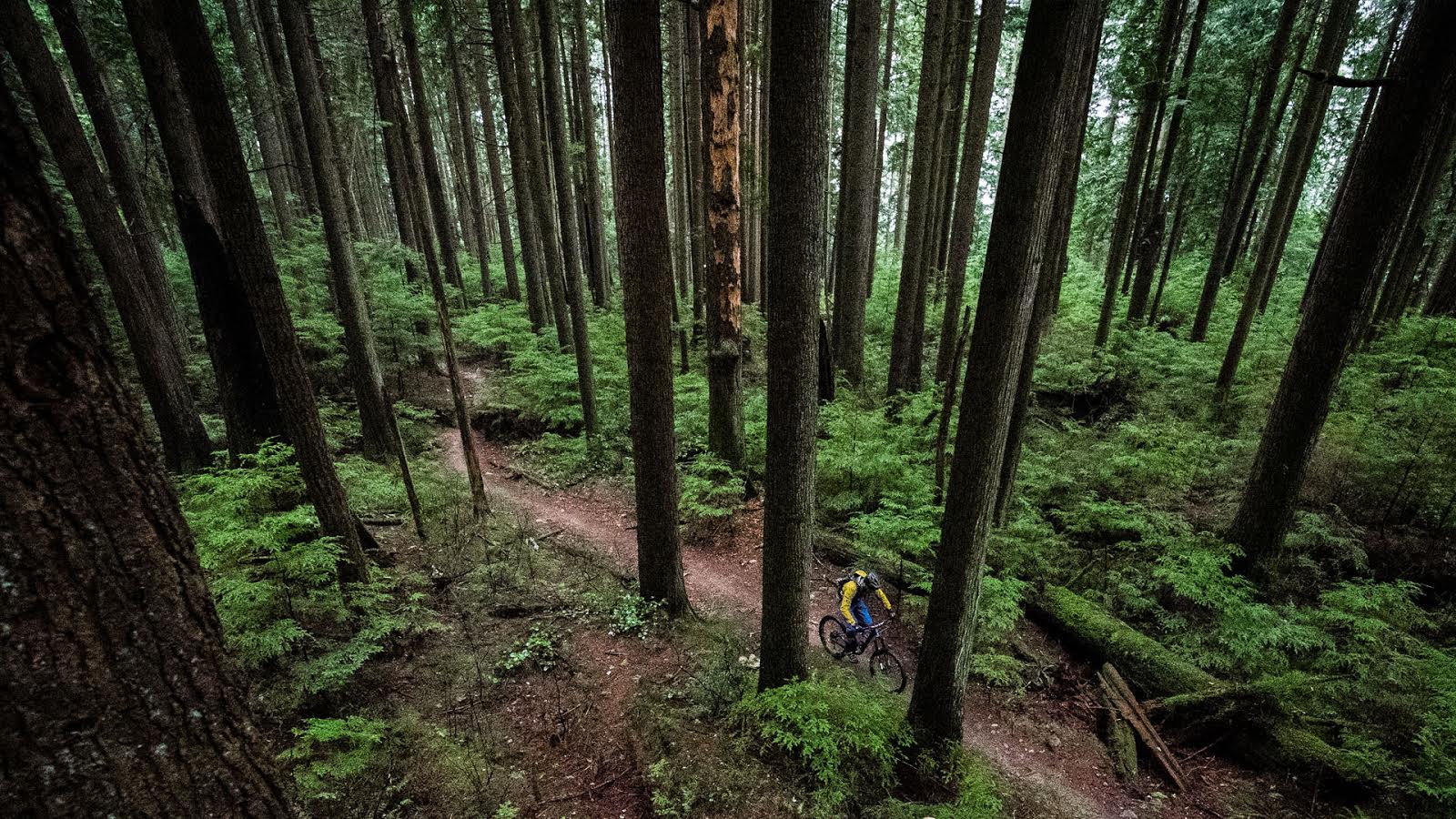 India Pale Ale in Sicamous
An Okanagan Summer Sampler – India Pale Ale in Sicamous
Initially bitter on the palate but oh so refreshing in the end
This day had us worried, really worried.  It was hot, damn hot, and all we knew about the Larch Hills Traverse when we started the trip was that it was 43 km or so of ridge top trail from Salmon Arm to Sicamous – with lots of climbing.  None of us were really that pumped on the thought of riding that far in almost 40 degree temperature (104 Fahrenheit). 

 "So, we get to that bend and then we have to eat all of the doughnuts?" – Andrew Gower discusses carbo loading techniques with Steve Crowe and some of the locals. photo ~ Ryan Kuhn

We started our day with a quick snack and a coffee at Bean to Cup, and then drove down from Silver Star to Sicamous where we met our contact at the Visitor Centre.  Also joining us for the days festivities were Jim Maybee, Dan Holmes, Lynne Holmes, and Marlene Lyons.  We noticed immediately their light weight bikes and minimalist clothing – they seemed to know what was up.

  The climb was hot and heinous.  Would the downhill make it all worthwhile?

We were also met by Phil McIntyre-Paul, who couldn't ride with us but was one of the visionaries behind the trail.  Speaking about that vision, seems the Larch Hills Traverse is only the first, albeit large, component of a network that will eventually take riders all the way around Shuswap Lake.  In 2004, stakeholders in the Shuswap area got together, and in 2005 the Shuswap Hut and Trail Alliance was formed.  In the last four years, they have managed to construct and connect the Larch Hills Tarverse, which can be ridden as a mixed fire road and singletrack 43 km epic.  Great progress for such a young organization.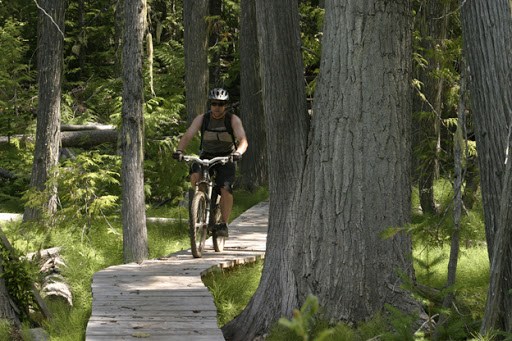 What's this?  Ladder bridges in the Thompson Okanagan?
After our quick history lesson about the trail, we loaded up the trucks and shuttled (yay) to the half-way point of the trail.  This involved driving along the highway from Sicamous back to Salmon Arm and then heading up into the hills.  After about twenty minutes of heading up the fire road, we came to the trail and started in on the sweet singletrack.
Our ride started with a quick climb up through early stage growth of previously logged forest and then we rolled down into some more recent cut blocks.  The views were beautiful and the trail was loamy.  We rolled along for sometime before diving into some mature forest and across some very sturdy looking bridge work.

  Andrew seeing the downhill at the end of the tunnel.
After a few more kilometres of singletrack we turned out onto a forest service road and quickly descended to the next section of trail.  This involved some steep and sustained climbing mixing trail and road until we came to the last descent.  And then we hit gold.

  Fire road riding isn't so bad when the view is this good.  photo ~ Ryan Kuhn
This meant loamy, rolling goodness with tight switch back after tight switch back.  The final descent is a good five kilometers of this and some of the most fun I've had on my small bike in a long time.  In the end, while we were all out of water, a little tired and all too hot, it was worth the effort for the epic riding we all got to experience.
And then, the cherry on top, or the foamy head on the beer (to keep my metaphors consistent).  We moved off to that night's accommodations, a double-decker house boat from Twin Anchors in Sicamous.  Complete with full kitchen, double fridge, hot tub, slide and pilot stations on both decks we were set to cruise in style.
Joining us for dinner (and helping with provisions) were Corryn Grayston of the Salmon Arm Chamber of Commerce and Visitor Centre and Robyn Cyr with Shuswap Tourism and the Columbia Shuswap Regional District; seems local government in the Shuswap is pretty excited about mountain bike tourists.

  Chilling after the long ride – Steve Crowe, Andrew Gower, and the Sicamous crew. photo ~ Ryan Kuhn
Everyone from the ride jumped on with us, and within minutes we were tapping a keg, changing into swimsuits and heading out to Mara Lake for a barbecue dinner.  Of course, we had to go swimming in the lake first! Ahhhh – cold beer and a cold lake to swim in after a long hot ride – heaven!

  Ryan Kuhn relaxing in the lake after a long day on the trails – photo ~ Steve Crowe
After a delicious dinner of chicken and beef burgers we headed back into Sicamous to drop off our extra passengers, and then Ryan and I decided to have some fun with our host and house-boat captain, Miles from Thompson Okanagan Tourism.  It would seem that Miles was a little nervous about driving the boat, but had decided to step up since we were doing all the riding.  This is where the two pilot stations on the boat come into play.  

  Now this is the way to enjoy a post-ride beverage. photo ~ Ryan Kuhn
Even if you are steering from the bottom level, you can't lock out the wheel on the top level and the two wheels don't turn at the same time either.  This was too much of an invitation for us to refuse, so as Miles was faithfully trying to do his best to steer a straight course for the dock, we kept turning the upper wheel one way, and then another!  You should have seen the zig-zag wake behind the boat.  Finally Miles gave up and went back to see if there was something wrong with the engine, at which point we managed to get the boat to do a full 180. We were laughing so much it was almost man overboard (or maybe it was all the beers).  At this point he figured it out, and came up stairs with a smile on his face to ask us WTF?  The downside to laughing so hard is snorting beer up your nose.
After we finally made it to the dock the extra passengers off-loaded and we headed back out to the lake to find a nice quiet beach to spend the night.  After another swim and some more beer, my body told me it was time to pass out… er sleep.  Allegedly Ryan, Steve and Miles dragged most of the pots from the kitchen up to the top deck and jammed well into the night, but I was dead to the world and didn't hear a thing.

  Your vessel awaits.  It can't shuttle but the hottub is a nice consolation.
 
As it turns out, staying on a house boat on the Shuswap for a night or two is the perfect way to break up your road trip – and if you throw in some epic trail it gets even better!
Stay tuned for the next bottle, err episode – Hefeweizen in Kamloops – complicated, citrusy flavour with a cloudy complexion and cool finish
Click these links for more info:
shuswaptrailalliance.com
twinanchors.com
csrd.bc.ca
---
Ever ridden in the Shuswap zone?  Checked out these trails?  Is there more to ride in Salmon Arm?  Do tell…