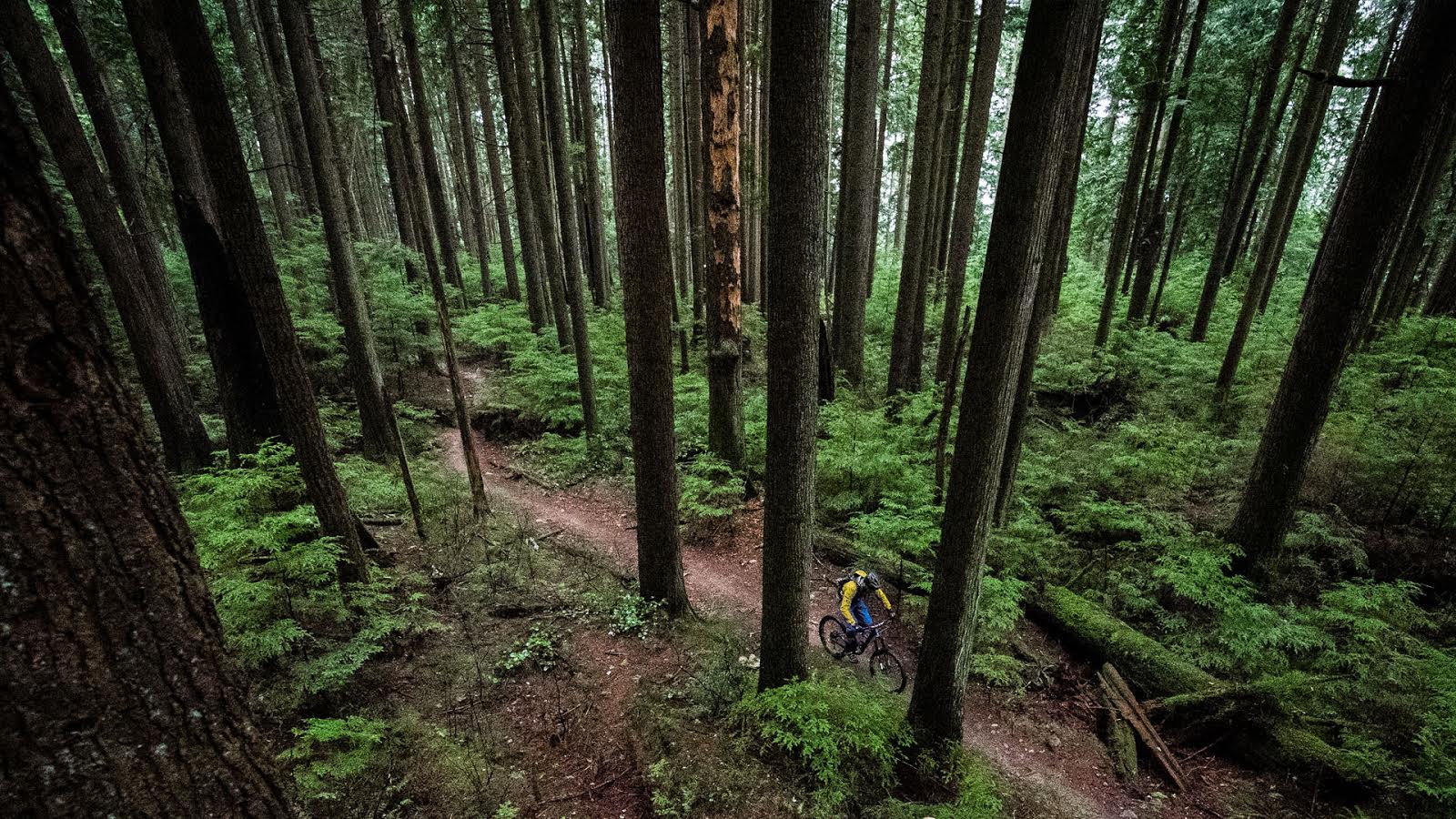 Steve Smith Riding the Evil Revolt REDUX
* Note – this is a repost of an article posted earlier in 2009
It's not very often we see new bike companies emerge, so when they come along with a fine pedigree and access to the vast brain power of Dave Weagle a little celebration is in order.  Evil Bikes was Dave Weagle's hard tail-only brand that closed the doors in 2007.  Weagle's E Thirteen endeavour was going strong as well as his design business that licensed the DW Link to companies like Ironhorse, Turner, Pivot and Ibis. Bandwidth got tight and there just wasn't enough of Dave left to run the bike brand as well.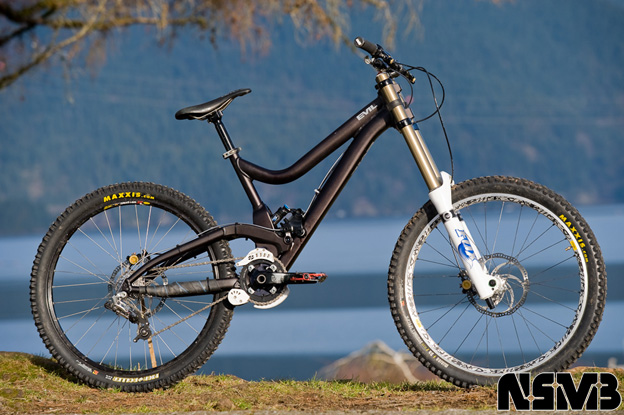 Steve Smith's Evil Revolt looking right at home on the Shore – in MS Racing team trim.  NOTE – the swingarm of this frame is pre-production.  I should have shots of the production swingarm (said to be much sweeter) soon.  Photo ~ Ian Hylands Click image for large version.
Once the brand was mothballed the mill began to churn.  When Thomas Vanderham was without a contract rumours kept bubbling up about a Northwest brand as well as a Gabe Fox connection.  At Interbike things came into focus and the team leading the company was revealed.  Kevin Walsh, Evil's creative and finanacial cap'n, is a graphic designer and lead man at Super Big Creative – a Seattle-based design firm.  Having done some work with Ironhorse, Walsh knew a thing or two about the bike biz – and he also knew Todd Seplavy, IH's former product boss.  Todd became part of the Evil team along with Gabe Fox formerly the Cove Bikes product manager.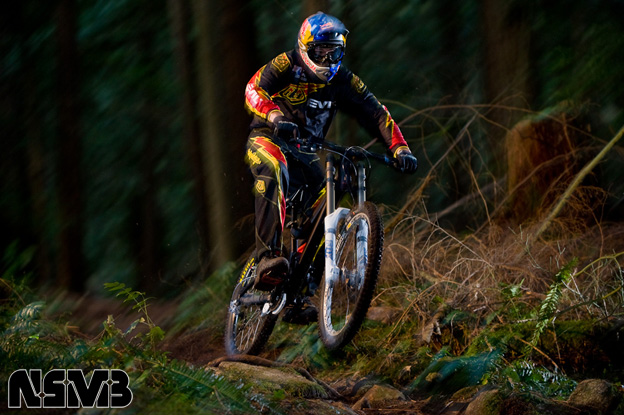 Steve Smith moving fast in the early season.  Photo ~ Ian Hylands Click image for large version.
It became clear this was a friendly takeover when it was revealed that the Evil rigs would be sprung with Dave Weagle's Delta suspension system.  Unlike the DW Link this is an exclusive licensing agreement so, for now at least, you won't see any competitors rocking the Delta system.
It looks like Evil will become known for bold strokes after signing both Vanderham and Canadian DH phenom Steve Smith.  It was also recently announced that Evil will be putting joining forces with MS Racing under the management expertise of Marcus Stöckl.  That puts Filip Polc and Matti Lehikoinen on the Revolt as well.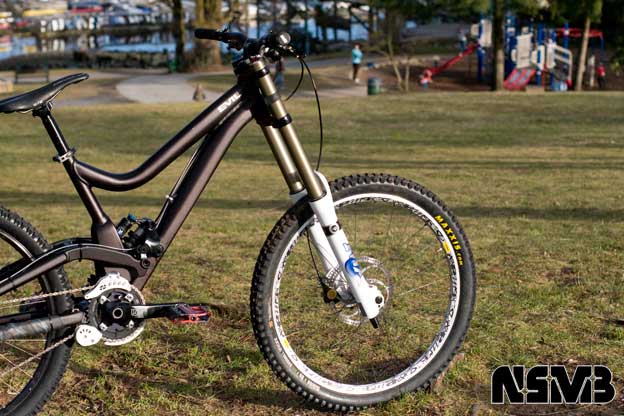 Nice clean lines.  The swing arm is still in pre-production form and will have custom square stays when you see them in your local bike shop. Photo ~ Cam McRae
After all this info was out in the world I still hadn't laid eyes on the lead bike in the line – the Evil Revolt.  After badgering Gabe Fox incessently a meeting was set up to shoot the bike under Steve Smith here on the North Shore.  I hadn't met Steve Smith in the flesh before and he wasn't what I expected.  After seeing Steve on camera in Seasons I anticipated a polite, quiet, hard-working country boy.  Instead the rider who arrived with Gabe Fox was a friendly, wise-cracking pleasure to be around – with a little hard working country boy thrown in.  We had him pushing his bike a lot but he didn't hesitate for a moment and he never complained.
Just like Steve, the bike impressed me right off.  The lines are clean and smooth and, despite a relatively complex linkage, nothing seems tacked on as an after thought.  The bike looks fast, aggressive and keen to go downhill and get rowdy. What is less clear is what exactly is happening with the linkages and dog bones that keep everything moving up and down.

  A front view of the linkage and dog bone mechanism that drives the shock. Photo ~ Cam McRae    Click image for large version.
Like the newest version of the DW Link design (as found on the new Turner DHR) the Delta design is geared to provide a dual progressive feel.  The idea is that the top and bottom third of the stroke are progressive while the middle third provides a flatter rate.
The headtube also distinguishes the Revolt from many other designs by allowing an adjustable head angle.  Two bolts clamp things tight and allow you to adjust between 64 and 66 degrees.  The finished bike will have the clamps at a 45 degree angle to keep them out of the way.  I asked Steve Smith about how he runs the bike; "I just sat on it at 64 and I didn't change it."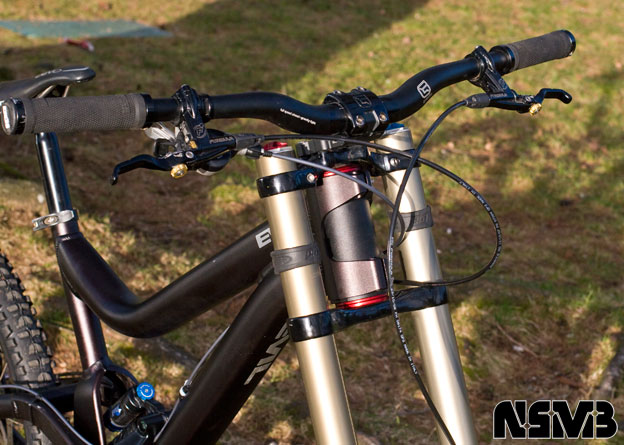 This is a pre-production model with the head tube clamps at the front.  They will move 45 degrees for production. Photo ~ Cam McRae
Smith is impressed with how the bike performs.  Here's how he described the on trail experience of the Revolt; "Bumps don't slow it down.  It feels like you're speeding up.  A bump where you'd normally lose a lot of momentum feels like a speed bump.  It ramps up so much but it still feels bottomless.  It feels like 10″ of travel.  The best part is no chain slap.  In the beginning the chainstay wasn't wrapped but after five runs there were no nicks in the paint."
I did notice that no matter how hard and fast Steve rode the bike it was incredibly quiet.  Now let's turn this over to Dave Weagle for some answers about how the bike acheives its goals.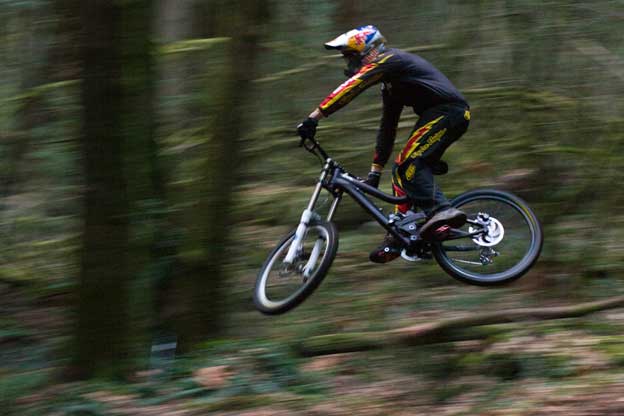 Hopefully Steve Smith will have a better injury luck this year, and with the support of an experienced team is a World Cup podium too much to ask for? Photo ~ Cam McRae
nsmb – Hey Dave, Can you please tell me about the dual progressive spring curve?  How it is achieved?  What the benefits are etc.
Dave Weagle: No problem. The DELTA system was conceived to, among other things, achieve very complex leverage rate curves that can be used to tune for varying track conditions, spring, and damper parameters. The dual progressive leverage rate curve is something that I developed for coil sprung downhill applications to take advantage of the speed sensitive shocks on the market. Mechanically, the system uses very compact links that can achieve a lot of angle and velocity change through the travel. I use that to my benefit so that I can tailor the leverage rate curve to really take advantage of the shock's valving and the way that a speed sensitive damper is designed to work. Ultimately the design achieves a high degree of suppleness early in the travel, with a very predictable high traction stage through the middle and a bottomless ramp at the end of the travel.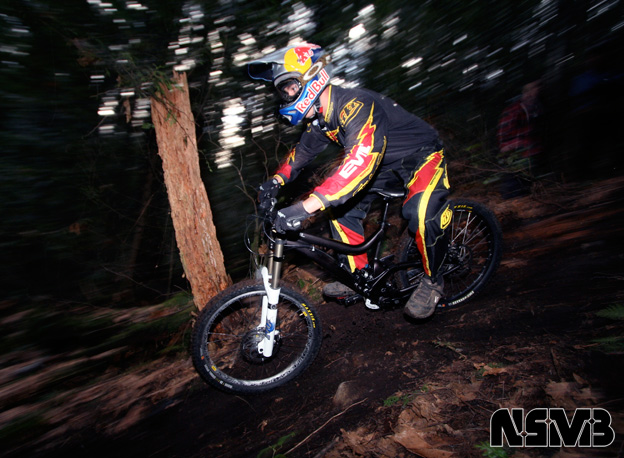 Steve kept us laughing while everything was being set up, and then was all business when Ian was ready to shoot.  Photo ~ Cam McRae
nsmb – How do you stop the bike from feeling like it's wallowing mid travel with this system?

DW: The whole suspension system, every attribute, is developed concurrently with each other, with the shock absorber, and with the bike's intended use and geometry in mind. I've used and refined this approach to help shape every full suspension bike that I've developed kinematics for. Main pivot location was carefully chosen to give the best balance of acceleration and braking performance. This careful positioning lets the bike accelerate without the need for excess damping, which in turn helps us push the limits of shock setup as far as possible to achieve ideal damper setup for any World Cup track.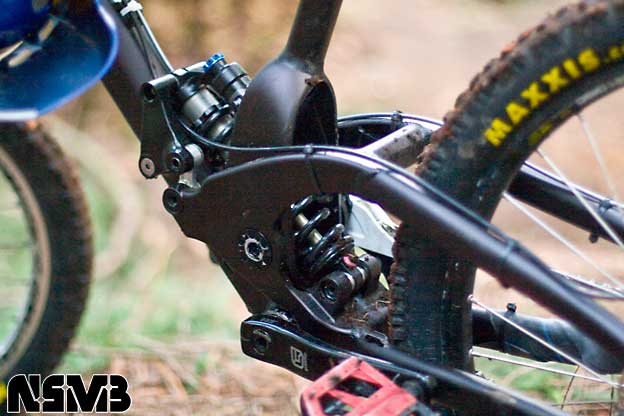 Another look at the DELTA system linkage.  Photo ~ Cam McRae
nsmb – What are some other attributes of the DELTA system?
DW: One of the biggest advantages of the system is its ability to let riders and mechanics adjust frame geometry without changing leverage rate and wheel rate at all. Additionally, different link kits can be used to make drastic changes in the bike's feel. These link kits are something that Evil's World Cup athletes will take advantage of to fine tune for the drastically different race courses that they compete on over the season.

  Steve moves fast.  At one point he was asked to slow down so Ian could nail the shot.  Photo ~ Ian Hylands   Click image for large version.
nsmb – Can you tell me how the ride of the DS should compare to DW link and the second generation DW link found on Turner bikes this year?
DW: I don't really look at the new Turner bikes, Pivot, and Ibis dw-links as a new generation of dw-links. I learn and apply what I learn with each new bike that I develop. Each frame is a progression and a refinement wherever possible. At the same time, the bikes all have stayed true to the original design intents that make dw-link special. The new DHR is a pretty major departure from the Iron Horse Sunday, which was designed around a position sensitive 5th Element damper. Like the Revolt, the DHR uses a dual progressive leverage rate, and was designed around the speed sensitive attributes of the FOX RC4 damper. Ride wise, both bikes are very similar, probably closer in suspension performance to one another than any other two downhill frames on the market. Both exhibit levels of traction that seem impossible when you first ride the bike, and both have incredible small bump sensitivity and an bottomless end travel ramp.

  Steve is part of a group of very fast younger riders looking to unseat the likes of Minnaar, Hill, Peat, Atherton and Barel. This should be a very interesting year on the World Cup Circuit.  Photo ~ Ian Hylands
 nsmb – What else can you tell me about the Revolt that sets it apart from other DH bikes? 
DW: I think that the ability to tune suspension and geometry independently is a big deal. Those of us who have been racing downhill since the 90's remember the time where every bike had 10 options for shock and geometry placement, and when of those 10, we were lucky if 1 was usable. On the Revolt, there is no bad option. It all comes down to personal preference. If you like to run air shocks and a position sensitive damper, we can develop that tune. If you like your frame geometry low in the BB and slack in the head angle, or vice versa and anywhere in between, it's covered. Upgradeability, tuneability, and personalization is what it's all about, finding that combination that's perfect for you and no one else. One other thing I can say is that the bike has the potential to be very lightweight. It's one thing to pepper the media with a 34 lb downhill prototype, then ship 40 lb bikes in production. From what I've seen so far, the Revolt is one of the lightest downhill frames that I've ever seen. The frame alone weighs in the mid 7 lb. range, and it has potential to get lighter even. The new DHR is the only other bike that I know of in that weight class.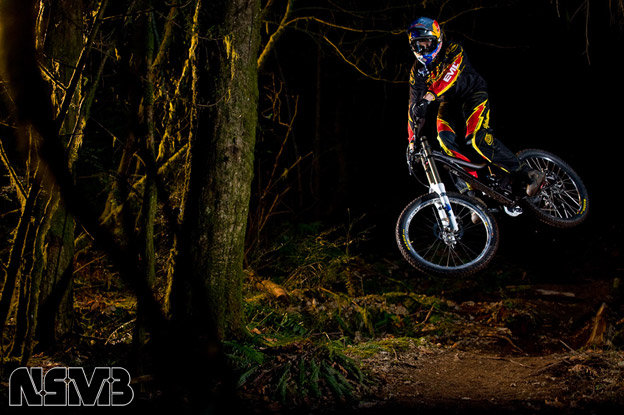 It shouldn't be hard to get the Revolt off the ground.  If the claims are accurate it should be one of the lightest DH frames around.  Love this shot.   Photo ~ Ian Hylands  Click image for large version.
 
nsmb – Would you please explain exactly what happens when an upward force is applied to the rear wheel?
DW: Hmmm, maybe we can make a video for you? I'm not sure my explanation will be super useful, but here goes. The swingarm has a rearward section, which attaches the wheel, and a forward section, which attaches to the linkage. As the suspension compresses, the rearward section pivots upwards around the main pivot, while the forward section pivots downwards. The forward section of the swingram pulls small tension link. This tension link is attached to triangular links which pivot on the frame and compress the shock rearward as the suspension compresses. The rear end of the shock is attached to the swingarm and is compressed forwards at the same time. The floating shock was not chosen for any suspension attribute, it just made the structural design of the long travel bike simpler. The original design actually did not use a floating shock. I had to re-engineer the kinematics and develop the floating shock layout halfway through the project to help meet the design team's structural goals. Most of the shorter travel designs use a non-floating arrangement.
nsmb – Thanks very much Dave.
DW: Anytime Cam, Thanks!
Could this be the bike to beat on the World Cup circuit in 2009?  What do you think about the design, weight and adjustability of the Evil Revolt?  Preach it here…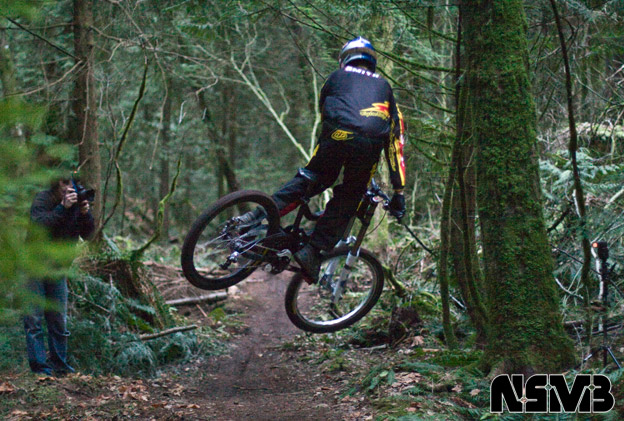 Ian Hylands at work in the woods. Photo ~ Cam McRae