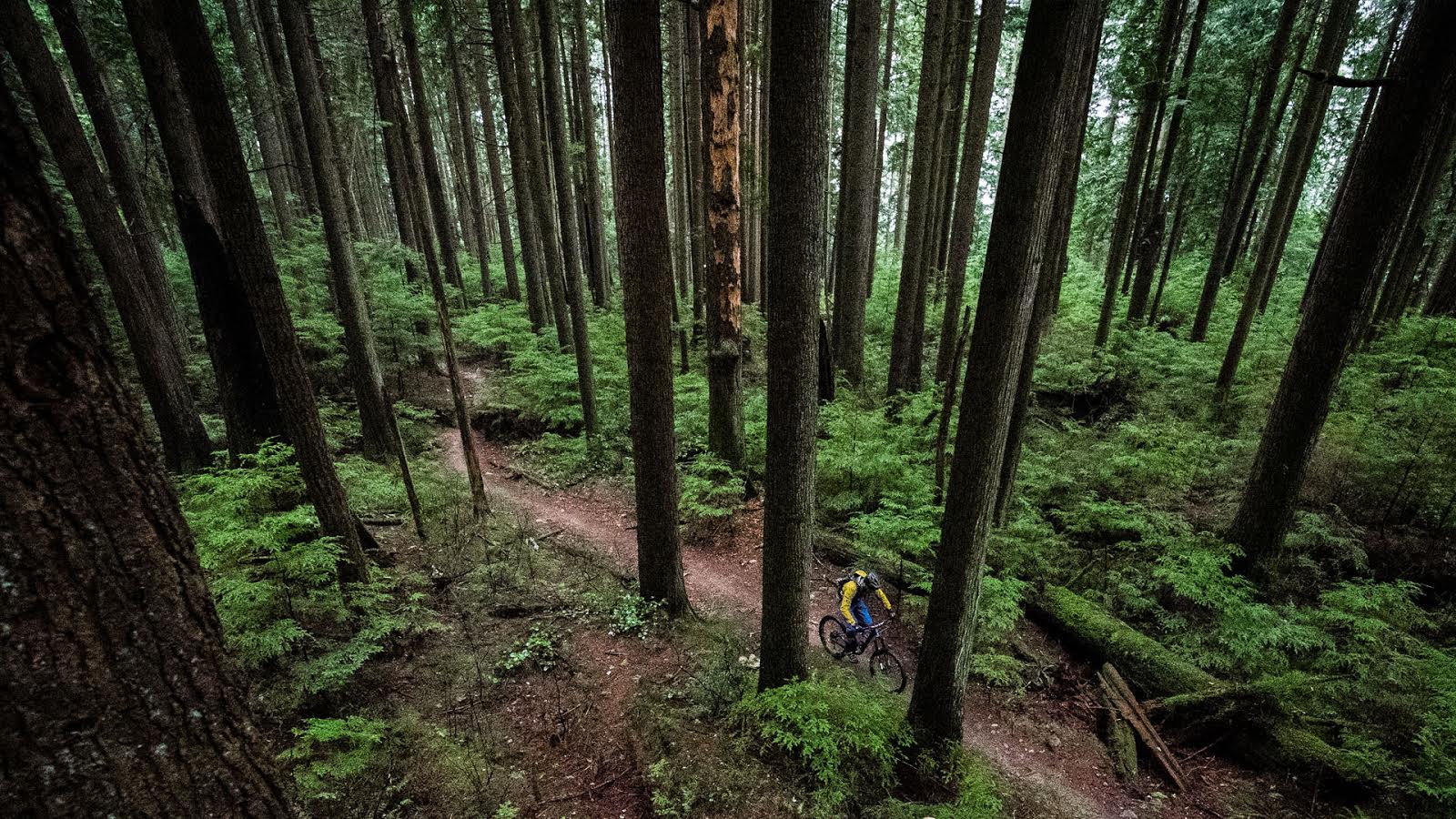 NSMBA AGM Done
We miss you Ernie Crist.  For the past few years, despite the trail classification plan that mandated the closure or amalgamatiion of 30% of the trails on Fromme, the nsmbA is an organization that doesn't have a clear battle to fight.  The trails could be better but they aren't in bad shape.  The Mayor and Council of the District of North Van seem to be in favour of mountain biking and the North Shore Mountain Bike Association (an advocacy that has no official affiliation with nsmb.com) seems to have been losing ground in recent years.   

  Matt Bond, nsmbA president, has been involved in the nsmbA since he was 15 years old. Photo ~ Malcolm McLaws 
Before the meeting there were rumblings that the president and directors were considering  dissolving the association.  Matt Bond, the president, and all the directors, were faced with increasing expectations from membership, diminished resources and an impossible workload.  This was the situation 118 of us (including 16 women!) walked into earlier this evening.
Things started out with Matt Bond addressing the membership.  It became clear that he was tired and frustrated and determined that something had to change.  He proposed two options; the status quo – which he titled 'dissolve into obscurity' and revitalization.  Not surprisingly everyone in attendance was in favour of the latter option.  Someone suggested that those in favour of the former weren't in attendance.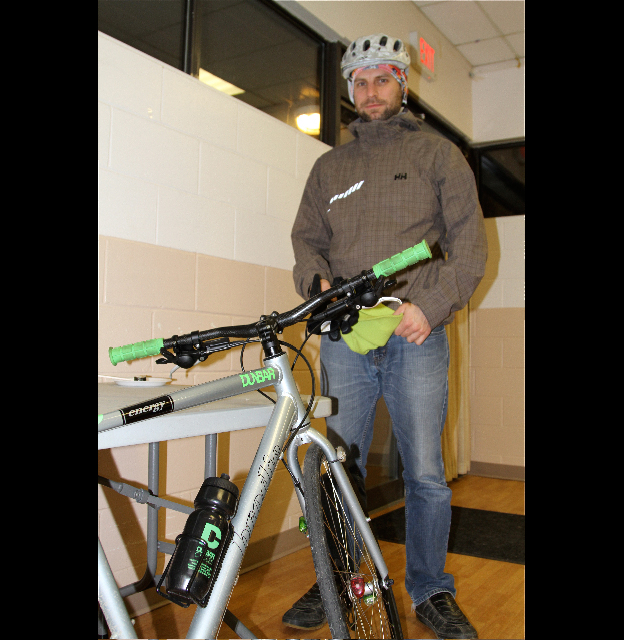 Dan Gronross pedalled to the meeting despite the cajone chilling temps. Photo ~ Malcolm McLaws 
Matt then made it clear that he felt this was a critical time for mountain biking on the North Shore.  The District of North Van has a budget of $500,000 to implement the Trail Classification Plan which will lead to trails being decommissioned.  Cypress is currently being developed and while things appear relatively rosy on Seymour that could change.  Without an advocacy group to look after riders' interests it would be virtually impossible to work with landowners to mitigate trail loss.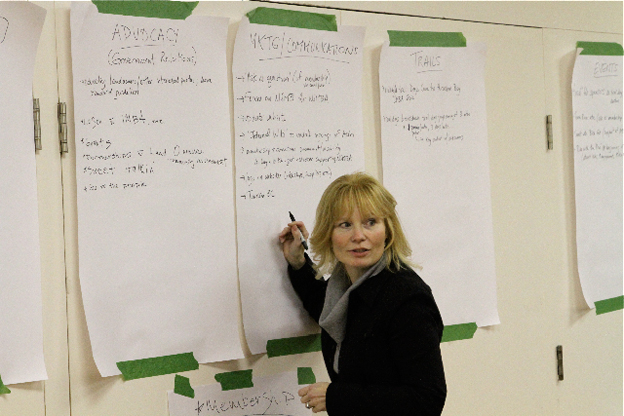 Former Muddbunnie calendar girl Ina Hunt trying to keep track of the action during the brainstorming. Photo ~ Malcolm McLaws
Early on there was agreement that the nsmbA needed a paid administrator.   There is currently $17,000 in the bank for this and someone suggested that HRSDC could match this number and contribute to a part time salaried position.  Matt Bond suggested this person should be in place by February.  Applications will likely be accepted early in the New Year.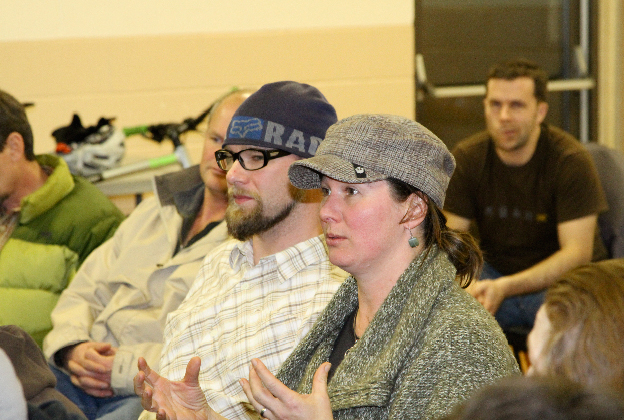 Rick Loader, co-proprietor of the soon to open bike shop in Lynn Valley and his wife Wendy get in on the discussion. (I failed to recognize Rick in his beard and toque). Photo ~ Malcolm McLaws
When talk turned to money it was revealed that Whistler, Squamish and Pemberton all received large grants for trail projects in 2009.  Apparently the nsmbA put together applications for some of these funds but were not successful.  Rossland B.C., pop. 2000, has a full time three person trail crew.  Why can't we get it together to hire a trail crew to maintain and even improve the trails on the Shore?  A study showed in 2006 that in a three month period mountain biking had a $2,000,000 impact on North Vancouver businesses.  Despite that it seems impossible to get public funds to work on the trails.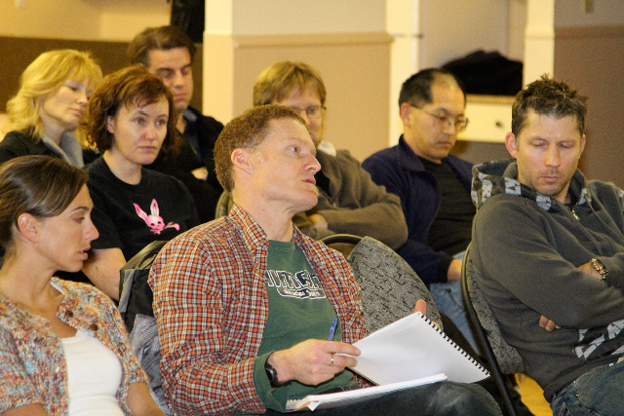 James Wilson of Obsession: Bikes was the only shop owner present (note excepton above).  It would have been great to see more of this group, who benefit directly from the trails, at the meeting. There are 8 shops in on the Shore and one opening soon. To James' right is Andreas Hestler of Rocky Mountain, to is left Eron Chorney from Specialized and behind him is Dorothy Luebke of Cycles Lambert. Photo ~ Malcolm McLaws
One of the discoveries of this study was that most of the riders who come to the Shore are from other municipalities in the Greater Vancouver area.  An issue is that the trails on the Shore are too hard for most riders from elsewhere and that maybe it was time to diversify the product to include some easier trails.  James Wilson proposed a trail we could pedal from Deep Cover to Horseshoe Bay.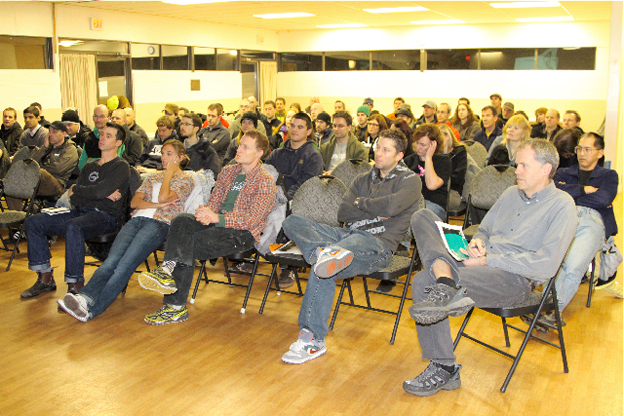 There were 75 riders in attendance including a record breaking 16 women. Photo ~ Malcolm McLaws 
After we indulged in some pizza, sushi and beer it was time to do some brainstorming.  It became clear that there was a lot of talent, energy and enthusiasm in the room – despite virtual absence of riders under 30 at the meeting (President Bond at 26 and a few others being notable exceptions).

 Prizing was saved until the end of the evening – and it was quite a sweet haul. Photo ~ Malcolm McLaws
The brainstorming was productive and it gave a much needed boost to the energy and optimism in the room.  Everyone began to think that maybe this could be a fresh start.  There was actually a crush of people wanting to assign their names as volunteers in various categories from marketing to trails to advocacy.
In order for the nsmbA to keep operating the AGM had to accomplish one last task – elect a board of directors.  Five was the minimum number but six individuals stepped up to get involve; Rachid Nayel, John Housser, Mark Wood, Tara Mowat and Adam Walsh.  Matt Bond agreed to continue on as President so the board now totals seven.  The idea is that each of these directors will assemble a team and concentrate on managing the team rather than doing the work themselves.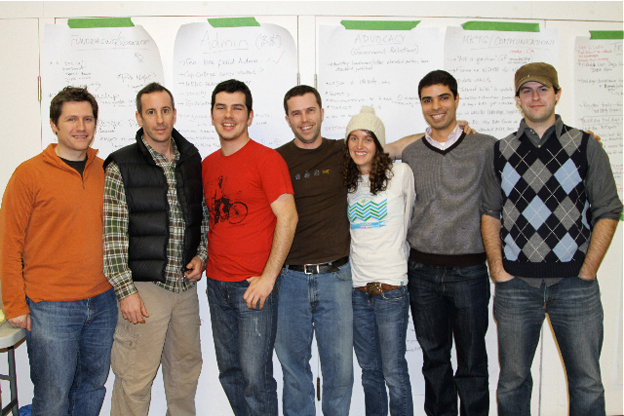 The new board of directors of the North Shore Mountain Bike Association.  Left to right: Tim Ambler, Mark Wood, Matt Bond, John Housser, Tara Mowat, Rachid Nayel and Adam Walsh. Photo ~ Malcolm McLaws
The evening ended on a high note leaving most of us cautiously optimistic.  Maybe this will be a turning point for the nsmbA – but not without more people stepping up to help out.  If you'd like to volunteer some time – which could be as little as two hours a month – send an email to info@nsmba.bc.ca. Be sure to indicate an area of interest if you have a preference.  Areas to consider are trails, advocacy, fundraising/sponsorship, membership, events (including social events), admin, marketing and communications. Please indicate what skills you would most like to put to use.
Of course it remains to be seen whether the energy from this meeting will translate into a revitalized organization.  A world class riding destination needs a top notch assocation leading the charge.  Let's hope the fresh start begins now.
---
Were you at the meeting?  Did you see things differently?  Anything to add?  Over this way…