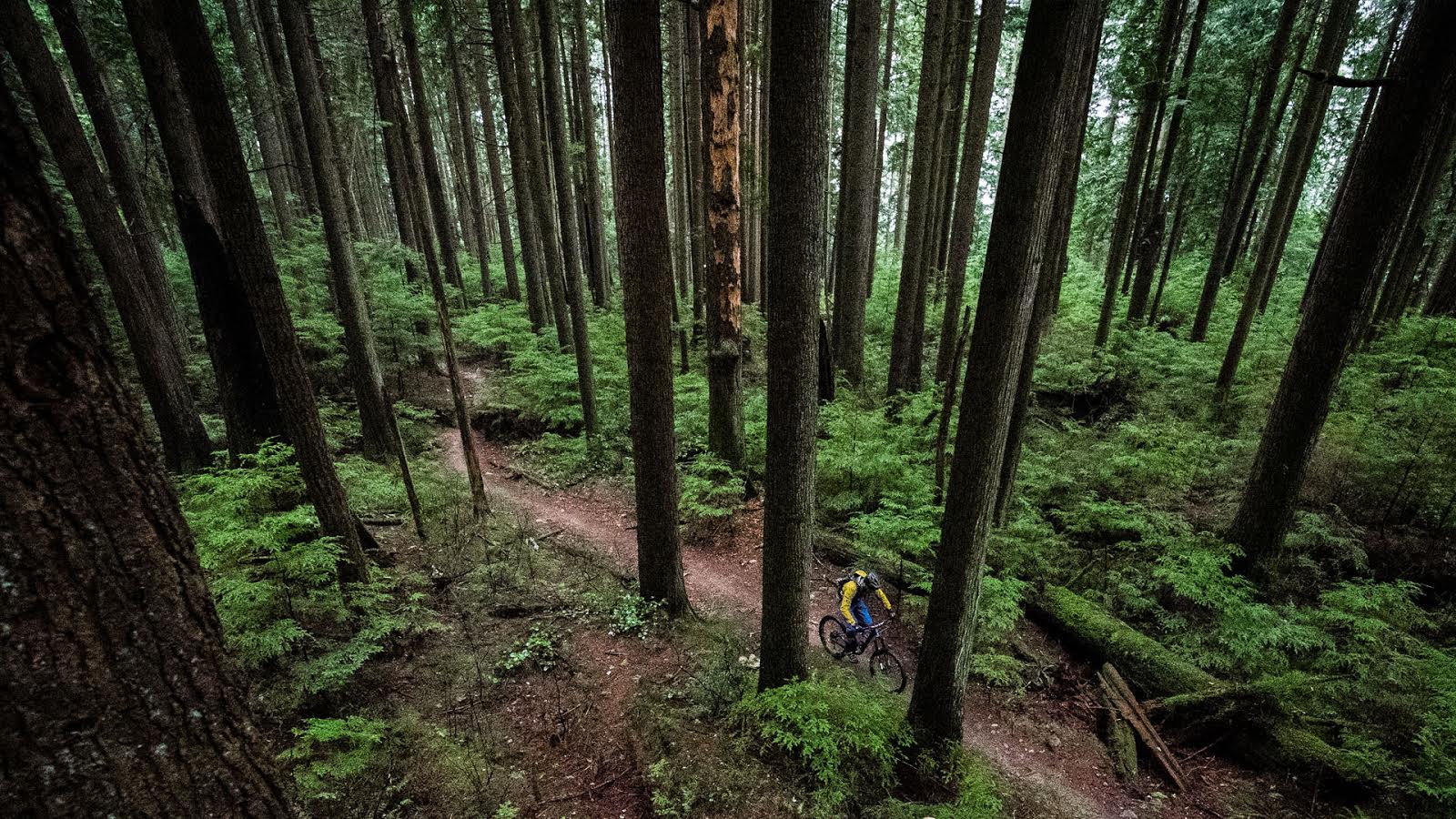 09 Banshee Scythe Review
Reaping the whirlwind…
Since June I have been lucky enough to have a Banshee Scythe in my stable, and I've been reaping the benefits of this versatile rig. I had an awesome summer hitting Silver Star, Sun Peaks and Nelson (with a ride on Powerslave). At the end of July I got in my first trip to Whistler and I got good use of my season pass at Mount Washington. Lots of testing time.

Full Disclosure
I bought this bike with my own money, however I was given a killer deal. In return Banshee asked that I help Jeff at Trail Bikes with demo days and other events.
I Ride Bikes
I am 35 and I weigh 200 lbs. I spent the first 18 years of my mountain biking career firmly entrenched in the XC world – heart rate monitors, spandex shorts and ugly tight jerseys.  In 2003 I bought a Norco Fluid, moved to Ireland for a year, and began to discover what bigger tires, disk brakes and more travel could do.  Over the past 5 years I have been back in B.C., slowly going bigger in terms of both speed and air.  I would describe my riding style as power before flow; I am more likely to force my bike where I want it than to try and pick a smooth line. While drops and gaps aren't my forte, I am a big fan of technical terrain and my favourite Whistler Run is Original Sin to In Deep to Factrobat to Too Tight.  I dream about that trail and I think I ride it at decent speed.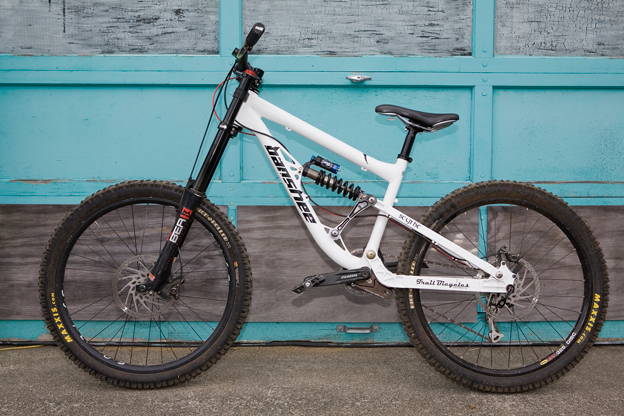 Andrew's rig.  Photo ~ John Bazett

Chris Rides Bikes too
In the forum a thread was started that asked if testers should be pro level riders. Many posts suggested it would be helpful to see more than one perspective on a bike test.  I was lucky enough to meet Shore local Chris Barker on a ride on Eagle Mt. In Pt. Moody.  Chris has a white Scythe with a different build from mine.

  Chris Barker (left) and Andrew Gower at Eagle Mountain in Port Moody B.C. Photo ~ Judy 'Lady Gravity' Garren
Chris Barker Speaks
When I finally admitted to myself I needed more than one bike, I decided to sell my beloved Norco Six and get something burlier (I had a Norco Fluid LT to pedal). I looked at several frame options and the Banshee Scythe ended up on my list after lots of poking around on the internet. A trip to On Top Bike Shop last winter to take a look at one lead to the purchase of the owner's year old frame. Happy New Year to me! It was a bit of a risk buying a frame I hadn't test ridden but I had read enough positive comments from owners to take the chance.
Build
Check out Andrew's build here…
Chris' Build
   
| | |
| --- | --- |
| Fork | Rock Shox Domain 318 180mm (new) |
| Rear Shock | Roco TST-R with Ti coil (included with frame) |
| Cranks | Saint |
| Wheels | Mavic 721's on Hope Pro II hubs |
| Tires | Maxxis Minion DHF & DHR 2.5 dual ply tires |
| Brakes | Avid Juicy 7 brakes on 8" rotors |
| Pedals | Shimano DX Clipless Pedals |
| Drivetrain | SRAM |
| Chain Management | Front D with Blackspire Stinger chain tensioner |
| Stem | FSA Gap |
| Bar | Truvativ Hussefelt |
| Post | Praxys North Shore |
| Headset | Cane Creek Orbit 1.5 Headset (new) |
Weight 41 lbs
The build was pretty budget because of the deals I found online for the fork and wheelset and using most of the other parts from the last bike. What I ended up with is far from a budget feeling bike and there isn't much I plan to change until it wears out or breaks (can't seem to kill the old saint cranks).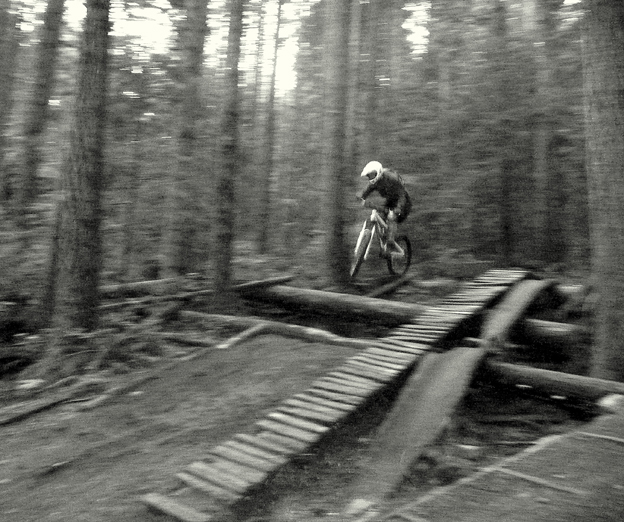 Chris sails his Scythe over the Ned's gap. Photo ~ Sean Killen

Andrew Waxes on Frame Set-up
Banshee denotes the Scythe as a DH/FR frame, and with myriad set-up options for the rear end, they have versatility nailed.  Depending on fork selection there are four settings that can be run with different head angle and travel options. The rear shock mount on the link plate establishes travel with the upper mount being the 7" setting and the lower the 8".  Changing the travel setting also affects the head angle, with the higher travel setting increasing head angle by a degree.  Finally, changing the travel settings has the biggest impact on bottom bracket height, with all other factors the same, changing the travel from 7" to 8" will increase BB height by over a half inch (14.5″ to 15.1 if you are running an 8″ fork).
The front mount affects head angle predominately, with a smaller impact on bottom bracket height, with a DH and a FR setting which has a head angle range of a half degree.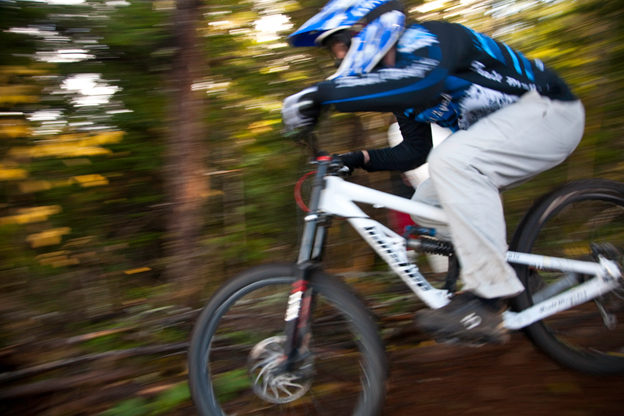 Andrew with a head of steam in Cumberland. Photo ~ Gordon Ross.
You can also run a shorter eye to eye shock for slacker angles with shorter single crown forks.  7 inch and 8 inch travel forks also affect geometry with a longer fork (i.e. greater crown to axle measurement) having the effect of decreasing the head angle (but also raising bottom bracket height).  The combo I have been running is; 65 degree head angle, seven inches of rear travel and an eight inch fork.  You could also build up the same frame with a lighter 7 inch fork, seven inches of travel and head angle settings from 65 to 67.5 degrees – you could realistically own two Scythes and have one built as a free ride bike and a second as a DH sled.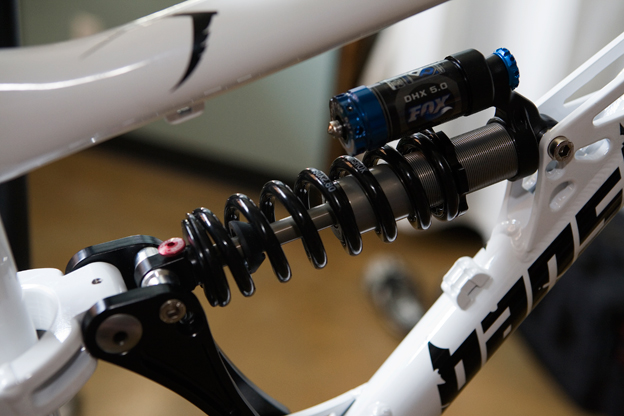 The Scythe's highly adjustable link system. Photo ~ John Bazett
I did try the frame in 8 inch DH setting once, but the degree change in head angle from 65 to 66 made enough of a difference that I changed it back before the end of the ride. I didn't use the FR setting as I found the Scythe nimble enough in the DH setting to not want to give up the extra leeway that the half degree of slacker head angle gave me, especially when going fast.
Andrew's Scythe Terrain
I spent a lot of time on the Scythe this summer.  At least 8 of the 11 days I got in at Mt Washington were Scythe days, and many of the usual Forbbiden Shuttles involved this bike too.  All three days I managed to get in at Whistler were on the Scythe, and that really let me push my limits.  I also ended up taking the Scythe on more pedal oriented rides when my Lyric on my AM bike had to go in for warranty servicing – and while the downs were fun, any ups were pretty painful.  I managed a day on Mt. Prevost (think Stevie Smith in Seasons) and a day on Eagle.  I pushed my limits but probably not the bike's.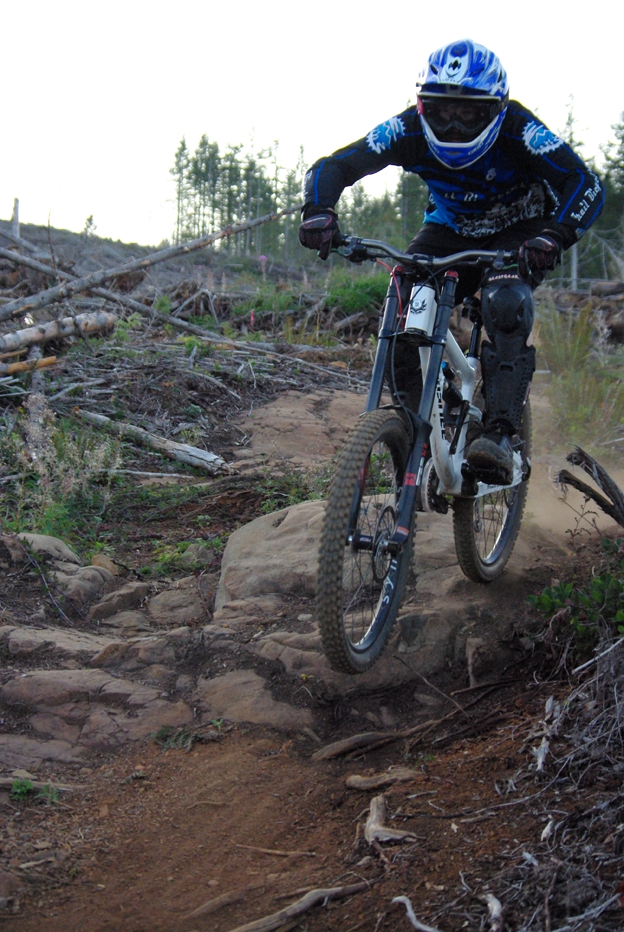 Charging on 'Bucket of Blood.' Photo ~ Tree Murdock
Andrew Talks Ride
If I had to pick one word to describe how the Scythe feels it would be lively.  The Scythe begs to be jumped over everything in its path.  The frame stiffness also lets you plow through anything you can't jump, which translates to a bike that wants to go.
The rear travel feels smooth and bottomless (especially after I took out some boost valve pressure).  Even though I left the bike in the 7 inch setting for the majority of my riding the bike never once bottomed harshly or felt like it ran out of travel.  In fact, the first couple of rides after I lowered the boost valve pressure, I kept stopping to check my back tires as it felt like it was losing air. That's what I call plush.
Now, all this liveliness doesn't make for the best pedaling platform without ramping up the DHX-5's boost valve pressure and the pro-pedal setting.  Because of the type of riding I generally did, I kept things as plush and active as possible.  However, the fact that the Scythe comes with such an adjustable shock, and the frame design takes maximum advantage of that adjustability, means that anyone could dial this bike in to feel right in almost any situation.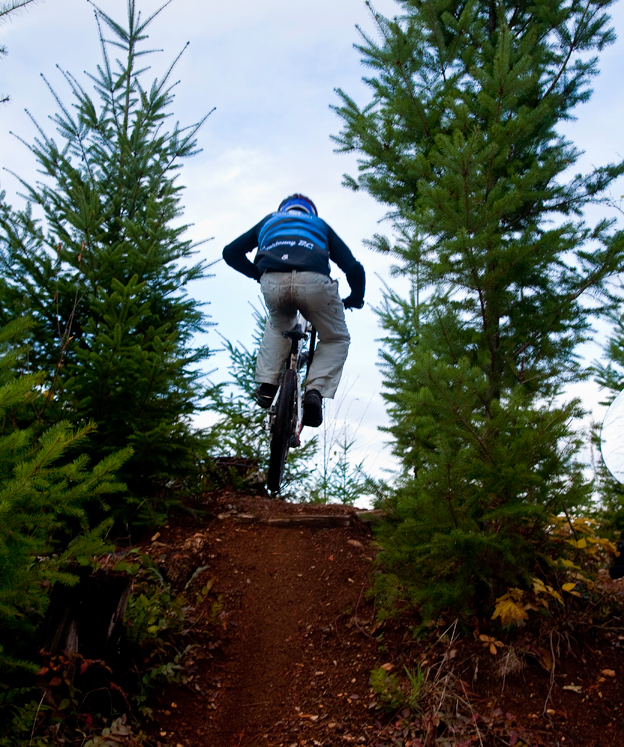 Getting some air in the Christmas Trees on 'Broadway' in Cumberland. Photo ~ Gordon Ross.
There is a down side to all this liveliness; the position of the pivot on the chainstay does make the Scythe prone to brake jack.  However, as another Scythe owner said to me this summer, this just encourages you to stay off your rear brake.  This liveliness also means that you have to work the bike a little more to get the most performance out of it, unlike a VPP or Horst Link frame where the hits may get soaked up more.
The Scythe corners fairly well despite having a tall front end (as a result of the 888 fork not the frame).  As long as I was willing to keep my weight forward and stay off the back brake, the Scythe was eager to carve.  To improve the Scythe's ability to tilt you can adjust the travel settings to get a lower bottom bracket height.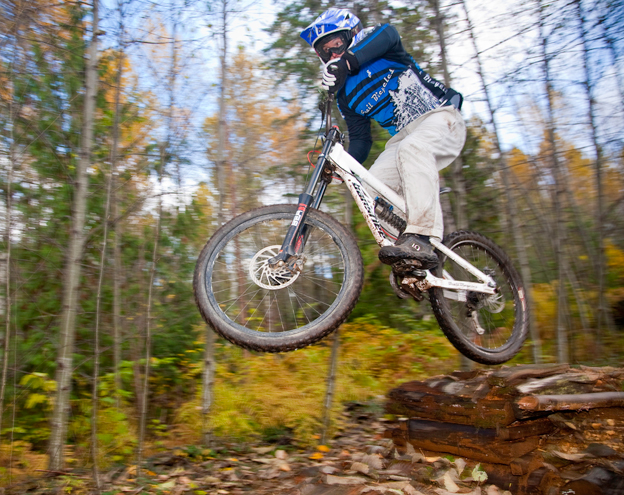 Andrew pulling an old school drop to flat.  Photo ~ Gordon Ross

My biggest issue with the Scythe is the finish. Just wave another bike or rounded stone at the frame and the paint seems to leap off the aluminum. Maybe I'm exaggerating but the very first time I had this bike shuttled in the back of a truck (at the DH race in Port Alberni) the frame got scratched right to the aluminum.  There was a bottle of touch-up paint provided, but it was about as effective as watered down white-out.  Now, four months later, the Scythe is almost as beat up looking as my 2003 era hard tail.  While it doesn't affect performance (and aluminum doesn't rust) I would be happier if it had stayed shiny longer.  Other Scythe owners I have talked to who have anodized or raw frames report better finish durability.  Also, the rear linkage has developed an annoying squeal whenever I ride in the wet.
Back to Chris Barker
Going Up
I knew I would climb this bike a lot so I went with a front derailleur and a Black Spire Stinger chain tensioner. I've had no dropped chains in a year of riding and it's very quiet. The Scythe climbs surprisingly well. It's easy to get caught up in the weight weenie hype but every time I hop on I forget all about wanting to lighten it up. It doesn't feel overly heavy or slow climbing (for the type of bike & weight of course) partly thanks to the TST lock out on the shock and head angle (I run it in the steeper config.). I had expected the head angle to feel slacker, but after a few rides I became more comfortable on the really steep downhill lines and appreciate the climbing abilities as a trade off.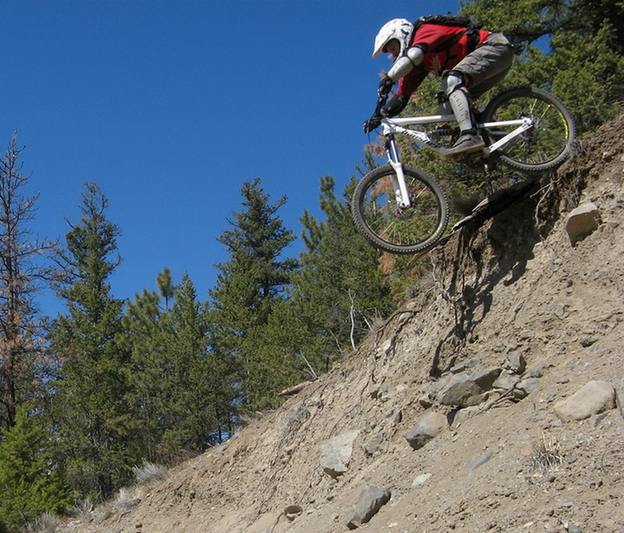 Chris checking out some interior soils. Photo ~ Matthew Jones
Going Down
On long steep descents the Scythe is prone to brake jack. To me it feels like the rear wheel is locking up and kicking back a bit, like a stick is jammed in your rear spokes. This seems to be an issue with the single pivot design, and considering I love really steep trails it has been a problem for me a few times as it results in loss of rear brake control. Hopefully having recently swapped to a heavier spring (I went from 350 to 400 ti and I weigh 180 lbs) there won't be as much sag in the rear and it will help prevent this. For a long time I found the rear felt dead and clunky on slow technical lines and was sure this was again part of the suspension design. However a shock rebuild and heavier spring later, the rear suspension feels much more active & lively in these types of compressions, but I still notice it sometimes. Where the Scythe really excels is on high speed flowy lines where it pumps, carves and pops with the terrain. One thing's for sure, I've become a much more vocal rider whooping and woo-hooing my way down the mountain on the Scythe.
The overall stiffness of the frame gives it a point and shoot attitude but with control. I spent a lot of time riding Cypress and Eagle this season on the Scythe, and a Fromme ride today made me realize just how much this bike has helped me progress. I haven't ridden Ladies or Lower Ladies since I've had the Scythe and today I rode two of the most technical lines on them that I have never cleaned – in the wet with hail on the trail to boot.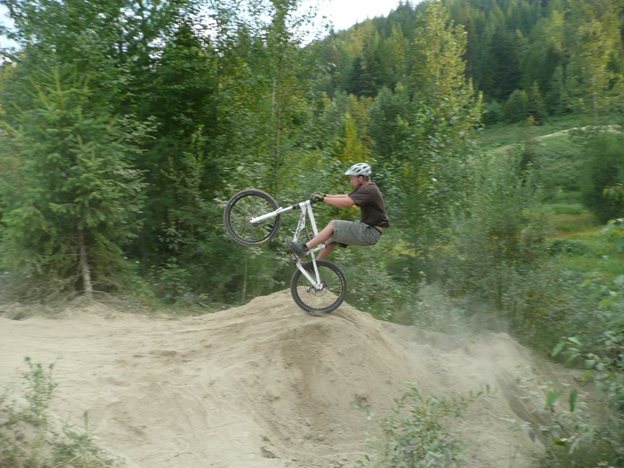 Chris stepping up to manual.  Photo ~ Matthew Jones
Uh oh…
Aside from the suspension issues noted above, I've run into a couple problems with the frame.   The left side chainstay developed a crack on the weld to the yoke, but Banshee replaced the chainstay quickly. I have heard about this happening to a few other people, and apparently Banshee has recognized the problem and has redesigned this area.
The pivot bolts are a two-part bolt system. Each side has its own bolt which threads into the middle of the pivot. The problem is they have a hex head so you can un-thread them from the pivot cap which creates a thin weak area and I have snapped 2 bolts at the head so far. The bearings have held up well from dry & dusty Interior & Kootenay trips to muddy Shore days though, and the grease still looks fresh when opened up.
Lasting Impressions

    Chris' Take
I felt instantly comfortable on the Scythe coming off the Norco Six and even though I expected to notice a substantial difference between the frames it felt very natural. At first I was uncertain if I had really made an upgrade, but I soon noticed I was riding much faster and more confidently on the Scythe. Taking everything into account I give the Scythe a thumbs up for all the riding I have thrown at it in the past year all over BC – the Vancouver area, Squamish, Whistler, Pemberton, Lillooet, Sunshine Coast, Nelson, Rossland and points in between.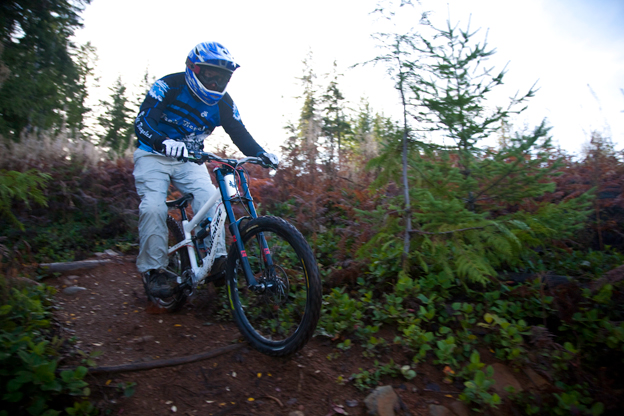 Using all that rear travel.
    Andrew's Take
The honeymoon is definitely not over, and I think we will be renewing our vows next summer.  With its combination of stiffness, versatility, good looks and (compared to other exotics) reasonable price, the Scythe is an excellent choice for a wide range of riders and a venerable replacement for the Scream.  Despite some minor issues, and having to adjust my riding style to deal with a more active suspension linkage, having a bike as capable as the Scythe to take on big bike adventures has definitely helped me step up my game. At the end of the day, isn't that what we really want when we buy a bike?
Pros
– Versatile platform for DH and freeride and highly adjustable
– Bomber stiff chassis
– Lively descender
– Likes to jump
Cons
– Won't ever win a light bike comp
– Brake jack on steep trails
– Paint finish susceptible to scratches.
North American Pricing


| | | |
| --- | --- | --- |
|   | CAD | USD |
| Scythe w/ Manitou Revox | 2050 | 1685 |
| Scythe w/Fox RC4 | 2200 | 1850 |
| Scythe JFR Build | 4000 | 3585 |
| Scythe UFR Build | 5000 | 4515 |
---
There you have it.  Will the Scythe cut it for your riding?  Commentary this way…