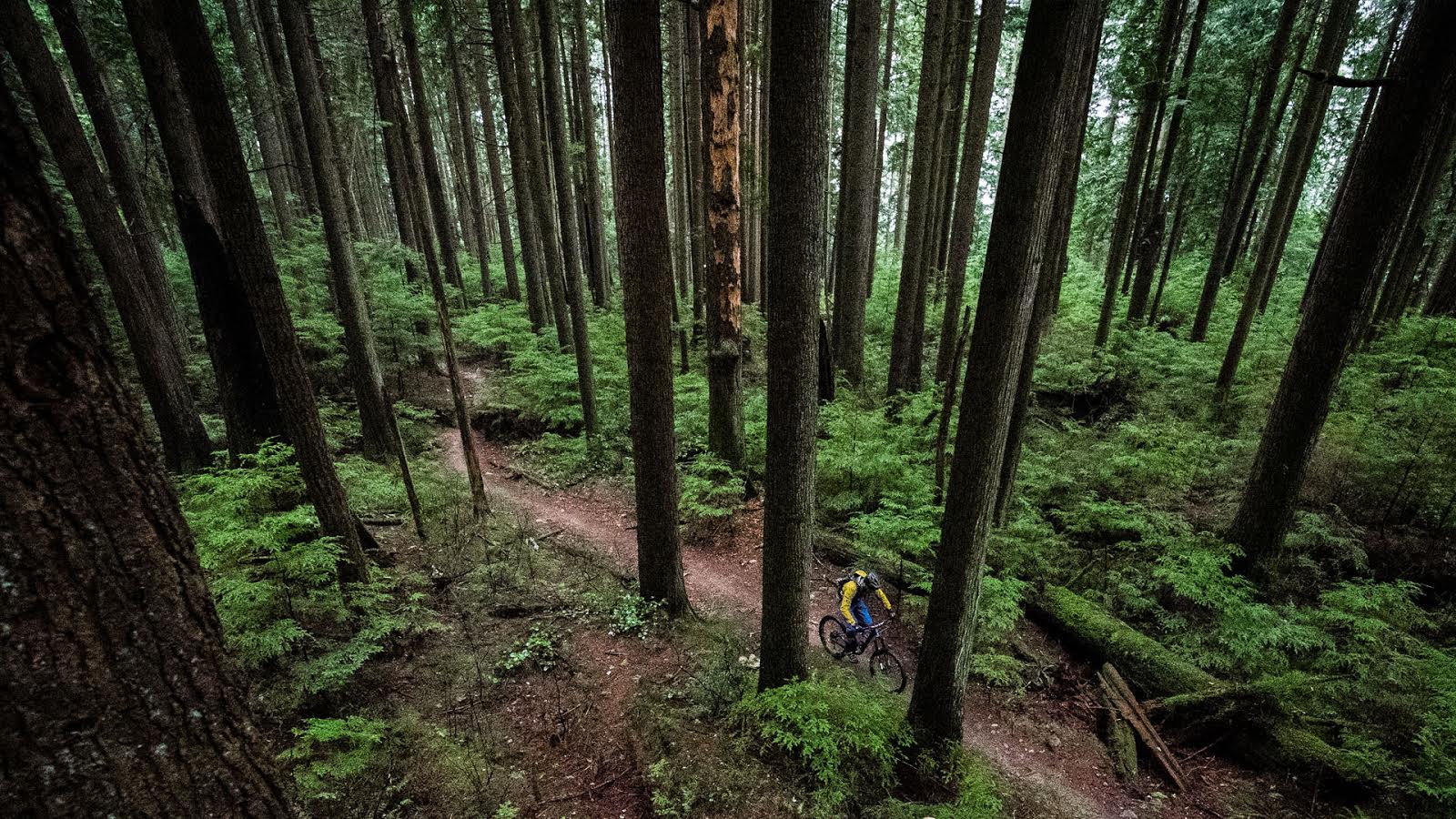 Our Helicopter Shoot
Evan Schwartz and I have put a lot of days into filming with the Life Cycles Boys for their new movie. The Life Cycles crew consists of Ryan Gibb, Derek Frankowski, and Andre Nutini. Ryan and Derek came up with their movie concept some time ago and have put their lives into it full tilt for the last two years. Ryan even moved up from Utah and has made Rossland his home while pursuing the shots they need for their project. Andre is the young apprentice from Warfield, BC and has put in countless days into this film as well. Andre is super skilled technically and this has helped out Ryan and Derek a lot from my perspective. Andre also brings the two old dogs some fresh ideas, for instance our opening shot is completely Andre's idea and Derek and Ryan get no credit whatsoever, ha ha!
What is unique about these guys is that they have dozens of shots, or possibly almost their entire film, pre-scripted inside their heads. With Evan and I it was never, 'Ok guys, get out there and build the coolest stuff you can and we'll come film it whenever we can.' Which in my experience is the typical approach to filming a bike movie. Life Cycles knew what they wanted from us and we just showed them a couple locations until they found what they needed to get the shots that were already seeing in their heads.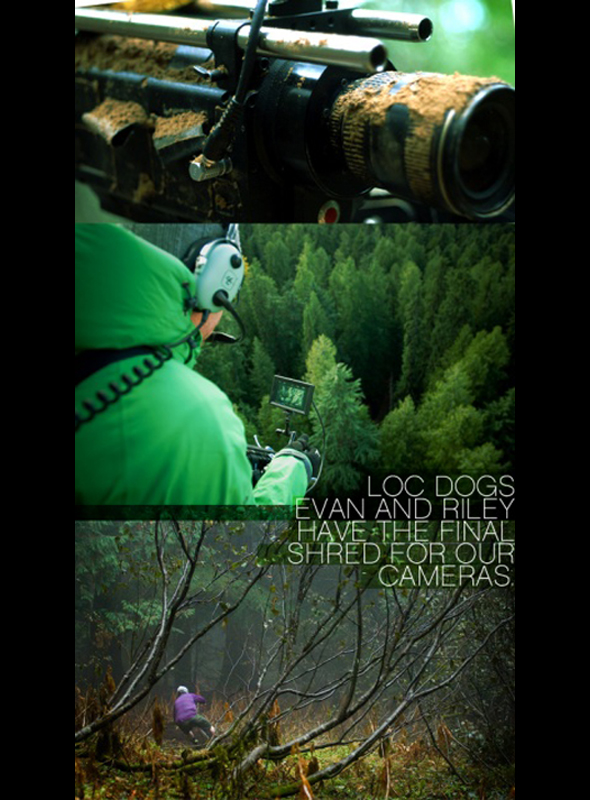 Middle frame – Ryan Gibb hanging out of  the A-star.  Photos ~ Derek Frankowski
For example there were shots they 'needed' to get requiring funky bits of equipment, and it pretty much took Evan and I out of the equation. It was more them hiking along the trail until they found exactly the right spot to set up this certain type of shot or whatever. Life Cycles knew what they wanted from us and it was a neat experience to almost be a pawn for them to just move into that particular shot they were hoping to get; for about 2 seconds and then continue riding on by. I was inspired by their approach because I am the same with trail building. I get certain things in my head and can't get rid of them until I build them. For instance I see an amazing curving cedar tree and I constantly picture it crossing this little creek on my new trail right up until I get it built. I have a lot of respect for Life Cycles because they are truly creating something different and unique and putting themselves on the line to get there.
As a result of their perfectionism we had lots of days were we got up to the location and weren't able to shoot due to bad light (too bright) and ended up hanging around on the forestry road playing 'Who can sink the axe into the stump' for hours. It's fun but it gets old, especially when there was lots of other things going on or Evan and I were taking days off work to be out there with Lifecycles.
Our last shoot with these guys really summed up what Life Cycles is all about for me. It was mid October and we all thought that it was over for the season. Life Cycles was happy with what we had and told us we had plenty of shots for the segment, no worries. However, there had been an idea to shoot our trail from a helicopter looking down into the forest as we rode through. Obviously anytime you get a helicopter involved you start dealing with a lot of new complications; primarily weather, availability, light, and cost. It had snowed about 3 inches on our trail and I drove up to check it out and told Lifecycles that it was over for the season and we'd have to be happy with what we had. Since they are releasing the film in the spring we wouldn't have another chance to film from a helicopter. So that was it for the season.

  Riley floats over the 'V-Bridge' at Position 6 on the heli shoot. Photo ~ Dan Barham
A really warm rainy weather system came in and melted out all the snow about a week later. We were all really surprised and the boys decided to postpone another trip to try and pull off the helicopter shoot with us. At this point we were in around late October so new snow could come any day. They called High Terrain Helicopters and arranged an A-Star machine for the next day. We met up at the coffee shop and the weather was looking sunny, sunny, sunny. Evan and I drove up there and waited, waited, waited; radio in hand hoping for Derek to call saying it was clouding over and it was time to shoot. No go! We went home, they went home.
The next morning they came back and we repeated the whole situation, except this time it was the opposite, it looked too cloudy. Evan and I drove up there once again and found perfect light and cloud free conditions. However, looking down into Nelson a super thick cloud layer snaked its way up the river and settled over Nelson. Our Pilot Rourke gave the thumbs down to Derek and Ryan, and after four hours of waiting up there in the cold on the forest service road, Evan and I once again drove home defeated. Over a coffee the Lifecycles crew told us that 'maybe it just wasn't meant to be,' especially since the next day's weather forecast was calling for sunny and bright, which is the wrong conditions for shooting. We went home, they went home.
The next morning we both got calls from Derek and Ryan, who had decided to come to Nelson regardless of the weather. The machine was still available, Rourke was on call for us, and the safety rigging for Derek and Ryan was still hanging inside the A-Star. They sent us up to the trail once again and as Evan and I drove up the forestry road our attitude was mostly 'we're sitting in the truck for another 4 hours and then driving home, this is stupid,' but we pulled into our same parking spot from the last couple days and whipped out the playing cards. We rolled down the window and put the radio on the roof for better reception and tried calling Derek every ten minutes, but there was no answer. We were wearing our street clothes, our bikes were over the tail gate, and our riding stuff was strewn all over the back of the truck. We sat there for about 2 hours, trying Derek every ten minutes with no answer. We knew the reception could be spotty up here but we had good communication the day before so we weren't worried about them not being able to reach us. Radio was our only option as there is no cell phone service up there. It was quite sunny so we just assumed they had gone for coffee and were making us wait. Evan and I grew increasingly bitter and our attitude was, 'they could at least just call us or turn on their radio so we know what they hell is going on.' We just kept playing cards and then eventually both of us reclined our seats and closed our eyes.

 Riley getting some in the 'Moto Corner.'  Photo ~ Dan Barham
All of a sudden the radio crackled super loud with static and garbled gibberish. I grabbed it, assuming it was Derek on the radio telling us to drive down because it was too sunny. I got a pretty big shock when it was Rourke the Helicopter Pilot saying, 'Riley we just left the pad, heading up your way, we're going to need some guidance from you, you should hear us any time now.' Both Evan and I looked at each other, eyes wide, and then our jaws dropped as we heard the helicopter, thud, thud, thud, in the air approaching us! Both of us tore ourselves out of the truck and began trying to find all our riding gear and hopping around on one foot trying to get our pants off. I answered back on the radio in the calmest voice I could, 'Ok Rourke, we can hear you, keep following your nose and we're moving into Position 1." We'd made a map with the Lifecycles boys of 6 spots on the trail we'd film, hitting them from top down. So we had to get up to Position 1 as fast as possible, about 1 km of sprinting up through the trees pushing our bikes. It seemed really sunny but even as I thought that, my arms tangled up in the riding jersey I was trying to put on as fast as possible, I noticed a huge grey cloud coasting in towards us. Holy shit this is really happening! Evan and I gave each other a look of acknowledgment as we shoved stuff into our packs and lifted the bikes off the tailgate: 'Ok, it's time to get serious and pull this shoot off.'
We started sprinting up the trail with our bikes and I held the crackling radio in my left hand against the handle bar. We got lucky when Rourke said, 'Ok boys, we're going to need a minute to pinpoint our locations and then it's go time…'
We made our way up and were both breathing hard. I felt like shit, all cold and crampy but was warming up in a hurry let me tell you. We got to location 1 and set ourselves up in the start zone. Rourke and the boys were still trying to find us. They got their angle and needed a minute to hover around to get it right. Evan and I had a minute to collect ourselves and it was wild; here we were in this big forest we'd spent so much time in and it was like being here in the middle of a tropical storm. The rotor wash was howling through the forest and little pieces of branches and whatnot were flying around everywhere. The machine was super loud and we had to yell at each other just to make out the words. I held the radio to my ear and waited for the countdown. It came from Rourke: 'Ok boys, five, four, three, two, one………'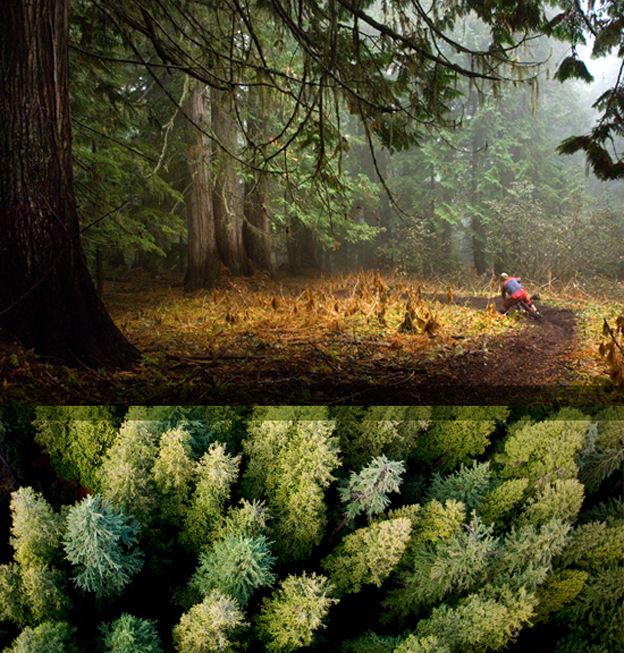 Evan laying a foot out in the big forest – and the forest as seen from heli. Photos ~ Derek Frankowski
And we shredded the hell out of Position 1. The main feature in Position 1 is a big old dirt corner we call the 'moto corner,' because it is super long and doesn't really have a berm, it's more just a Motorbike style rut. Since it was late October everything was pretty wet and soft and we were tearing the moto corner a new one up there. Dirt was flying everywhere, the helicopter was raging above us, hovering above the tree tops, and as we ran back up to the start zone each time we could see Ryan's little legs hanging out,  perched on the skids. We hit Position 1 six times before moving on to Position 2.
It was a wild 45 minutes of raging down the trail and then running back up as fast as we could, very aware that each second the machine was in the air cost Life Cycles more and more money. We hit all our spots except Position 3, which they wrote off because visibility wasn't very good into the trail. The huge cloud hung over us the whole time and lighting was quite good. We only hit Position 6 once, and as we ran up for what we thought was another run, I barely made out Rourke's voice through the noise of the rotor wash, 'Thanks boys, we're outta here, see you at the hangar.' And just like that it was over and the machine flew away. Evan and I were left standing in the middle of a very calm, very silent forest. We sat there for a minute, breathing hard and sweating profusely even though it was probably only 1 or 2 degrees out. As we rode the trail back down to the truck, the big cloud that had settled over the forest literally took up and ran off. We arrived at the truck in full on blinding sunshine.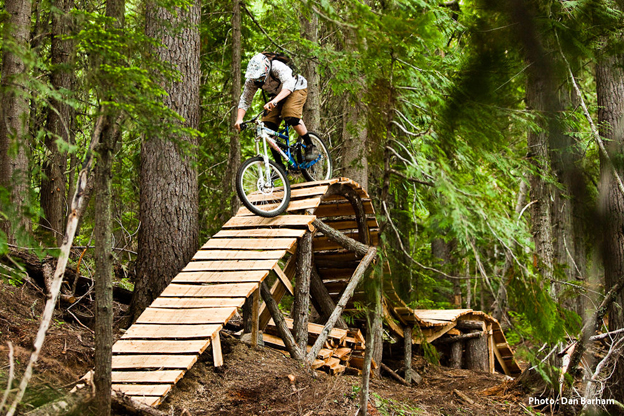 Riley on the 'Super Curver,' at Position 1.  Photo ~ Dan Barham
As we made our way down the forestry road back into Nelson, we talked about how crazy it was that we got that cloud and it actually happened. We'd thought in the morning we were setting up for another day of sitting around in the truck on the side of the road.
We met up with Ryan, Derek, and Andre at 'El Taco', and celebrated with beers and burritos. The sun was shining bright out on the street, and we all felt so lucky to have got that cloud. We told them how we weren't ready at all when they were flying in, and how we'd had to run up the trail like chased bandits to get up there in time. They were amazed by our stupidity and laughed at us.
The next day it snowed. The trail was once again buried, and stayed white. We pulled off our helicopter shoot at the exact perfect time and it wouldn't have worked at all except in that one little cloud cover window we got. 

  Riley hanging out in the garage with his Knolly Vtach. Photo ~ Dan Barham

It seems that if someone is trying hard enough, mother nature, or whatever power you believe in, will eventually step up to bat for you. This is just another illustration of why the film Derek Frankowski, Ryan Gibb, and Andre Nutini are making is a beautiful thing. That cloud must have been wandering around the Selkirk Mountains and then just picked up on their powerful yearning for the right lighting conditions: 'Hey those Life Cycles guys could really use me right now……….' And over our forest that cloud came.
For more about the film check out lifecyclesfilm.com
---
Riley McIntosh is 25 years old and resides in Nelson, British Columbia. His passion has been riding bikes and trail building for more than ten years. He moved to Nelson from his hometown of Maple Bay, BC at 17 years old in pursuit of the trails and riding he had witnessed in NWD 2, produced by Freeride Entertainment, also of Nelson, BC. He found not only the trails he'd seen in NWD 2 but an entire mountain culture that sucked him in. Riley is the owner and operator of Rilor Wilderness Mountain Biking, a lodge based guiding company offering trips in the West Kootenay.
---
Is the suspense killing you?  Think Life Cycles can compete with Anthill/Collective?  Serve up your opinions, comments or admiration here…