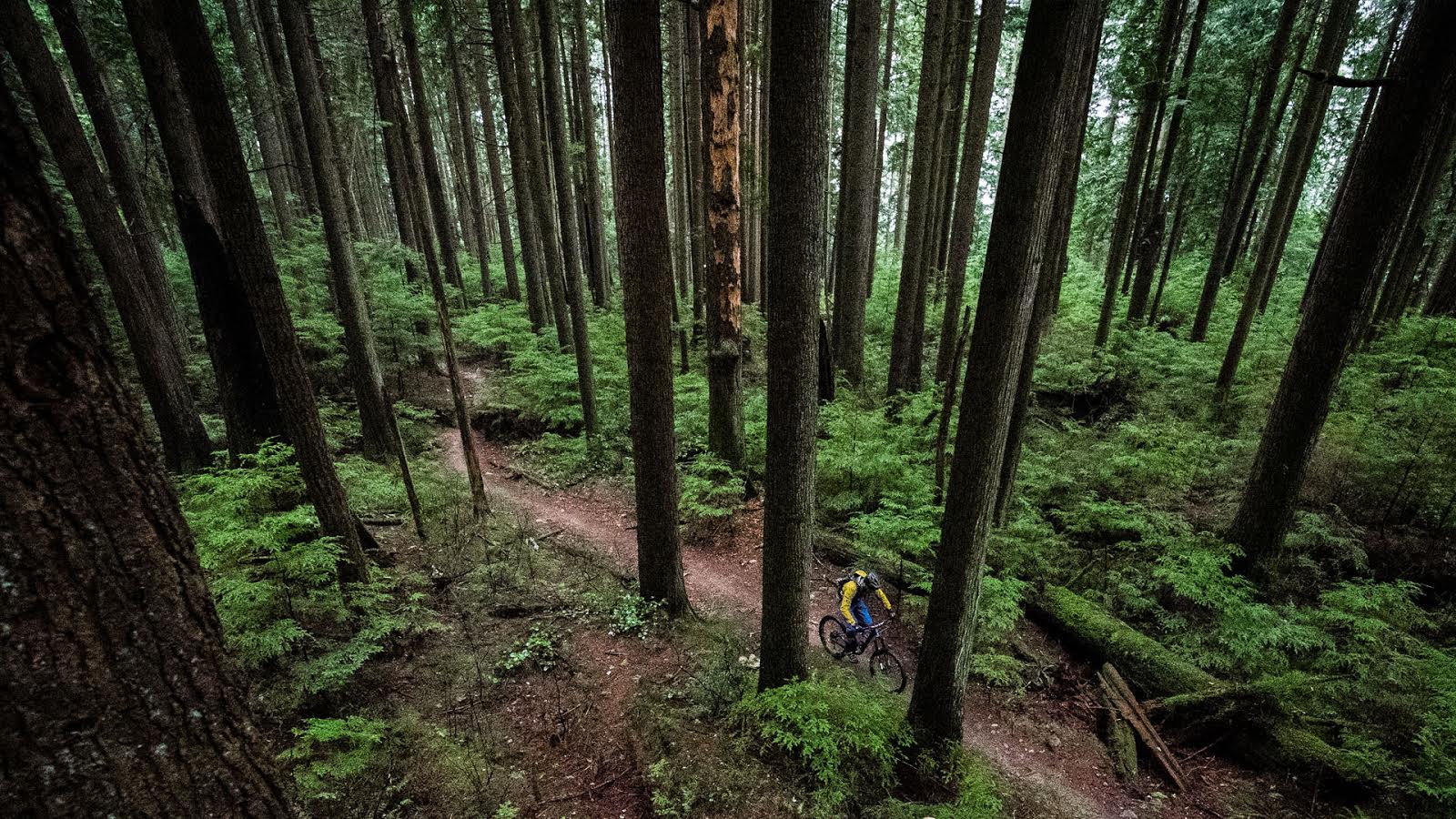 Reader' Rides 15
Parents are good. Especially dads who love biking.
Back in 1987 my dad had this rigid Hercules mountain bike, one of the first in Germany. It sported fenders and lights, drum brakes and a neat seat for me.  It was mounted on the top tube and had little extensions for my feet, similar to a seat on a roundabout. Every time I see a helmet cam vid, I feel like that little kid again, minus the ability to operate the stem-mounted bell my dad´s bike had. And of course we didn´t ride A-Line.

A tiny red and white BMX bike was my entry to the world of bikes.   When I was older my civilian service earnings were invested in a long travel taiwanese four-bar bike with a 2003 Marzocchi Z1 and other heavy "FR" components. After a year the frame failed, just two weeks before a fat road-trip to France. It was my first year at University and I was seriously low on cash.
I told my dad about my broken frame and that I probably wouldn´t need to borrow his car for the road trip.  A day later I browse my bank account and see 500 euro from dad – accompanied by three words: money for bike.
I set out to buy a frame and found a screaming deal on a local message board. A guy was selling a used 03 Heckler frame, pics looked good – 600 euro with a 5th Element and some other stuff. 


  The used Frame was in mint condition, came with a Thomson post and headset/fderailleur. WHITE FTW

I swapped my old parts to the Heckler. Two days later went to France.  Fantastic bike, fantastic holiday. No money for a camera. No pics from France 2004 🙁  I rode the Heckler until 2007.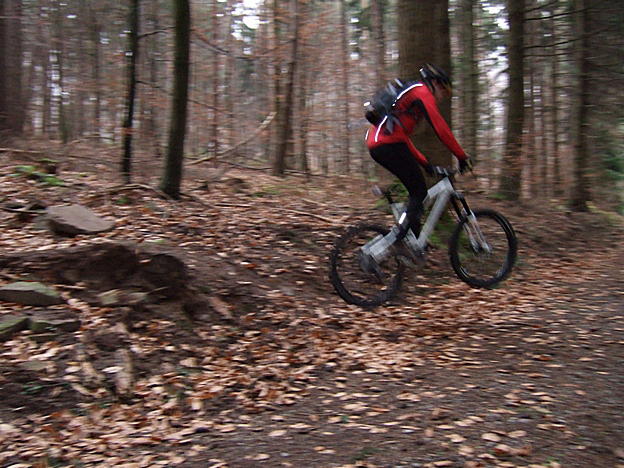 "Hucking" to flat" still too poor for a proper camera as you can see.

I Loved it and swapped every single component on it, except the Thomson seatpost.  Forks I tried on the 2003 Heckler: Pike SL U-turn, Marzo Z1FR1, Pike 426 Air-Uturn, Marzo 66SL (the shitty one with 3 airchambers and LOADS of stiction, way too tall for the bike btw.)
  Wheelies are cliché, I know. But all those colours are nice, right?

I then got the itch for a new bike. Still at University, I invented illusions for a successful magician and earned enough to buy a 2007 Specialized SX Trail. My University scores went down because I spent so much time building stuff for the magician. Considering his tremendous success I was seriously underpaid. At least I got the bike.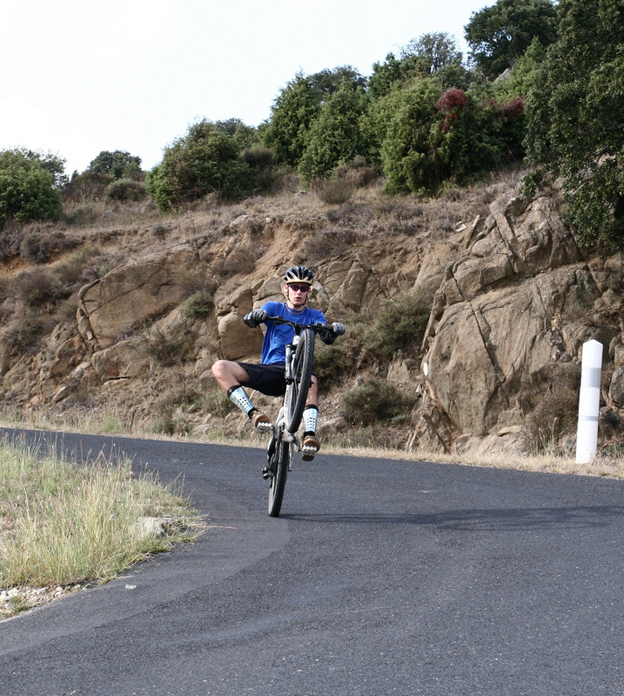 That´s one of the last pics of the white Heckler, snapped in the French Pyrenees in 2006.
Unfortunately I had to sell the Heckler frame, to pay for the SX Trail. It soon became obvious, that the SX Trail rode like a tank. Nice for the big stuff and it even climbed, but it didn´t feel nimble enough.  I didn´t mind climbing the Heckler all day long, taking it for a 120km roadride or hiking it up a steep slope on my backpack in the Alps. It just felt right, even though the medium frame was a bit small.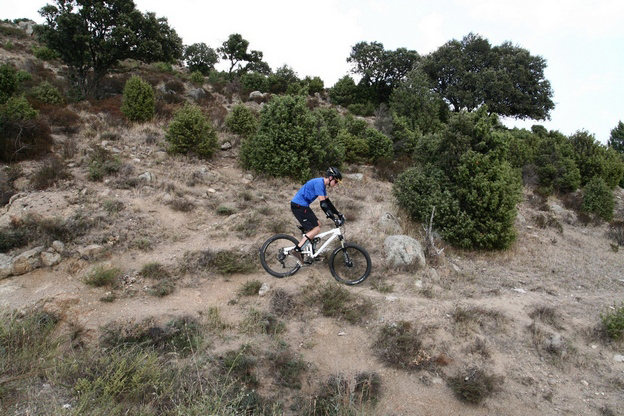 Wow, buddy took a crisp shot with his DSLR. I want one too!
After the 2007 trip to France (well, it´s a premium riding destination and the food is great too!) I hated the SX Trail. It was a nice bike, it just didn´t fit my riding style, nor the trails I have access to.  In January 2008 I came across a new Giant Reign X0 frame size medium. Gold ano color, DHX 5 Air, headset etc. – 600 with full warranty. I couldn´t let that deal pass. I sold the SX Trail, built up the Reign X with light, nice parts.  Great bike. Suspension felt really plush, climbed great. 
  Don´t know which colour is nicer, bike or jersey?
Somehow though I felt disconnected from the trail; it was too smooth. Also suspension setup on the DHX Air was complicated, the linkage required quite a bit of maintenance. Also I have really long legs and with the medium sized frame I had to use a 430mm telescopic seatpost. Extended to the max. Half a season later a gal saw my bike, asked if she could test ride it and she made me an offer I couldn´t refuse. 
Fast forward to November 2008. I had a fat bag of cash (from selling the decked out Reign X) and I worked at a bike shop (visited the University occasionally too). I took my time; it was winter anyway and I had a beater singlespeeder. So many nice bikes and parts out there – what to get?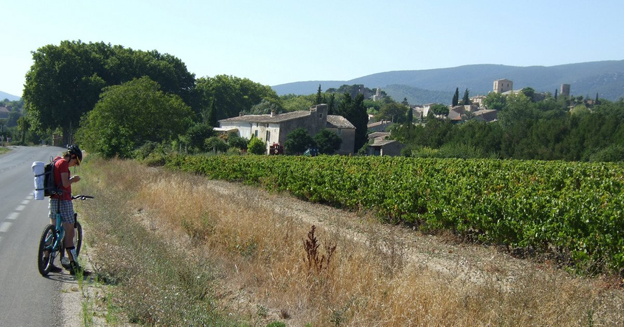 First holiday with my girlfriend, you can´t see her because she took the pic, but I can assure you, she´s hot and loves biking. (I think we might need to see some pics for confirmation actually Franz)
After having ridden the FSR Specialized and the Maestro ReignX I came to the conclusion that a simple single pivot was good enough for me. I ordered a lot of parts and a frame kit and then had to wait three months for the frame to arrive.  This is what showed up: Powdercoat black 2009 Heckler, size large with an RP23, custom build.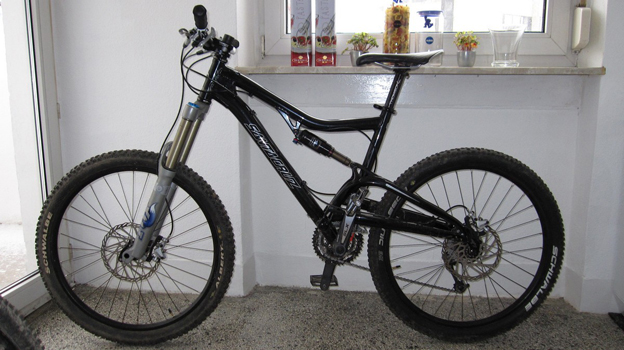 Ugly pic, shows the initial 2009 36 Talas RC2 and 8″ rear disc build.

The following parts were used: Fox 36 Talas RC2 2009, Fox RP23 2009 Compression and Rebound tune both "softest", Thomson 50mm Stem, RaceFace Atlas Bar, Ritchey grips, SRAM Rocket Triggers for Shimano derailleurs, GORE RIDE ON cables (nice!), Stan's Notubes ZTR Flow rims on Veltec Hubs with tubeless SCHWALBE tires, Thomson Elite 410mm seatpost, XT RD, LX FD, SLX cranks with a Barago light Bashring, Elixir R brakes 8″ fr. 7″r., NC17 Sudpin III pedals, a NC 17 Imperator S-Pro headset (an expensive KING ripoff), Salsa Flip Lock seatclamp, Specialized Phenom SL 143mm saddle.
I rode the bike like this for a month, but the rear Elixirs wouldn´t shut up. Terrible howling noise, the whole bike oscillated and it got worse every ride. Besides the noise the Elixir R is a great brake; enough power, doesn´t fade that much, affordable and good lever feel. I went with the Rs because of simplicity. Those ultra adjustable Codes with their high tech levers always got leaky on me, or were a total pain to bleed. And I never used the Contact adjust anyway. To get rid of the howling I ordered a 185mm rotor, the 8″ disc was too grabby and this solved the problem. 

I moved from the small town where I study to the Black Forest in July. It is among the best things I´ve ever done.  Now I just walk out of my frontdoor, grab my bike and find myself on sweet singletrack. I started to ride not only 3 times a week, but actually 6 or 7 times a week, just like in the old days, as a kid living in the country.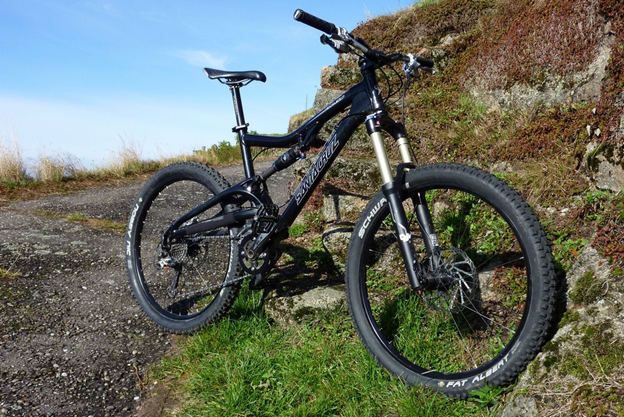 The Heckler as I enjoy it NOW.

My Ritchey WCS foam grips wore out really fast. I always liked Ourys, they are super soft and nice, but result in a bit of armpump, because they are so large in diameter. I started a the-best-grips thread on NSMB.com and a nice guy recommended ODI CROSS TRAINERS. Of course our local odi-distributor doesn´t carry them, only the Ruffians. No problem in a globalized world;  I had them shipped from the US – including customs and shipping that was still less expensive than buying the Ruffians in Germany. Go figure.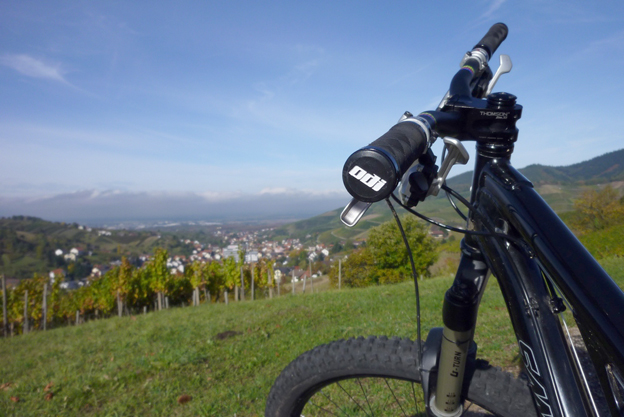 Really nice grips, lock on, thin enough but the criss-cross pattern gives them enough cushion. Also look bling. Highly recommended!
One of my favorite parts is the Fox RP 23 rear shock. I wasn´t expecting too much from it. But for my 150lbs this light shock works brilliantly. It has a schizophrenic nature, but in a good way. With the propedal off it is super plush, filters the smallest hits. And with the ProPedal activated the Heckler accelerates like a fast XC bike. Progressivity and rebound range are spot on for me too. That is with the High Volume air can. I guess for heavier riders it might not work as well, at least with the light compression tune. I don´t notice brakejack and while the MAESTRO of the ReignX was smoother, the single pivot feels plush enough and a lot more active for launching of roots and berms.
The newer Heckler feels plusher and more linear than the older gen-Heckler. It has a longer shock, slightly lower leverage rate and excessive bottoming out is no longer an issue. The single-pivot downsides may be noticeable to some, but they don´t bother me. It is made for longer axle to crown forks, ideally for 140mm forks, allowed up to 160. It climbs great, but only with PP activated or some other sort of SPV-like platform. I feel that for 150mm the single-pivot suspension works really good. For longer travel applications that may be different. At least my buddies Yeti ASX feels wallowy and stiffens a lot under braking. He still rips on that thing, though.
   Great combo, high-singlepivot and adjustable platform shock. Shock is starting to get a bit sticky, after lots of riding that´s to be expected. I´ll send it to TFtuned and have it pushed around X-Mas.

My drivetrain isn´t spectacular. I had those Sram Rocket shifters kicking around in my garage and decided that they were decent enough. Got a XT RD and an LX FD, SLX Cassette and XT chain and some GORE RIDE on cables. The Rocket shifters are ok. The Gore cables are fantastic. They are teflon coated and have a continuos liner, so no dirt and crud can get into there. They are SUUUPER smooth – shifting is absolutely effortles. Of course the chain, cassette and rings are totally worn out. Since I didn´t replace the chain before it was too stretched, I`ll now need to change the whole drivetrain in spring. I hope it´ll just hold up for this winter. You all know the drivetrain game.
   Rocket Shifters. I´d love a X9 RD with some X9 shifters + a Matchmaker. Should look CLEAN!
I really love the Thomson stem.  It´s light and it oozes quality. Also matches the Thomson seatpost. The Heckler feels best with a 50mm Stem and lowrise bars for me. Even for climbing. I have a super short torso and really goofy long legs though. (as you can see on the climbing mode pic) I originally had a cut down Atlas bar on the bike. It was to narrow so I bought a Truvativ Stylo world cup, because it was affordable. Sadly it a bit too much rise for my taste; I like the bars low. And 680mm is still a bit narrow. 2010 Race Face ATLAS AM bar 700mm is already ordered, just not here yet. The RaceFACE Atlas sweep and bend are just SO nice. The Phenom SL saddle is comfortable, sleek and light. Specialized's  ball-pressure relief concept works to a certain degree. It´s not perfect though. The back of the saddle is made of grey plastic. If you get behind the saddle and do some gnarly trail dancing it´ll hurt your thighs. I once did an almost endo and the plastic edges of the Phenom combined with certain parts of myself resulted in great pain.  I´m looking to replace the saddle with the new Specialized HENGE SL or an Avatar, but I need a new set of skis first.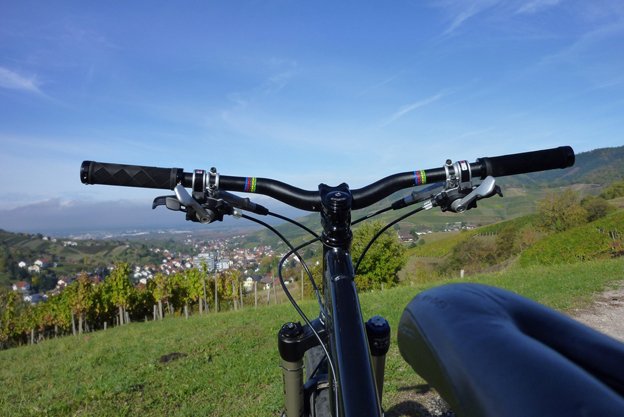 The command center.
Originally the first build sported a brand new FOX 36 Talas RC2 2009. Previously I´ve had a VAN 36, a Float 36 and a 2008 Talas on the Reign X. All of them were good forks. I knew that the Heckler cried for an adjustable travel fork. 100mm for the climbs, 130mm for most conditions and 160mm for park riding or gnarly trails. And that really let´s you have three bikes in one. Toss in the RP23 and it´s night-and-day feel and you´ve got a bike that´s a great all rounder. The Talas felt good, for an air fork. It was quick to adjust between travel settings and it felt confidence inspiring. The 2009 with the newer Talas air assembly is less sticky than the previous models. It doesn´t match a coil system in small bump sensitivity though. The QR20mm axle is quick and nice too. Overall I liked the fork. Liked? Well yes, in August I took a spill. I crashed the fork into a rock, scratched the stanchion really bad. As our german Fox distributor is not exactly easy to work with and a new stanchion/crown unit was really expensive, even at parttime shop-employe-deal level, I gave Rock Shox a call.  I was interested in a 2010 Maxle Lite 150mm Revelation, but they weren´t available at that time and I needed a fork asap.
   Yeah, we have nice trails. I just don´t have good riding pictures of them, sorry!
The German distributor was really nice and I got a deal on a 2010 Lyrik Coil U-turn. I chose the traditional Mission Control damper with the Floodgate. There now is a Mission Control DH high-flow damper available as well, but I wanted the platform for climbing. I received the fork two days later, installed it and was back on my bike.  I really dig the 2010 Lyrik. I´ve ridden previous 2007-2009 Lyriks and most of them felt strange or had lose bushings etc. My 2010 feels great though. It´s really good, even on small stuff.  It doesn´t rush through mid stroke like the Talas did and offers a really nice ramp up at the end of the stroke. The Floodgate is nice for road climbing, compression and rebound adjustments are pretty noticeable. I weighed the FOX and the RockSHox, expecting the Coil Lyrik to be a lot heavier. Including axle and same length steerer tubes the Lyrik is only 105g heavier, it sits at 2390g, including the Maxle lite. 

Stiffness is great on both forks. Talas is quicker to adjust, but feels inconsistent in different travel settings. So either the middle setting is plush and the long setting harsh, or the middle setting blows through the travel. Overall I prefer the Lyrik, because it feels that tiny bit better, it is a coil and needs no fiddling with air pressures in winter/summer and it is BLACK!, The Maxle is even more convenient and it is quite a bit cheaper. Overall I have to say that both forks are really superb.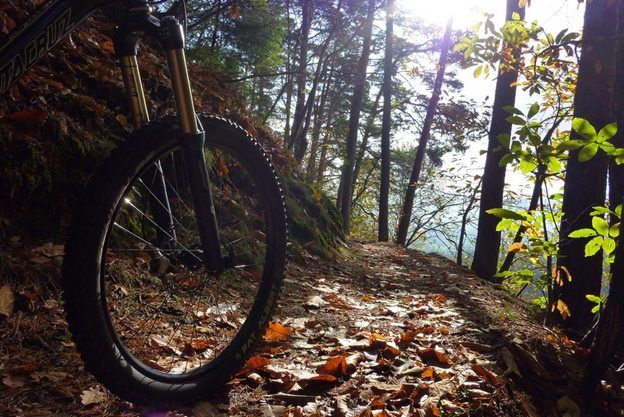 115-160mm of plush coil travel. Springs do run firm though, spring chart says soft/medium for me, the x-trasoft feels spot on for my 71kg (156 lbs) though.
If you take a second look at the picture, you´ll also notice the Schwalbe Fat Albert UST 2.4 FRONT tire on a NOTUBES FLOW rim. The FLOW is a great rim, tires get a FAT profile and the rims trap air really well. I just use the yellow stans-tape, a floor pump and UST tires. I don´t need sealant, no thorns around. The UST tires mount up really easy with a JOEBLOW Topeak pump and stay on the rim even at really low pressures. I think the FLOW/UST combo works even better than real MAVIC ust rims. I had to true the front wheel once, the back wheel is still perfect. What´s great about those rims/wheels is how light they are. They are about 1820g for the pair, are half the price of a CROSSMAX SX wheelset and come in black. They accelerate really quickly and big 2.4 tires are a perfect fit for the rim. No burping or rolling over the flange. Lace them to your hubs of choice and BAM!
   Nice pic, bad components! The pedals are light, flat and look nice. But they don´t hold up.
I previously mentioned, that the Heckler begs for an adjustable fork. Have a look at the next picture. It shows my bike in climbing mode. I´m 183cm (6') tall and I have an inseam of 93cm (36"). When I ride a bike, the words stork or ostrich are often heard. The large frame is a good fit, although the seatpost looks admittedly goofy. The white stuff is kids-chalk btw, keeps the seatpost from slipping, without collecting crud and dust. This setup with the strange long seatpost has a downside though. I´d love to have an automatic seatpost. But most of them either have a setback head or are too short for me. But there is hope. Wayne from Gravity Dropper told me that a 30,9mm 5″ version of the Gravity dropper will be available in the first quarter of 2010. And it will come in lengths up to 425mm. I´ll be all over that post, once it is out!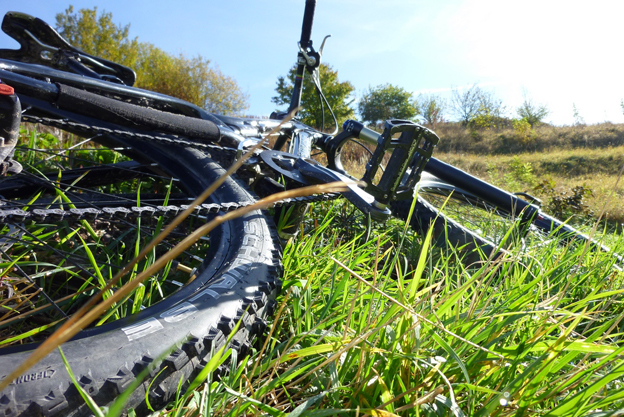 I´ve got very few actual riding pics. Not a single ACTION pic, sorry. Main riding partners (girlfriend and cousin) are good riders but pisspoor photographers. They manage to take shakey pics in bright sun with a stabilized lens…
BAD HECKLER! No seriously, the Heckler is not to fault. But there were also components which didn´t work out. The expensive NC17 headset gave me headaches. It knocked, it rattled, it felt like worn out fork bushings from the beginning. I had faced the frame and pressed the HS in with Parktool-tools. Removed the headset, re-faced. Nothing helped and it drove me nuts. At some point I removed it again, pressed in an FSA PIG DH PRO and guess what. PROBLEM SOLVED. The Pig just works. It´s heavy and all, but for the price it can´t be beat. It worked in my SX Trail, in the older Heckler. After a lot of discussion I got a partial refund for the headset. The NC17 pedals also didn´t make me happy. They are light, really flat and really expensive. I didn´t mind all those cheap WELLGOs going all sloppy after a season of good riding – at least they were cheap. But if I lay down some serious $$$ I expect the bearings to hold up for more than one season. Maybe I´m being unrealistic though. Right now the pedals are not only sloppy, but starting to get really noisy, they even rattle. Any recommendations? Straitline pedals? Blackspire? Flypaper with custom cranks?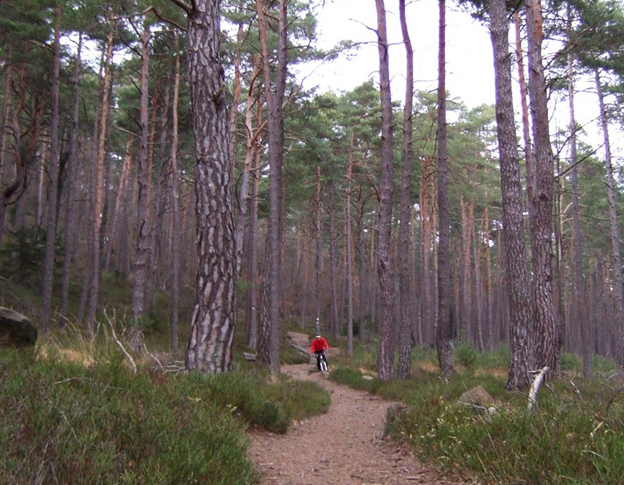 ---
But wait, there's more.  If you made it this far I'd like to direct you to our forum for the 'conclusion' to Franz's readers' ride opus.  You can also tell him what pedals to buy and discuss anything  you'd like at length here…