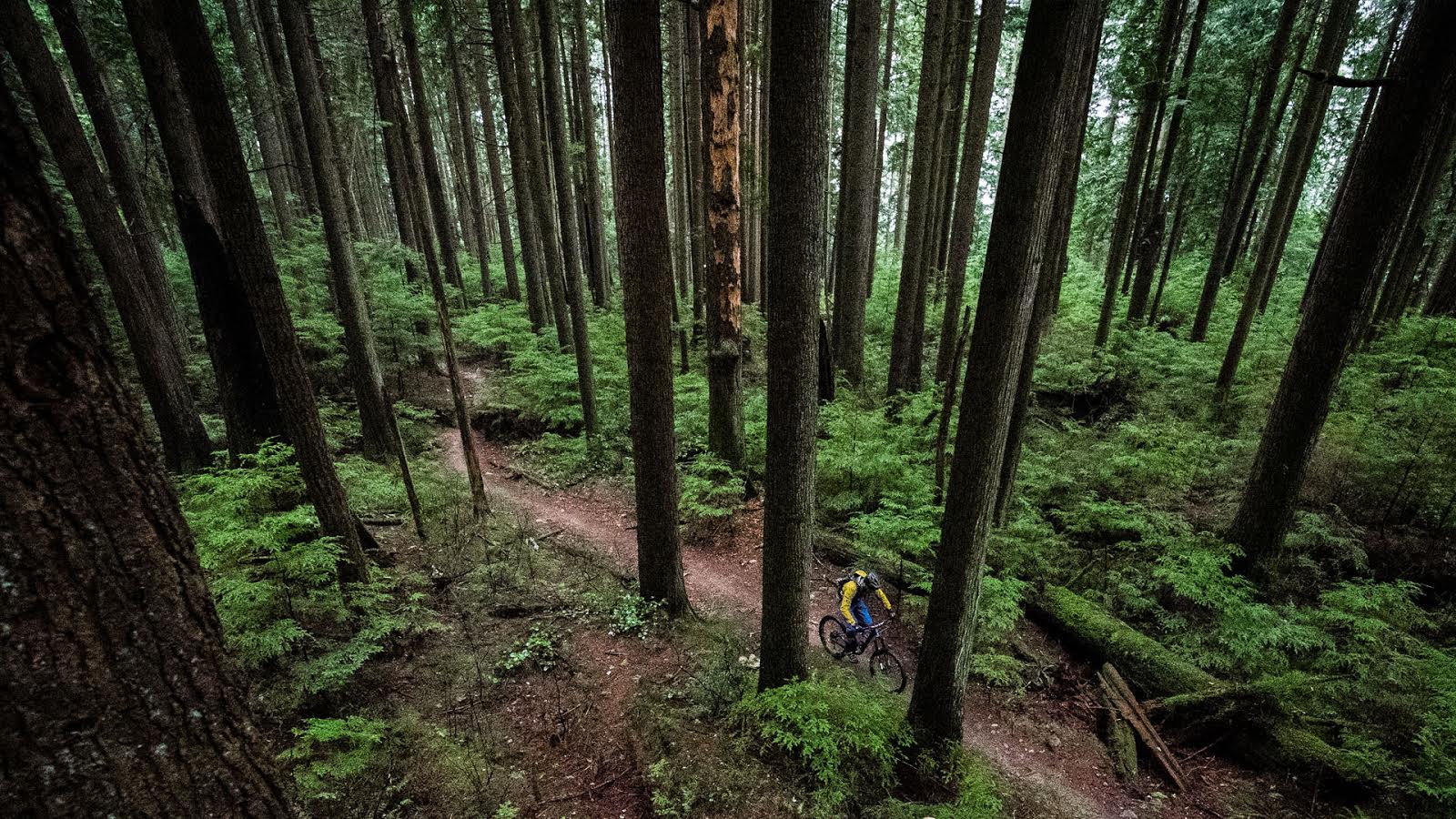 The 2010 Remedy 9.9 Carbon
I woke up the day after The Whole Enchilada feeling like I'd been run over by a loaded shuttle truck.  And this was the day to pedal.  I eased into the morning, stretched out my aching bones and by the time we loaded the Hermosa Tours 15-passenger van I thought I just might make it through.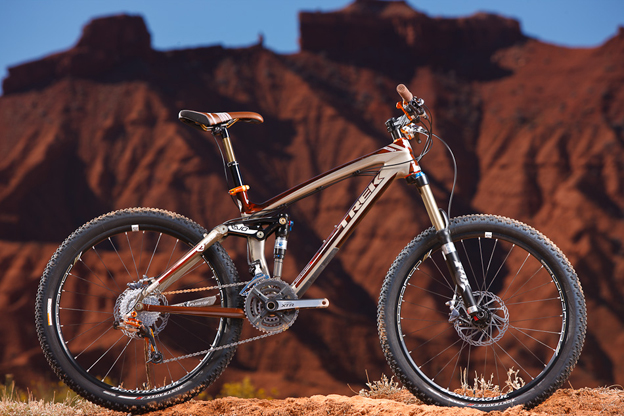 The top of the line Remedy 9.9 – complete with a remote actuated Joplin seat post.  The geometry of the Remedy hasn't changed but if you were riding a 36 equipped Remedy you'll find the Fox 32 spec'ed Remedy one degree steeper because of that change – 68 vs 67 degrees.
Amasa Back was scheduled as ride two.  The trail can be ridden as an out and back but instead we'd be riding some newer lines on the way out; Rockstacker and Jackson's.    We'd switched with the other group and we got our grimy gloves on the new carbon Remedy 9.9 bikes.  These 27 lb (12.2 kg – without pedals) machines aren't stretched out XC bikes; the Remedy is made to charge some challenging lines and be a very capable climber.

 The Remedy is a very capable climber – despite some rider error.
I've been doing a long term ride on a Remedy and I can vouch for the validity of the geometry and suspension.  With a 36 up front this is a very capable bike to tackle technical rides both up and down.  This year's Remedys come with a Fox 32 150 with the 15 QR interface. The top three models are Talas equipped while the Remedy 7 is a Float.  The Carbon models boast Fox's new FIT cartridge system.

 If you trace the red line in a clockwise directon from the parking sign you'll follow our route on Amasa Back. 
New for 2010 is a proprietary rear shock co-developed by Fox and Trek.  Jose Gonzales, Trek's suspension guru, wanted to address some of the shortcomings of air shocks for longer travel applications.  If an air shock is to be active at the top with a reasonable ramp up towards the end of the stroke the casualty is often a dead mid stroke.  To combat the wallow Jose approached Fox with some ideas.  I thought the best way to address this would be to go directly to the source.  Click here to read my interview with Jose.  For now have a look at this video to see just how DRCV works.
The Amasa Back ride begins with a short technical descent where we passed some rock crawling jeeps.  Then there's a small drop of two or three feet to keep you on your toes – and maybe to keep the jeeps out – before the climbing begins.  The aluminum Remedy I have been riding here on the Shore is equipped with a 36 Talas up front but otherwise the spec is pretty similar to what we were riding in Moab; XTR cranks, an XO drivetrain, Bontrager wheels, bars, stem, saddle and Avid Elixir brakes.  I too have an adjustable post but I've been riding a 4" rise Gravity Dropper.  I've been using the Gravity Dropper for a year and a half without problems – until yesterday.  Thankfully it was repaired with three zip ties and my ride was saved.  I'm sold on remote adjust posts.

 You can see that DRCV doesn't mount like other shocks.  Notice that the air can extends upward beyond the EVO link.

I am constantly amazed by how well the Remedy makes its way up challenging technical lines.  A couple of weeks ago I pedaled up a section of the Baden Powell trail here in North Van that I have been trying to clean for over 15 years.  There was a moment when I almost put my foot down at the top because I was so shocked to still be moving forward.  Back in Utah the Remedy 9.9 was the ideal weapon for tackling the ledges and steps on the way up Amasa Back.  What makes that more impressive is the fact that I was at the top before I realized I'd left Propedal off.  Stand back – I'm a professional mountain bike journalist.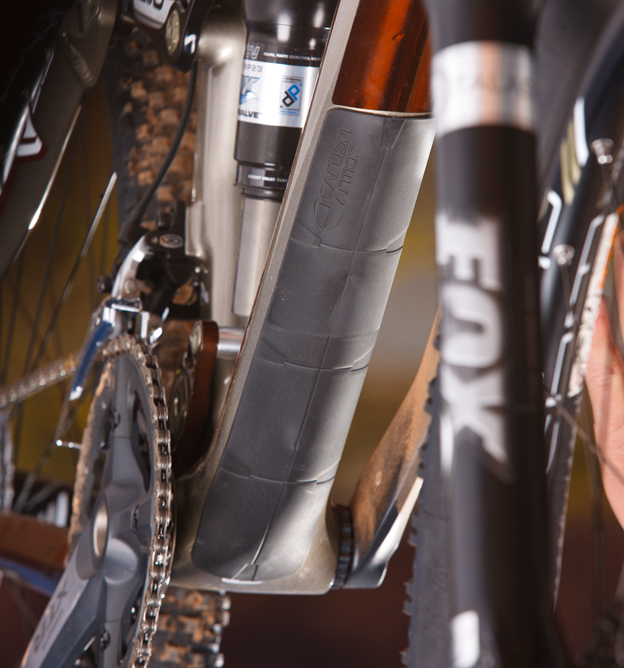 Trek's remedy for downtube damage is a new OCLV lay up and 'Carbon Armor' pictured above.
Finally we were on some genuine slickrock.  There was a sweet wall ride that we sessioned for a little while – and then Vincent from France put it in perspective by riding straight up it.  He's a machine.  We had a snack at the porthole rock – which involved some tricky riding just to get there – and then we started slickrocking back the way we came.  Rolling along the frozen waves of stone is a great feeling.  You can carry great speed, double things up and feel like Wade Simmons in Roam.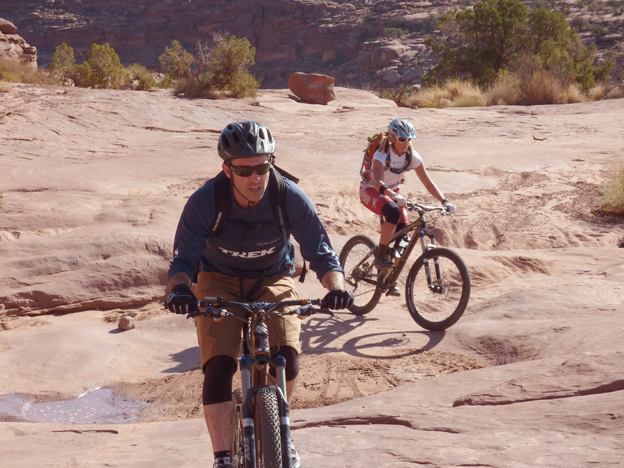 Trek's Dylan Howes (the father of ABP) and Hermosa Tours guide Lisa Lieb enjoying the slick rock. Photo ~ Cam McRae

Then we veered from our route up and tipped into Rockstacker.  This is where the real fun began as things began to go down, steep and sketchy.  Lots of riders walked long sections of this trail because of the exposure and the deep drop ins.  This was the first time on the ride when I would have sacrificed that extra pound for a Fox 36 Talas over the 32.  The 32 is a very capable fork and more often than not it would be the best option in Moab, but on Rockstacker and Jackson's the moves often involved dropping in while turning. This exposed the forks' torsional compliance.  The fork never stopped me from completing a move but the I wouldn't have soiled myself as often with the 36.  This tells me that most riders here on the Shore will prefer the Remedy with a 36 – or you might just opt for a Scratch instead.

 MBUK's Andrew 'Doddy' Dodd drops into one of the more serious lines on Jackson's.  I would have preferred a 36 on this section of trail.
Amasa Back was a very satisfying excursion – and the Remedy was the perfect bike for the terrain.  I've since learned you can keep rolling on slickrock well past the spot we turned around – but our route was plenty for me on the day.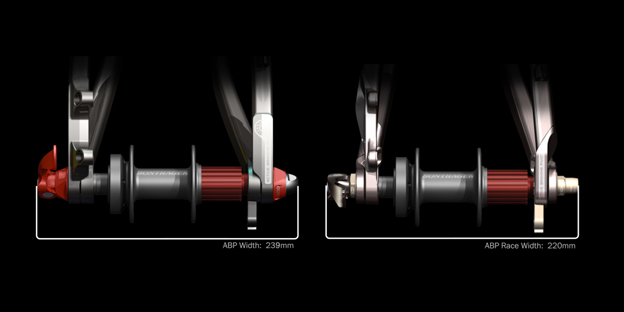 Trek's ABP (Active Braking Pivot) has been refined and re-christened ABP Race for 2010.  The new version is a full 19mm narrower.

It's pretty clear that carbon is here to stay.  With every bike in the Tour made of black and grey fibres, any doubts have long vanished.  The future is less certain on the mountain, particularly on longer travel bikes that move fast over terrain that is loose and rough.  Riders wonder if these light, exotic frames can take a punch.  Trek has addressed these concerns in two ways on the new Remedy.  First of all they have developed a new OCLV lay up that they say is actually slightly tougher than a similar aluminum frame.  To boost this they've added 'carbon armour' that protects the lower end of the downtube from impact.  The anvil strike test videos below will demonstrate the results.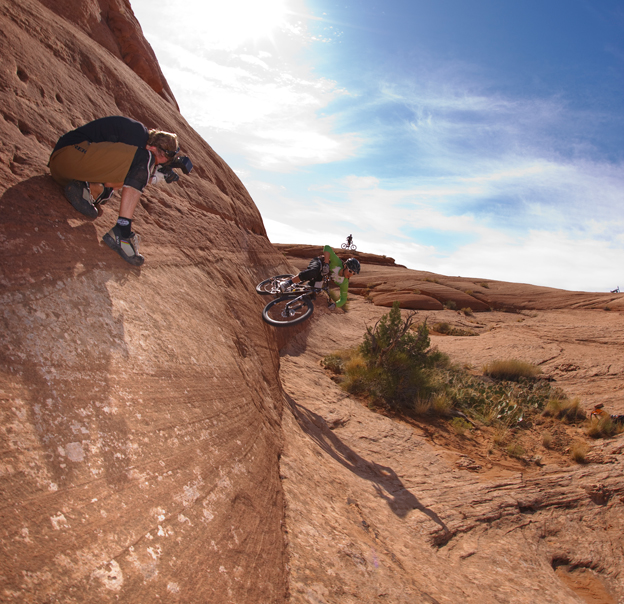 The Amasa Back wall ride was a great spot to play.
Trek's competition in the Remedy category includes bikes like Scott's Genius and Specialized's Enduro.  Because of their light weight these bikes bridge the gap between long travel trail bikes and all mountain machines and they have a very specific audience.  Anyone laying down big wads of cash for a 6" travel carbon bike is going to do some research – and they are likely weight weenies as well.  The launch of the Scratch model has allowed Trek to go toe to toe with the competition in terms of weight and features without leaving a gaping hole in the line up.  The Scratch can battle it out against Scott's Ransom and Specialized's SX Trail and the Remedy can now wrestle in its own weight class.

  Bringing it home on the last section of Jackson's trail – along the Colorado River.
2010 Remedy Pricing

 The Remedy 9.8.  No Joplin post but otherwise this is also a very well appointed machine.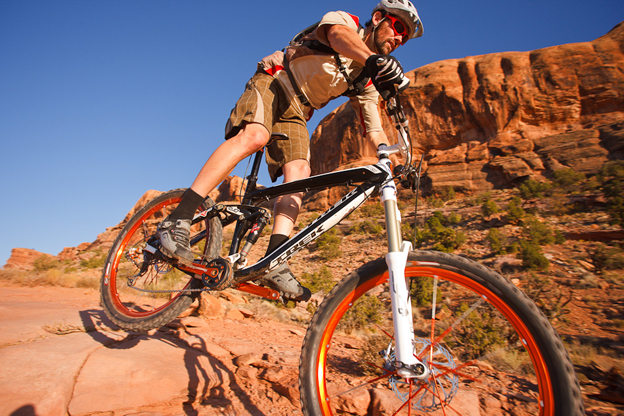 I think Ross Schnell is on an aluminum Remedy.  The Al models come with ISCG 03 mounts so you can mount Hammerschmidt – or a chainguide.  Check out Ross' burnt orange Hammerschmidt and other components.
---
Think there's a Remedy in your future – or is there another bike to cure what ails you?  Give us your prescription here…