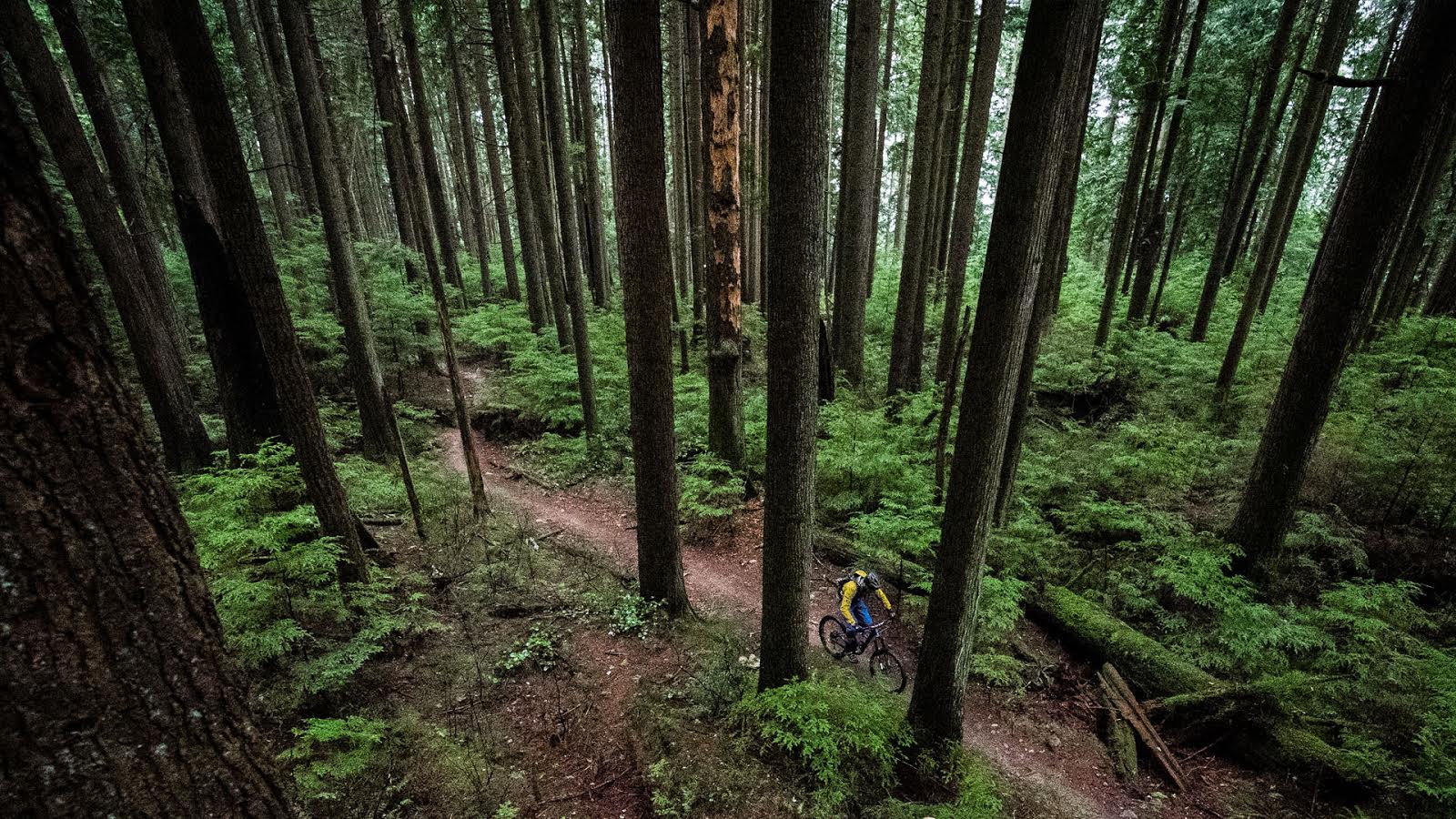 Trek's Scratch in Moab
I'm leery of amped expectations.  Movies often fall flat for me when the hype starts to get ridiculous.  The Hangover was the most recent evidence of this; after hearing so much I expected more than what was delivered and ended up disappointed.

 Would Moab mesh with my mile-high expectations?  Andrew Shandro seems to like it. The scenery certainly didn't disappoint.
Talking to the extremely well-travelled Lee Lau before heading to Moab, he called The Whole Enchilada one of his bucket list trails.  That good?  Really? He had my attention.  I'd narrowly missed going to Moab a couple of times so I was worked up about being invited by Trek to ride both the new Scratch and the carbon version of their well-received Remedy.  Trek puts on a good show so I knew this would be an optimal first taste of Utah's most famous mountain biking destination.

 Miss the Scratch launch?  Not if I could drag my ass out of bed.

And then the swine flu came knocking.  Actually I'm not certain it was H1N1 but I had all the symptoms.  Either way I was flat out and alternating between freezing cold and burning up – my energy in the dumpster.  I went to bed the night before my early flight, resigned to missing the trip.  I had no energy to pack and there was no way I felt well enough to ride. And then I unexpectedly woke up at 3 am.  I needed to be at the airport by 5:30 or so and I started to take inventory.  My bed was sweat soaked but I was no longer feverish.  My aches had subsided some and the thought of packing didn't seem so bad.  I called a cab, threw my things in a bag and got my shit together.  Maybe I had some Karma stored up after all.

 The 2010 Remedy 9.9 carbon. Photo ~ Craig 'Stikman' Glaspell

You can almost look at the Scratch as a calving off of the original Remedy.  When introduced the Remedy weighed around 30 lbs with a Fox 36 or Rock Shox Lyrik up front – each with 160mm of travel.  It had a 67 degree head angle and was very capable on challenging technical terrain.  For 2010 the Remedy rolls out with a 150mm Fox 32 15 QR forks.  The 32s are a full pound lighter than the forks they replace but they also give something up in terms of stiffness and – depending on how you look at it – head angle.  While the frame geometry is unchanged for 2010, this set up steepens the Remedy by a full degree to 68.  With the addition of a carbon option the Remedy also drops some serious heft with the top model, sans pedals, weighing in at 27 lbs (12.25 kilos).

 The Scratch 9 at home in the desert. The bike has beautiful lines but the graphics are a bit busy to my eyes.  The matching teal anno parts are a nice touch.
Instead of making the Remedy burlier or the Session 88 lighter, why not make a purpose-built machine, one that still pedals well, to woo riders looking to get more aggressive?  In the medium size, without pedals, the top of the line coil sprung Scratch weighs 34lbs (15.4 kilos) while the lightest air sprung version comes in at 31 lbs (14 kilos).  It is slightly slacker than a Remedy with 36 at 66.5 degrees and you can quickly and easily chop it out to 66 if you really want to harness the gnarness.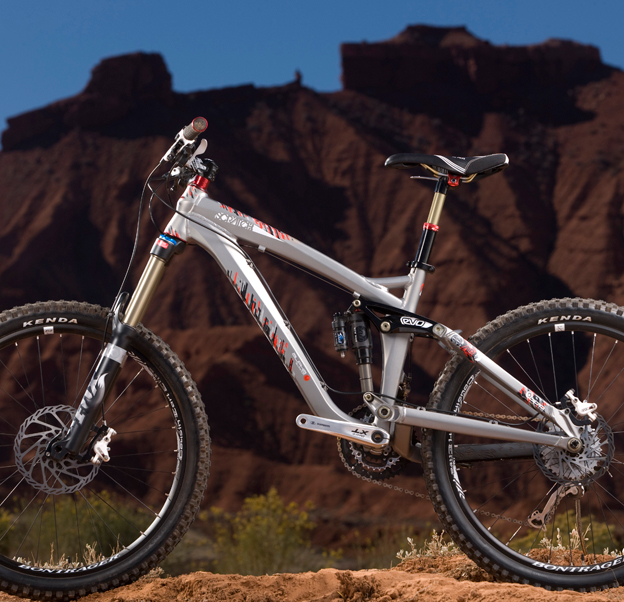 The Scratch 9 air inspires the most bike lust in me.  Sadly we weren't able to ride this one.
The look of the frame is an amalgam of the Remedy and Session 88.  The rear triangle and 75 degree seat angle are very Remedy while the swoopy downtube appears to have been robbed directly from the 88.  

 Shore ready; a double ring plus bashguard and a chainguide.  The up and down in the rear is handled by a Fox DHX 4.
Jose Gonzales, Trek's suspension guru, was cornered by a group of German journos who demanded to know exactly what category the Scratch occupied.  Was it a super enduro bike?  Light freeride perhaps?  Maybe extreme all mountain?  How about bike park lite?  Trek puts it this way:  "the perfect blend of Session downhill performance and Remedy 2-chainring pedalability…Elite freeriders finally have a bike to Scratch their niche."  (Canadian note – our southern neighbours pronounce niche so it rhymes with itch). For those of you here on the North Shore I'd call it a dialled Fromme bike.  I think I'd quite happily tip it into any of the trails up there – or on Cypress. The bonus is you can power yourself to the trailhead without too much fuss.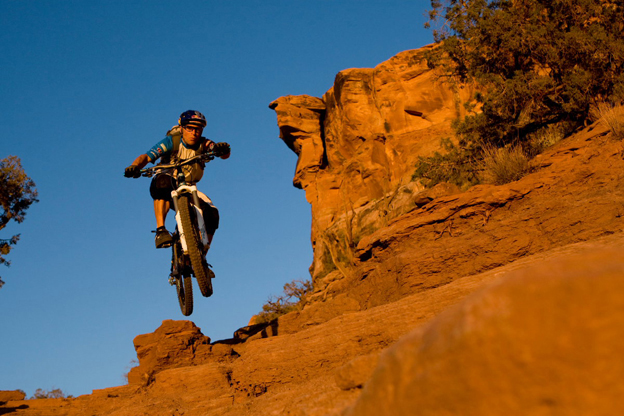 Rene Wildhaber was all energy.  The Enduro, Super D and Megavalanche specialist will now have two bikes to choose from for his competitive needs.
The presence of a pair of pro riders made part of the inspiration for the Scratch clear; Rene Wildhaber and Ross Schnell.  Rene is a megavalanche/enduro specialist while Ross won the 'All Mountain World Championships' at Downieville in 2008.  This type of racing is catching fire in Europe and it's starting to gain momentum on this side of the Atlantic as well.  The Scratch and the Remedy together would likely cover all the bases for the enduro/megavalanche/super d crowd.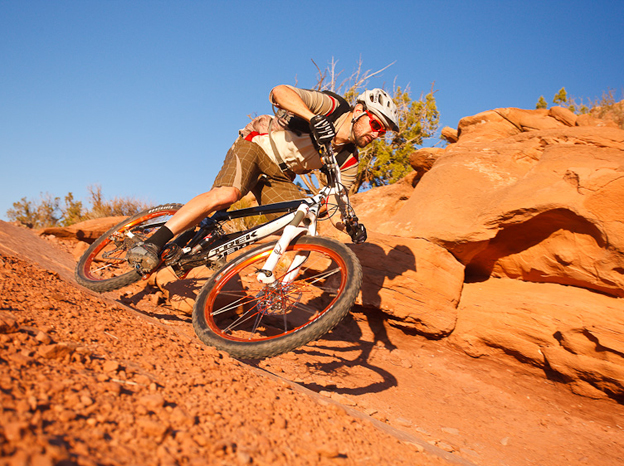 Ross Schnell holds the record for the Downieville course after his win in 2008.  A broken hip this past spring kept him off the podium in 2009. Photo ~ Craig 'Stikman' Glaspell
The worldwide roster of journalists was split in two.  My group would ride 'The Whole Enchilada' on the Scratch on Saturday and Amasaback on the carbon Remedy on Sunday.  My energy was returning but I figured a shuttle on day one was the better option.  As it turns out this was no regular shuttle and by the end I was beaten down but still smiling.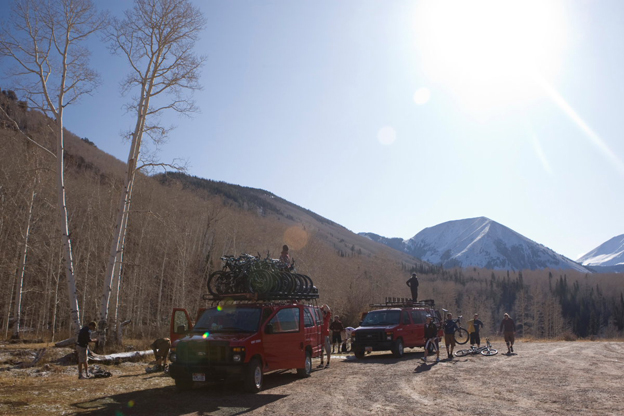 Fresh snow on the ground at the top of Hazard County – with the La Sals showing off in the background.
We loaded up Western Spirit's 15-passenger vans and began the long shuttle into the foothills of the La Sal range – thousands of vertical above Moab.  We'd be linking 38  kilometres (23 miles) of trail together for a very long ride that was mostly down – with about 6000 feet of vertical drop.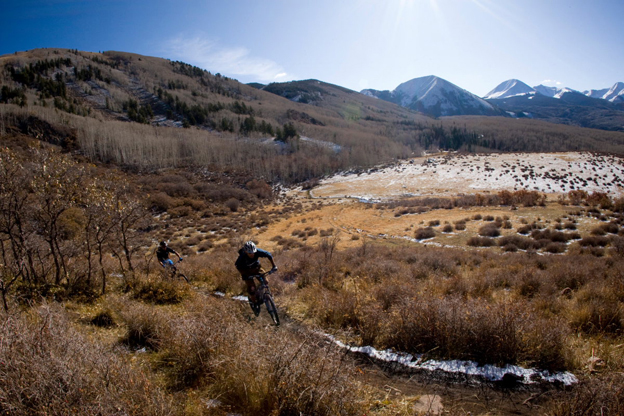 The first part of the Whole Enchilada was a short climb.  Nothing feels short at 8000 feet though.
Once we reached the top of Hazard County to unload the ground was covered with a fresh dusting of snow.  This prevented us from riding the uppermost Burro Pass section of the Enchilada but after hearing about the hour long 'hurt locker' climb that entailed, I wasn't too disappointed.  I was just looking to survive this ride.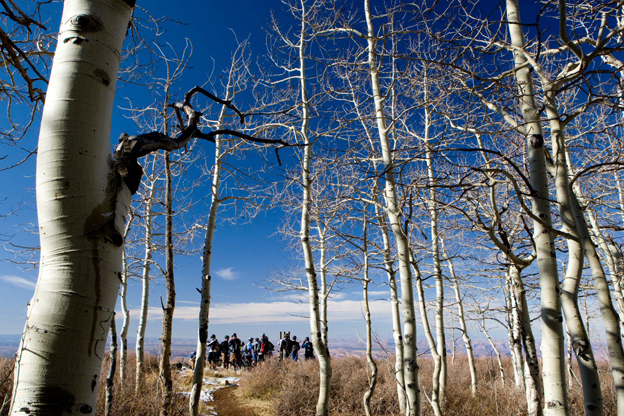 A few words from our guides before pointing it down for most of the day.

The original line called Hazard County (which some locals say was better than the replacement) was illegal because it encroached upon some raptor nesting grounds.  The new line, complete with armoured doubles (that nobody seemed to like) is legit.  It winds through open grasslands, through aspens and is generally a good time.  I however was a little behind.  The bike felt a little slow to me and I was blowing corners – eventually right into a tree.  I have no doubt this was me rather than the bike but I thought it was a good opp to change the head angle.  With the help of Trek's Dylan Howes the swap took less than five minutes and I was immediately more comfortable at 66.5 degrees.  I could indeed feel that critical half degree.

  Andrew Shandro shredding through the Aspens on Hazard County.
After Hazard we dropped into Kokkopelli – which was fast doubletrack.  Soon this gave way to the UPS/LPS combo; Upper and Lower Porcupine singletrack.  The dirt was perfect and these swoopy, bermed trails were the highlight of the day.  You'd have a trio of perfectly arced corners followed by some rocky technical goodness, maybe a little slickrock – these trails had it all.   Part way along we encountered the Secret Notch or 'Snotch.'  A steep ass crevasse paved with smooth rocks covered in talcum powder lead to a nasty, exposed right hand corner; nobody in our group rode this section.  Below that the trail was steep and swoopy and it might have been the section of the day.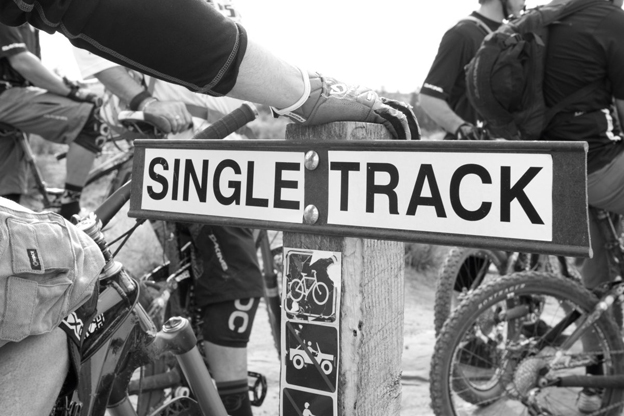 Now we're talking.
When we were setting up the bike I felt the 500lb spring on the 19.5" Scratch was a little heavy for me.  It didn't seem like I was able to get into the travel on the bounce test.  The sag was checked and pronounced bang on.  I should have trusted my gut.  I weigh around 170 lbs and heavier riders were on 450s – including Doddy from MBUK who weighs 215.  I should have dropped to a 450 or maybe even 400.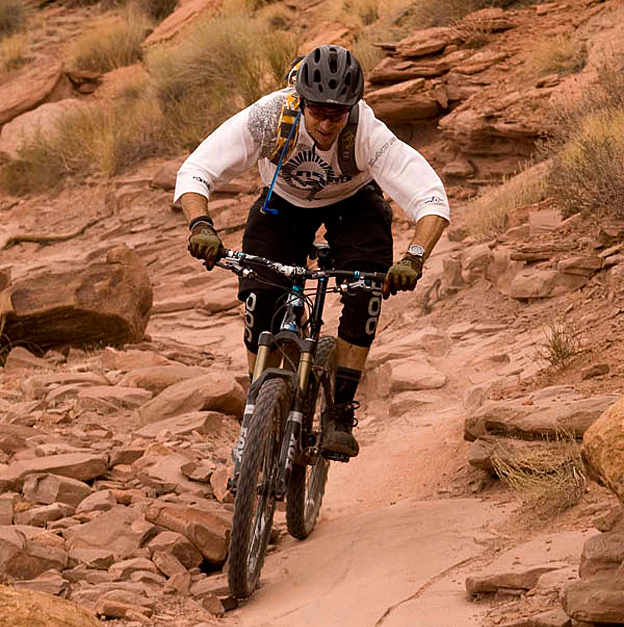 My oversprung Scratch was happy on the singletrack but less so on the rocky trough that is Porcupine Rim.
After UPS/LPS it was time to roll into Porcupine Rim.  I'd heard this trail name for years and I figured it would be something special.  The Rim is a rock strewn doubletrack that bears little resemblance to what I call a mountain bike trail.  I was happy to be on a bigger bike though.  Up until this point I was enjoying the Scratch but here the bike didn't seem as happy.  On successive square-edged bumps the bike seemed to hang up some.  One shuttle is no bike test though and I have no doubt this  tendency was compounded by the heavy spring, hard tires and my flu-ravaged corpse.

The final section of Porcupine returned to technical singletrack winding down to the Colorado River.  Here the bike began to sing again and I was able to carry momentum on some awkward and exposed lines that had me finish the Enchilada with a toothy grin.  The Scratch earned full marks on this section.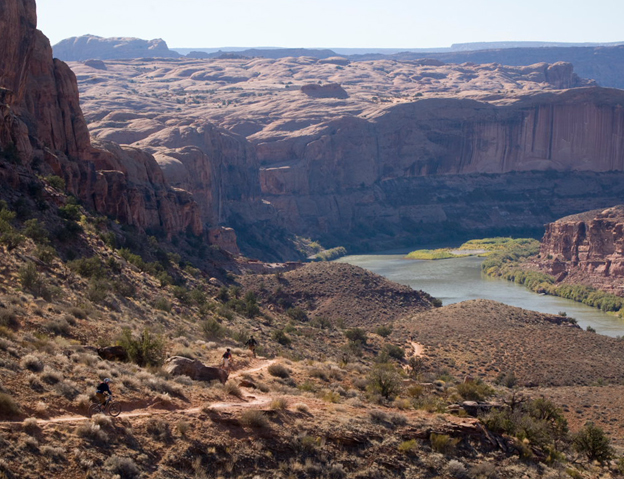 The final section of Porcupine Rim leading to the Colorado River.

Trek has nailed something with their current platforms.  With ABP in particular they have caught the public's attention, so it's no surprise that the Scratch incorporates ABP along with full floater, the one piece EVO link and Trek's tapered E2 headtube.  You'll also find ISCG 03 tabs allowing you to mount a chainguide or run Hammerschmidt.  Cable guides for Hammerschmidt and an adjustable seatpost are also standard.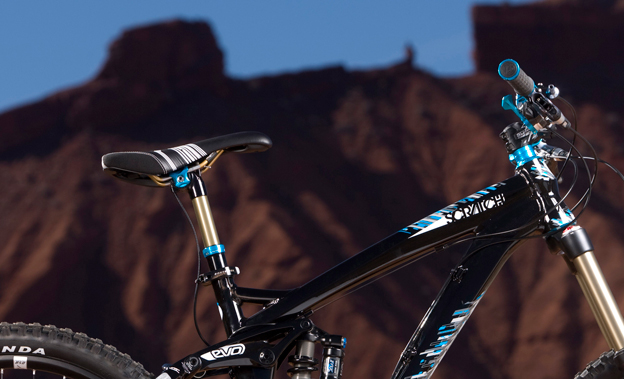 The top of the line Scratch 9 comes complete with a remote activated Crankbrothers Joplin adjustable post.  The Joplin is infinitely adjustable through it's three inches of extension.
Both the Remedy and the Scratch we rode came equipped with a Crankbrothers Joplin remote adjustable seatpost.  I like the Joplin's infinite adjustability but the damped movement took getting used to, particularly for someone accustomed to the nut-slamming positive action of a Gravity Dropper.  The question mark with the Joplin is reliability.  Virtually every Crankbrothers post I have seen in use has developed slop or twist over time.  Hopefully Crankbrothers has worked out the kinks.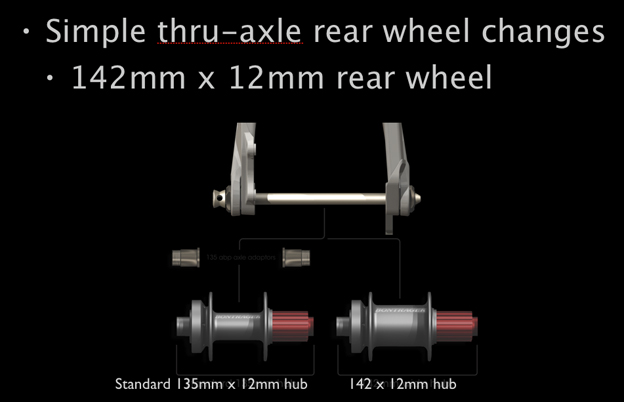 The Scratch will accept a standard 135 x 12mm hub but it comes stock with a 142 x 12.  This is to allow the hub to seat into the dropouts so there is no need to keep everything aligned when you are putting things back together.
A fuss has been brewing on our boards about the rear axle on the Scratch.  It's a 142mm thru axle system.  What makes it useful is the way it mounts to the frame.  With a 135mm hub you need to line up the hub's opening with the frame and then guide the axle through while keeping everything lined up.  The 142mm axle allows a shelf so you can drop the axle into place – it sits in like a conventional rear QR axle – and then use two hands to guide the axle into place.  The frame also comes with adapters so you can use a 135mm hub if you prefer.  Trek suggests we'll be seeing more bikes from other brands with 142 in the future.

  This video shows how the Scratch head angle can be adjusted.
Aside from the coil sprung Scratch 9 we rode you'll have three other models to choose from.  The Scratch 7 is  a lower priced coil version and there is also a Scratch Air 8 and an Air 6.  All the Scratch models feature new Bontrager Rhythm/Earl components including stiffer stems and wider bars.  We were able to choose bar widths and stem lengths before we headed off on our rides which was a nice touch.  Wheels are tubeless ready 'Cousin Earls' that weigh a respectable 2230 grams a pair with 30mm wide rims.

 Our final destination after completing The Whole Enchilada.
I think the Scratch that has me most intrigued is the Air 8.  While we didn't have a chance to ride this model, the combination of a DHX Air at the rear and a Talas at the front should make this a very capable machine – and if you can save 3 lbs that's always a bonus.  If your plan is some bike park time, shuttling or even a little dh racing, the coil models would likely be more your cuppa.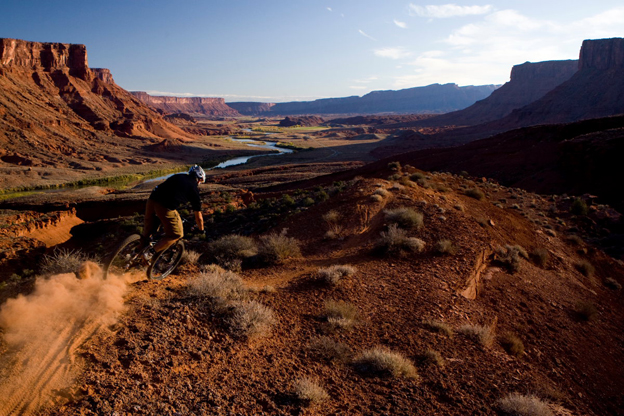 Riding in Moab is worth it for the eye candy alone. 
In the end Moab exceeding some expectations and fell short in others.  I know for sure that this appetizer will be followed by a main course trip sometime in the future.
I'll be back shortly with my take on the new carbon Trek Remedy as well as a tale of slick rock adventure on the Amasa Back trail.
---
Scratch Pricing (MSRP)
| | | | | |
| --- | --- | --- | --- | --- |
| Model | CDN$ | US$ | UK₤ | EU€ |
| Scratch 9 | 7300 | 5980 | 4000 | 5000 |
| Scratch 7 | 4600 | 3780 | 3000 | 3500 |
| Scratch Air 8 | 5900 | 4830 | 3600 | 4300 |
| Scratch Air 6 | 4600 | 3780 | 2700 | 3300 |
---
There you have my take on the Scratch after one ride.  There wasn't much time to tweak and fuss but there was time to see that this bike could be a contender.  Any questions comments or declarations of love?  We have a place for those…