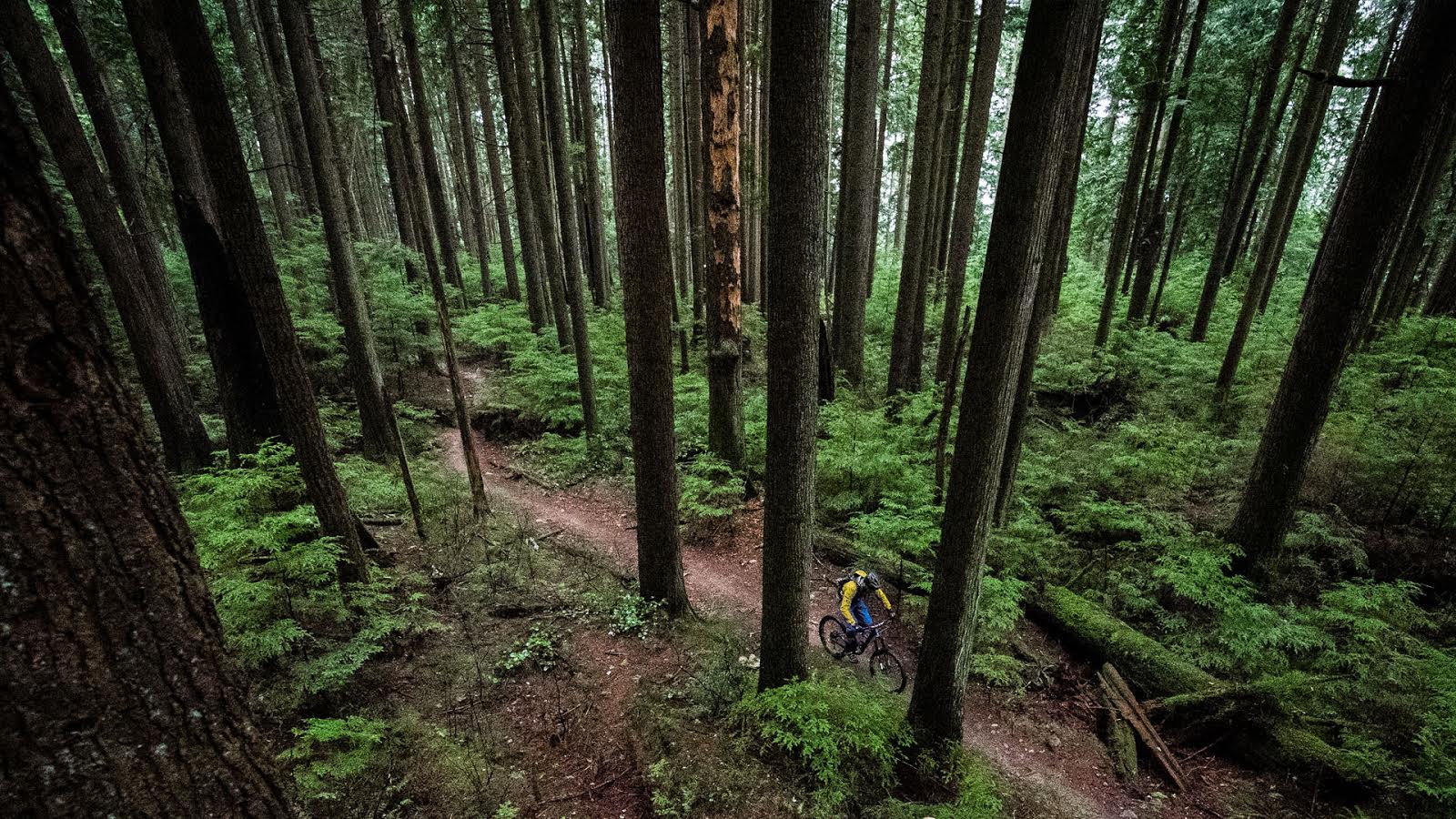 POC – U
Armour needs to protect, it needs to be comfortable, and, ideally, sharp enough that you won't be embarrassed to wear it.  A fact that seems even more evident after an event like the Test of Metal or XC event like the Cardiac Classic, as racers cross the finish line with bloodied knees, and limp around afterward with ice packs taped to critical joints.  For the elite it might be about speed; armour slows you down, restricts movement, chafes, and adds weight. Okay, that explains the mutants, but what about the rest of us mortals.
POC, short for Piece of Cake is a Swedish company that entered the bike market in 2009, after making a name for themselves over the last three years in the ski industries' more aggressive categories like ski X and big mountain. Their mission statement is "to do everything we can to possibly save lives and to reduce consequences of accidents for gravity sports athletes, by developing and renewing what personal protection is all about." A statement that appears to be more than just rhetoric. 

 Poc impressed us at Interbike.
POC wants to do for MTB armour what the iPhone did for the mobile industry; apply good design science, new technology and a flare for minimalist design that would make Jonathan Ive proud.
POC's primary advance is to use a "visco-elastic polymer dough" (VPD), a thick layer of soft doughy polyurethane foam that when warmed moulds to your body's shape, and becomes rock hard on the outside, but remains soft and impact absorbing on the inside when met with a blunt force.  This dilatantic nature makes this and like products such as d3o ideal for impact-based armour.  A difference between VPD and D3O is that Poc's polymer can be moulded into various shapes while D3O comes in sheets and must be cut to fit a given application.
VPD might remind you of oobleck, a non-Newtonian fluid made from a mixture of corn starch and water, you may have made as a child or played with at Science World. It flows like a thick, viscous syrup, but acts like a solid when hit absorbing the impact force. VPD works much the same way; you still feel the blunt force of a direct impact but the force is spread out and dispersed.
POC makes a number of pieces using VPD including POC Bone VPD, aimed at the free ride and more aggressive riding, and POC Joint VPD, a softshell armour aimed at XC, DJ and urban riding, or for those who don't like to wear shell armour.

POC Bone VPD Leg Pads
The scary stuff first. The Canadian MSRP is C$164.95 (US$120), but is advertised on-line with shipping for around C$135.  Out of the bag, these look sharp; white polypropylene (EPP) plastic with orange accents on a black and grey trimmed Cordura fabric. Albeit storm trooper does come to mind. You might feel you need a manual to put these on the first time — they are just different enough from the armour you may be used to. Stitching and material workmanship are of overall excellent quality.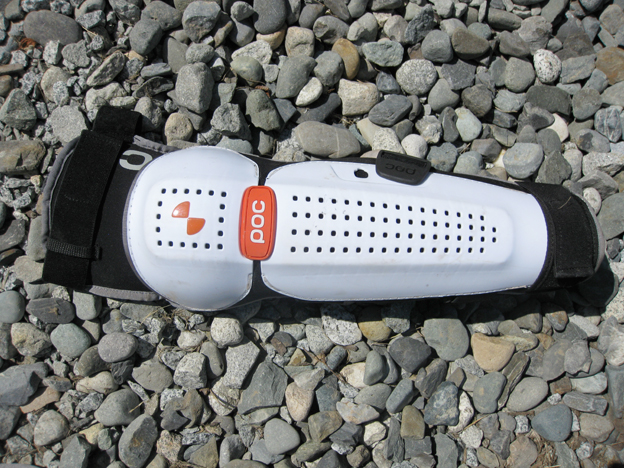 The POC Bone leg pads use a combination of hard plastic and other conventional materials along with their VPD 'polymer dough.'
The pads are apparently labelled to indicate left and right but my sample production run pieces where un-labelled. The armour is fully articulated at the knee, with the VPD portion fitting over the lower thigh and down over the cup of the knee. The plastic shell sits above this, facing slightly outward, offering a double layer of production for your kneecap. Range of motion is excellent, and as the VPD warms it feels like warm butter caressing your knee — oddly comfortable, and you quickly forget you're wearing them.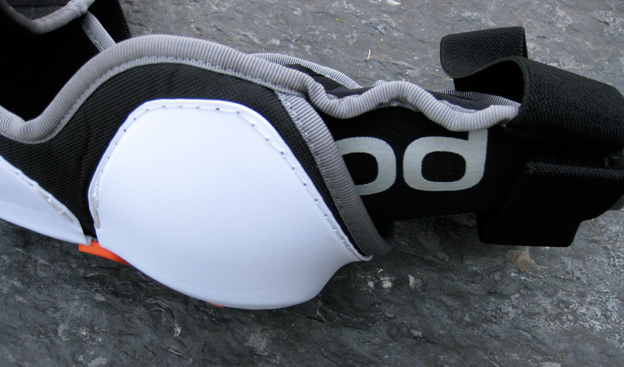 Above the knee you'll find the VPD material.  Very well placed indeed.

The stretchable cordura thigh strap is a wide 3.5cm and fits thru a tight loop with a Velcro enclosure. A nice touch is to have the Velcro hooks (male side) sewn on to the Cordura, while the dangling part of the strap contains the softer Velcro (female side) loop, which helps to prevent pilling of fabric.  While these pads can be clipped on and off, this top strap tends to stick to the Velcro near the loop which makes it difficult to remove completely. I found myself leaving the strap loose and just sliding my shoe through the opening and pulling the armour up like a pant leg. Additionally, the thigh strap is the one noticeable piece of this armour when you wear it. Sitting just behind and above the knee it can feel tight and restrictive on a long climb at first, but because of that tight loop you can easily loosen the thigh strap on the fly and it won't flap about, and it can just as easily be cinched on the fly for the downhill. I do suspect that we might see a slight change here for next year's model, maybe a softer and/or wider sleeve or backing material on this strap.  Having said all this, I have found myself acclimatizing to this strap, and have suffered no chafing.
The large sized bone leg armour tested weighs in at 425g a side.
Armour will always be warm, but in testing I found the POC armour to be cooler than similar black products This could be related to the white plastic or the generally good airflow or both, but it was appreciated during summer rides.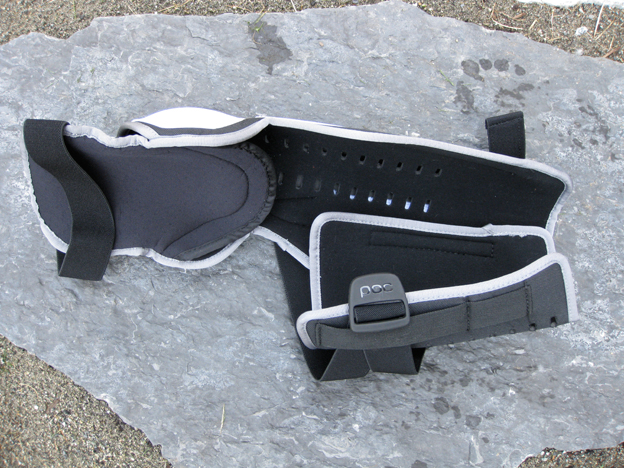 The rear calf protection is removable.  Note the wide velcro thigh strap and the easy attach upper shin strap.
There is a soft, removable calf protector that has Velcro on the inner side of the leg, and is held in place by three cross straps that clip firmly into one of two slots on the outside of the leg (for size adjustment) in the plastic shin protector.  The lower portion of the shin protector sits in a small sleeve.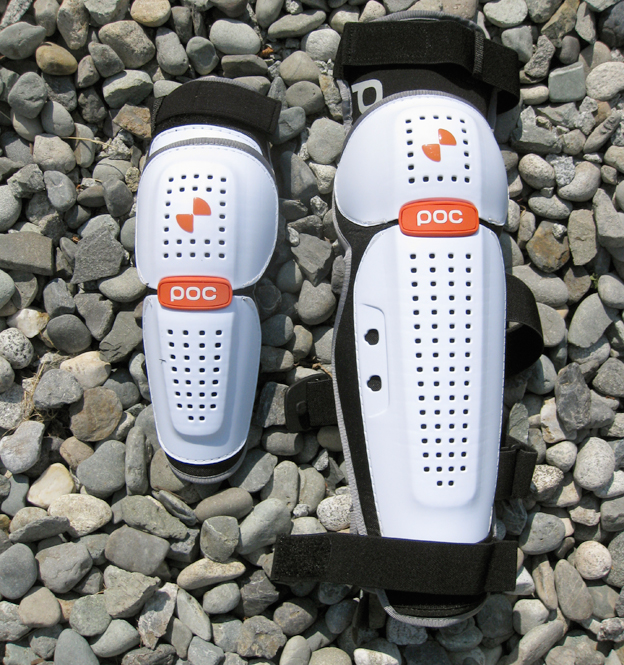 The Bone knee and arm together.
The leg armour comes in two sizes, small (shin length under 30cm) and large (shin length over 30cm). Strap adjustment is easy. Simply pull up on the strap rings. There is also a Velcro ankle strap, which I found myself needing to loosen. These pads stay put. I took my hardtail down a stretch of rock garden, in which I've previously had leg armour come unhinged at the knees and elbow armour slide down to my wrists — both the leg and arm armour stayed in place, and continued to stay in place comfortably all day.
Pros
    •    very comfortable
    •    stays put
    •    articulation (good range of movement)
    •    Velcro in the right places (minimizes pilling)
    •    VPD works as advertised
Cons
    •    cost
    •    thigh strap takes some getting used to
POC Bone Arm Pads
Out of the bag stitching and material workmanship are excellent, with nice little extras like LEFT and RIGHT embossed into the moulded polypropylene (EPP) plastic. Like the Bone VPD leg pads the arm pads are articulated, instead of VPD though a plastic shield protects the upper joint. Articulation is good, with excellent continued coverage and protection. There is no fabric sleeve, and instead a simple, fixed cross strap and a Velcro bicep strap (2.5cm wide) of a softly textured elastic fabric hold the pads in place — very effectively. The arm pad is pulled on like a sleeve, but without a fabric sleeve the overall pad is much cooler and less restrictive than some other pads that rely on a sleeve to prevent slipping. The bicep strap may leave a red mark at the end of the day. 

  Channel your inner storm trooper.

I took a turn riding on some hot sweaty days with no slippage, and on some cool days wearing the arm pads over the sleeves of a long sleeved jersey, again without slippage. The Velcro bicep strap is reversed to that of the leg armour on my sample production run piece, with the harder, catching, male hooks located on the end of the strap, and the softer female loops stitched directly to the armour. In conversation with Erik Lidén of POC Sweden he notes that Velcro location on straps  "seems to divide riders in to two sides." Having the male side face down, means it does not catch on the underside of shorts or jerseys. The current production line will have the female side on the straps instead. POC Sweden though seemed very open to hearing from riders on any details that might improve their product.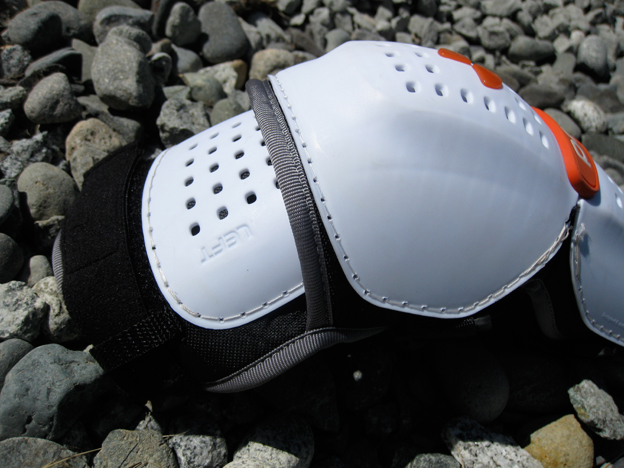 The Bone arms lack VPD but have a similar construction with hard plastic beneath the area where the outer shell hinges away from your upper arm.
The arm armour currently comes in one-size-fits-all, but I found the bicep strap too large for some smaller riders with a bicep circumference less than 24cm.  POC will be adding a second size for the 2010-2011 line, according to Erin Sullivan of POC USA marketing.
The Bone arm armour weighed 190g per side.
The Canadian MSRP is C$99.95 (US$75), but they are advertised with shipping for around C$75.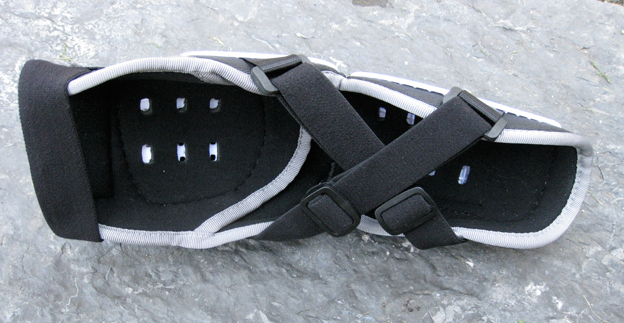 The back of the Bone arm pads with crossing straps.
Pros
    •    very comfortable
    •    stays put
    •    articulation (good range of movement)
    •    cool for plastic armour
    •    work as advertised
Cons
    •    Cost,
    •    no VPD (but probably not needed)
POC Joint VPD Elbow Pads
At first glance these might remind you of some other top of the line soft shell dilatantic armour, using d3o as a protective base. A little thicker, a more minimalist design, and fractionally less expensive, with a Canadian MSRP of C$119.95 (US$88), but is advertised with shipping for around C$85.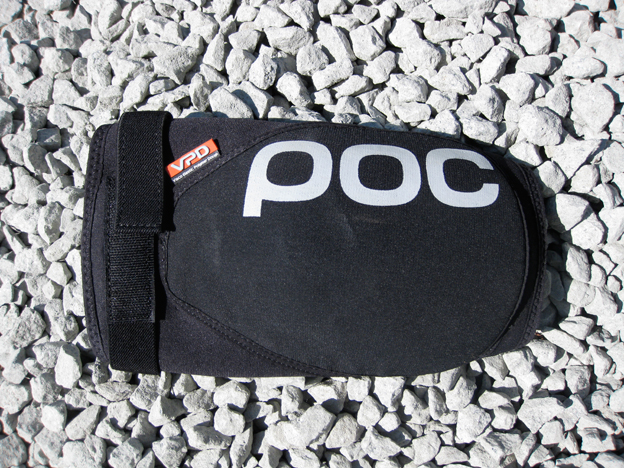 The VPD is covered in a two way stretch knit Kevlar aramid fabric, it is quite stretchy, soft and friction resistant.  The Kevlar is quite deceptive, a few people worried it might tear, but so far it hasn't and we've definitely scraped a few rough surfaces.
The rest of the pad is composed of Aeroprene, a perforated neoprene, covered in a somewhat moisture wicking fabric. These are warm, but not uncomfortably so, you will sweat but the fabric seems to do an okay job, especially when compared with traditional soft elbow or knee pad fabrics.
The fabric sleeve does pill in contact with the Velcro, but smartly the strap ends are the soft female loops, and the harder, fabric catching  male hooks are sewn into the sleeve itself. The inner sleeve also has a centimeter wide band top and bottom of a rubbery no-slip adhesive compound.
Your body heat definitely encourages the moulding of the VPD around the joint making these pads much more comfortable the longer you wear them, and perhaps not as goofy looking as hard shelled elbow or knee pads, which might make these pads useable for a number of other sports. Jarka Duba of POC USA indicated that the joint pads have been used for "baseball, bmx, roller derby, ski, snowboard, skate etc."
I actually gave the knee pads a shot inline marathon skating, and found them more comfortable and much more stable (no need to fiddle with straps, to tighten and retighten), if a little warmer, than the traditional inline skate knee pads.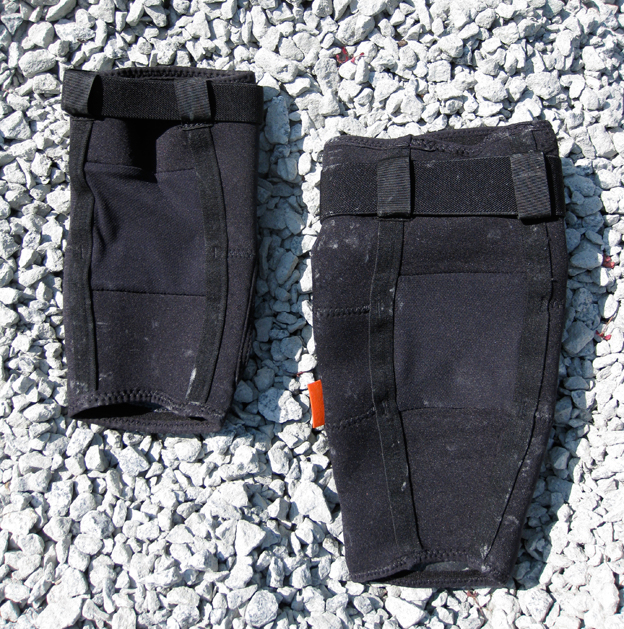 The back view of the Joint elbow and knee pads.
Overall stitching and material workmanship were excellent, with no visible or obvious flaws.
Left and right pads are labelled as such.
The elbow pad comes in two sizes, small and large.
The large sized pad weighed in at 140 g per side.
Pros
    •    very comfortable
    •    stays put
    •    Velcro in the right places (minimizes piling)
Cons
    •    cost
    •    warm

POC Joint VPD Knee Pads
Like the elbow pad, the knee pad consists of a stretch, knit Kevlar over VPD, built into an Aeroprene, perforated sleeve with a moisture wicking fabric. It is held in place by a stretch Cordura fabric strap (3.5cm wide).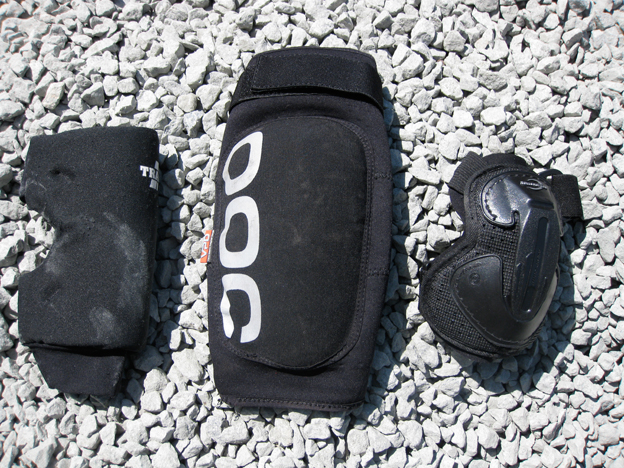 To Kyle's friends; stop letting him strap on the fruit boots. Here the joint knees are compared to some blade gear.
Coverage over and around the knee is good, and gets better as your ride progresses — as the VPD warms it moulds more evenly around the knee, resulting in a secure comforting fit. The knee pads stayed in place during extended DJ and XC rides, and as we discovered the Kevlar slides nicely along rough surfaces during a spill.  Again the sample production run pieces had the reversed Velcro straps, but the production run pieces will have the female side on the straps.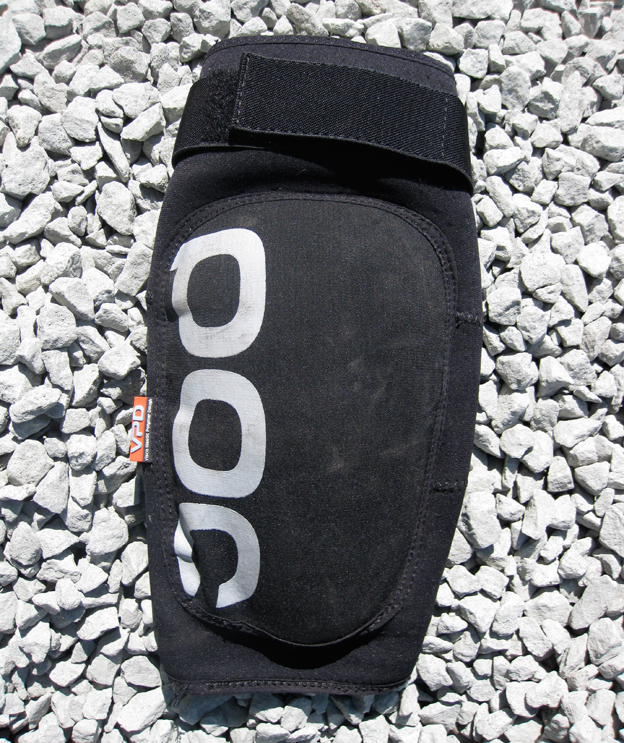 About the most comfy knee protection you can buy.  Do your best not to let them freeze over the winter though – this could compromise the VPD performance.
Overall stitching and material workmanship is good. Our sample piece did have a minor flaw in the stitching along the hem of one piece joining the Kevlar to the Aeroprene. I followed up with POC about product warranty, and was told to return the product to the point of purchase and it would be replaced, 'no problem.'
Pads are labelled left and right.
Canadian MSRP is C$139.95 (US$100), but are advertised on-line with shipping for around C$100.
Knee pads come in two sizes, small and large. The large comes in at 188g each side.
Pros
    •    very comfortable
    •    stays put
Cons
    •    cost
    •    warm (sweaty knees)
---
POC is creating quite a stir.  Anyone else had some experience with the gear?  Eager to strap some on?  Be the squeaky wheel here…