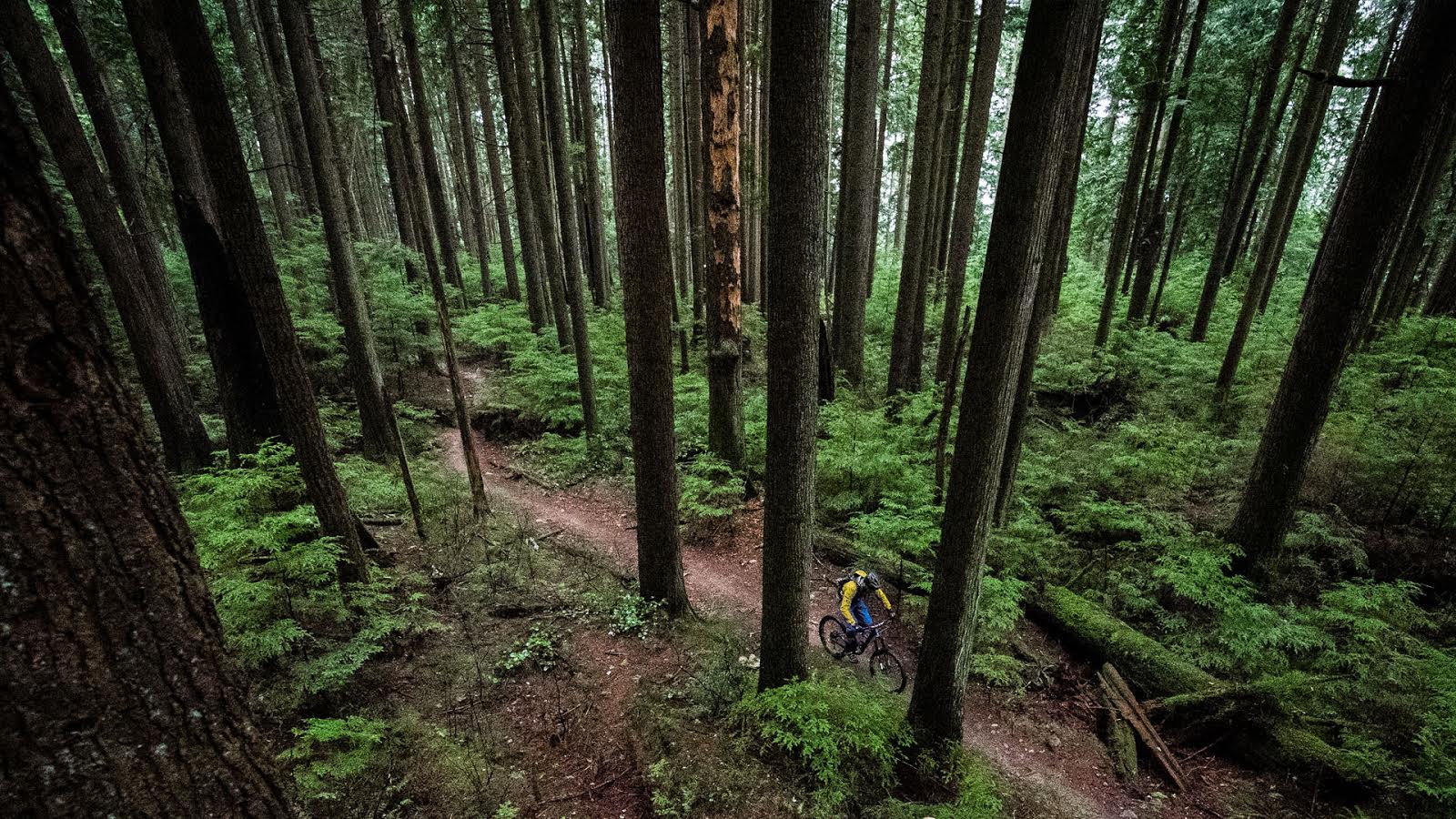 Danny MacAskill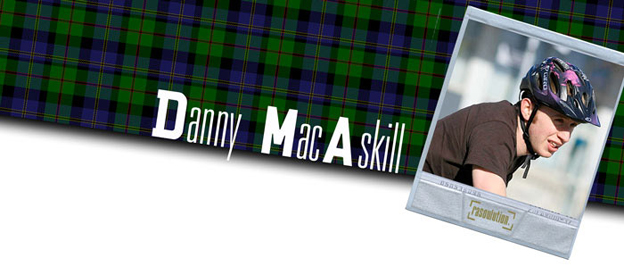 Maybe you aren't one of the 11 million people who have been gobsmacked by Danny MacAskil's bicycle riding.  If you are in that category have a look below. You'll see him bunny up a flight of eight stairs landing in a backwards manual, toss a tailwhip into a gnarly trials transfer – and basically make the impossible look easy. Danny has been picked up by Tarek Rasouli's squad and is likely to continue to be a viral sensation.  Dimitri Lehner of Freeride – the best German bike mag – asked Danny some questions so the world could get to know his preferences for sheep, cake, weasels and crabs.  Scroll after viewing.
Dimitri's questions in bold.
+    What was your biggest test of courage? Riding along spiky fence.
 
+    Anything you have missed so far in life?  Travelling around the world.
 
+    What do you need more time for?  To eat more cakes.
 
+    Is there anything where you totally suck? Writing haha.
 
+    While zapping in TV, where do you get stuck?  Ray Mears extreme survival.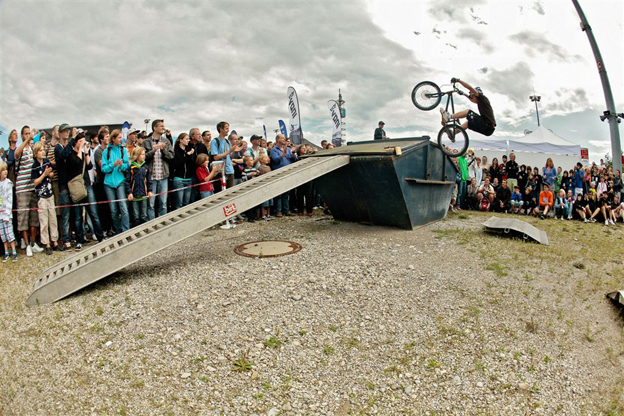 Danny performing in front of the crowds at Eurobike.
 
+    What's a challenge for you?  Walking places when I could ride.
 
+    If you could meet three people dead or alive, who would that be? Giant Angus MacAskill, David Attenborough.
+    Your favourite movie.  Crash.
 
+    What sport would you NOT want to learn?  Fixie polo.
 
+    Best sport besides Biking? Wing suit base jumping.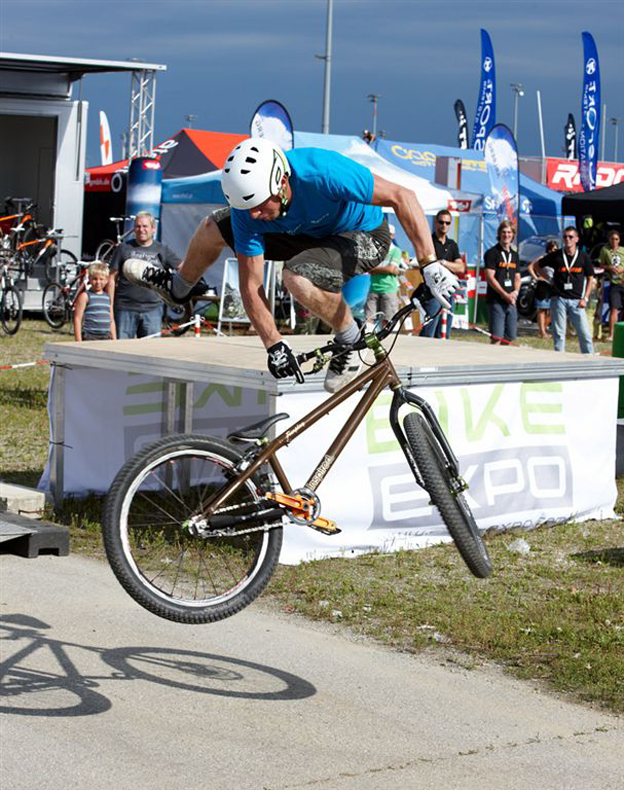 Manual to tailwhip?  Sure – why not?
 
+    Which athletes impresses you most outside of riding bikes? Travis Pastrana,  Robbie Madison.
 
+    Which of your own achievements makes you proud? Learning to wheelie .
 
+    How do you relax best?  Riding my bike.
 
+    Your favorite move/trick?  Street flares
 
+    Your favorite motto at the moment? Remember kids don't do drugs……… lightly haha
 
+    Which word or saying do you use too often?  Wee and sprachel
 
+    What is a temptation for you?  Reduced cakes in the supermarket
 
+    Where would you like to have a second home?  French alps.

 I've never seen this move before.  Does it have a name?
 
+    You can travel in time. Which period do you chose?  The 80s
 
+    What comes after death?  Eaten by worms
 
+    You will be reborn. As what?  A weasel
 
+    Sometimes scared of your job? no
 
+    What fact about you surprises people? That I get thrown out of every bar I've ever been in.
 
+    What would be your dreamjob besides being a pro rider?  Space man
 
+    What sucks about being a pro rider? nothing
 
+    Top 5 things to eat? jam and cream cakes, black forest gateau, carrot cake if I'm feeling healthy,  haggis, fish.
 
+    Top 5 things you miss about home? Rain, sheep, midges, my dog, the sea.
 
+    Top 5 you like? Cake, bikes, girls, seals, mearcats.
+    Top 5 you hate? Emos,  fixxies, skinny jeans,  MacDonald's,  crabs.
 
+    5 things you wanna do before you die?  Fly in a wing suit, travel the world with my bike,  sail round the world, break the world record snake skid!!
 
+    What makes you laugh? Everything.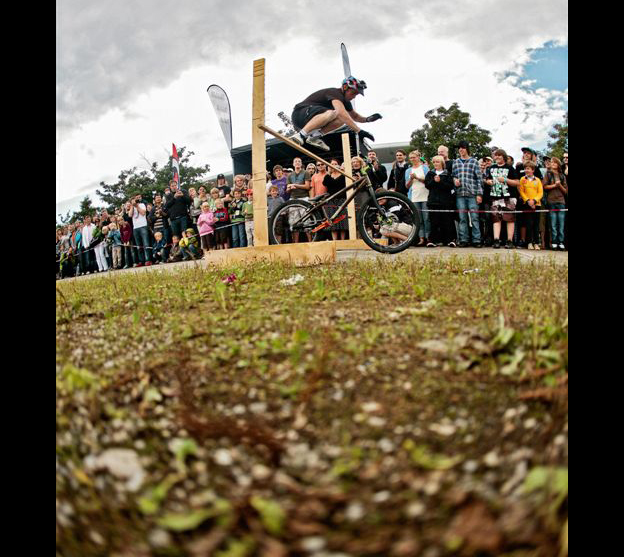 ---
 
+       Complete the sentences (Dimitri's in bold)
 
+       The worst in biking is fashion.
 
+       Style is nonexistent.
 
+       The North Shore is a place I want to visit.
 
+       Crankworx is a progressive competition.
 
+       Using a foampit is  a handy way not to hurt yourself
 
+       A backflip is  a fun trick
 
+       Bearclaw is a good rider
 
+       A year on a desert island would be fun! I lived on Skye for 17 years so I would know.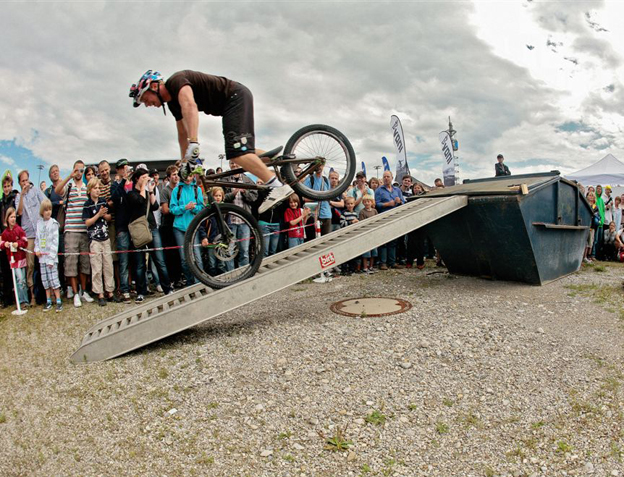 The scary thing about Danny is that he might be going up that ramp.
---
+       And now some bangers:
 
+       Picnic or fancy gala dinner? Picnic.
 
+       TV or book?  TV.
 
+       Painkiller pill or just hoping it goes away? Painkiller by Judas Priest.
 
+       Party animal or early in bed? Party animal.
 
+       Wild dancer or observer?  Very wild dancer.
 
+       Walker or driver?  Walker.
 
+       Talker or listener.  Talker.
 
+       Cleaner or collector? Collector.
 
+       Business or economy class?   Economy.
 
+       Good protection or cool look?  Good protection
 
+       North or south?  North.
 
+       Stairs or elevator?  Stairs.
 
+       Repair it or buy it new?  Buy a new one.
 
+       Summer or winter?  Summer.
 
+       High heels or farm girl?  Farm girl.
 
+       Megavalanche or Rampage?   Megavalanche.
 
+       Leader of the pack or teammate?  None.
 
+       Sailboat or powerboat? Power boat.
 
+       Politically correct or rebel?  Rebel.
 
+       City or countryside? Both
 
+       Tattoo or piercing?  None
---
 Is Danny your kind of Meercat?  Do you like crabs, farm girls and picnics?  Give us your answers here…