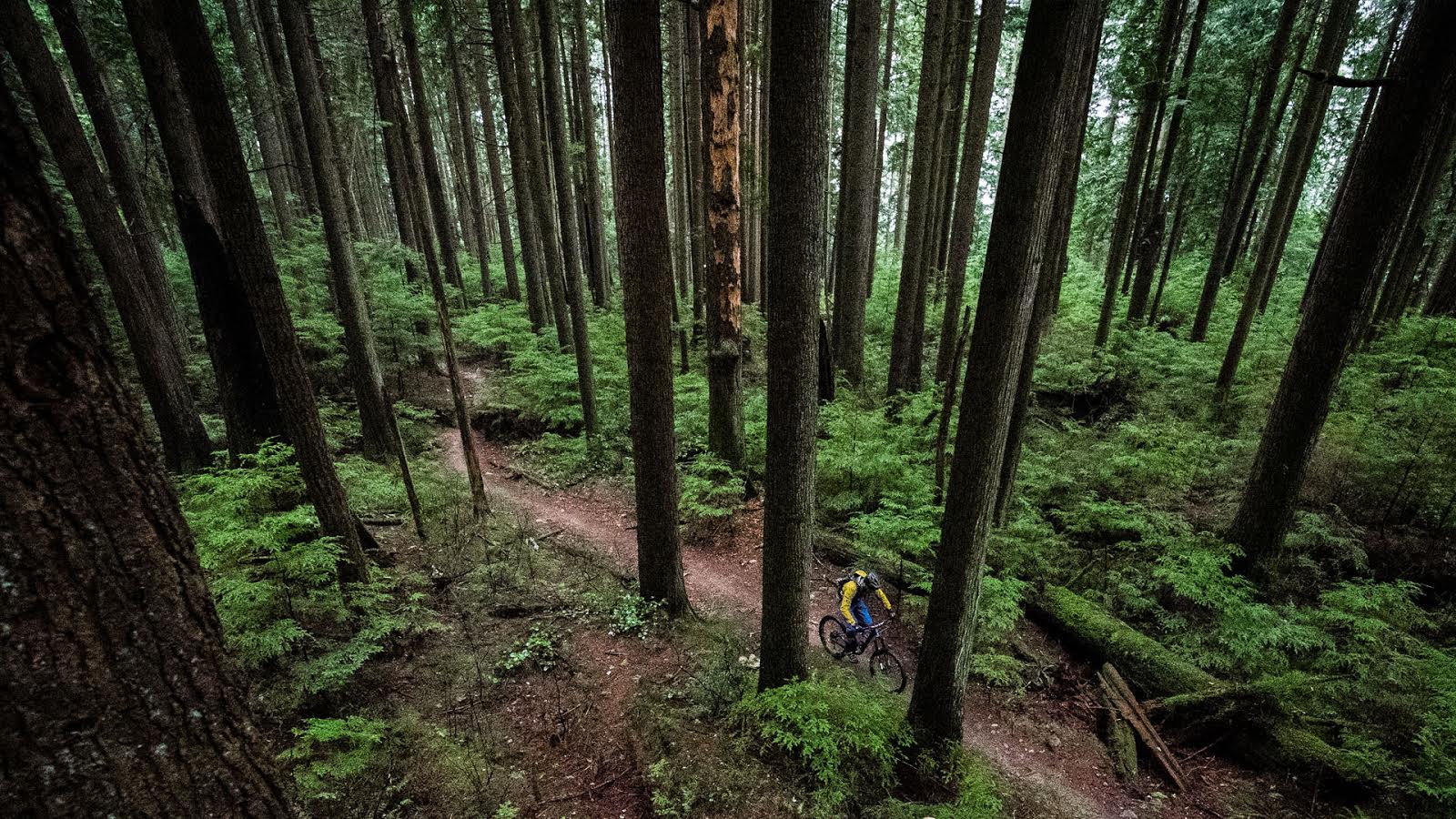 Zerode
If you rode the Whistler Bike Park this past summer you may have caught a glimpse of the prototype machine.  Hailing from New Zealand, the gearbox equipped Zerode has finally made its long awaited arrival in North America. Long awaited at least for those who've caught wind of it's heavily blogged development south of the equator.  The few who have had the chance to pedal the proto into 9" curbs at full speed have been amazed at the Zerode's incomparable bump eating capacity. 

Although it exists only in prototype form at present, the initial production run is imminent and the first limited availability models are being promised before the turn of the year.  I had the chance to meet both inventors and to have a close look at the Zerode.  It is quite unlike any other bike currently in existence.

 The steel frame looks pretty good.  Sadly it weighs 16 lbs and it'll likely end up on a wall somewhere.
The prototype is presently piloted by its co-designer and the fastest Kiwi in the 2009 NZ National Series, James Dodds.  "This prototype is actually nearly two years old now." Dodds shares.  "It's not a secret anymore." Dodzy has been racing the steel proto on the pro circuit in New Zealand for the past year.  And to say it's been causing a stir is an understatement.  In fact, when seventh ranked World Cup rider and fellow Kiwi Sam Blenkinsop appeared at one of the National Series races, Dodzy finished hot on his heels, only 0.89 of a second behind claiming second spot on the podium.  Not bad considering the chromo prototype he's riding weighs in at over 16 pounds, a far cry from the anxiously anticipated production model which will weigh in at just over 10 pounds.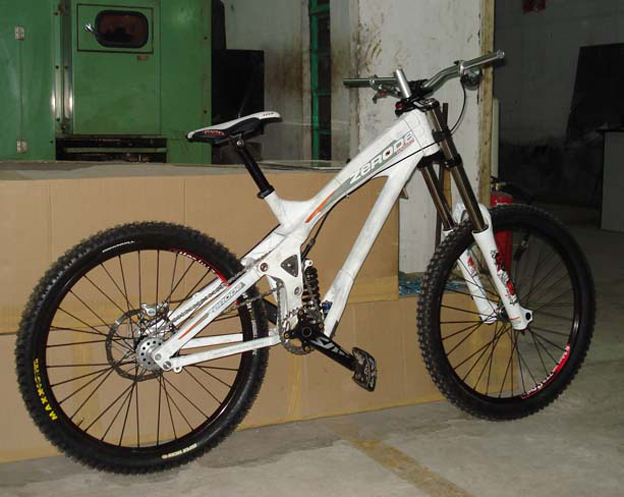 Will the finished product – assuming there is one – look like this?

The other half of the design team is engineer and former pro racer Rob Metz.  Metz is a past National Series podium finisher who was third best back in the John Kirkcaldie days.  After attempting (I stress this word!) to tail Metz this past winter in his native New Zealand, I assure you his skills haven't tarnished one iota.  He's as fast and smooth as ever with more tricks up his sleeve then a circus clown, including no handed wheelies and endless manuals.  Metz has designed for Avanti and Keewee bikes in past years, so he has an in-depth understanding in what he sees as current design limitations when using a derailleur.  "Using a gear box means a whole slew of advantages," explains Metz, "you no longer need to design around the limitations of chain growth, meaning you're able to optimize the wheel path for maximum bump eating capacity."  And this leads to a number of other obvious advantages once you've removed the fragile derailleur, including weight centralization as well as a low unsprung weight ratio in the rear wheel, now minus a cluster and derailleur.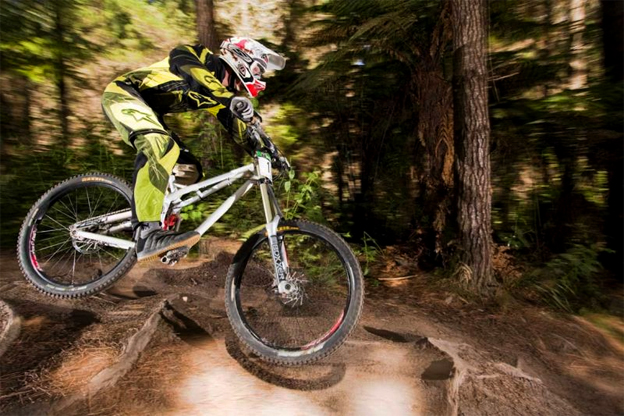 James Dodds – one half of the design team – racing the steel proto in New Zealand.
One thing you notice right away is that it's incredibly quiet without a rattling derailleur or chain slap. Never again will you need to align a derailleur or straighten a bent drop out, nor worry about missing a shift whether under load, pedaling or not.  Metz has been running his 6 inch travel trail version for the past 18 months and hasn't missed a shift yet with his internal gearbox.  If you believe in destiny, the Zerode is the brainchild of two of the top race proven riders in New Zealand and was destined from the start to be a fast bike. But it promises to be more than just that – it's silent, has exceptional square edge bump absorption, and it accelerates explosively with little if any noticeable bobbing.  "A pedal platform is virtually unnecessary with this design due to pivot placement."  They have created a suspension and drivetrain design that works as one.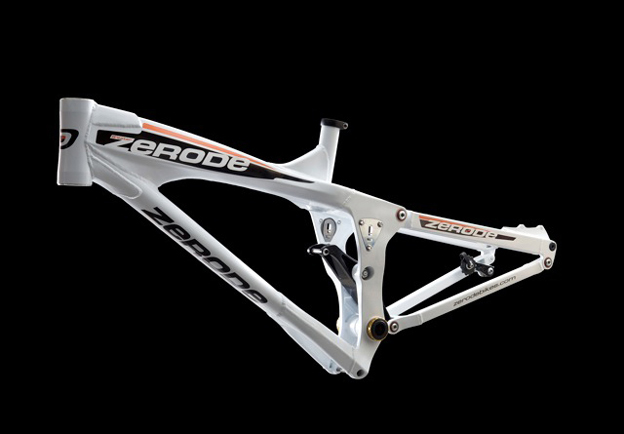 The Prototype frame.  I'm not sure what's going in the middle to make it work. 
The Zerode has already heralded a worldwide following, even though no production model exists at present. With the promised release of a production machine before the calendar rolls into 2010, the pre sale list of buyers is healthy (although Dodzy wouldn't share numbers, he hinted it was in the hundreds).  They've received emails from Japan, throughout Europe, USA, Canada and of course New Zealand and Australia where the bike is already well known. "People are offering payment up front even though we've only just entered into production," says Dodzy.  With plans to release both a DH version and a 160mm travel AM version, Zerode may be the only name in your garage in future.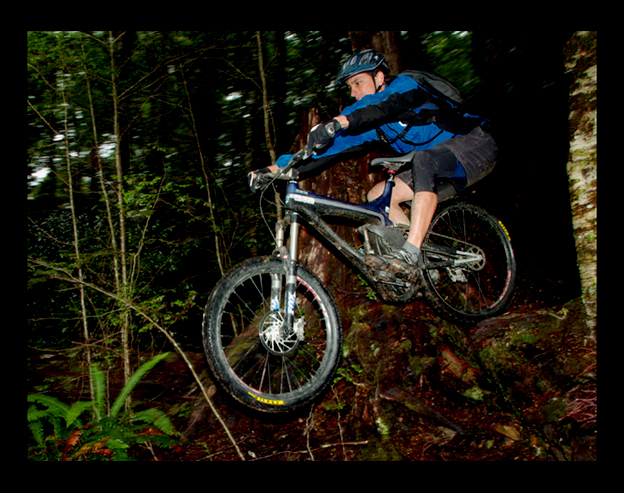 Rob Metz riding the prototype 6″ travel trail bike.
---
Strangely I couldn't find a Web site for Zerode.  Maybe they were being a bit optimistic about the production run before the new year?  Hopefully this article and accompanying thread will drum up some info.  What do you think?  Looks pretty good to me.  Pipe up here…