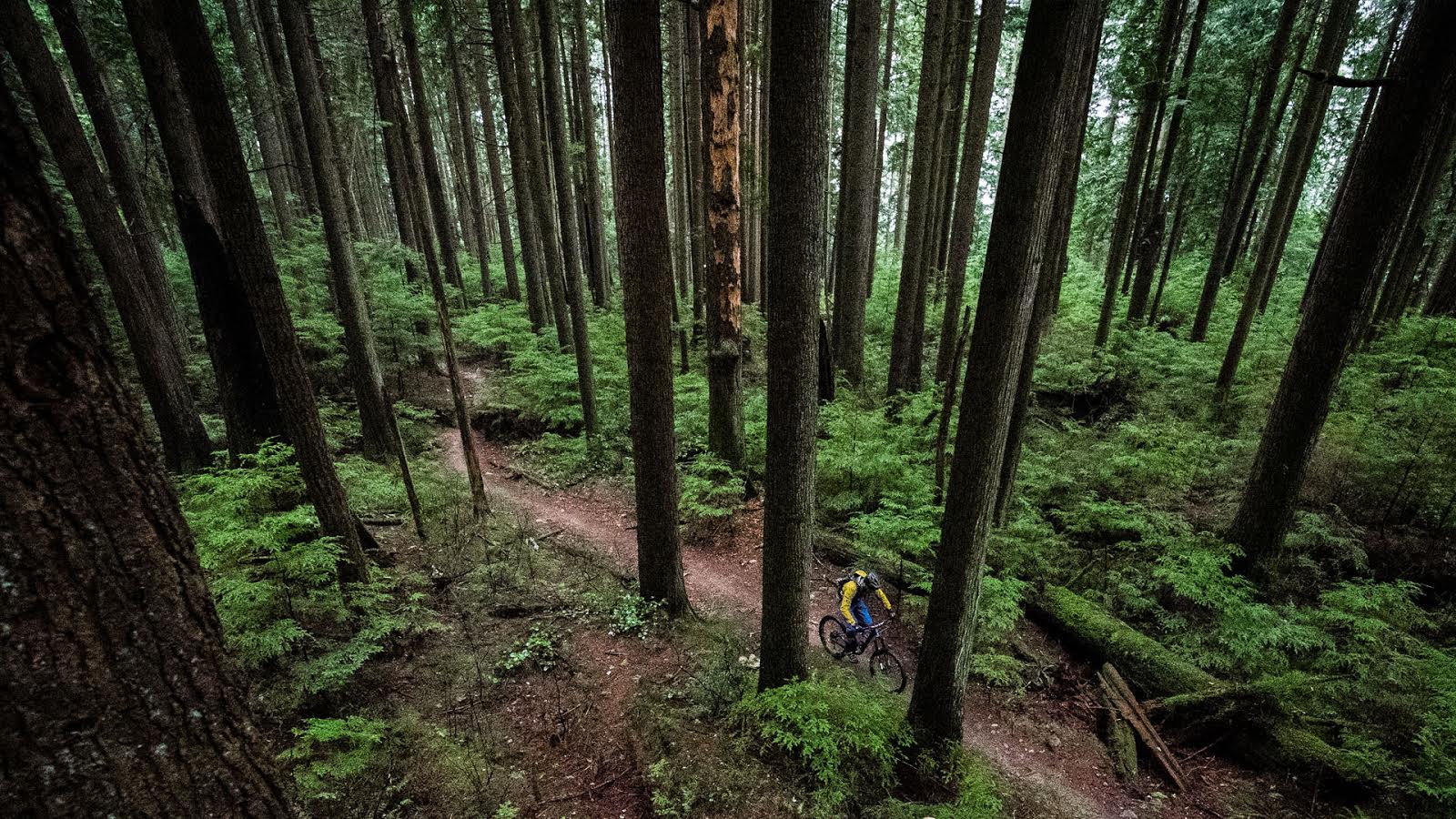 2009 Flatline Unlimited Review
Riding the orange bike
Part way through trying this bike out I had an interesting conversation with Wade Simmons.  It's not like I talk to Wade everyday or anything.  In fact, this was the first time I had ever met the guy, and I may never talk to him again.  It happened at Mt. Washington the day before the 'Roots, Rocky, Reggae' event.  I was up riding with my brother-in-law and my two main riding buddies, Chris and Lee.  A lingering lower back issue had forced me to quit a run early and who do I see sitting in the patio in front of the lodge?  Why Wade Simmons of course!  I introduce myself and we get through some of the usual chatter, and along the way I bring up the fact that I am 'testing' bikes for NSMB. I had given Wade the gears a little for asking where I was from twice in the space of five minutes so I think he decided to bait me in return. He made a pretty valid point though; how could I as an "amateur" (and not a very high level one at that) really "test" a bike?  He used the "out-of-10" model saying that if I'm a 6 out of 10 rider, how was I going to be able to tell if a bike was a 7 out of 10 or a 9 out of 10?  Well, he's right.  So, if you don't feel like reading what this 7 out of 10 rider has to say, bugger off.
Otherwise read on.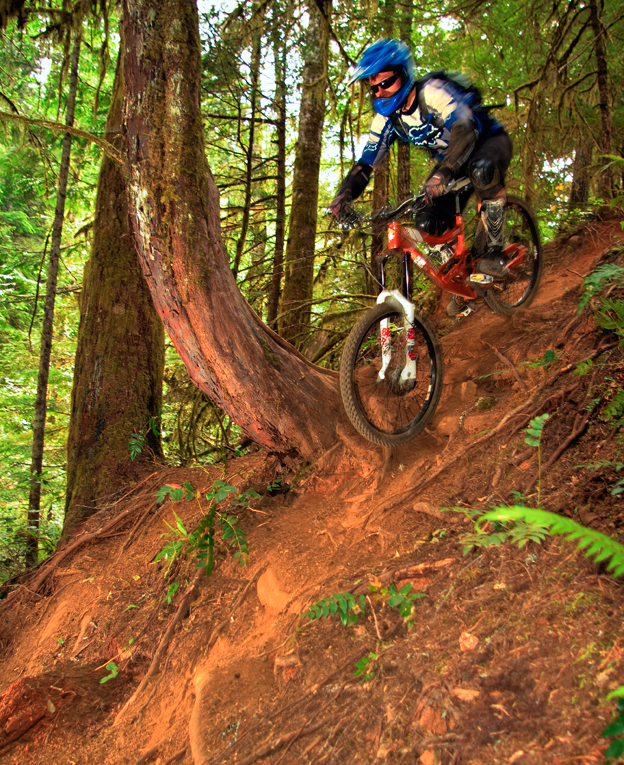 Andrew Gower working on a 7 out of 10 move on Vancouver Island.
I've now had this bike for a couple of months and I've mixed riding with some Forbidden Plateau shuttles, Cumberland 'earn your turns' rips and a few good sessions at the bike park at Mt. Washington.  I also took it with me on a road trip to the Okanagan, and had the opportunity to ride Silver Star, Harper in Kamloops and the Sun Peaks bike park.  Since this is described as a freeride bike, I've tried to ride 'freeride' trails as much as possible, and do the biggest jumps, drops and stunts that I am comfortable with.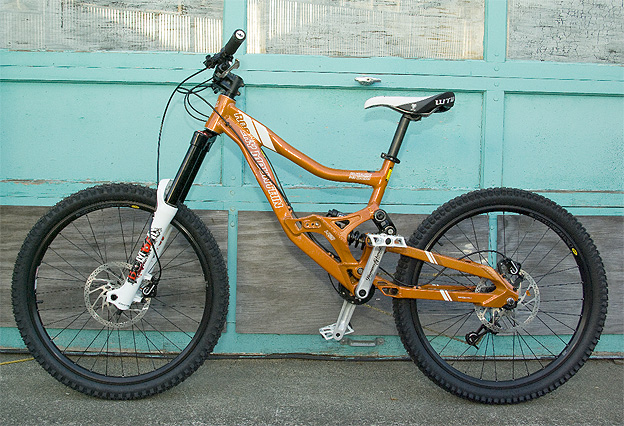 The 2009 Flatline Unlimited before it got dirty.
Spec Review
Frame and Shock
Custom valved Fox DHX-3.0 – 8.5 by 2.5
Fork
Marzocchi 66 RV – 180 mm
Brakes
Shimano BRM-525 disk brakes
Shifters
Sram X-9
Front Der/cranks
Hammerschmidt – FR
Rear Der/Cogset
SRAM X-9/SRAM PC951
Wheels
Wheeltec Hubs, DT Champion Spokes, MAVIC EX325 rims
Tires
WTB Prowler MX 2.5 Comp front tire paired with Dissent 2.5 comp RR A.V. out back
Pedals
RMB Flat
Bar
RMB Alloy DH 31.8 mm 30 mm rise 700 mm width
Stem
RMB DH alloy 31.8 mm x 10o 50 mm
HS
FSA Orbit
Seat Post
RMB SP-601 2-bolt 30.9 mm Ø
Seat
WTB Pure V Race
Suspension Adjustments
Finding set-up info was easy because Rocky has the  on their Web site. This is important because of the number of options for travel and angles the Flatline allows.  There was however nothing specific to the Unlimited's build and shock.  Travel adjust comes from changing the shock out – longer eye-to-eye and stroke gets you longer travel.  The three set points on the front of the shock mount on the main triangle change travel a small amount with the same shock, but what they really do is change the head angle.
For fun, I tried throwing the shock into the furthest forward set of holes, and boy did it rake out the rig.  Throw some pegs on the fork and chopper it up.  The chart provided by Rocky actually says that this position isn't possible, and I imagine there is some frame interference so it's a good thing I never rode it like that.  In the second set of holes (the middle ones) you get a head angle of 63.5 degrees and rear travel of 6.71 inches – think mini dh rig.  In the furthest to the back set of holes, you end up with a 65.7 degree head angle and 7.24 inches of travel.  Still pretty slack for a freeride bike, but definitely manageable.  I kept the bike in this setting for the duration of the test, as even at the steepest head angle possible, the Unltd felt pretty long and raked out.

You have three head angle and travel options with the Flatline – and further travel options if you pick up a second rear shock.
Abuse Report
Even after my hackish attempts at freeriding in three of B.C.'s bike parks, plus numerous shuttles on Forbidden and long rides in Cumberland, the frame has held up very well and functions exactly the same as it did the first day out of the box.  There hasn't been a single loose pivot (I have checked) – Rocky built this thing tough.  (Fanatykco in Whistler calls this the toughest bike they've ever had in their rental fleet -Ed.)

  Andrew Gower in action on the Flatline Unlimited.
There are the usual scratches and chips in the finish, but overall the paint job has held up admirably despite me laying the bike down on numerous occasions.
Some nagging issues have arisen with the Shimano BRM-525 brakes.  They now tend to fade and get packed in by the end of a long day and the reach adjustment requires constant fiddling.  They have also developed an annoying squeak in the lever  – something even my old, unreliable Hayes Mags didn't do.  The seat loosens up often, and I find that I have to tighten it up every second ride or so.

Chainstay Protector Rant
Why oh why don't more bikes come equipped with chainstay protection? So the bike looks better on the showroom floor?  Who doesn't go and almost immediately slap one on?  The Flatline in particular seems to be a pretty loud bike with the chain slapping against the chain stay, so after about a week of riding, I went with the ghetto solution and wrapped a blown inner tube around the frame.  Problem solved.

About those tires…
This was my first time in a while not riding either Kenda Nevegals or Maxxis High Rollers or Minions – all tires with blocky, angular treat patterns.  The WTB tires on the Unlimited have a much rounder profile than my usual tires.  The rounder profile meant the bike would react to cornering inputs more quickly – which took some getting used to. Once you adjust to that 'rolling' feeling, the tires hold their grip in all sorts of conditions.  The only big gripe I have is with the sidewall.  It would seem that to save some weight, Rocky spec'd single ply tires, which resulted in a lot of pinch flats even with a DH tube at 30 psi.  If anyone buys one of these bikes, I would strongly recommend upgrading at least the rear tire to a DH dual ply tire, especially if you plan on going fast down any rough trails (that sounds like mountain biking now doesn't it!).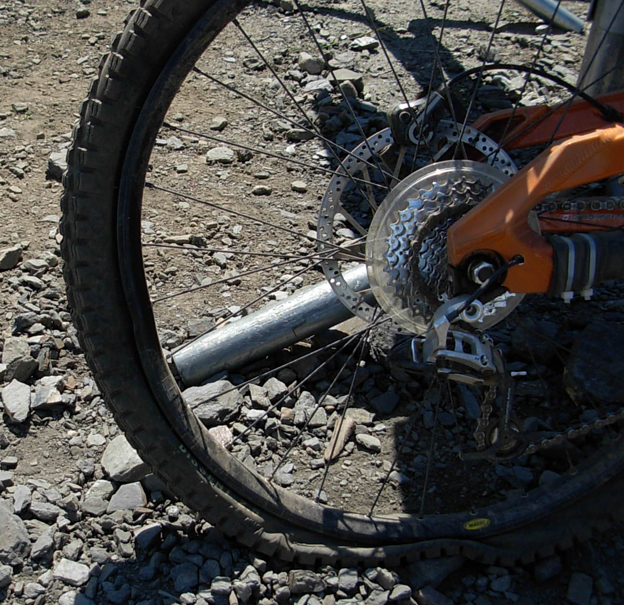 The WTB Dissent tire on the rear wasn't sturdy enough for Andrew's liking. And this isn't why they called it the Flatline.
Hammerschmidt für immer!
I must say, I am sold on this little contraption.  It delivers everything as promised.  Instant shifts, no chain issues and increased clearance.  The best part is on your typical Comox Valley freeride trail, you often bomb down a line to immediately grunt up a steep climb.  Normally with a dual ring set up and front derailleur unless you shift before the transition the pressure on the drivetrain makes shifting into your granny next to impossible.  No such problem exists with the Hammerschmidt; just pop the trigger and spin up the climb.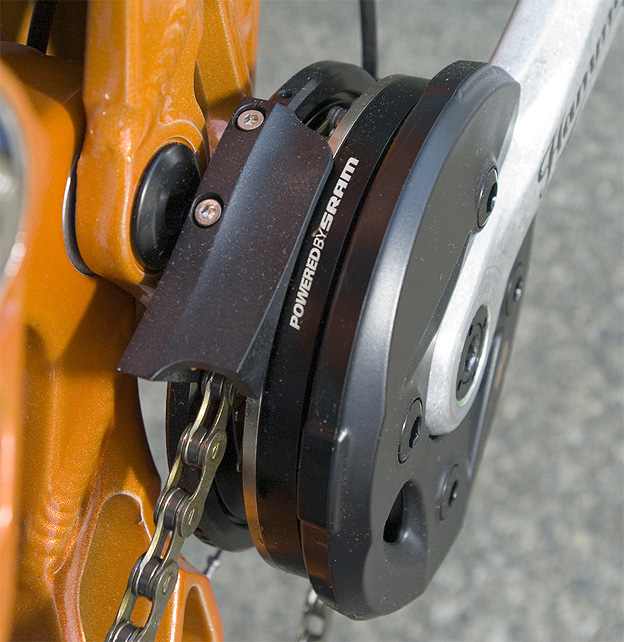 Hammerschmidt planetary drive system is something that will be showing up on a lot of bikes.
Some scientific testing
While Wade was giving me the gears, he also ranted a little about how there is no certificate you can get to be a bike tester or reviewer.  There's no scientific testing process followed (except maybe by the German mags – Ed.).  So I decided to try a little science of my own.  After blowing out the back rim at Silver Star, and having two pinch flats in a row at Sun Peaks, I decided I had to try one of the longer travel Flatlines to see if the shorter stroke shock on the Unltd changed the rear suspension characteristics.
A quick visit to the rental shop at Mt. Washington and I had the chance to do back to back laps on one of their 'Park' Flatlines.  The Park edition sports the same frame, a longer stroke DHX 3.0 and Marzocchi 888s.  For the sake of consistency I took a medium sized frame.  The frame, built up with DH components, felt much roomier, and a little more solid (if that's even possible). 
While I did notice a slight increase in suppleness from the rear end, the shock still really ramped up at the end of the stroke so that at or near full compression, rear travel becomes a little rough.  This would appear to be a combination of the linkage being designed to have a stiffer spring rate as it gets deeper into the bikes travel and the fact that DHX shocks have the "boost valve" feature which does the same thing.  Add these two features together and you get very stiff travel when you're hitting rough stuff at speed. 
This combined progressiveness would be great for big drops and hits (i.e. you're not likely to bottom out ever), but at speed on the rough stuff I always felt tossed around.  Word to the wise, if you decide this bike is for you spend a lot of time tuning that boost valve and run as little pressure as possible.
I note that the 2010 Flatline World Cup has had the linkage tuned for a more linear spring rate, which would allow the boost valve (or similar, depending on the rear shock spec'd) to tune the bottom out/end of stroke.  This should make for a more supple ride overall.
Lasting Impressions
Taking a DH frame, throwing a single crown fork and a shorter stroke shock on does not a freeride bike make.  I took some time to compare the Unlimited to other bikes on the market in the same price range, and it is just way to easy to find a lighter, steeper and better spec'd steed.  Sure, average Joe is never going to break a Flatline frame, but the same can be said for a lot of the lighter 7 inch bikes out there.  Combine this with the fact that the shorter stroke shock seems to turn this frame into a back-wheel munching monster, and you begin to think that maybe Rocky should spin off a dedicated, lighter and steeper 7 inch freeride version of the Flatline…
On the plus side this bike does feel solid, and the slack angles to provide a big advantage when bombing steep, loose trails – especially ones that you don't know so well.  Rolling into some of the burly lines at Silver Star and Sun Peaks for the first time, I knew that if I just let the bike run, it would 'monster truck' over just about anything. On big hits and drops, the way the linkage is designed combined with the DHX's boost valve feature ensures you'll be unlikely to bottom this bike out if you run the proper spring rate.

Gripes
While having the Hammerschmidt on this rig was really fun and a nice upgrade, it's expensive and the compromises made in the rest of the spec just don't make it worthwhile.  The brakes are not suitable for park and freeride, and for a bike of this price were very disappointing.  The fork, while not the highest end 66, is actually a very smart spec decision as it sports the traditional open-bath damping that made Marzocchi so popular, and it has delivered consistent performance with no set up issues from day 3 (2 days to break it in aside).  
When comparing the Flatline Unlimited to even the rest of the Rocky Flatline models, other than the Hammerschmidt, the parts spec is almost identical across the whole line up.  For me at least, that would make buying an Unlimited a very tough call.  Furthermore, when you compare it to the competition, that same dollar amount buys higher value parts on very comparable, but maybe not as solid, framesets.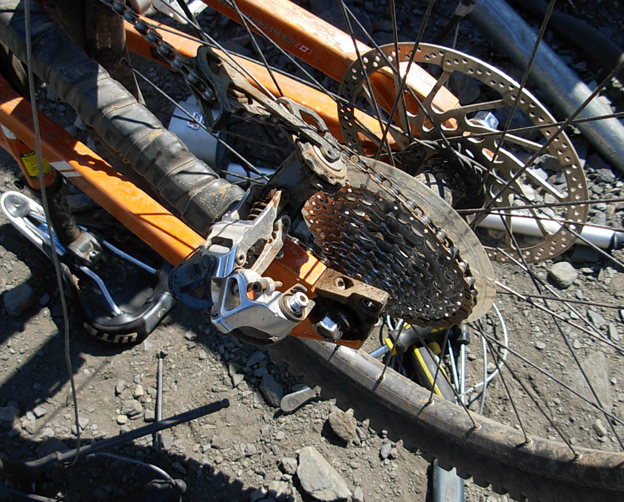 Removing the rear changer isn't essential when you are removing your rear wheel – but it makes life a lot easier.
My biggest gripe, brought about by way too many rear tube changes due to pinch flats, has to be with the way the drop-outs and derailleur hanger are designed.  The rear axle set-up makes getting the rear wheel off a major pain in the ass.  Maybe I am getting too soft with all the Maxle frames out there?  I don't know, but having to loosen four allen bolts, loosen the axle bolts, take one axle bolt off and then fiddle the derailleur about (so that it doesn't cause the tab to snag the axle) really isn't fun.  Try doing it in 40 degree heat at the top of Silverstar while getting eaten by black flies and the frustration factor really ramps up.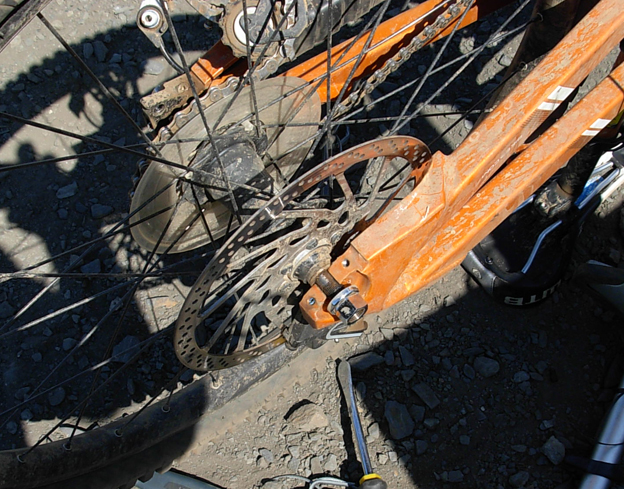 The rear wheel removal procedure was Andrew's least favourite aspect of the Flatline.
Comparison shopping of 2009 models:
Bike
MSRP
Frame-travel
Fork
Brakes
Drivetrain
Features
Rocky Flatline Unltd
$4,295
LC2R-6-8.5
Marz 66 RCV
Shminao BRM575
Sram X9
Hammershcmidt
Norco Shore 1
$4,299 (discounted)
FSR-7"
Totem – 1.5 ht
Avid Elixir
Sram X-9
Hammerschmidt Maxle rear axle
Specialized Demo 7-I
$3,999
Demo – 7" – FSR
Totem IS Coil
Avid Elixer R's
Sram X-0/X-9
DHX 5.0 rear shock
Giant Glory 0
$3800 (USD?)
8 inches Maestro
Marz 66 RC3-1.5
Hayes Stroker Trail
Hussefelt/Sram X-9/X-7
Lots of Race Face components
Kona Stinky Deluxe
$3,999
7 inches
Marz 66 RC3
Hayes Stroker Ace V-8
XT-der, SLX shifter
Floating Brake Kit – Race Face Cranks-E-13 Guide
Mavic Crossline Wheelset
Banshee Scythe
$4,500 (MSRP)
7 or 8 inches
Totem Mission Control – Coil
DHX 5.0
 X-7/X-9 – Funn Hooka Cranks
Funn wheels and cranks – Juicy 7 brakes
Summary
While no contender for the light bike category at 46.3lbs, the Flatline is solid and will take any abuse you can throw at it.  However, with it's almost DH slack angles making slow speed manoeuvring a challenge, and less than stellar parts specification for the price, this version of the Flatline is a hard sell for me.  But, if you are sold on having the Hammerschmidt, plan multiple fast runs of trails like Freight Train and A-line, and are willing to spend some extra money to upgrade the brakes and tires, the Flatline Unlimited may be the bike for you.  Combine the frame's burliness with it's confidence inspiring performance on steep, exposed lines, and you almost have the complete package.
---
To have a look at Rocky Mountain's 2010 line up – including the new Flatline World Cup – click here…
To gripe, praise or comment on a 7 out of 10 tester or anything else in Andrew's review click here…