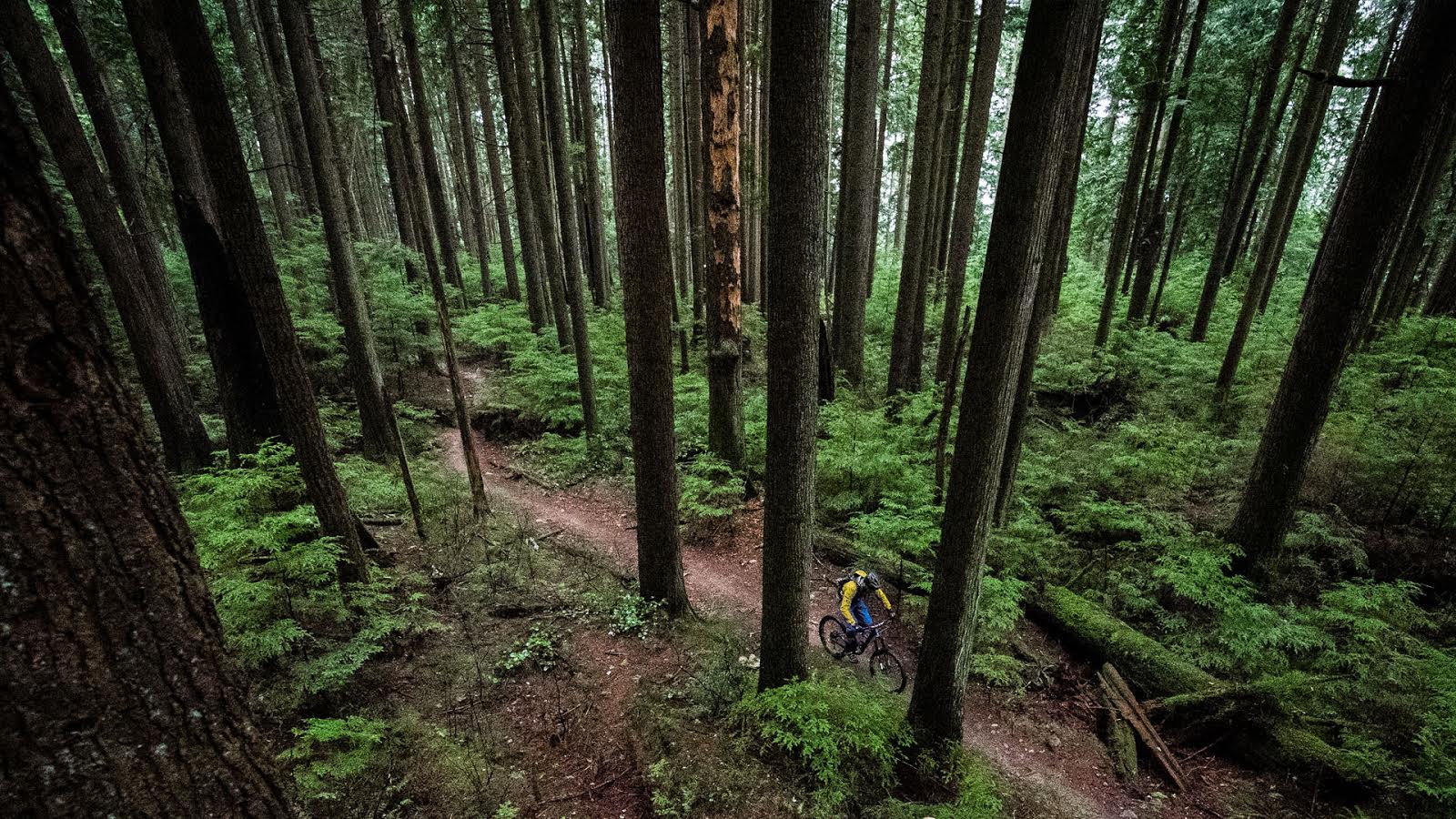 Readers Rides # 13
I've mentioned before that Readers' Rides is open to all – even product managers at bike companies.  Darren Salsbury has been leading the line at Mongoose bikes for six years so it may not be surprising that he likes what he's come up with.  He's not the type to embellish, exagerate or distort though – so you may not need to take this with too many grains of salt.  This bike became a project when Darren decided to put it on a diet.  Here's how it came to be.
Cam McRae
Every so often you get one of those bikes that just make you feel good when you see it.  This Boot'R frame is one of those for me – and I have a lot of bikes under me in the course of a year.  You see I have one of the best gigs in the world; I am the head of product development for Mongoose so it is my job to come up with ideas for bikes, spec the parts, work with the engineers, pro riders, and yes, test ride these beauties.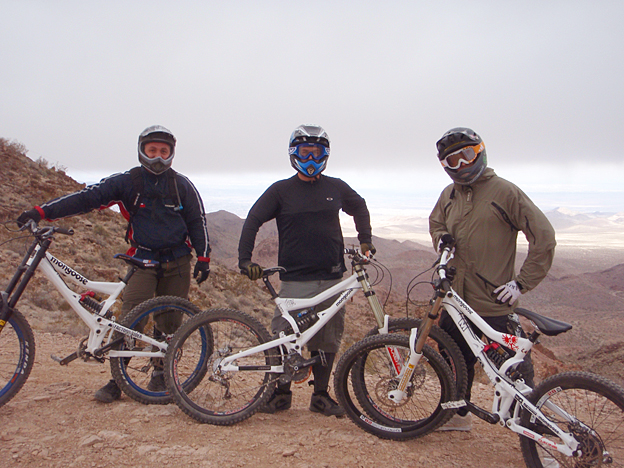 Left to right is me, "Sniper", and Romaniuk in Bootleg Canyon
This particular Boot'R has been extra special though because it was the culmination of four years of experience working with guys like Eric Carter, Andrew Neethling, and Steve Romaniuk.  If you look at our original Black Diamonds from back in 2005 and look at this all you gotta say is "you've come a long way baby". This is the frame platform that Mongoose has had the best race results since my time with the company; 2009 Australian National Championship (Mick Hannah) and Australian National Series Overall (Josh Button) and it's now seen ripping it in films like Kranked 7 & 8 and Barred for Life.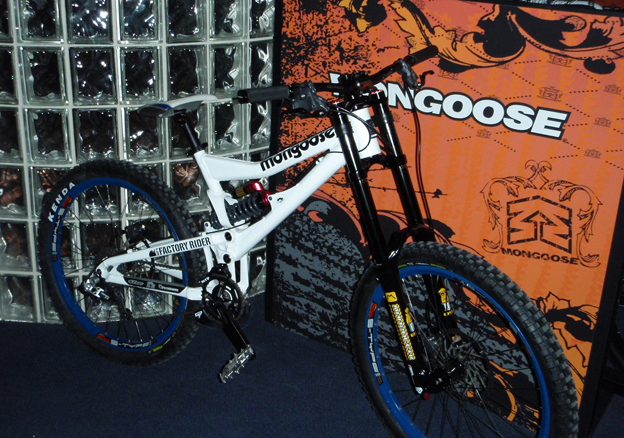 Original kit – tough but not so light in the original set up in the 41 lb range
I guess the best experience was the first test session with it.  This was the first bike I ever got to do some serious riding with Romaniuk along with our pro mechanic at the time John Canepa (aka Sniper).  The three of us along with 3 engineers spent a week in Bootleg Canyon beating the tar out of these and everyone came out on the other side with the fun meter pegged and the bikes ready for more abuse.
 The way I had this bike built for Bootleg Canyon was pretty burly.  Marzocchi 888/Roco combo, Sun/Ringle wheels, Hussefelt cranks, and an assortment of other tough but not particularly light parts.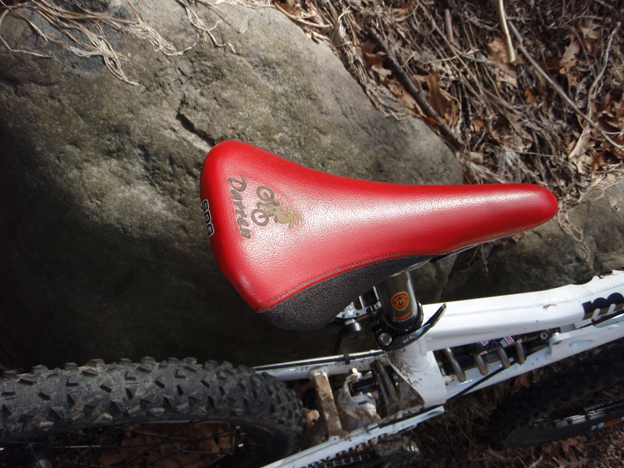 Custom embroidered SDG old school Satelite saddle with Ti rails.
Being stuck in a harsh winter made for a lot of creative time so I started messing around with how light I could build this rig and the Boot'R Lite was born.  I knew we had a tough frame that was still light weight (8.8 lbs without shock) so I wanted to match the parts up the same way.  I wanted the kit to be light but without any stupid XC short cuts.  My criteria were the everything should be able to survive runs at Bootleg, Whistler, etc and not have to worry about durability, while still pushing the weight weenie envelope as far as possible. Also being a bike slut I wanted to make sure to colour match when I could.    
The weight went up and down (36-38 lbs) depending on where I was taking the bike. The mini-DH runs I have on the local trails are rocky but the speeds were slower and drops are tame.  Later I ended up in Diablo Freeride Park in New Jersey and on the infamous Deer Valley  National Championship Course (NCS) in Park City, Utah.  The lightest I could muster was at 36.28 lbs for specific mud running courses with a slightly narrow UST tire set up.  The photo below shows the rig with Continental 2.4 Mountain King's and this worked great for the local trails in the winter and early spring.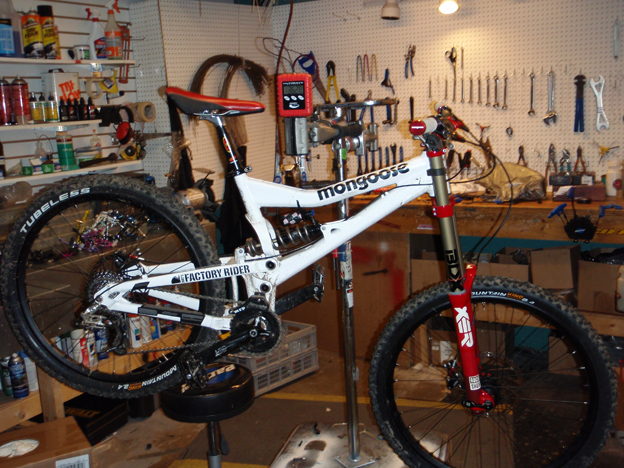 36.28 lbs about as light as this one gets.
 
Frame
The FreeDrive system is the heart of this rig.  The hallmarks of the design are a rearward axle path for superior bump compliance and wheelbase management and very little chain growth.  You can hear me rattle on more about this at mongoose.com and on YouTube too.  The Boot'R frame helps in the weight department with a svelte 8.8 lbs weigh in without the shock.  We use an appropriate amount of formed 6061 T-6 aluminum including a monocoque top tube which is pretty darn tough despite the nice weight (see the Kranked 7 Romo section where he tomahawks his rig 200 ft down the mountain…the bike faired better than he did and was ready for another run).  You will find the welds are super neat and precise too and all hand made (in Taiwan of course).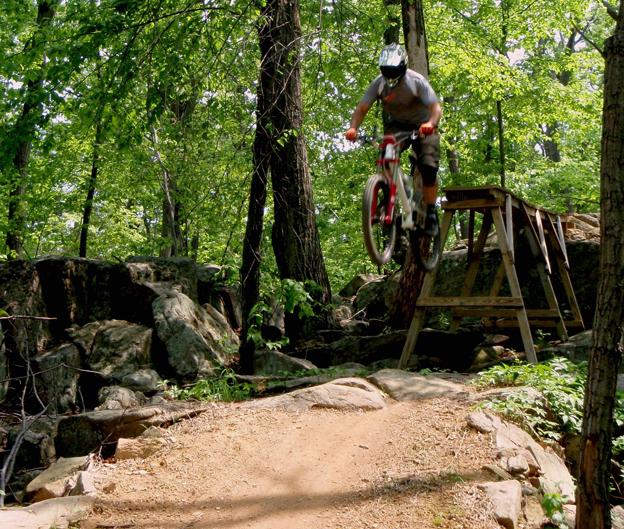 One of the smoother trails at Diablo Freeride Park in New Jersey.
The head angle sits at 65.5 degrees which keeps the handling tight on techy sections (I also have a custom made BB link that can slacken the head angle by one degree and lower the BB).  The bottom bracket is set at 13.9" and keeps the cornering nice especially combined with our FreeDrive system's pedaling efficiency.  For model year 2010 Mongoose is adopting the Reach and Stack measurements put out by Turner and Transition last year.  These are measurements we have used for years in developing bikes and we are stoked that other companies look at this too.  On my rig the Reach is 13.8" and the Stack is 23.4" and combined with the Truvativ combo of direct mount stem and low 20 mm rise Boobar riser bars the position is aggressive and offers a lot of control.
All the pivots are aggressively sized axles and bearings for the intended job and the 150 mm hub is held in place by a 12 mm Rock Shox Maxle for tool free rear wheel removal.
Suspension
The boingy bits are being handled by a Rock Shox one two punch with a titanium sprung Vivid 5.1 and the new Boxxer World Cup.  Sweet handling, tons of adjustments, and the new larger stanchions of the Boxxer definitely provides more steering precision.  The separate high/low speed compression and beginning/ending stroke on the fork and shocks offers amazing tuning possibilities. And speaking of light the new WC version of the Boxxer is pretty svelte.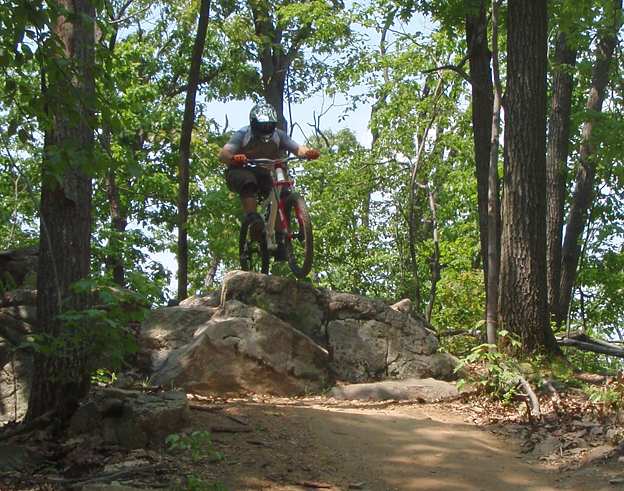 And another.

Brakes
While sweet suspension keeps things fast there always comes a time to haul this rig to a stop.  Formula makes the lightest disc brake on the market currently with the R1 and to top it off these have plenty of power and outstanding modulation (I think their One model would be better for full on power but for a race set up these worked).  I run an 8" rotor up front with a 7" rear. They suit my style of riding and feel good to the hands as well.

Drivetrain
Moving and retaining chains being handled by the cooperative of SRAM X..0 short cage rear derailleur and shifters, hollow pin SRAM Powerchain 991 with hollow pins and a PowerGlide 990 cassette.  All of this is being spun by Truvativ Holzfeller Oct hollow forged cranks and Howitzer Team bottom bracket.  E.13 is handling the chain security with the new SRS guide.  It's light and as is the new bash guard – which looks cool to boot.
Seat / post:
OK so the post might freak out a few big travel riders but so far so good on it…besides you don't sit on a DH bike much.  Easton EC70 carbon post in 250×31.6 mm keeps some weight off.  I also have a old SDG Satelite saddle with Ti rails that I've been carting around from bike to bike for years.  Jerome Mel who founded SDG had this one made up special for me…remember it's not what you know but who you know.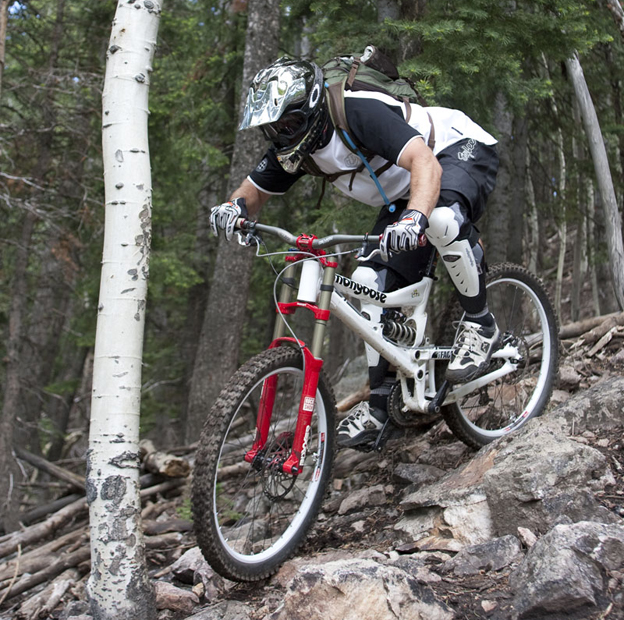 No loam in sight.
 
Wheels and tires
Don't get me started on geeking out on this area unless you have time to listen (my previous job was developing tires for Kenda).  The original wheels on the 36 lb range set up were prototype UST downhill wheels Kore came out with a couple years ago, matched up with Continental 2.4 Mountain Kings (UST run with no tubes) and a couple scoops of No Tubes fluid for insurance.  These were pretty darned light and they worked well in our loose soil but not the rocky environment locally.  I knew if a burlier trail came my way more serious rubber would have to go on and the weight would go up.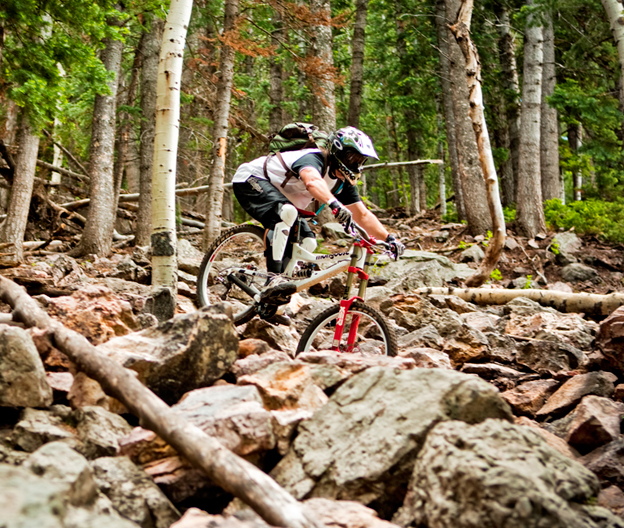 The Barney Rubble section of the NCS course in Deer Valley, UT…Hold On!
Diablo Freeride Park in New Jersey warranted an upgrade to the new huge 2.4" Continental Rubber Queeen UST.  These upped the weight but also impact handling due to their large volume (they call it a 2.4 but it looks like a lot of other company's 2.7" tires).  The UST idea worked for most of the weekend at the US Open but on the last day I was able to tear a hole in the tread area… Back to DH tubes for me.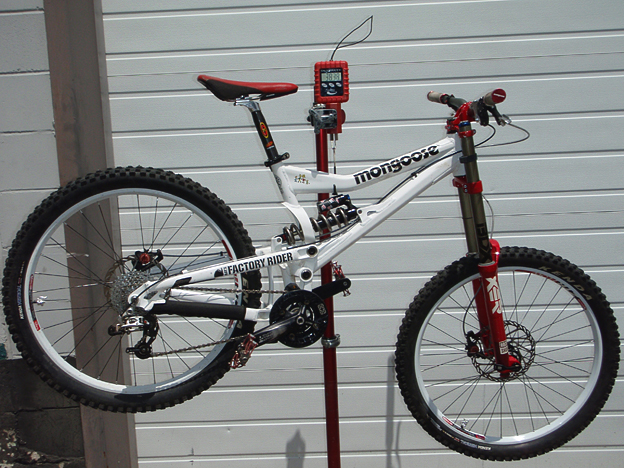 Final editiion: 38.38 lbs – but never done experimenting.

Later for Deer Valley, Utah I custom built some wheels with Stan's No Tubes Flow rims in white with red decals (bling) and light KT Q-Lite hubs (Taiwan maker building for some name brands) rounding off with DT Champion spokes.  The front wheel ended up at 860 grams and the rear is 1070 grams…pretty light for DH.    The Flow rims are light and to compensate for their 28mm width they have a patented profile that makes the tire bead sit out at a width similar to other 30 mm rims.  The No Tubes Flow rims can also be run tubeless if that's your thing.  Tubeless is my style on XC and all mountain riding but I've had a few issues on DH that keep bringing me back to tubes…thick ones. So to finish off these hoops I threw on a set of dependable Kenda Nevegal DH casing with Stick-E rubber 22 PSI front / 25 PSI rear. I beat on these for 3 days in Deer Valley and they didn't flinch, even in the Barney Rubble section that has claimed its share of bike parts over the years.
So that is the final incarnation…tough enough for most, light enough for many and still making memories for me every time I rip down a trail with it.
For more on the Boot'R check out mongoose.com
Think Darren could shave some more weight off?  Has he compromised too much? Weigh in here…