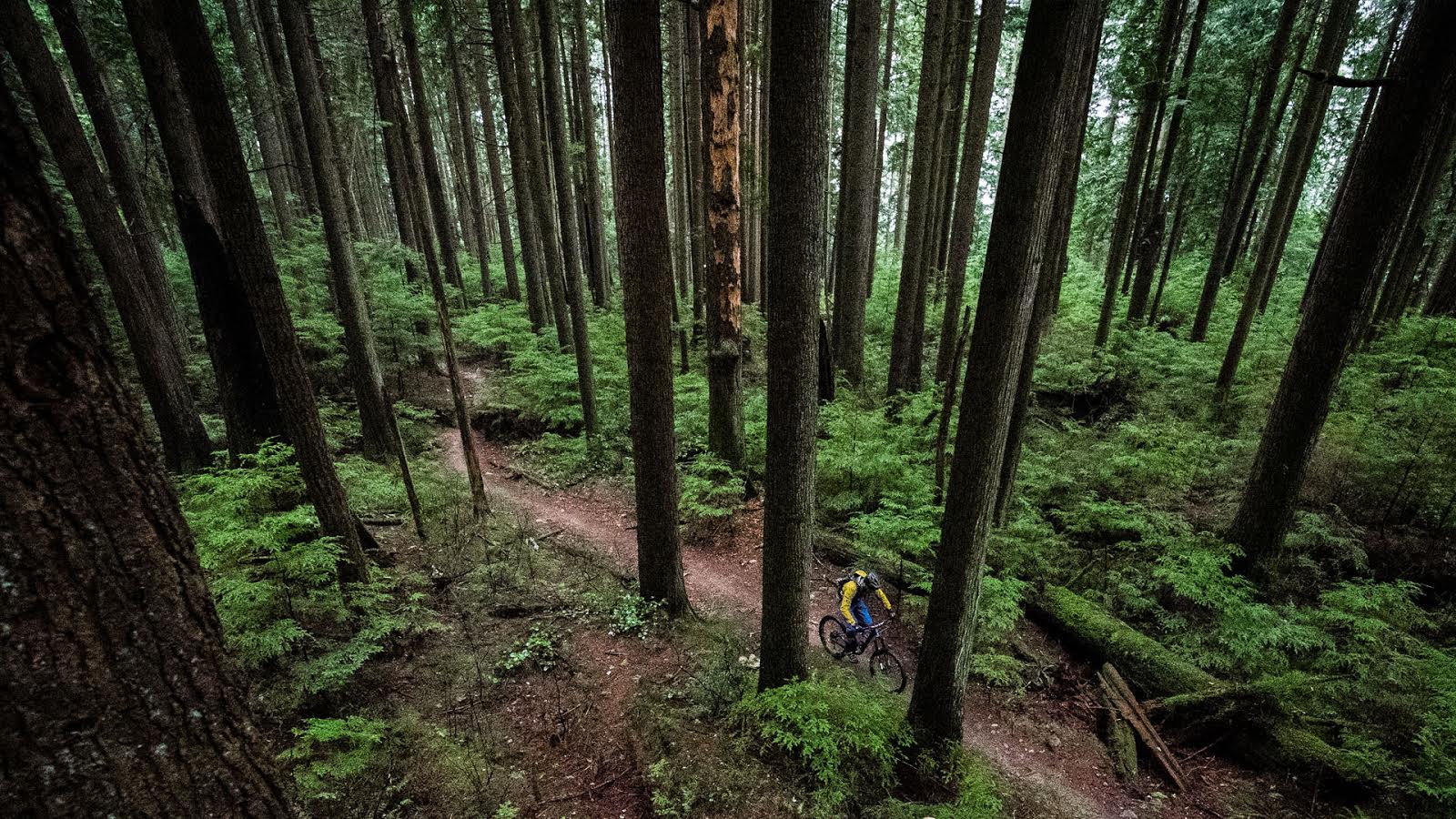 Interbike Day 315
What more can I say about how much gear there is to see at Interbike that hasn't already been said? On the first day on the show floor, it feels like there's all the time in the world to check out all the new kit. By the third day, it feels like there isn't nearly enough time to see it all. Those first couple of days are spent filtering through all of the big names and big booths until one can see the smaller guys lurking about in the corners. Anyway, I'm sure there's more to come after this spread. Enjoy!
Sometimes I wonder what rock I've been living under. It wasn't until the last day of the show that I stumbled across Dobermann Bikes, the 3 man outfit from Gatineau, Quebec. I am biased toward 4130 chromo bikes (cough 243 cough), and so I became immediately interested in the Stella, pictured above. It's an 8″ dh sled with a custom valved Elka shock. The brochure says world-cup geometry, 1 1/8″ head tube, 3/4″ pivot axle, large R12 bearings and 12 x 150mm rear end. You can choose from 100's of colours and even have them build you one with a custom top-tube length. To quote them: "simple and efficient no over designed BS". And the frame with shock and bb only weighs 7.95 pounds. Not bad for a chromo dh bike.
This is their slopestyle bike, "Le Pink". It's a full suspension single-speed ride with a low seat tube, horizontal dropouts, and ridiculously short chainstays: 15.25″. You can order it without brakes, and/or a rear derailleur.
GoPro Cameras must be doing well in these troubled financial times to use a Ford GT40 to advertise.
You may or may not have heard by this time about Cannondale's newest lefty-inspired engineering feat. Maybe they thought Shimano was on to something with their Di2 electronic shifting. The "Simon" is an electronically controlled lefty fork. It's in some sort of beta stage at the moment as the product managers aren't sure how they want to package it up yet. We had a chance to play around with it. Using a small thumb actuated joystick, the user can navigate a series of menus on a small lcd display that sits above the steer tube. By entering your weight and desired preferences between soft and firm suspension for various styles of riding (downhill, xc, all-mountain, and climbing), Simon's brain figures out how the fork should perform best for you. It controls the platform and platform threshold, lockout, bottom-out prevention, sag and compression. Once you've got your preferences set, it's simply a matter of flicking your thumb up, down, left or right to instantly switch to one of the 4 riding modes.

Cannondale's Simon: cool engineering, but is it worthwhile? I guess we'll find out…
Straitline is never behind the curve when it comes to well made and stylish components. Here's a few shots of some of their newest bling bling offerings…
Holy Fort Knox Batman! Those pins are covered in gold leaf, I kid you not!
Elka Suspension is another fine Canadian company from Boucherville, Quebec that have been building ATV and motorcycle suspension for a while. To show off their mountain bike line of shocks, they decorated their booth with some pretty sweet frames. The shocks themselves look pretty good, and come with a dedication to quality customer service.
When was the last time you saw a Karpiel? The Elka shocks have high-volume external reservoirs, hard-anodized aluminum shaft + body + main piston + reservoir, quality seals and o-rings, and internally adjustable speed-sensitive valving. They also custom tune for each bike design and intended use.
Ok just one more shot of bike pr0n from Elka.
Twenty6 first caught our eye at the dirt demo when we spotted a lot of bikes sporting really bright green low-profile pedals with massive spikes. I tried a pair of these pedals and found them to be ridiculously grippy. There is just one man behind these Pedals, who, as it turns out, is making a few other goodies – all on his cnc machine in his house in Montana.
Tyler Jarosz is a busy man indeed. Not only does he make this stem (the F1.2), but he's also got a direct mount version that we'd love to get our hands on. He's also created some sweet brake levers and bar-ends.
Dincus Apparel is a Whistler-based clothing company run by Chad Hendren. He's got a great thing going with products that are all 100% environmentally friendly, including the manufacturing and materials. Everything is made from 100% certified organic bamboo, organic cotton, recycled polyester, or combinations of them.
These are the Downhill BMX Pant, which is new for 2010. The materials all have a great feel to them with really vibrant colours from water-based inks. With the bamboo and cotton blends, you can expect a bit of shrinkage – but Chad has designed those items to shrink in ways that won't affect other parts of the clothing item (like the zippers on hoodies, for example). The polyester in these shorts has a nano-bamboo charcoal component in the fibres that help reduce odour.
There is a great range of selection in the outerware, technical and street styles. Watch for some denim based apparel coming soon.
Cam was the true master of the electric unicycle.
These young ladies were heading out for a night of mischief, but unfortunately we couldn't join them (LOL like they'd even want us to join them) because we had a meeting with Westjet later in the evening.
Care to add anything? Comments.
Fergs