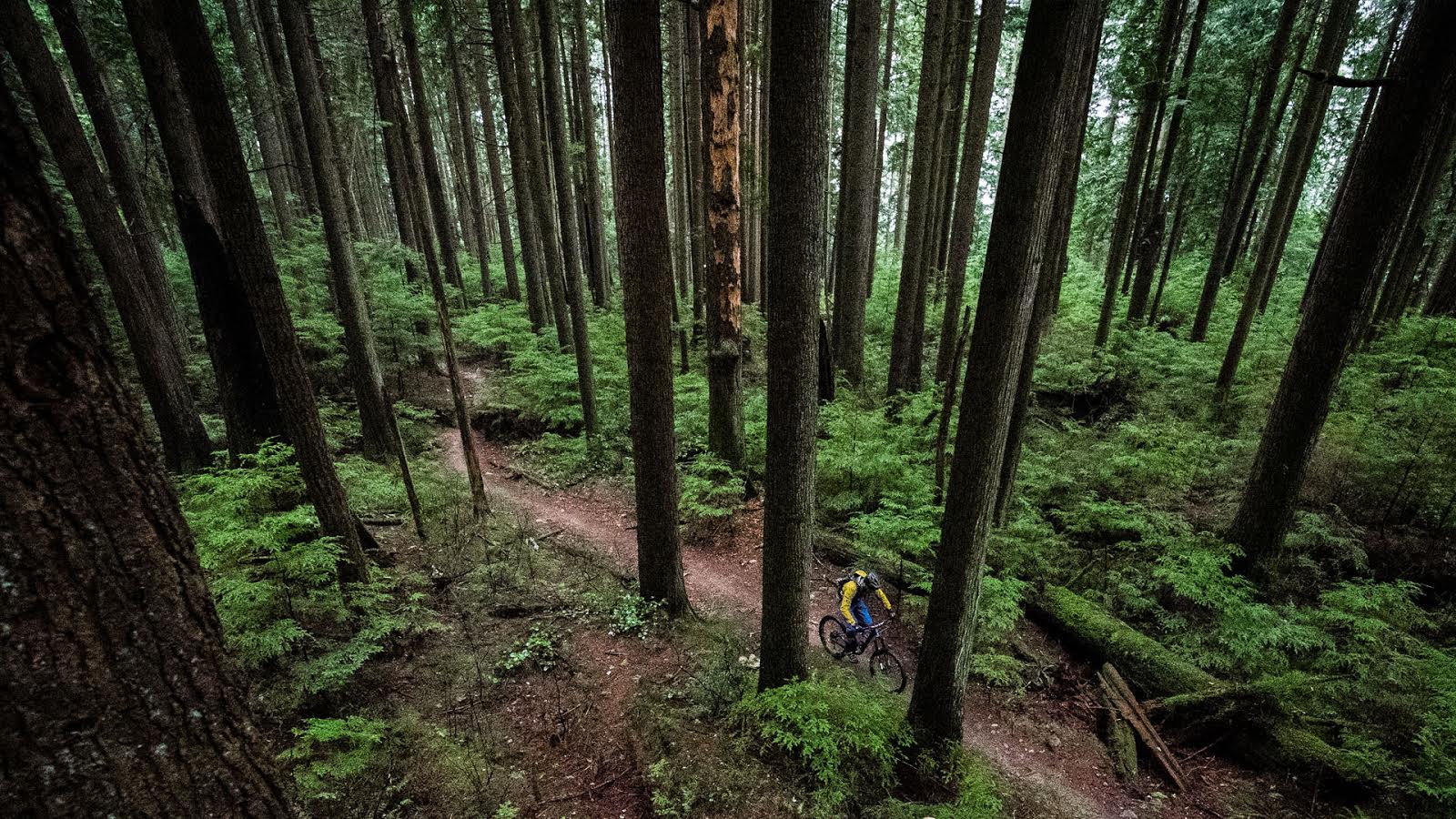 You can't always get what you want
By the time Tuesday at the Dirt Demo rolls around, the good bikes start to become as scarce as a portion-controlled meal and you can be left scrambling to get your dusty mitts on something to ride. We had hoped to set up play dates with a Turner RFX and Cove G-Spot today…but they skipped school. The Yeti ASR 7 was never available. Evil didn't have a booth at the demo. There is a proto Ibis Mojo HD here but they're not letting it out for recess. Transition took a pass on the dirt demo, too…you start to get the point. But that just made us dig a little deeper and we still found bikes to ride, and then rode them down (and up) mountains.
Last year, one of two shuttle trucks broke down, making long lines even longer – on the flip side one truck out of the running means one of those drivers is off the road. The organizers of the Dirt Demo really need to get this part straight: hire professional drivers. With 40 riders in the back of a flatbed on a narrow gravel road full of riders pedaling up on both sides, there are lots of near misses every day. Apparently they feel that 4 police cars at the entrance and officers directing traffic is not overkill, but the job of driving the shuttle trucks can be handled by sketchy drivers who ought to have a red N on the bumper and haven't learned to use their mirrors yet. We saw one rider on the side of the road come within inches of ending up beneath the truck – the only thing that saved him was that he slid out and fell towards the shoulder.
With that out of the way, we can get back to the riding. First I grabbed a Santa Cruz Nomad from the X-Fusion tent which came equipped with their Vengeance HLR fork and Vector HLR shock. Our own Ed Snyder previewed the fork awhile ago so you can get a bit more of a lowdown there. I would have liked it to feel a tad more responsive but that can be chalked up more to the difference in feel between air and coli/oil forks and less a comment on its performance, which was very solid. With slightly less air and a tweak to the compression damping I think it would have been just right, though it did ramp up progressively and the fork seemed stiff and steered well. The front wheel stayed hooked up and I could confidently point the bike and expect the Vengeance to soak up the jagged rock spines and still provide good sensitivity in the loose stuff. Factor in the price and the weight and that fork should get some much-deserved attention from riders building bikes on a weight and cash budget.

Santa Cruz Nomad with the X-Fusion Vector HLR shock and Vengeance HLR fork.
New to X-Fusion's shock line, the Vector is available in three versions: the basic RPV ( featuring external rebound) the mid-level RC (external rebound and compression, adj. bottom-out air pressure and resistance), and the top of the line HLR which was on the Nomad (external rebound, high and low speed compression, Ti spring). It gave the Nomad a lively feel which balanced the boing on the front end nicely. I wish I had close up pics of the bits but we were all busy scrounging up patches to fix Fergs' triple pinch flat – we literally used 8 patches on one tube. Cam looked ready to eat a kitten when the 6th patch blew.

Nevada loam: this is near the top of the Bootleg Canyon riding area on a trail called Armageddon. More travel and a slacker head tube would have been welcome but the Nomad was right at home.
For round 2 we decided to go for a pedal with Ryan Leech and Hoots Jay – Norco's perennial team riders – who were both hanging out at the booth and itching to ride. Norco had lots of bikes at the demo but they were obviously popular as there were only a limited number of sizes available in the bikes we wanted, so I decided to go for something completely different and give a 29er a go. I went with a Salsa Big Mama, which is a dual-sprung 4″ travel 29er which uses a single pivot, flexing seatstay design which pedaled very efficiently up Girl Scout (a fan favourite for flowy XC in Bootleg Canyon). I can't think of a place on the Shore where a 29er makes sense, but it was a good opportunity to see what the fuss is about. Pedaling the Big Mama wasn't as strange as I anticipated but it definitely took some adjustment. The inertia of the bigger wheels makes getting up and over technical uphill sections tricky but if you keep your speed up, they will definitely help get it done – you just have less maneuverability or chance to correct your line. If you do need to make an adjustment, it can feel awkward – almost like you're sitting up above your bike rather than on it.
On the way down I thought I would be wishing for smaller wheels, but the extra speed the Big Mama carried out of corners made me forget about it and on a trail like Girl Scout – which isn't technical but is long on flow – I was probably in the ideal place to have a good first experience with a 29er. If you're in a zone that isn't technical, where there is a lot of pedaling and not a lot of it requires quick bursts of acceleration, give a 29er a try sometime. But don't expect to see many of them in shops in Vancouver.

We didn't get a lot of photos on this lap. Cornering with 29″ wheels is different but not in a bad way – on terrain like this at least.

In some ways day 2 was not the greatest day at the Dirt Demo, but the complaints don't run too deep: the sun was shining and the trails at Bootleg Canyon have lots of fun sections on offer. And getting a lap in with Hoots Jay and Ryan Leech was great – you couldn't ask for two better people to have along to inject some fun into the ride – or to represent your bike brand. Now we transition to the inside, where gulps of fresh air are few and far between.