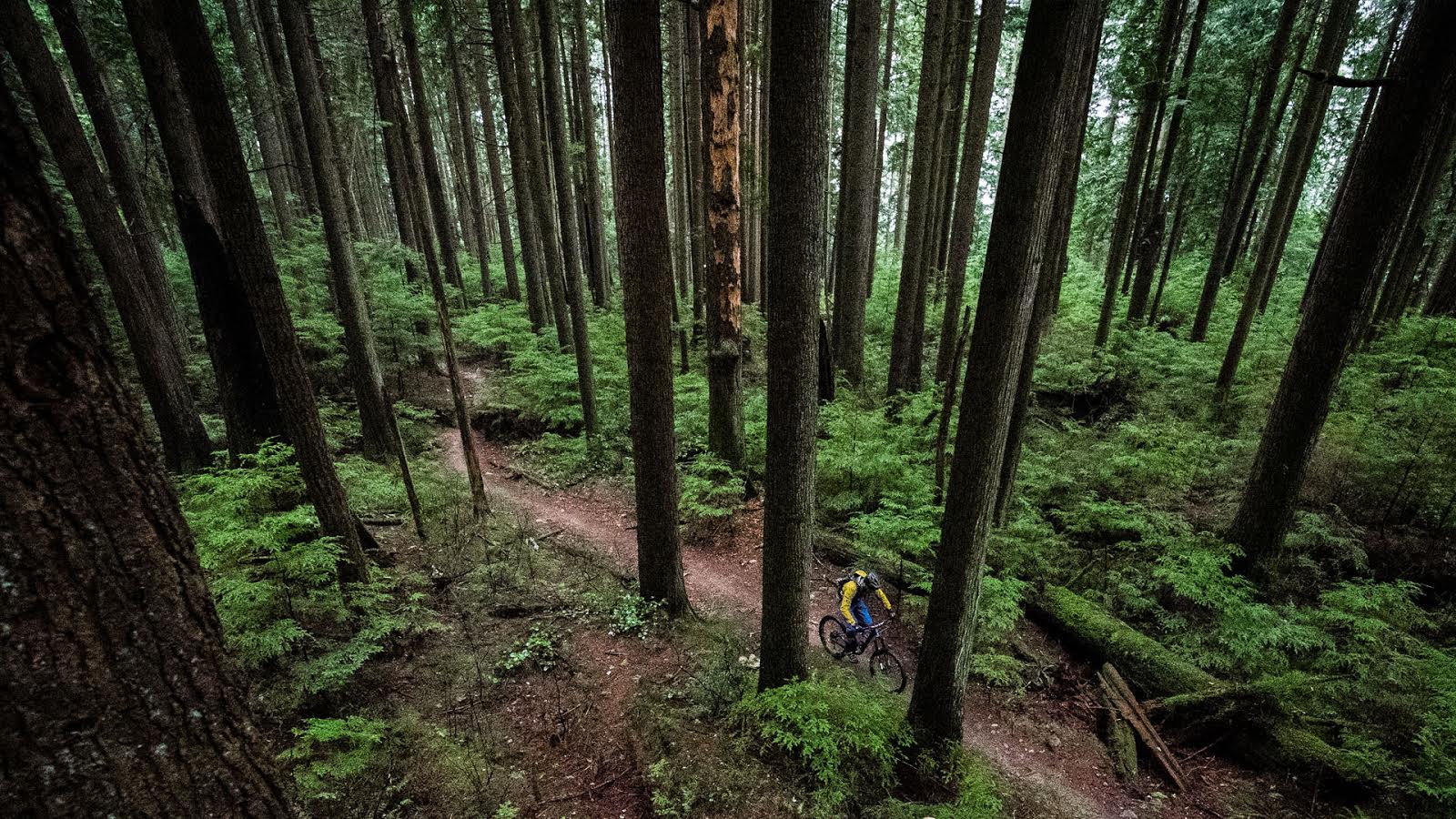 Gear Shots #58
Sugoi RSX ¾ Jersey
Sugoi is a company with a long history in the bike clothing business. Most of that has been focused on the road and XC side of things, but Sugoi has started to branch out with a selection of freeride / all-mountain riding gear that offers all of the benefits of good technical clothing without the skin-tight fit.
The RSX ¾ jersey is one of the items that's part of this new line of gear. It's made from the same fabric that Sugoi uses in its pro-level road jerseys, but in a roomier cut for the dirt. The RSX uses flat seam construction, so there is no rub from pack straps. Mesh side and underarm panels make for great ventilation when you start to get warm, and the v-neck cut is a nice change from a standard crew-neck collar.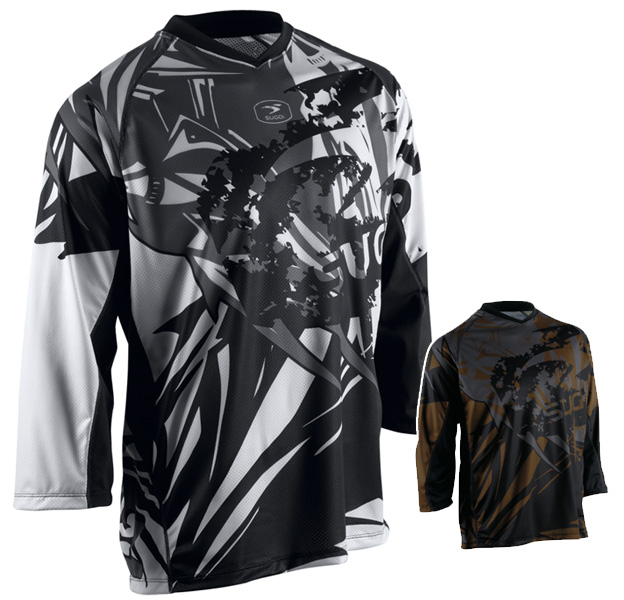 The RSX jersey in gunmetal (left) and vicuna (right). Photo © Sugoi
Sugoi uses its Gobi polyester fabric for the RSX. Gobi has what Sugoi calls mechanical moisture management, which draws wetness away from the skin and then allows the moisture to expand thru capillary action, creating a larger surface area and speeding the drying process.
Gobi is a mesh fabric that allows for airflow, without being see-thru. It's also abrasion resistant, meaning that you won't have to worry about getting those little pulls all over your new jersey. There's a really interesting video here showing how the Gobi fabric works.
I'm a fan of ¾ jerseys, especially in the fall or spring, and the RSX jersey was one of the most comfortable ¾ jerseys I've ever worn. Sizing is right where it should be – I'm 6'4" and 215lbs. and wearing an XL. There's not a lot of room underneath the RSX for full upper body armour, so go up one size if you plan to wear anything more than elbow pads.
Some people might be a little turned off by the print, but it grew on me over time – especially when it was paired with solid-coloured shorts. This jersey in a solid colour would be ideal for riders who are looking for a performance top but like a more low-key look.
The RSX ¾ jersey is available from Sugoi dealers or the Sugoi site in gunmetal or vicuna colours for CAD$95 in sizes from XS to XXL.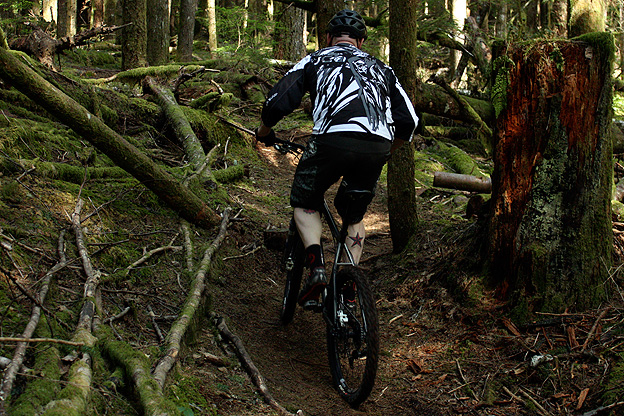 The RSX jersey in action in Squamish. It's perfect for this type of riding – slightly cooler temperatures but a lot of technical riding that makes you sweat. || Photo: Vicki Cunningham
Truvativ Stylo OCT crankset
Cranks and bottom brackets are one of those bike parts that most people don't think about much. That is, until you start having problems with them. Or if they're flexy. Or if you're taking them on and off every once in a while. Then you think about them a lot.
Truvativ's latest all-mountain crankset, the Stylo OCT, is a new version of the venerable Stylo crank that has been spec'd many bikes over the last few years. The Stylo OCT uses Truvativ's Open Core Technology, which makes it possible to have an hollow core and shed weight without compromising strength.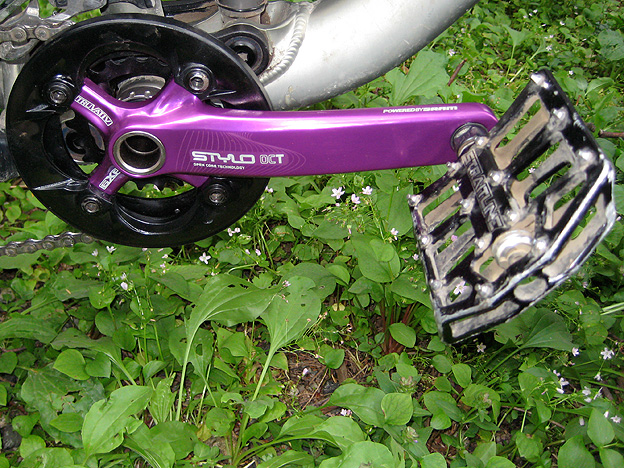 The all-new, all-mountain Stylo OCT 2.2. The purple colour was a special thing, but Truvativ may make more if people ask for it. Sing out loud if you absolutely have to have your own purple Stylo OCT cranks!

The Stylo OCT is available in three different configurations: 3.3 (three chainrings), the 2.2 RG (Rock Guard) that I'm riding and 1.1 G for you single speeders out there. The 3.3 and 2.2 come in 170mm and 175mm lengths, and 22/32/44T and 24/36T configurations; the 1.1 is also available in 180mm, with a 32T ring. All come with the Giga X Pipe (GXP) TEAM bottom bracket and are made from 7075-T6 aluminum. Weight for the 2.2 RG version is listed at 913g, with the bottom bracket.
One of my favourite things about the new Stylo OCT cranksets is the simplicity of installation. Unlike other crank / BB systems that rely on pressure on the bearings (and a lot of free-running drag) to hold things in place, the GXP system "captures the left side bearing between the spindle and the left crankarm while allowing the drive-side bearing to float axially on the spindle, thereby eliminating the necessity to side-load bearings during adjustment."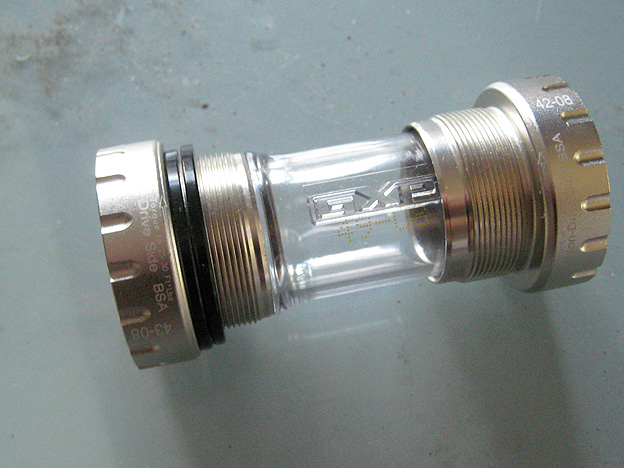 Clean, simple and easy to install. The GXP BB is easy to wrench on, has a solid feel and has some big beefy bearings.
In layman's terms, you put the right number of spacers on the BB for the shell width and chainguide / derailleur system, slide the crankarm with the spindle thru, tighten it all up and off you go. No shims, no spacers, no drag. Sooo simple, and so nice not to have to install and remove the crank several times to get things right. I've fought that battle too many times and am NOT interested in doing it any more.
I've only been using the OCT crankset for few months now, but I haven't had any issues with durability or performance. Shifting on the Truvativ rings has been solid and predictable (with a SRAM chain). They've also been noticeably free of flex, which is a good thing considering that I tip the scales at 215lbs. without gear. The fact that the BB uses two bicycle-specific cartridge bearings and eight seals means that it should last a long time, even up here in the slop of the 604. So far, so good – and there's no drag, either. Gotta love that.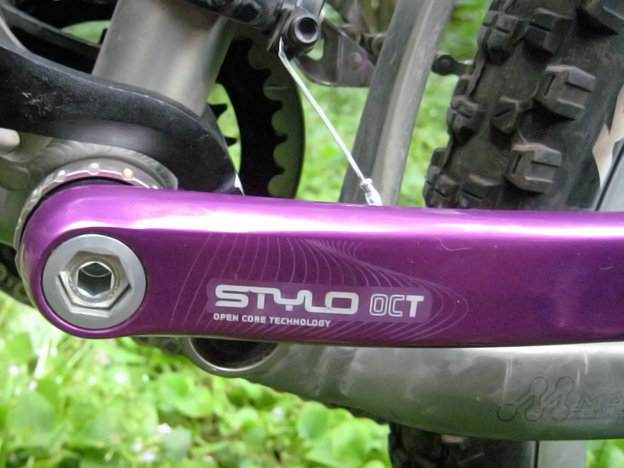 One 8mm bolt makes installing and removing dead simple. These cranks are a solid addition to your all-mountain ride.
MSRP for the 2.2 RG version of the crankset is US$215, but prices will vary a fair bit from store to store. Talk to your local Truvativ retailer to get the most accurate price in your area.
Fox Launch Knee / Shin and Elbow pads
My riding style has been evolving over the last few years, and so too have my protective gear requirements. I'm still going hard and fast a lot of the time, but there are days when I don't push myself as much and don't need quite as much protection. Or days when I'm riding up the hill and simply don't feel like carrying a big load of bulky, heavy armour on my back.
I almost always wear leg pads when I ride the Shore, and generally wear full upper body on when I'm shuttling. A full-face lid is a no-brainer, especially after The Master Plan Dan's "incident". But when I'm riding Fromme (a non-shuttle mountain on the Shore) or climbing up Seymour (a shuttle run that can also be climbed), I find that I'm reaching for a pair of minimalist knee/shin pads and a set of elbow pads more than anything else.
There are a whole host of pads to choose from, some of which are good. Some are crap. The biggest problem with a lot of pads is that they move around. The second is that they're bulky. Both of these things are can be a serious pain. The best solution I've come across so far is the Fox Launch pads.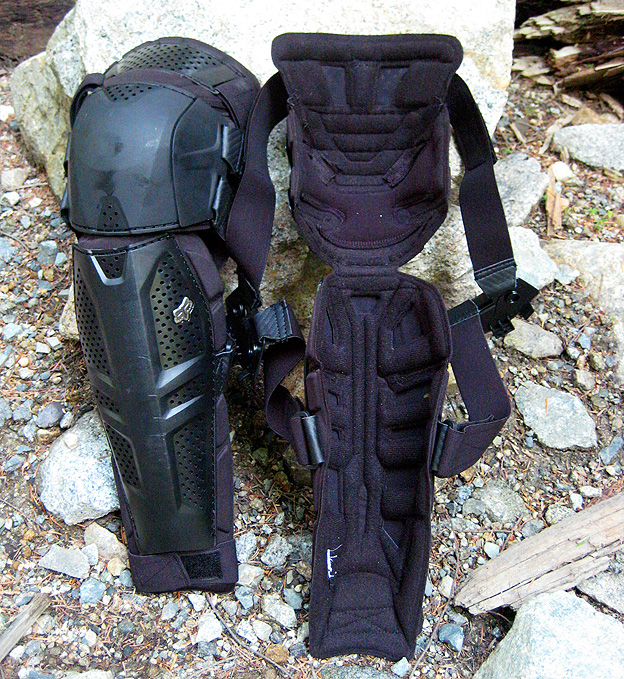 The Fox Launch knee/shin combo. A hard plastic outer shell, moulded padding against your legs for protection and air flow, and straps that cross to hold everything tightly in place. The bottom strap keeps the pads from rotating.
The low-profile Launch knee/shin uses an asymmetrical hard outer shell that is perforated for ventilation, uses a moulded inner foam padding with a cloth covering for additional ventilation and comfort, and a separate knee guard that is attached to the shin with the inner lining. One of the best things about these pads is the strap and closure system. The straps criss-cross on the back, and then attach to hard tabs that click into each side of the kneecap. There's also an elastic hook-and-loop closure strap that goes around your ankle. Weight on the pads is very reasonable, and the design results in a low profile, low bulk shape.
Because of the perforations in the shell and the moulded lining, the Launch pads are well ventilated. The strap design also means that the back of the pads is completely open to keep you cool. I find the knee/shin combo much cooler than other pads, especially in the middle of the summer.
I've been using the Launch knee / shin pads for a while now and have had great luck with them. They're quite comfortable to wear, but more importantly, they move around a lot less than almost any other pad I've tried, which means the pads are in place to do their job when you need them. There's nothing worse than pads that have slipped while you're riding and taking a hit to a soft, fleshy bit because the pads aren't there. Thanks to the strap system, the Launch pads also stay put when you pedal, making them useful on trails that mix up technical terrain with pedalling.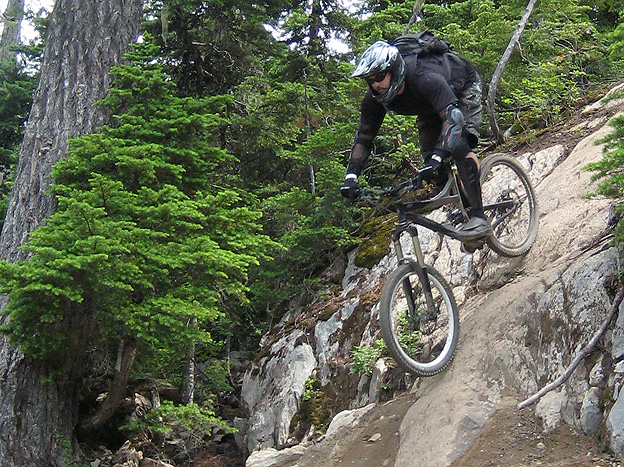 The author, wearing the Launch knee/shin pads up at Whistler. They've been able to take everything the park has dished out so far… || Photo: Vicki Cunningham

Protection for the Launch knee/shin pads is great. I've taken many a hit to the pads, and haven't suffered any noticeable damage. They've done an admirable job protecting both my knees and shins from major bails as well as the minor slips / bumps / knee-into-the-bar incidents that seem to happen all too often.
They're also streamlined and comfortable enough to wear all day without noticing that you're wearing pads – another big plus in my books, considering how hot and bulky some pads are. The only downside is that there's no protection for pedal swipes on the back of your legs. That's a minor issue as far as I'm concerned, though.

The Launch elbows qualify as low-profile. Slide your arms thru the sleeve, snug up the straps and you're good to go.
The Launch elbows are a great compliment to the knee/shin pads. They're made from three separate pieces of hard shell plastic attached to a stretchable inner liner. They also use a crossed strap design to hold things in place, but use hook-and-loop closure material and a stretchy mesh fabric to hold them in place. The mesh breathes well, keeping the elbow pads as cool as the knee/shins.
Following on the minimalist theme of the knee/shin pads, the elbow pads only provide protection half way down the forearm. They're definitely not as beefy as some arm pads out there, but they do keep your elbows and upper part of the forearm safe.
The elbows have done an admirable job in the bails that I've taken while wearing them. I've been thankful to have them on in a few occasions, and have come away without a scratch from some spills that would have chewed up my arms if I hadn't been wearing the pads. They've also provided good impact protection in a number of medium-speed crashes and tree impacts. I don't know whether they'd be able to keep your arms safe in a high-speed get off, but I tend to wear full upper body armour in those situations anyway.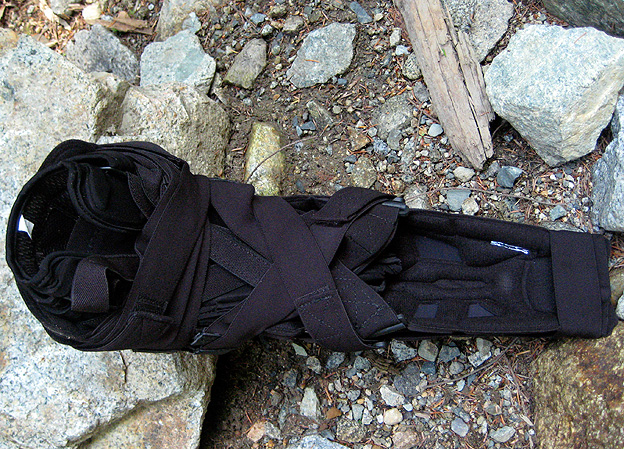 The Launch elbows tuck neatly inside the knee/shin straps for a nice, tight bundle that take up very little room on the outside of a hydration pack.
I've been very pleased with the Fox Launch knee/shin and elbow pads. They're light, comfortable, easy to carry around – the elbows sit inside the knee straps almost perfectly – and provide good to very good protection. Best of all, they stay in place to do the job you want (and need) them to. If I had any complaints, they'd be minor: the straps on the elbow pads are a bit too long, and it can take a bit of fiddling to get the knee closures to click into place. Other than that, I'm a happy camper.
Knee/shin pads are available in S/M and L/XL sizes for an MSRP of US$69.95 / CAD$97. Elbow pads come in the same sizes for US$49.95 / CAD$79.
Want your own set of purple cranks? Think that armour is over-rated? Head to the boards and rant / rave.