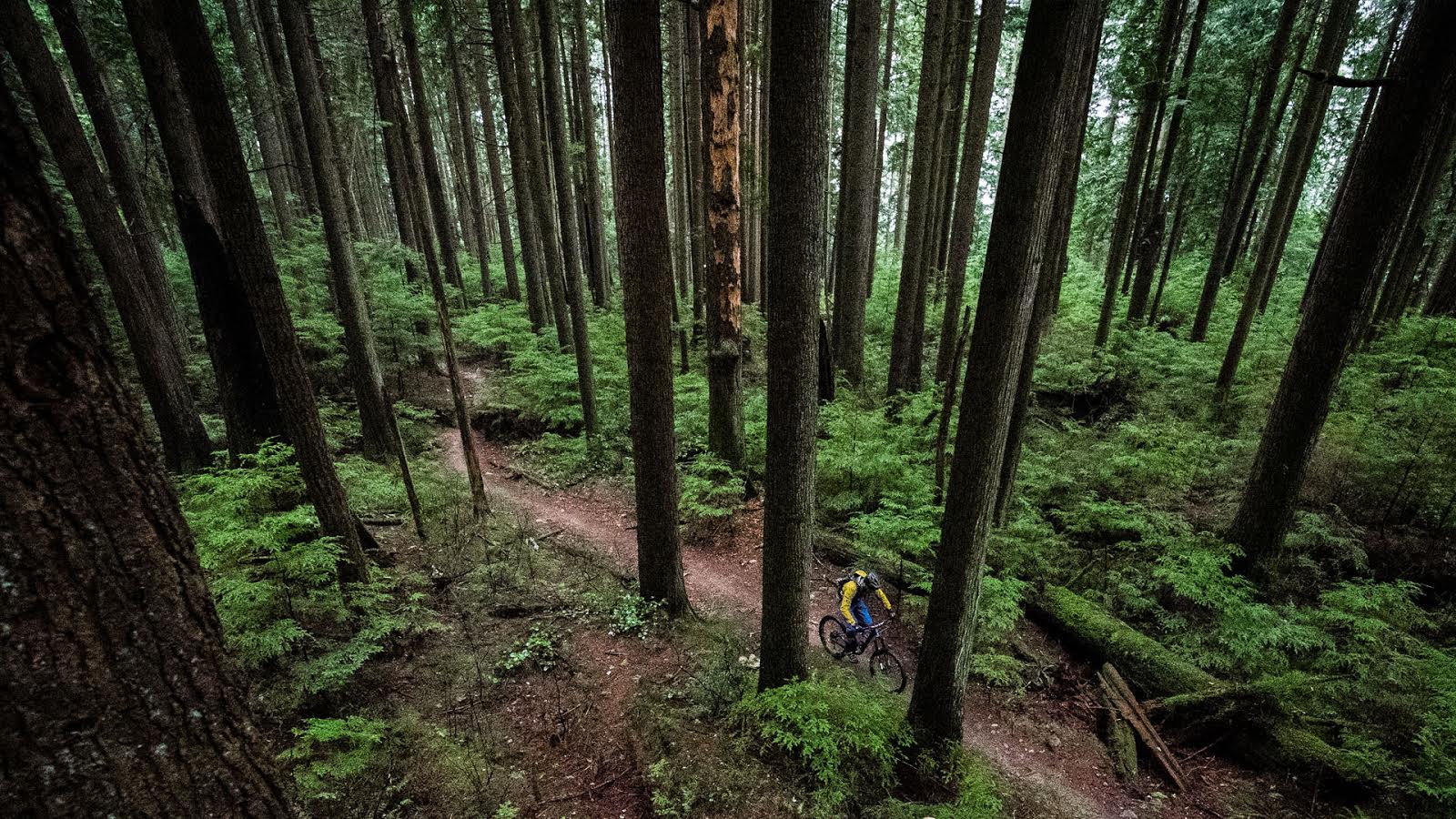 Review – Titus El Guapo
When it comes to the "One Bike" that does it all myth, I don't subscribe. I've ridden enough places with enough people to know that riding conditions vary so much that no single build will get you through all of them. Can you ride one bike in all places? Sure. Will you be unhappy in some of them? You bet. So when it come to the broad (and growing) category of today's "all mountain" rides I think of them as "one bike fits most", and try to figure out what they give you and what they give up in the process.
Titus bikes from Tempe Arizona was nice enough to give me the keys to one of their redesigned 2009 El Guapos for the long term. They wanted to make sure I got to hammer the bike in all conditions, not just whatever Mother Nature offered up in the first 4-6 weeks after the bike arrived. Their Marketing Manager even made sure to stress to me "We want you to ride it in the mud. Being from the desert, nobody thinks our bikes can handle the mud". Smirking, I told him I was pretty sure I could find some, and promptly set about beating the bike over the course of the next 8 months.
"Mud? I got your mud right here…" This was the El Guapo's second ride and it got a taste of the local conditions in a hurry. || photo: Ed Snyder

If you haven't heard of Titus you are probably not alone. I briefly covered the company's history and design philosophy in the El Guapo preview so I'll stick to the ride results in this review.
The Bike
Titus likes to get the most out of materials it uses in a frame. To this end they decided that a process called Advanced Thermal Forming (ATF) was going to give them the best results in the redesigned front triangle. It allowed them to create unique tube shapes while keeping all the long weld surfaces intact and the weight down. Way down. Built with the Fox Float 36 RC2 in the front and the RP23 in the rear the bike weighed in at under 31.5 pounds… with pedals. For a size large aluminium frame, sporting 155 mm of rear travel through a Horst link system, that is bordering featherweight status.
As for the angles of the bike and the layout it is fairly unassuming. The 68 degree head angle might seem a tad steep these days but I found it worked well with the rest of the bike to make the Guapo a solid handling platform in a wide range of conditions. The seat angle a is 71.5 degrees and tube is uninterrupted, allowing you to use a full length post; a first for a Titus long-travel design. The chainstays are 17.36 inches and make the back of the frame feel quick. Overall the angles add up to a bike that certainly comfortable at speed but isn't a liability in the switchbacks when the going gets tight.

Although it might look long (and/or steep) on paper, when you hit the trail all the angles and components on this bike work together beautifully; offering up an inspired ride quality. || photo: David Ferguson

The regular seat tube allows easy mounting of a clamp type front derailleur. If you would rather run a changuide the bike is spec'ed with ISCG tabs as well so the choice is yours. The test bike came with a triple ring XT set-up managed by an XTR front changer that was flawless throughout the test. I immediately dumped the third ring and replaced it with a bashguard to make the bike more log crossing and rock drop friendly. The bottom bracket height is listed at 13.8 inches but measures just a hair lower while the wheelbase tops out at 45 inches.
The bike came with a very straightforward Shimano XT build kit that could certainly offer some gram savings if you wanted to spec components specifically based on weight. The group is full of solid performance that was reliable, and at times, surprisingly good. It certainly did not take any attention away from how well the frame was doing its job. The DT N'Duro 1750 wheels were a specific target of scorn after I posted the initial preview for the bike. Predictions that I would bury them within a month abounded. Wheels are bit of crapshoot. Sometimes you get an original equipment set that last and lasts while another is so full of dimples after one ride that it looks like a golf ball. I am happy (and impressed) to say that after 8 months of solid riding and no care whatsoever (not one trip to the truing stand) the wheels are fine and running smooth. I guess I came up 7's on that roll of the dice.

Having the bike for the long term allowed me to ride in all kinds of conditons. Despite being designed and built in the desert the frame didn't seem to mind splashing around in the rain on the Shore one bit. || photo: David Ferguson

Tires are the are often the same as wheels in terms of quality. Sometimes you get a great set and sometimes they seem like they are made of a very soft cheese. I have run a fair number of Kenda Nevegals and while I like the tread pattern, the performance and durability has been up and down. The set of 2.35's that came the Titus are, quite simply put, "special". After eight months of being run in conditions ranging from broken pumice, to greasy mud, to North Shore rocks and roots they still look almost new. It simply defies logical explanation. If every set were like this I doubt I would ever run another tire in the all-mountain setting. It was a rare enough performance that it bore mentioning.
Right after people bring up the one-bike myth they invariably start talking about the possibility that "with a few extra parts" you could really have a bike that would "do it all". Wheelsets and suspension are two of the first options to switch out when building these imaginary super bikes. It's pretty rare that someone has an air fork on hand for most days, but has a spare coil fork lying around for doing gravity fed work on a bike. Titus wanted to showcase the versatility of the frame so they fueled the fantasy. They sent along two complete suspension options with the El Guapo; the air setup mentioned above (Float 36 RC2 and and RP23) as well as a Fox Vanilla 36 RC2 and a DHX 5.0. Just to put the silver spoon cherry on top of the sundae, they fitted a titanium spring to the DHX. I ran the air setup for the first five months and the spring setup for the final three.
The size of the rear pivot near the bottom bracket seemed like a common cause for scepticism ("too small"). After posting the preview I heard back privately from some Titus owners on the Shore who said they had been riding theirs for over a year in all conditions with no issues and no slop in the joint. I took it under advisement and went about trying to create some wiggle room in the bottom of the frame. Five months into the test I switched over the air suspension for coil setups on both ends. Many times after giving a bike an solid initial break-in things are loose enough in the back that after removing the pivot bolts, the shock simply drops out in your hands. Sometimes it requires a gentle nudge. The Titus linkage required a fair amount of smooth, firm pressure to slide the shock free. After 5 months of mud and not so much as one drop of lube, the tolerances in the rear end were still near factory perfect. I even checked to make sure nothing was bent or twisted. The suspension action cycled smoothly and flawlessly in its given plane, but if your tried to budge is sideways at all, no dice. Very impressive.

There was a lot of concern posted on the boards that this main pivot would die a quick death. No such luck, it held on tight and strong throughout the entire test. || photo: Jim Clagett

I also had my doubts about how the various Maxim parts that rounded out the bike would stand the test time. None of them reared their heads in an ugly way. The just did their jobs and said nothing; no creaking no whining. Tough to ask for more from a seatpost or a set of bars.
Riding the El Guapo

31 pounds might seem like a lot of bike to haul around (or uphill) in many parts of the world but in the Pacific Northwest it is just about right if you have varied tastes in riding. If the bike is efficient you won't feel the weight as much on XC rides. Climbing is certainly possible, even enjoyable with the suspension set correctly and if it offers enough travel the downhills are a blast. The El Guapo exists solidly in this sweet spot. It was my "everything" bike for over 6 months. 30 mile epics with over 3000 feet of climbing? Check. Quick spins at the local twisty XC trails before work? Check. Nine mile shuttle descents on the weekend? You bet. All of them produced smiles on this bike. I commented to my riding friends that it was amazing how rarely I was left wanting for either more or less bike on all of these rides. Sure, on the long sandy uphill you might be thinking about a 26 pound carbon XC bike and when you were facing down a steep gnarly rock chute your mind might wander to your 45 plus pound DH bike; but the point is those thoughts occurred very rarely on this bike. 95 times out of 100 the bike was a real pleasure to ride wherever you were. That in itself is a top shelf achievement.

The El Guapo was truly at home on rides that had a little of everything. With the suspension set properly it climbed and descended equally well… but I have to say I am biased towards the descents based solely on the fun factor. || photo: Ed Snyder

Getting to know the bike was like finding your new favourite piece of music. You start off just trying figure out what is going on. After you tune in you can really crank it up and the depth of what is there starts to show. Once I dialed in the air settings on both ends and got all the controls adjusted some initial impressions formed. The bike feels tall, especially in the front. I thought this would lead to lousy, wandering climbing performance with no option to lower the fork travel; but that proved to be untrue (more on that later). The bike's combination of light weight and highly adjustable suspension made it feel really responsive under power. This bike jumps forward when you stand on the pedals. Not all of its contemporaries in the six inch category can claim that.
Despite the firm feeling at the pedals the bike's bump-eating ability was not adversely affected. Small bump performance in the back was pretty good with the Propedal turned on and amazingly smooth with it off. In fairness turning it off took a bit of snap out the bike's ability to accelerate. Effectively using this feature actually made the Guapo in to two distinctly different rides. With it on, the bike climbs as well as a four inch travel bike. The front doesn't wander due to the steeper head angle combined with a 90 mm Gravity stem. If you you move your weight slightly forward, the rear ends displays excellent traction for the uphills without wallowing or slowing you down. Once the Propedal lever got knocked in to the "off" position while pulling the bike off the rack. I didn't notice on the ride in and as we hit the first hill the back sagged and the front end started to wheelie and wander. I was confounded as the bike had displayed such excellent climbing manners up to that point. Once I noticed the lever out of position and turned it back on, the bike immediately snapped back to being a willing ascender. It was amazingly easy to forget just how much travel was out back until you flicked the switch.
This is what the El Guapo looked like before tasting west coast mud. Photo ~ Jim Claggett

Once you reached the top of the ride and the trail pointed down, switching off the Propedal really opened the back end of the frame up. With six inches of travel at your disposal pushing the aggressive line wasn't only possible… it was encouraged. The Horst Link keeps things well mannered through all kinds of conditions and just lets you do what you want to; go fast and have fun. Pushing the bike's performance in these conditions brought on some of the biggest smiles of the test. The bike loves to be challenged and with its intoxicating combination of light weight, usable travel and solid steering it begs you to get in to trouble and then ride your way out if you can.
The front suspension matched the rear in large part due to the Float 36 RC2's amazing performance. Being able to separate high and low speed compression response means you can set the fork to resist excessive brake dive and initial sag while not affecting the suspension performance of the fork when it hits larger obstacles in the trail. I thought this would be much less useful than it actually turned out to be. The settings are easy to access and just a few clicks makes huge difference in the ride. If you have one of these forks, take some time to really play with the settings. You will be amazed at what you can make it do. The Float RC2 turned out to be one of largest revelations on the bike. Simply put, it is the best fork I have ever run. The fork is stiff (36 mm stanchions), solid steering (20 mm thru axle & One Point Five steerer tube), supple, ridiculously adjustable (high and low speed compression as well as rebound) and weighs in under five pounds. After it had a chance to break in, if you had duct taped the lowers and had me run it back to back with the Vanilla, I doubt I could have told you the difference. It's that smooth. That is certainly a first for my experience with air sprung forks. It offers the highest level of performance in the lowest weight package I have ever ridden, period.

The combination of low weight, good frame stiffness and excellent suspesnion makes you want to push this bike all the time, even over the smallest trailside features. || photo: Jim Clagett
The XT kit on the bike was completely solid. The cranks were flex-free, the shifters crisp and derailleurs got things in place on time. The action of Shimano is different than Sram; it takes a hair longer to shift meaning you have to anticipate shifts a touch sooner. This doesn't make it any less smooth and once you make the adjustment it is simply not an issue. The Shadow rear changer's low profile probably kept it out of harm's way more than once and had the added benefit of giving the bike some extra clearance on my tray-type hitch rack. The XTR front changer worked as well as any I have ever tried. It worked so well it even made me question the wisdom of creating a non-derailleur front drive system. It never missed a shift up or down under any conditions and I think I only dropped the chain once in 8 months.
The brakes were surprisingly excellent part of the group. I often think Shimano's (non-Saint) brakes get lost in the shuffle but the XT's were smooth, quiet and obscenely powerful without making the slightest fuss. The Servo Wave system keep the pads farther off the rotors which means no drag in muddy conditions and the levers are comfortable, good-looking and easy to adjust. Several other riders who hopped on the bike commented on just how much extra power the brakes seemed to have, after being surprised during their first "panic pull" on the levers.
The DT Wheels were a pleasant surprise and the XT brakes were 'obscenely powerful.' Photo ~ Jim Clagett
The Shore

I was a little hesitant when I got this bike on the the North Shore. I have honestly never ridden anything this light on those trails. I knew the bike was a solid performer just about everywhere else but the Shore is a unique proving ground. For the first few hundred meters I struggled to find a rhythm. The bike seemed hesitant and was easily stopped in the choppy conditions. I was beginning to think that I had brought a knife to a gunfight until I realised the problem was me, not the bike. Always having ridden heavy bikes on there I am used to the "line it up and let go method"; find your line, let go of the brakes and lets the bike's mass and suspension carry you through the section. With the the Titus lacking that mass it requires a different style. So as counterintuitive as it was, I started to charge lines harder than I ever had on the lightest bike I've ever ridden there. Immediately the Guapo sprang to life and the trails started to flow. I found myself pedalling into sections I had braked into before. As long as I kept some speed up the suspension worked fine and the bike carried me through like a champ.
On the rougher lines, carrying some speed and really pushing the bike brought out the best results. || photo: David Ferguson
It certainly requires a more active style but it also rewards you in unexpected ways. What it lacks in monster truck travel it also lacks in weight. That challenges you to think about and ride the trail in a whole new way. That gnarly section of roots that always catches your wheel? Why not air over the first part of it? That little rise that always knocks your speed down and has you walk it? Just stand and pedal up it. I found myself taking new lines and trying things that would not have been possible on bike that was 10 pounds heavier. Another unexpected gift came when you did have to push it. This bike is so light it almost feels like cheating. Pushing up time and again to get the right photo was no longer a chore; it was just another chance to try a new line in that section. This bike won't make you the Energizer Bunny but you just might be able to see him from where you end up.
All told, the bike was a willing Shore ride and while it might be light in its current configuration for full time duty there, with the addition of some burlier wheels and tires, some laps on most Mt. Seymour and Mt. Fromme would not pose a problem. If you are up to the challenge of a "less is more" approach (in terms of weight and travel) and feel like shifting your style a bit, the El Guapo might just be your your gateway drug to "small bike" riding on the Shore.
A word about air vs. coil suspension

Riding this bike with both the air suspension and the coil options (and even a mix of the two) was a great luxury as a tester. In fact it is a first for me. Usually you know if a frame will take either option but I have never been able to have both setups for the long term. I assumed that I would like the weight of the air setup (they way the bike came from Titus) but would forget all about the weight after switching to the coils due to the superior ride quality. However, a funny thing happened on the way to the forum. The Float fork was a stellar performer (as mentioned above) and the RP23 rear shock offered two distinct riding personalities for the back end, based on the use of the Propedal switch. You can of course adjust the Propedal setting the DHX 5.0 coil shock but it is via a fairly stiff dial adjuster, and there is no on/off feature like the one on the RP23. This almost ensures radically switching the setting on a ride doesn't happen.

The Titus was right at home on the Shore with its full coil suspension setup and the uninterupted seat tube made getting the post up or down a breeze. || photo: David Ferguson

To be honest the Van still offers slightly smoother action than the Float, but it is so close that if you choose the air option due to the weight savings you really are giving up very little in terms of ride quality. In the back it is really a question of what you do the most. The RP23 offers up more adjustability on the fly and suspension every bit as smooth as the coil (when the Propedal is disengaged). The DHX 5.0 might hold a slight advantage in the feel over big hits but I personally don't think that is enough to overcome the weight penalty (even if you do reduce that by coughing up the extra cash for a titanium spring).
In the end it is nice to know the frame can accommodate your preferences no matter which side of the debate you come down on. But if Titus told me I could keep the bike and that I had to choose which setup to keep and which setup to send back, I would keep the Vanilla 36 RC2 in the front and the RP23 out back.
Fox Float 36 RC2 2212 g
Fox Vanilla 36 RC2 2453 g
Fox RP23 314 g
Fox DHX 5.0 (with Titanium spring upgrade) 725 g
Issues

Overall, as you can tell, I was very fond of this bike. But as always there were a few things that kept it from being perfect. I mentioned that the front of the bike felt tall. Once you learned to work with it it was fine but I would prefer a frame that lent itself to feeling like you were riding position was "in it" rather than "on top of it". That height combined with the upward curve of the top tube made some smaller riders feel a little uncomfortable on the frame. Some combination of a shaved down headtube, integrated headset or angle adjustment could add up to a front end that was slightly more comfortable and confidence inspiring.
Speaking of the headset, the Cane Creek 1.5 that came with bike worked well for most of the test but started to act up and stick a little bit at the end of the test. It started to feel a little stiff and crunchy if you let it sit for a day or two. On a bike that costs this much I would expect more than a season out of every component under regular use, especially one as important as the headset. Titus doesn't normally spec build kits for its bikes, opting instead to let the customer customise their own ride, but it is something to keep in mind.
From a noise standpoint it might be nice to see a chainstay guard come with the bike. The finish on my Titus was fantastic at resisting marks from even the most solid impacts (meaning after 8 months there simply aren't any), but having the decibel reduction when pounding down the rough and tumble trails this frame is built for would be nice addition.
Final Thoughts

I really wanted to not like this bike. In some way, deep down inside, I wanted to find a flaw that made dropping that much of your hard earned cash an image decision, not a performance one. From the moment I pulled this frame out of the box it won me over. It made me swoon at its good looks and then backed them up over eight hard months of doing a little bit of everything very, very well. It pedaled, and pushed and shuttled and even took a few urban rides without complaint. Luckily I wasn't the only one. Everybody who swung a leg over the bike ended up up taking a second look with smile and then getting that "if only…" look in their eyes.
Lots of bikes have six inches of travel and can mount a derailleur in the front. Some of those have uninterrupted seat tubes making climbing or descending equally comfortable. Fewer still use the patented Horst Link suspension and of those remaining possibilities almost none come in at just a tick over 31 pounds with pedals. Once the specifications are distilled down this far what you are left with is a purpose built instrument, honed to fine edge. Like an exotic car, it is built to push the performance envelope and make you feel good doing it. Similarly its good looks will take your breath away even if you don't get a chance to take it for a spin.
So is this premium import from the desert the bike for you? If you are someone who a.) rides a lot in a wide range of conditions b.) does not want to accept compromises from your equipment c.) isn't shocked by the price d.) is interested in assembling a lightweight bike and e.) is looking for something a little different than everyone else is riding, than you owe it to yourself to give a Titus a spin. It might not suck you in with its good looks. It might not make you drool with its quick acceleration or its smooth suspension. It might even just turn you off completely. Yeah… just keep telling yourself that. But if you don't want to explain to your significant other about where all that money went, do yourself a favour… leave your wallet in the car.
Pros
proven suspension design
lightweight
versatile frame for a wide spectrum of riding
well built with a superior attention to materials and detail
uninterrupted seat tube
specifically designed take either air or coil suspension
conversation starter, you won't find one at every trailhead
Cons
price
front of the frame feels fairly tall
standover towards the front of the top tube can be challenge for smaller riders
In the U.S. the 2009 El Guapo retails for US$2195 (frame only) and US$3370 when you add a Fox 36 TALAS RC2 up front. In Canada it is being distributed as a frame only with a suggested retail of CAD$2845.
Here in Canada Titus is distributed exclusively by Orange Sport Supply here in North Van.
Ed is pretty clearly smitten with the Titus. Are you equally taken or sketical about its charms? Give it up here…