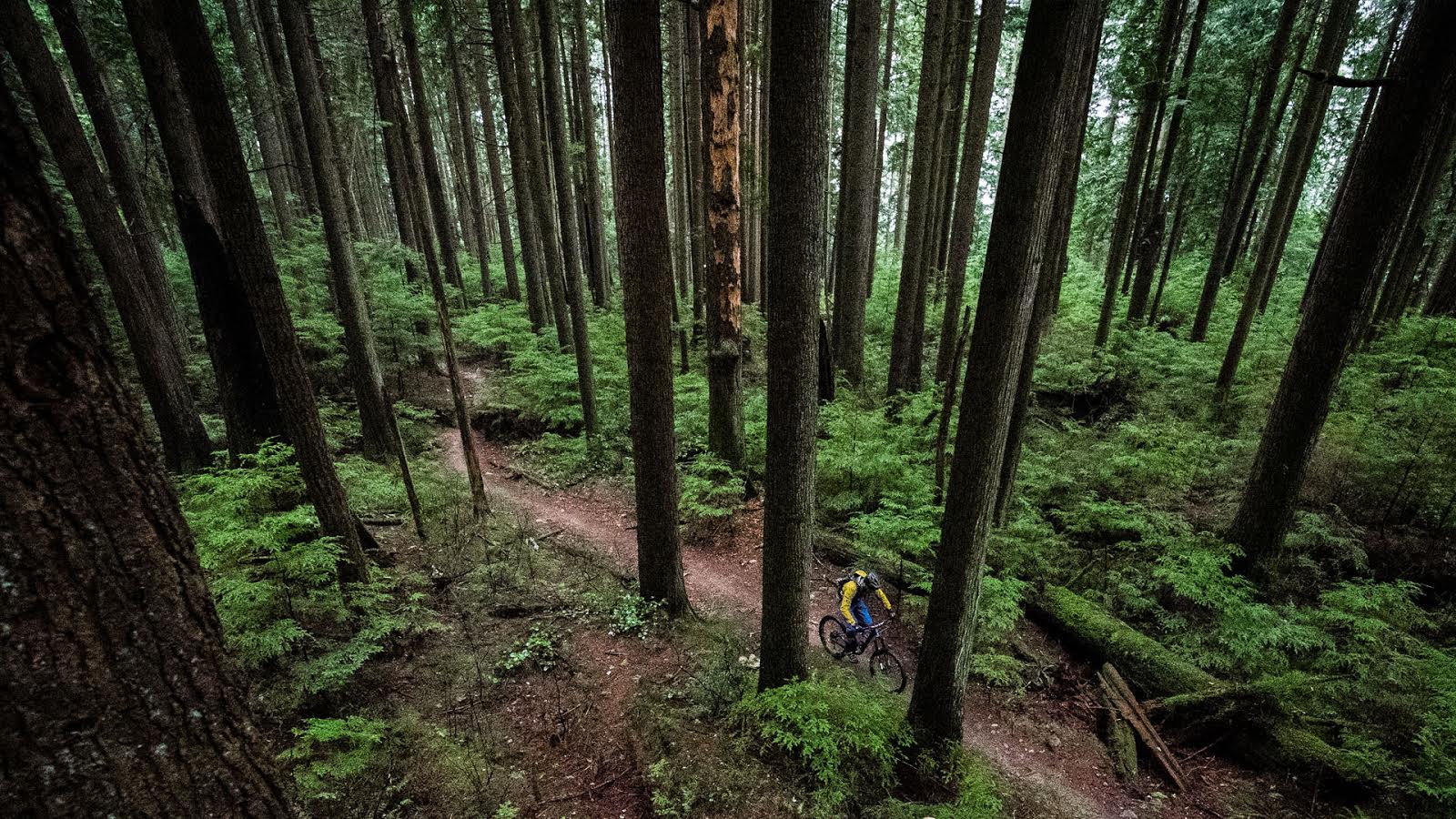 Readers' Rides #11
In the first readers' rides, I introduced some of you to my world of building light bikes with my Specialized Demo 7. Judging by the responses that followed that article, along with the following readers' rides articles, I felt that I should share my most recent light bike project; a Rocky Mountain SXC.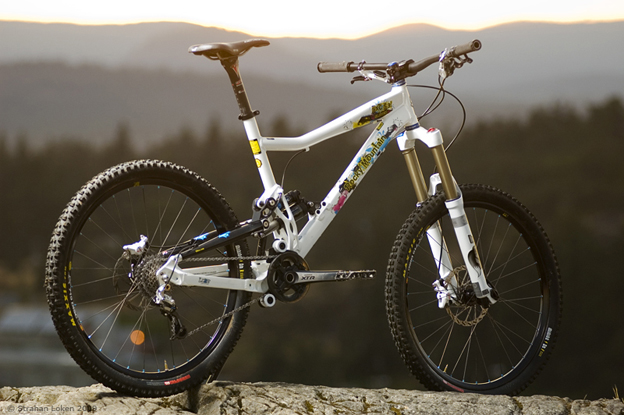 Ken chose the 6″ travel Rocky Mountain Slayer SXC frame as the starting point for this build. Yes – he was seduced by the carbon stays. Photo ~ Strahan Loken.

My All Mountain bike for 2008 was a Norco Fluid LT1. Norco hit the nail on the head when it came to building an impressive, lightweight climbing and descending machine (31.5 lbs), it was by far the favourite bike I have owned since I started riding back in 1998. Geometry, suspension design and part spec were almost perfect.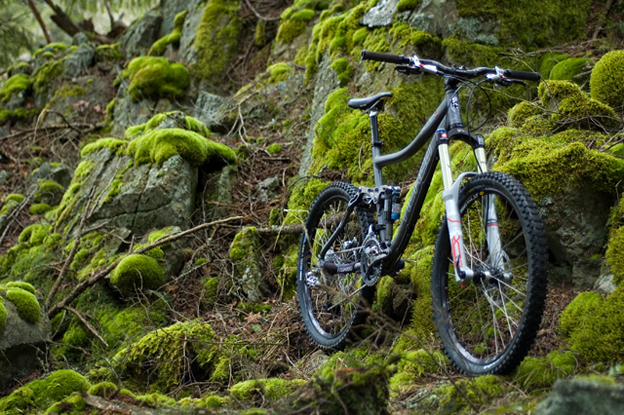 A hard act to follow. Ken called his 2008 Norco Fluid LT1 "by far the favourite bike I have owned since I started riding back in 1998." Photo ~ Strahan Loken.

For 2009, I desired a few minor changes to further perfect my ride. After some consideration and a few recommendations from friends, I chose a 2009 Rocky Mountain Slayer SXC Special Edition frame to base my build on. The size large, 19 inch frame has the same 68 degree head tube angle and 610mm top tube length, but also features a long seat tube (+ .5"), shorter chain stays (- .5"), and a steeper seat post angle ( + 1 degree).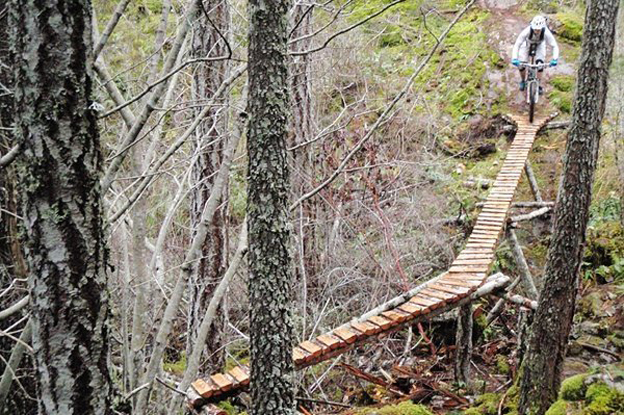 The Fluid LT1 in action. Photo ~ Strahan Loken.
The Rocky guys were kind enough to machine down the 130mm head tube (10mm taken off the top) to a length more to my liking, keeping the front end a bit lower. On to the build! The SCX SE frame comes equipped with a Fox DHX Air 5.0. The upgraded propedal lever is much more ergonomic than its 2008 counterpart.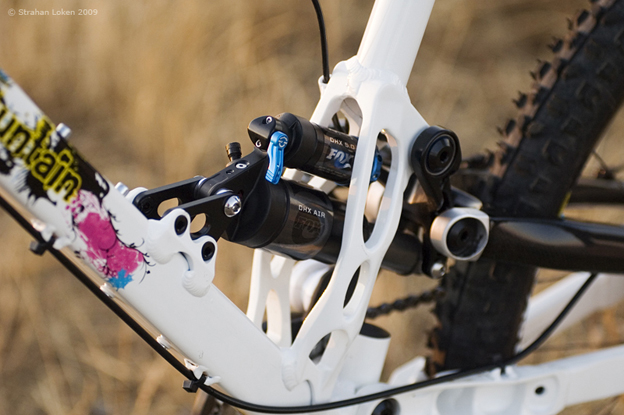 The 2009 Fox DHX Air 5.0 with the new, more user friendly, Pro Pedal lever. Photo ~ Strahan Loken.
The retro 80s style paint job fits right in with today's flashy neons and bright colours. The carbon seat stays add the bling factor that I like to see with a high end frame. The frame weight came in at 8.97 lbs with the shock, seat clamp and hardware.

Some of us were happy to leave the 80s back in the last century. Not everyone agrees. Photo ~ Strahan Loken.
The best place to shave weight is in the wheels. On the scale, there are many places where you can lose grams but the largest impact is felt with reduced rotational weight. I've had good results with the Mavic 719 rims (460 grams each). They feature a nice inner profile (19mm) and use Mavic's stronger 7075 T6 alloy that resists denting. Black Revolution spokes (286 grams for 64 spokes) and blue alloy anodized nipples connect the rims to a pair of Hope Pro 2 hubs. I opted for the bolt on hub in the rear to increase stiffness.
The wheels are wrapped in Maxxis 2.35 Kevlar (folding) bead DHF and DHR minions. I've been a loyal tubeless user for a few years and this build features one wrap of Stan's Yellow Tape, 1.5 cups of Stan's Solution and Stan's Valve Stems on each wheel. The wheels come in under 1800 grams with the rim strips and valves, more than acceptable for a heavy duty All Mountain bike.
An 11-34 XTR cassette meshes to a XTR chain, driven by XTR cranks. The XTR cranks are tough to beat when strength, stiffness and weight (680grams with BB, no chain-rings) are considered. Black Wellgo MG-1s or Shimano M647 pedals rest on the crank arms. Shifting duties are handled by an X.O derailleur and shifter.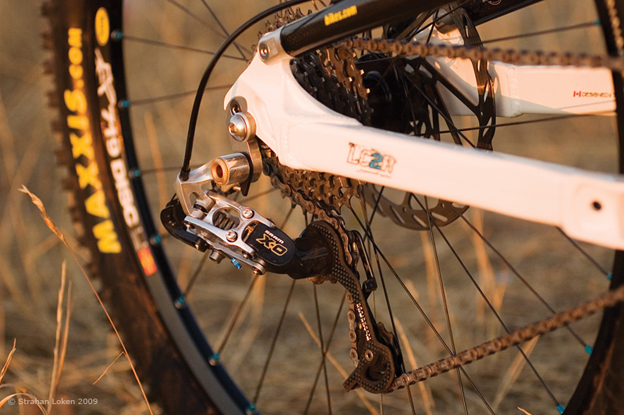 Ken built the SXC up to run a 1 x 9 – so the XO is the only changer he needs. Photo ~ Strahan Loken.
An E-13 32T ring is all alone up front, which leads me to the customization portion of the build. I enjoy the simplicity of a single ring up front, but fitting a chain guide was no simple task. For this build, I chose a carbon fiber MRP Mini-Me guide. The SXC frame does not come with ISCG tabs, nor is the MRP guide offered in the BB clamp configuration. Additionally the frame was not designed for the use of a chain guide at all, and thus clearances are less than ideal. To mount the carbon boomerang and have the MRP rollers line up perfectly, I had to mount the ISCG adapter backwards, that is, the flush side facing inwards. I then drilled and filed the boomerang to clear the lower pivot hardware and the lower swing-arm and mounted it on the backside of the adapter, between the frame and adapter. Nothing conventional about this install, but the end result was a light, clean looking installation with the correct chain-line.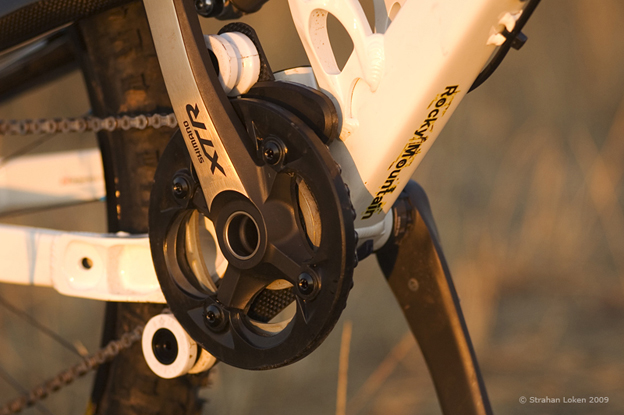 Attention to detail. Not surprisingly the SXC wasn't built to accommodate a chainguide. Time to break out the drill and file. Photo ~ Strahan Loken.
A black Thomson 50mm X4 stem and cut down (29") Race Face Atlas FR bars rest on a blue anodized Hope headset (100 grams). White Juicy Ultimates, my perennial favorites with the associated Ti bits and 7" rotors, handle the braking duties. Black ODI Ruffians with black clamps complete the look.
I'm a loyal WTB Deva saddle fan due to the extra material in the saddle, but decided to give the WTB Devo, with a lighter 190 gram weight, another chance. With Ti rails, a durable leather cover and a pleasing profile, this is by far my favourite saddle out there for extended rides. I matched it with an Easton EC90 carbon post (190 grams). The EC90 post is lighter than a Thomson masterpiece and I was curious to try a carbon post for my first time. A stock, clean looking Rocky Mountain Bikes seat clamp rounds off the seat tube.
Last but not least is the 2010 Fox 36 RC2 Talas up front. Fox makes small improvements every year and 2010 is no different. They have revised their damper with a FIT cartridge and carried over the improved Talas design with one less seal. The Fox 36 has a stiffer chassis and what feels to be a much smoother damper than it's Rock Shox counterpart, the Lyrik, and comes in 0.5lbs lighter.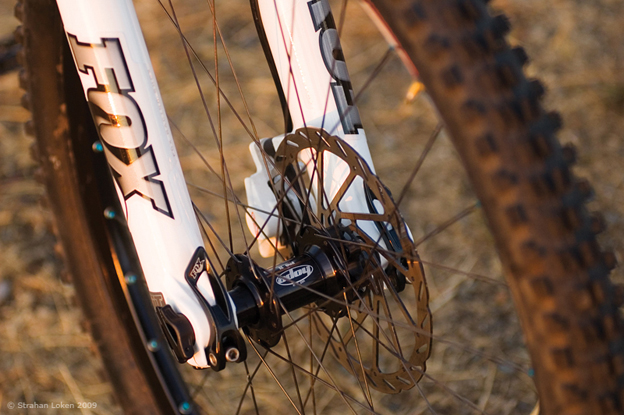 The Fox 36 RC2 Talas was many riders' favourite six inch fork for this year. Photo ~ Strahan Loken.
In true weight weenie fashion, an excel spreadsheet was filled out with all the parts and their associated weights before the build even began. I consulted some of my older spreadsheets and Sicklines.com for weight information. I also added in a formula that converts grams to pounds and vice versa. Many of the weights listed online will only be in either measuring standard, but not both. A friend built a spreadsheet that allows the user to populate product and weight fields and build his or her bike with drop down menus. It can be downloaded here: http://www.megaupload.com/?d=5AUFQ6VA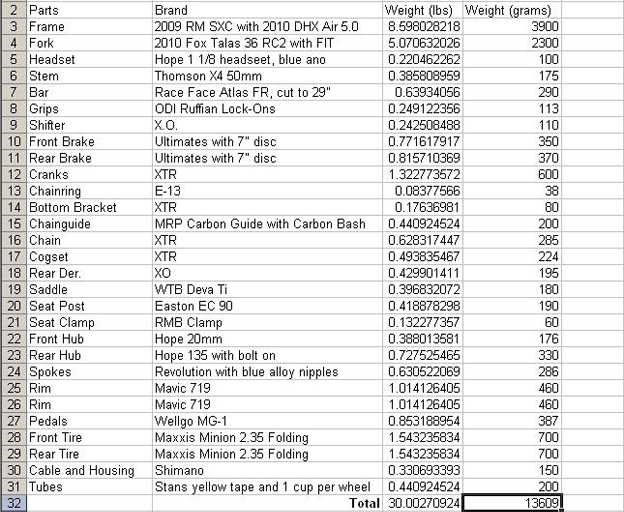 For this build, the end weight was slightly above the spreadsheet's number:13,609 grams. Not every manufacturer is accurate when posting product weights thus a margin of error should be considered. The final, but undocumented weight was 30.33 lbs with pedals (or 13,757 grams).

Ken riding his newly built beast at the Hartland Dump near Victoria. Photo ~ Strahan Loken.
The finished product is a lightweight yet very capable All Mountain ride that will see duty everywhere, from the local XC loops in Victoria to the freeride trails in Sooke. I'm looking forward to writing a post build review on how the components fared and the frame rode after a few months in the saddle.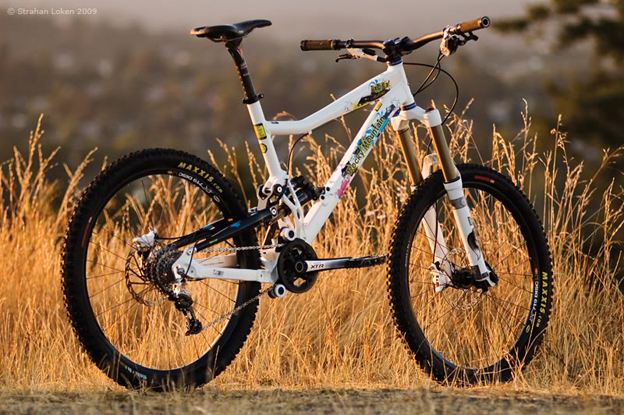 Sadly Ken's bike was stolen in early August. See below for details – and let's get his ride back. Photo ~ Strahan Loken.
Happy Trails!
Update! This bike was stolen from my SUV in Surrey on August 7th. Please let us know if you have any info about the bike. Stolen bike thread is here
If you have a ride you'd like to share send us an email. We'd be stoked!
Your cuppa? Like the single ring and chainguide on an all mountain machine or not so much? Debate spec., weight and bright colours here…