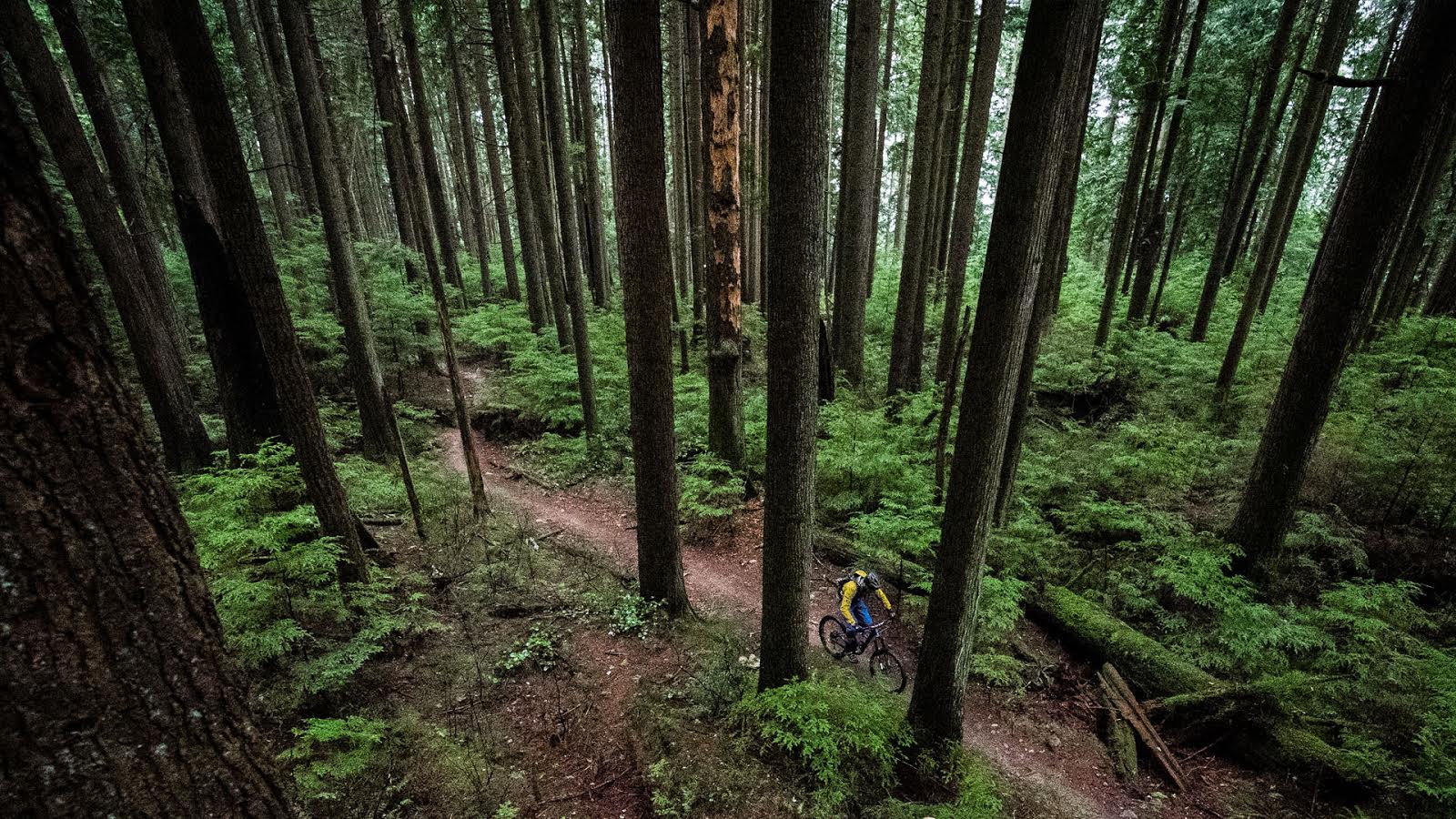 AIRprentice 09
One can only guess how much riding actually takes place over the course of the weekend at each installment of AirPrentice – but this year probably set a new standard. Being at Silver Star made it a little easier to keep things moving along. True there was no Boneyard but the lack of downtime meant more time to see riders on the dirt, in the air and off the bike.
Riders submitted their resumes on paper and then they arrived to show the Team just how good they are in real life. The camera lens doesn't lie, and with a crowd this tough and experienced this is a no-holds-barred look at the talent that was unleashed throughout the weekend.
Wasn't here for this one, but my guess is that they were trying to find Eamonn's shirt so they could sit in the resturant while enroute to Vernon. Am I right? Photo ~ Jerry Willows.
Mason Mashon grabbed a shovel and worked this hip to perfection and then continued to hit it all afternoon. Photo ~ Dan Barham
The three wise Monkeys – doing their best to avoid evil. Photo ~ Jerry Willows.
Ian Killick, a man of few words, let his riding do all the talking. He slayed the Dh race on the Saturday. Photo ~ Jerry Willows
Matt Hunter, guest rider and guest judge takes a well deserved time out. He rode all weekend, lead some of the 'airprenti' down the mountain and even helped with the final selection. Photo ~ Jerry Willows.
Garret Robertson had some issues with his bike on the Saturday but managed to pull it all together and throw down some very impressive riding. Photo ~ Dan Barham
A photo being taken of a photo, all being filmed. This masterful work was accomplished by Malcolm Mclaws on the left, Dylan Dunkerton yeilding the video camera and Brett Tippie being Brett Tippie. Photo Dan Barham.
Andrew Sherry AirPrentice 2009 winner was instantly one of the strongest riders in the competition. Shrew was throwing himself down the mountain with style and ease. Photo ~ Dan Barham.
Benton Leong made it into the finals with tricks like this Indian Air. A guy this young riding this well, keep your eyes peeled for him in the future. Photo ~ Dan Barham
Dedication like Mark Mathews showing up, injury in tow, illustrates the drive of these guys. Despite some issues with his knee Mark was up for the challenge in the jump park. Photo ~ Jerry Willows.
Daryl Ostendorf, another young ripper from the Fraser Valley, brought a great attitude and lots of enthusiasm. Photo ~ Jerry Willows

Ben Glassen proving that even skinny jeans can tear down a mountain. The Dh was one of the events that was used to gauge each riders overall ability to ride. Photo ~ Jerry Willows
And last of the AirPrenti, Tyler Leblanc. His super calm and super cool demeanour with riding will surely take this kid somewhere. Photo ~ Dan Barham
Not to be outdone by the young guns, the Team was there to show them how the old guys do it. The entire NSMB Team was on hand to help out, spread some cheer and throw down some amazing riding. The riding that was showcased was inspirational to the the AirPrenti and those helping out.
Curtis Robinson sailing through the berm. Everyone loves riding behind Curtis. Photo ~ Dan Barham
Mitch Chubey floats through the jumps on Pipedream. Photo ~ Jerry Willows
A well-coiffed Silver Star bike park customer enjoys a nice relaxing afternoon beside the berm as the others work and ride. I wonder if anyone offered him a beverage? Photo Dan Barham.
In the end one cannot forget that it was actually a contest. I heard once, or I read it on the back of a cereal box, that a true test of character is how one deals with stressful situations. Andrew Sherry, 2009 Air Prentice winner, literally – and I am not kidding – rolled no more than three feet and manged to throw a splendid over the handlebars to faceplant. He got up, after the bike fell on him, shook the dust off, laughed and rode away. Welcome to the Team Mr. Sherry. Photo ~ Dan Barham.
Ian Nelson, another seemingly quiet guy, slashes his way through the tracks on Silver Star Mountain. Photo ~ Jerry Willows
Even Brett Tippie was there ripping it up. Who says you can't teach and old dog new tricks? Okay – maybe not tricks. Photo ~ Jerry Willows
The hardest part of these events is sitting at my desk going over progress draws and site visit reports for my "real job" on the following Monday morning. Tagging along with the team is a rare pleasure. I thank the entire NSMB Team, Silver Star and all the AIRprenti for making the 2009 Installment so much fun.
Well that is it for 2009. The riding that took place over the weekend was amazing. To some of the riders Silver Star was a foreign country and for others it was their backyard. By the end of the weekend they were all in love with the Okanagan's gem of a bike park.
Next year will of course be a new ball game. We may be at Silver Star (we'd be stoked to return) back at Whistler or perhaps somewhere new. We'll likely see the riding ramp up – since that has happened every year.
Any suggestions for us? Riders we should invite? Praise for Shrew or any of the other crew? Lay it down here…