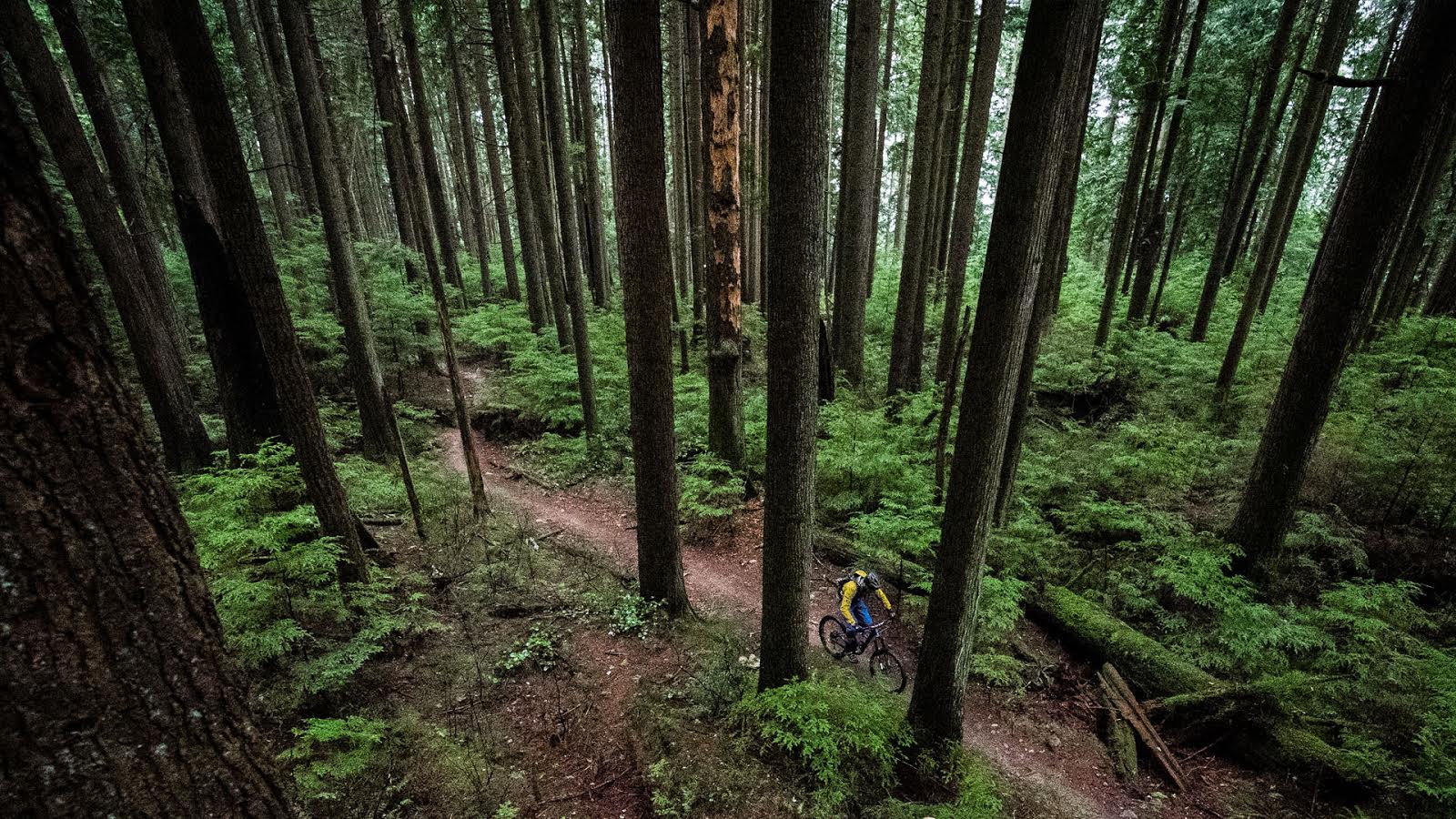 REVIEW: Kona Coilair Supreme
In a previous Gear Shots very initial review of the Coilair Supreme, I looked at components and spec of Kona's highest end bike in their enduro/freeride line. As stated previously, this bike is the highest end bike featuring Kona's Magic Link proprietary 6 +1 suspension and is basically an all-mountain line of bikes that's biased towards those who love gravity and a wee bit of airtime yet who expect to climb.
In this article, I'll look at the Kona Coilair Supreme's performance after having ridden it over the last couple of months.
The Kona Coilair Supreme in Eurotastic orange in-your-face colours. Taking a break in Chilliwack, BC.

Highlights of the '09 Coilair Supreme include:
Kona Clump 7005 Aluminum Magic System
6+1" Travel Frame
Fox 36 TALAS RC2 165mm Travel Fork
Fox RP23 Rear Shock
Shimano XTR/XT Drivetrain
Mavic Crossmax ST Wheelset
67° head angle / 72° seat tube angle
Complete bike weight is 33 lbs.
Lee Lau's biases
I am 155 lbs. and 5′ 11″ and have had over 15 years experience riding bikes in North Vancouver, Squamish, Whistler, the Chilcotins and many other areas in B.C. and Alberta. I've also made many bike trips to Utah, Washington, Oregon, California and Ontario (for example) so I've had some experience biking in a variety of terrain.
My bias is towards pedalling up and unlike many people who learned to ride bikes on North Shore trails, I actually enjoy riding (and sometimes bushwhacking) uphill.

This shot of the non-drive side of the Coilair Supreme gives you a good idea of what this unique suspension design looks like.

I rode the Kona over a two-month time period in my home trails in North Vancouver but also took it for long walks in the sunlight on alpine and sub-alpine trails in Chilliwack, Nelson, New Denver, Castlegar, Whistler and Lillooet.
Lee rode the Coilair Supreme all over the place in a wide range of trail conditions. This shot is from Baldface in Nelson, BC.

Riding the Coilair Supreme
Since the Magic Link is the distinctive design feature of the Coilair Supreme, I'll start this review out by giving you my impressions and I stress, my opinion. The Magic Link is a secondary rear shock activated when one encounters a large hit (e.g. a big bump or a significant breaking force) – the kind of force typically encountered on a downhill.
Careful readers will note that when the Magic Link is engaged, chain stay length will grow, the BB goes a tad lower and angles become a bit slacker. Kona promises that this is seamless – that is the "magic" of the link. For further technical information, you can check out a video of the Magic Link here.
Making a long story short, my opinion is that the Magic Link makes no discernable difference to the bike's downhill performance. The only time I noticed it was when the Magic Link would make a "thunk" sound when flat-landing or when the rear-end compressed very hard. This clunking sound could be solved by perhaps including a top-out bumper in the coil spring of the link. Otherwise, the Magic Link was certainly seamless.
I'll emphasize that the Magic Link came set up for my weight from Kona. Also, I checked its settings with its documentation. I realize my opinion might be controversial, so I'll emphasize that I don't have any quantitative basis for my opinion. My opinions are based more on a qualitative feel for the ride.
The idea behind the Magic Link is relatively straightforward – two shocks to improve the overall performance of the rear end.

To assess downhill performance, I put a heavy wheelset and some downhill tread on the Kona. Suspension set-up is crucial to any bike but is even more so important for the Coilair Supreme. I know this because initially suspension was set up too stiff.
I just couldn't get comfortable on the Kona despite the bike being set up for a 160lb rider. The lesson here is to not be afraid to tweak suspension to your own taste. After checking sag and re-tuning the front and rear Fox suspension, the Kona was suitably plush and resumed duties as a confidence-inspiring descender. I've said it before and I'll say it again: Fox front and rear suspension are tuneable, reliable and superior performers.
I felt that the bike descended like a 6″ travel bike – not quite like a long-travel DH bike as outlined in marketing literature. By no means is this a bad thing. Konas have always been plush capable descenders and the Coilair Supreme was this sort of downhill performer.
Lee didn't just ride the Coilair on singletrack. He also punished it on all sorts of stunts as well, including this one on Eagle Mountain.
More ride notes
In terms of its performance in the air, the Coilair Supreme requires concentration to control bike angle while you're flying along. You want to put effort and a bit of body English to get it in the air and control it in the air. The low front end is nice for bike control.
On fast trails, I didn't feel that the Coilair was toe-to-toe comparable with a longer-travel sled. It did, however, have a "big bike" feel on bike-park trails. The Kona moves very fast and powerfully while on the ground and wants to stick there.
The Coilair felt best when you were aggressive; timidly pushing the bike around corners, getting too far back behind the seat and passively riding the suspension does nothing for this bike and is actually downright scary (think washed out cornering and sloppy handling). It's a bike which requires you to work when downhilling – that rewards an attacking posture and punishes the lazy/newbs.
Lee rode the Coilair down plenty of steeps, including this one on Eagle Mountain.

In tight singletrack, the Coilair Supreme handles like a nimble freeride bike. That could be attributed to the short cockpit (stem is 70mm and top tube is 617mm/23.8″ for an 18″ bike), which gives a rider the feeling that one could chuck the front end around easily. Lending to that feeling is that the front end feels light.
One critique is that in slow speed technical moves, there's a tendency for the chainstay, which travels underneath and forward of the BB, sticking forward of the Magic Link, to contact obstacles (roots, rocks, logs, etc.). This part of the frame is low and hangs up from time to time.
You have to perform trials pedal kicks and consciously lift up over obstacles that you might not contact on a bike with more traditional frame designs. You won't tag your pedals but will hit the frame. The 2010 frames appear to have been re-designed so that the Coilar Supreme has better approach and departure angles.
This Kona is very comfortable rolling through steeps. I didn't detect significant brake jack or lockup when braking on steeps, even though my test bike didn't have the optional floating braking kit.
I would add that the Kona's rear end is not the stiffest. That could be partially attributed to the Mavic wheels; the rear hubs and spokes loosened and require proprietary tools to tighten so be forewarned. Even when the wheel was tight there was still perceptible rear end deflection. Having said that it was noticeable in parking lot tests but not on-trail

He also checked out this little slab of granite in Squamish.
Uphill and XC performance
The Magic Link is supposed to also aid during climbing. Pedalling forces are supposed to push the swingarm (and the Magic Link) forwards, which keeps head and seat angles steep and suspension taut, both of which theoretically increases pedalling efficiency. As in downhill mode, operation of the Magic Link when climbing or pedalling is not meant to be noticed by the rider.
Again, as with my assessment of downhill performance the Magic Link was, in my opinion, a non-factor. I didn't notice it or its effects. The only thing I did note is that the rear linkage is so busy you should be careful to perform regular maintenance. A simple regrease or spray of lubricant (particularly on the Magic Link spring itself) and letting it sink in will do the job. If you don't do so regularly and the resulting squeaks when riding uphill drove me batty.

Lee rode the Coilair uphill, but he didn't love the experience. Even when he was riding in the wilds of Chilliwack, BC.
Simply put, the Kona Coilair Supreme is not a spectacular climber. You need to engage Propedal when climbing or when pedalling XC trails. If you don't, the very plush setup sinks you deep into your travel and you will bash your pedals and BB into sidehills and whatever obstacles are on your uphill path.
I am a big fan of adjustable travel front forks for climbing and the user-friendly Fox TALAS front fork (three different clicks to set three different settings – 160mm, 130mm and 100mm) of front travel) is a welcome addition to any bike. For long grinds, the best way to climb this bike is to engage Propedal, lower the fork, sit, spin and grind away.
Short, sprinty actions don't get you very far and even with Propedal, a bobbing rear end will remind you that you're on a bike with a fair amount of travel.
Those of you who don't live in the Vancouver area might consider this extreme, but it's not that far outside the norm. For Lee, at least. Eagle Mountain, BC
Summary
The Coilair Supreme's strength is downhill performance. It continues with Kona's tradition of making bikes that are plush descenders but average on the uphills. My opinion is that the Magic Link should not be a factor in choosing whether to buy this bike: I simply could not tell whether it made a difference. It is, however, a bike for someone who wants a reliable ride, who wants to attack descents and is not afraid to haul around some metal on the climb.
Pros:
Decent downhiller
Tuneable front and rear suspension that's very plush
Superbly spec'ed for its intended purpose
MagicLink is seamless
Creative suspension design, nice to see something "new" from Kona
Cons:
MagicLink is so seamless I can't tell if it makes a difference. How much weight can you save off the frame by leaving it off?
Frame design lends itself to poor ground clearance (seems to have been re-designed for 2010)
Unexciting plodding climber
You can get more information on the Coilair Supreme from the Kona web site. MSRP for the bike is CAD$5,799/ US$5,799.
Videos of the Coilair Supreme in action
To see more images of Lee on the Coilair in exotic locales click here…
Questions? Comments? Think that Lee doesn't know suspension? Wonder how he manages to ride so much in so many cool places? Head on over to the boards and let him have it.