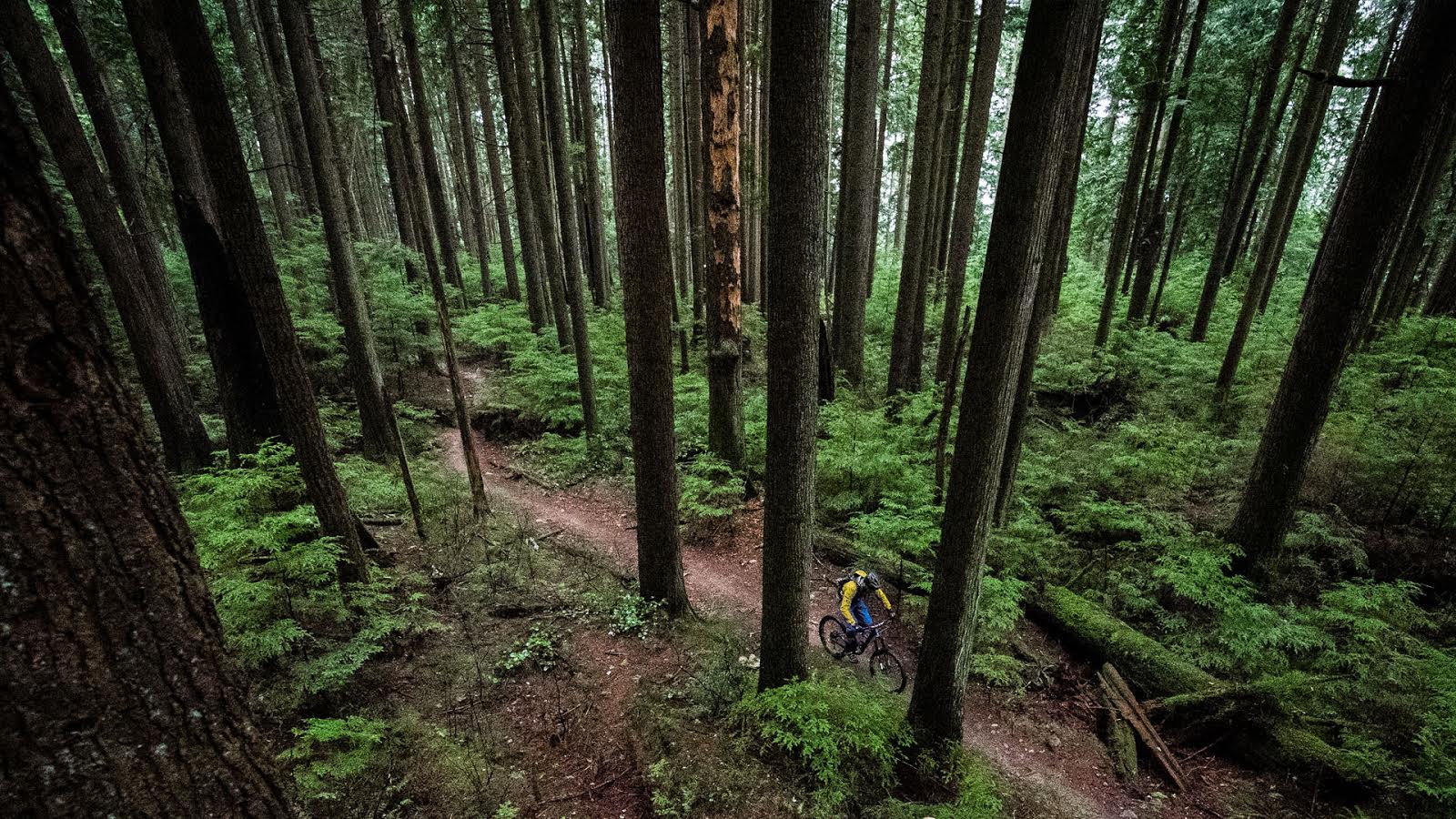 Crankworx Slopestyle Photo Essay
The Slopestyle event at Crankworx is the biggest show in the freeride world. Bold statement, I know, but it's true. The only other thing that comes close would be the Redbull Rampage, and you don't see thousands of people on the sidelines of that comp.
Slopestyle is about flips, whips, no-handers, bloody knees and elbows, tight jeans and big air. But sometimes, there's more going on than just the tricks on the course.
Here's a sampling of some of the things that went down that Saturday evening – with a few shots of the competition, just to provide some balance and show that it wasn't just about crazy kids with signs or streakers.
– Stuart
---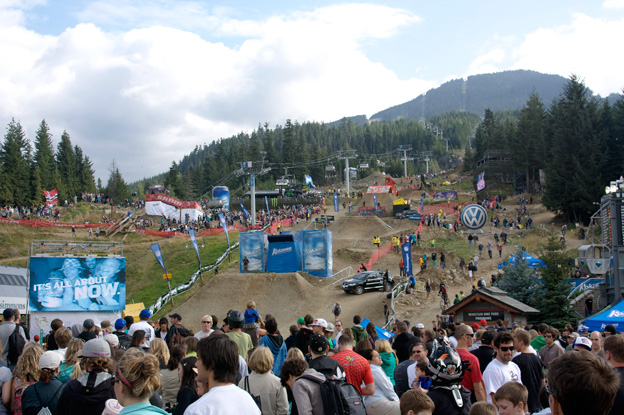 This year's Slopestyle course was a little different than previous versions. It stayed out of the trees on the right side of the Boneyard, and there was only one real line down the hill. People were jostling for viewing spots hours before the event started.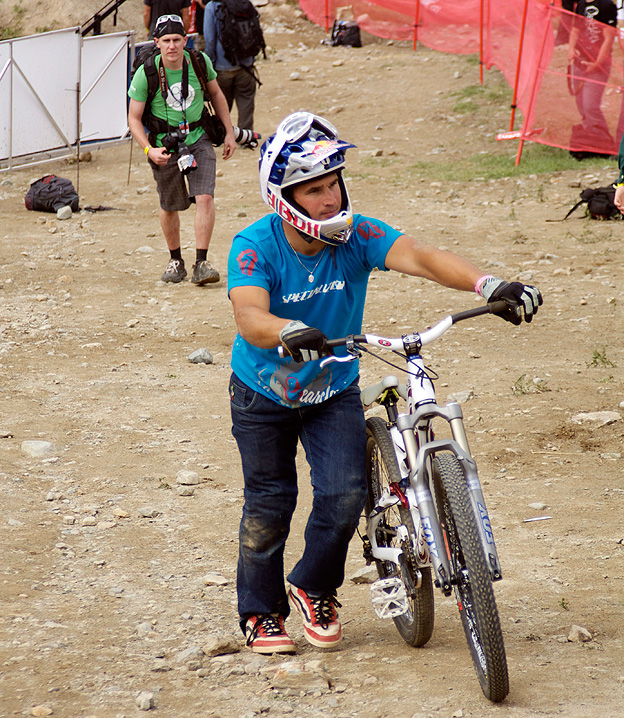 What can you say about Darren Berrecloth? Solid rider, consumate professional, dedicated to the sport and quick to pick up a shovel if something on the course needs to be tweaked. That's pro shooter and Shimano Deep Summer 2nd place finisher Dan Barham in the background.

One of the benefits (and disadvantages) of having a competition directly under the chair is that riders often have people cheering / heckling as they go overhead. In this instance, the guys in the chair were cheering. Cam McCaul (centre) and Bearclaw acknowledge the props, while Geoff Gulevich (left) looks bored and Greg Watts (yellow tee) looks slightly concerned.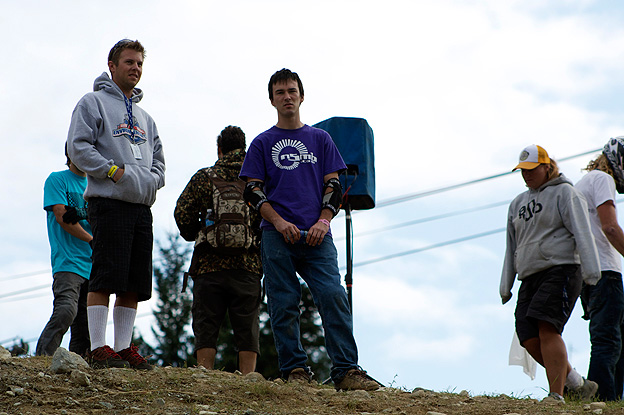 nsmb.com team rider Mitch Chubey getting in the right frame of mind before the show started. Cam, pete@nsmb.com and I ran into him later in the evening, and he was smiling then – after placing 6th.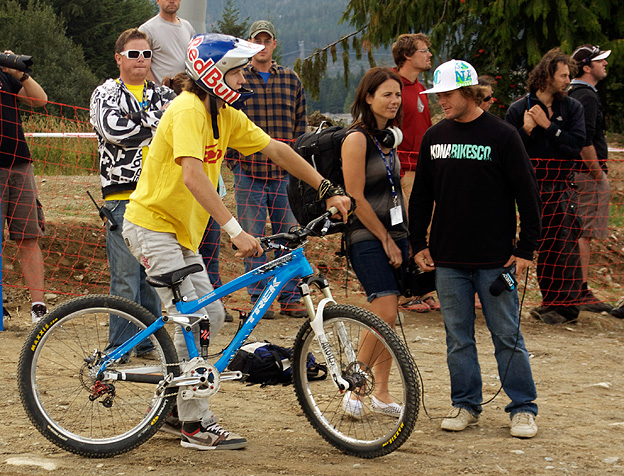 Brandon Semenuk having a chat with course designer / Kona Clump rider John Cowan before the fun began. Semenuk was using a road shifter mounted to the water bottle cage bolts on his Remedy to shift his rear derailleur, rather than running a bar-mounted shifter.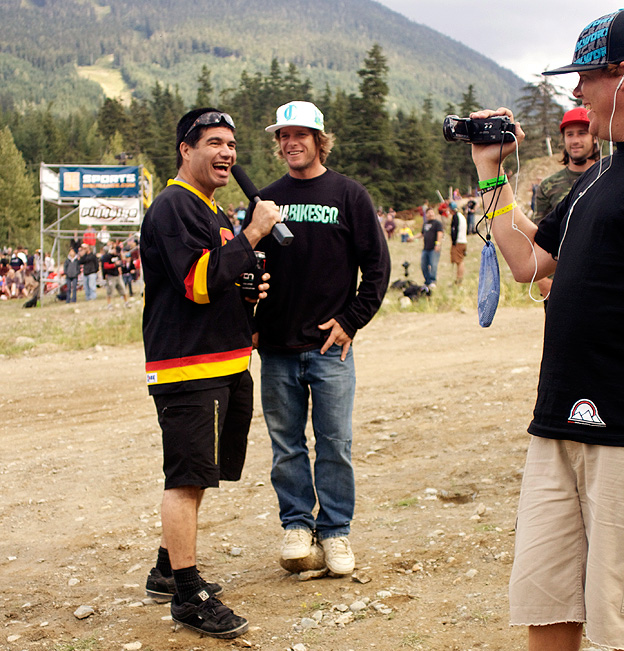 Unless you've been living in a cave, you know that Brett Tippie is back with a vengeance. Somebody gave him a microphone and put him in front of a camera during Crankworx. What people at home wouldn't have seen during this interview was John Cowan standing on a rock, so he didn't look quite so short beside Tippie.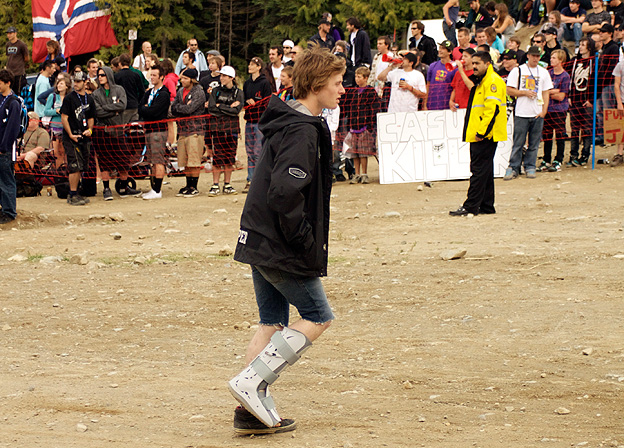 nsmb.com team rider Justin Wyper seems to have a problem with the Slopestyle comp. Last year, he shattered his tibia and fibula during the qualifying rounds. This year, he broke a bone in his foot the morning of the event. Hopefully, there will be no third break. Some of us would like to see him actually compete.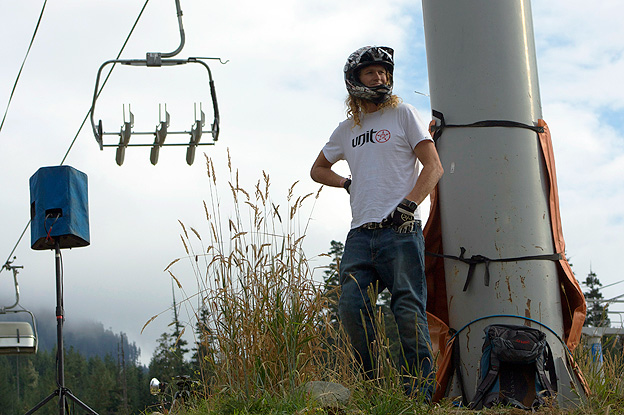 New Zealand native Kelly McGarry was a new face at Slopestyle this year. The Kiwi had a bad crash just before the event, but was still pulling sweet moves – in spite of stitches in his face. Here, he surveys the course between runs.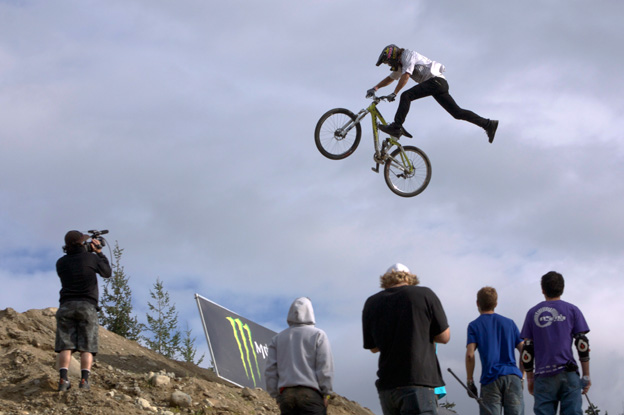 Spinning bikes were the order of the day. Cam McCaul was throwing whips all over the place, including this one on the second stunt on the course.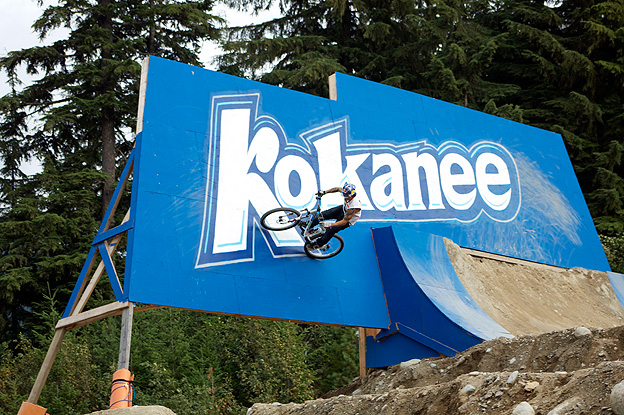 The Kokanee wall ride was massive, and there were significant consequences if you came up short. Andreu Lacondeguay and most of the other riders made this move look simple, when it was anything but.

The Kokanee wall ride led down to two kickers that booted riders onto the Giro trailer. It almost looks like Andreu is about to stall here, but he made it over to the trailer without any problems – on this run, anyway. He took a nasty bail during practice, and his bike bounced over the edge of the trailer.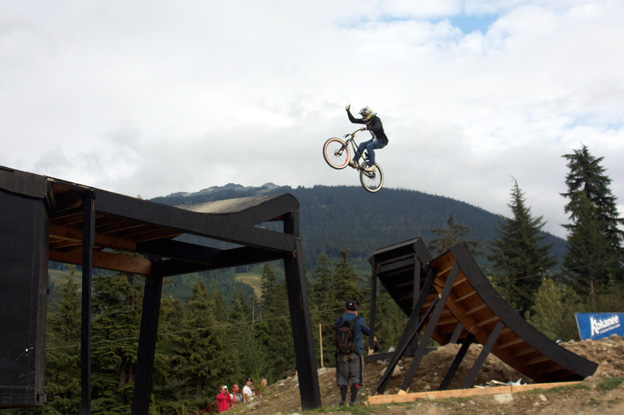 Most riders chose to do flips, whips or straight airs onto the trailer. Mike Montgomery gave the crowd a big thumb's up. It was a nice touch, but it didn't get him any further in the competition.

Kelly McGarry was the first rider I saw flip onto the trailer. He was doing backflips during practice, and had them dialled by the time things got started.

Cam McCaul stopped half way down the course to raise his seat, presumably so he could hold it between his legs during one of his next tricks. Unfortunately, when he closed his quick release, the seat was crooked so he used his fist to straighten it out. It's nice to see I'm not the only one who does that…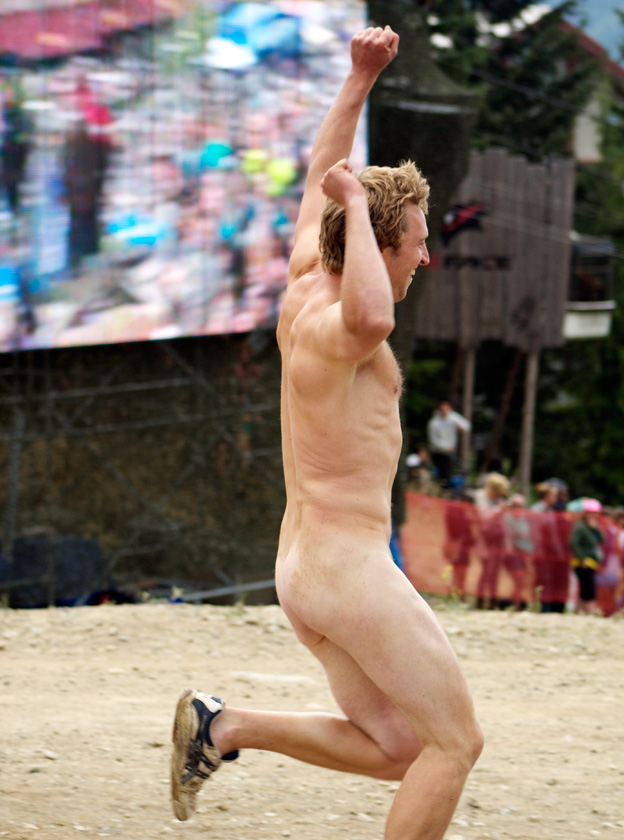 Nude, nude, nude. Except for the crappy old running shoes. Nobody really seemed to mind, and the security guys on course (the first time I've seen that) had no interest in tackling him. Go, naked guy. You're famous all over the interweb now.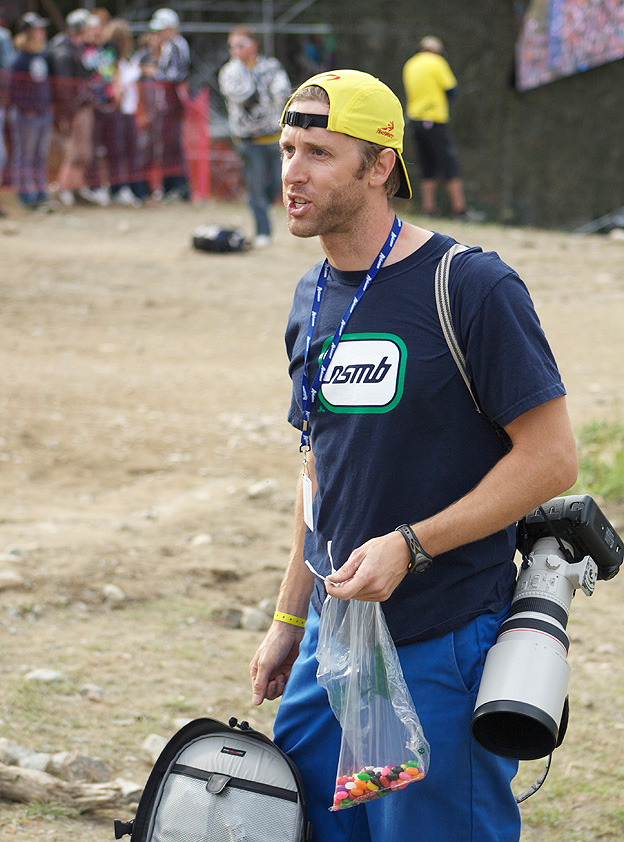 Most people think that the secret to being a good photographer is skill with a camera. Or, failing that, a very large lens. Actually, it's the treats photographers carry with them to maintain their energy levels while carrying all that really heavy gear around with them. nsmb shooter David 'Fergs' Ferguson had jelly beans on this particular occasion, and was kind enough to share them.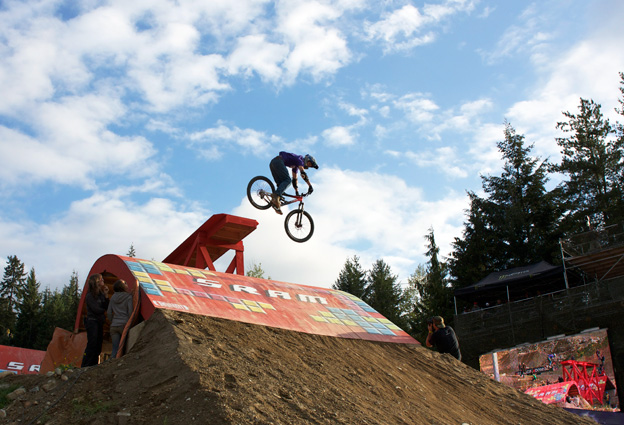 Little fluffy clouds abounded at Slopestyle. They were the most beautiful skies, as a matter of fact. And they made for cool shots of the riders going over the SRAM apparatus. Like this one of Mitch Chubey.

Gully looks like he's about to crush this photographer's head, but it was really just an illusion. Or was it???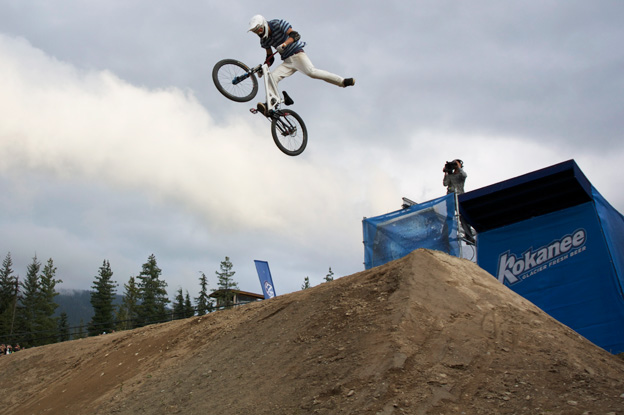 Martin Söderström looking for the pedals after a successful whip off the Kokanee box. It was very cool to see a new name among the top three finishers this year.

This is Greg Watts on his final run, even after he'd won Slopestyle 2009. He's a long ways up and he didn't have to pull this move but he did. I don't care how good a rider you are, this takes balls.
So, did you see anything odd / cool / scary at Slopestyle? Don't be shy, share it with other people on the internet. People on the boards like to read about those kinds of things. Really, they do…