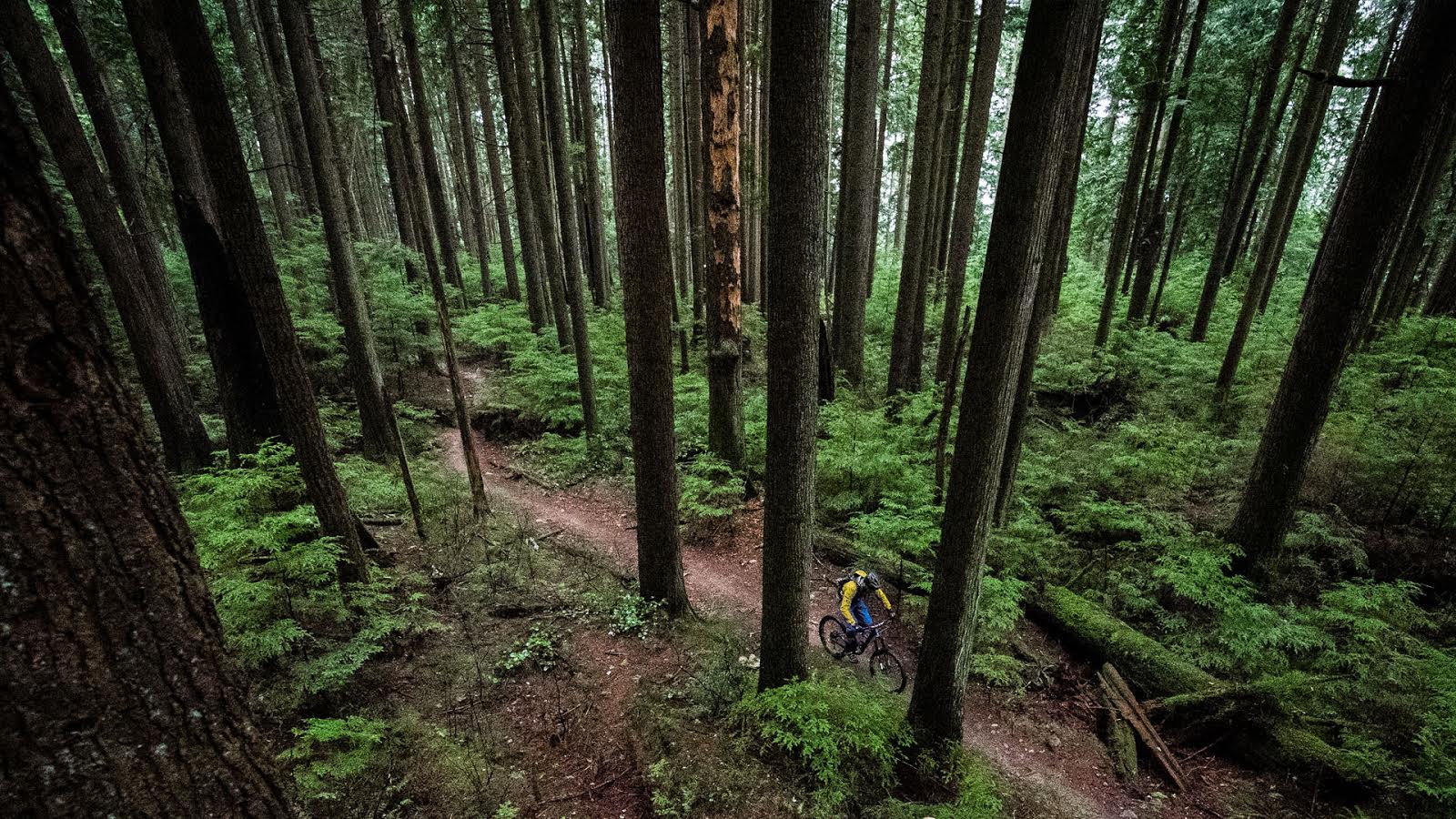 Claire Buchar Wins Womenzworx
WHISTLER, BC, August 11, 2009 – It was survival of the fittest today as ladies endured a full day of riding in the Whistler Mountain Bike Park at the third annual WomenzWorx event presented by Sombrio Girl; proving once again, that girls can hold their own in the Bike Park. The event included two open competitions and one invitational called The Gala, which took place in the legendary Boneyard Slopestyle course.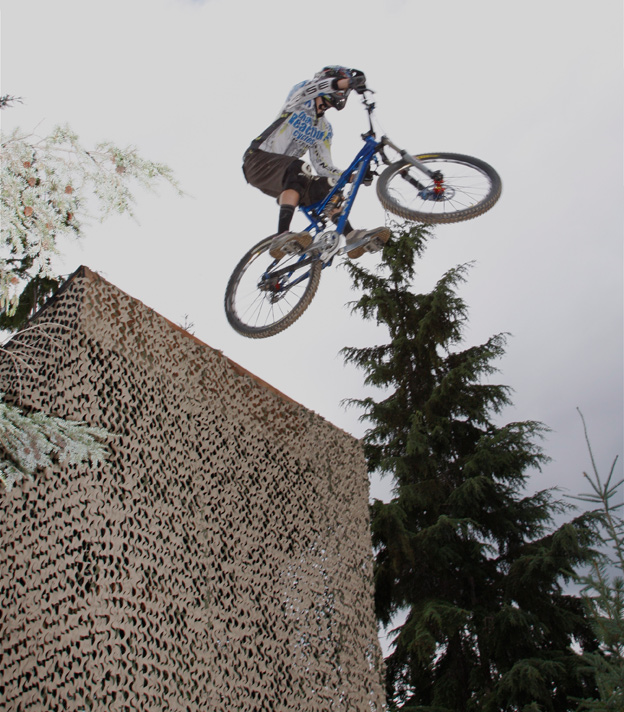 Claire Buchar boosting one of the large features on the burliest Boneyard ever.  Photo ~ Malcolm McLaws
"The event went really well. The girls have progressed immensely from last year. We were impressed and we had a lot of fun as well, which is always important." says Katrina Strand, professional mountain biker and Womenzworx co-founder. "We were really happy to incorporate the The Gala slopestyle event into the programming because it gave us chance to showcase the skills that the girls have. We were there in the Boneyard riding the same features as the boys, which is great exposure for these ladies."
In the true nature of what WomenzWorx is all about, an exhausted Claire Buchar and limping Stephanie Nychka shared the $1,000 grand prize for The Gala Slopestyle event.

 Nobody was expecting Stephanie Nychka to hit the Kokanee wall ride – a feature that apparently none of the men had hit yet.  She grrled up and hit it but things – as you can see – didn't go well.  Photo ~ Malcolm McLaws
The Gala saw the two ladies charge the challenging slopestyle course as they foreran the course for their male counterparts, who will compete in the Monster Energy Slopestyle on Saturday, August 15. Five pre-qualified spots quickly whittled down to two as several injuries forced competitors out of the
In the end Buchar and Nychka trooped on. The challenging Gala course included a large jump, several step downs and two technical wall rides. The riders were heading into the course untested as yesterday's rain inhibited their training session.
"I tried to make it smooth, hit my lines and have fun," said Buchar, who described the course as "the Boneyard on steroids".

  Claire Buchar (right) decided to share he cash money with Stephanie. Photo ~ Malcolm McLaws
Buchar, a racer at heart, made it look like butter, while an athletic Nychka, battling a broken ankle from earlier competitions, completed the Gala course and one-upped her competition by hitting the fire-engine red SRAM Drop – which was not part of the official Gala course. This puts her in a small category of male and female riders who have hit the drop so far. Nychka went down at the end of her last run, but shook it off with a smile.
"Girls are breaking ground here," said pro-rider and commentator Darcy Turenne, who was unable to compete in the Gala due to injury. "I think this slopestyle is really going to show the world that women can throw down too."
A total of $6,000 cash was awarded at WomenzWorx. Earlier in the day some 24 female athletes competed in two competitions: a technical descent on In Deep and a jumps and tricks competition on Dirt Merchant. Four of the top six winners of WomenzWorx were Canadians. In the pro women's category, Whistler local Claire Buchar (CAN) won first with a score of 31.40, Lorraine Blancher (CAN) took second with 28.10, and Kathy Pruitt (USA) captured third place with 27.93.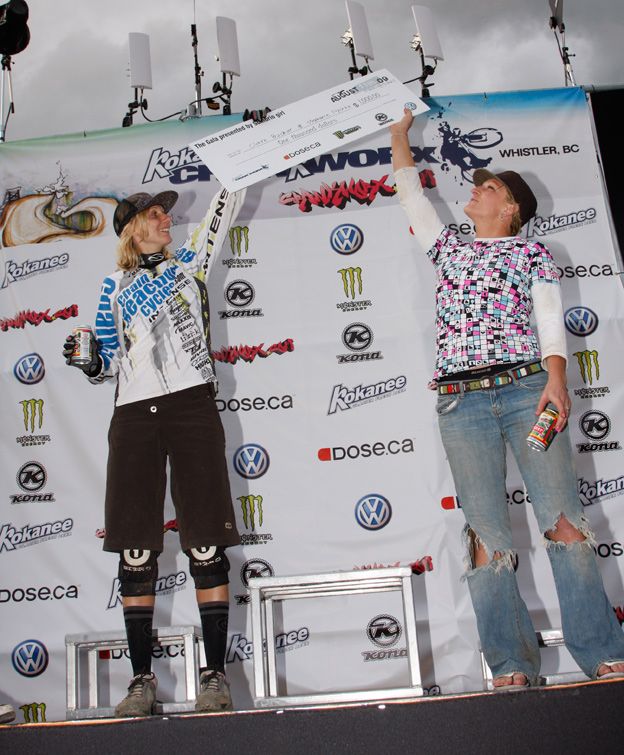 Getting ready to cut that big cheque in half. Photo ~ Malcolm McLaws

Meanwhile, in the amateur category Jamie Hill (CAN) one first with a score of 21.10, Lisa Mason (CAN) won second with 14.70 and Rachelle Frazer (AUS) won third place with 14.44.
An advisory board made up of world-class riders Kathy Pruitt, Katrina Strand and Lisa Lefroy, as well as Andrea Kraft of Sombrio, helped to develop WomenzWorx and ensure it was an inclusive event that would grow the sport of slopestyle and downhill mountain biking for women.