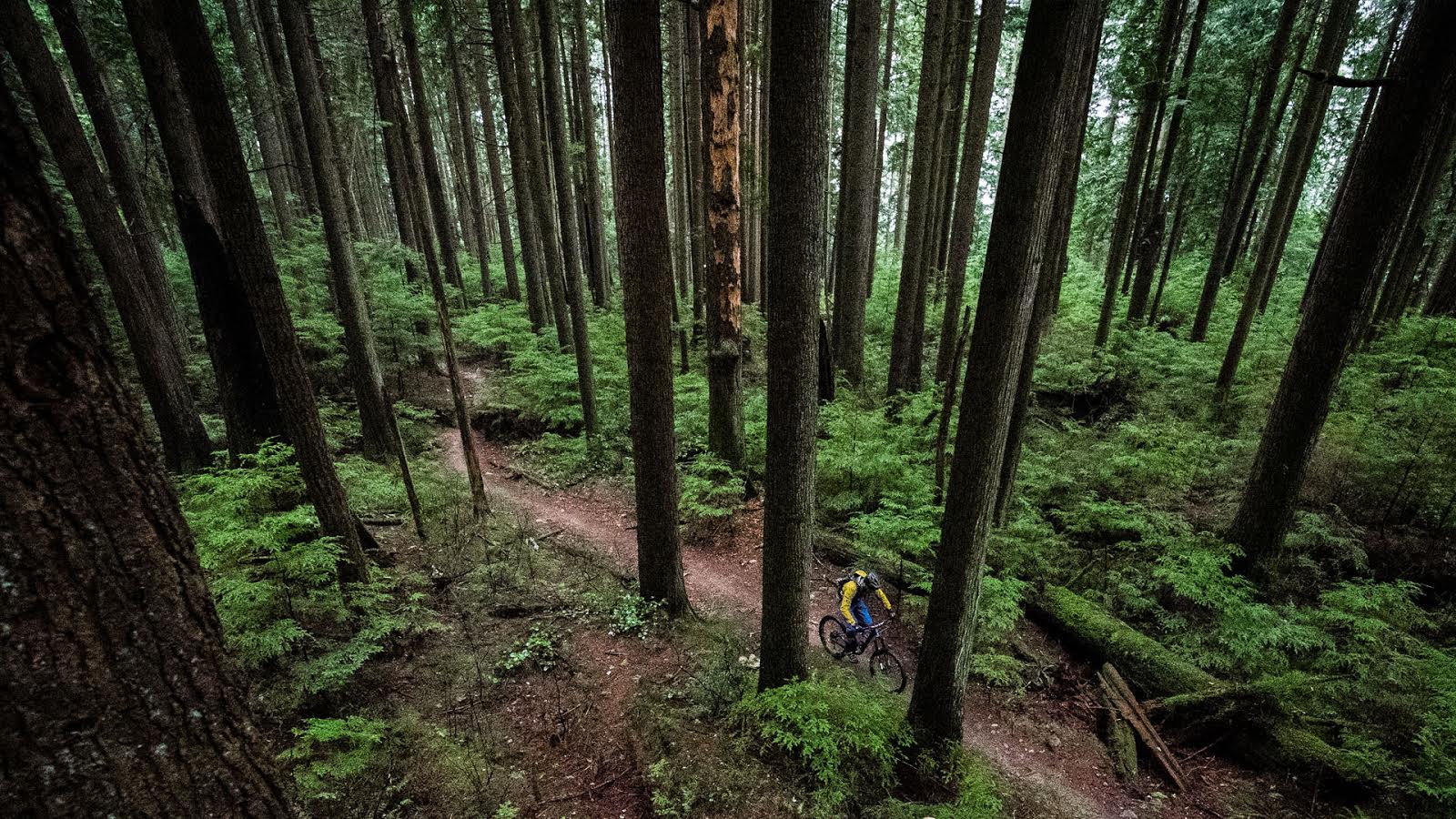 PREVIEW – Giant 2010 long-travel bikes
Giant bikes are a familiar sight at a lot of bike parks and on trails everywhere – for good reason. The Maestro suspension platform works well in virtually all applications, and the bikes are great value for the money. If there was one complaint from riders, it was that the bikes were too heavy. So Giant went back to the drawing boards two years ago with the goal of dropping serious weight from their bikes with more than 6″ of travel.
I was fortunate enough to be invited down to Keystone Resort in Keystone, Colorado for the 2010 long-travel bike launch and have been able to see what happened when the engineers at Giant sharpened their pencils. The result is two familiar bikes that look like they spent some time on Weight Watchers, and the reintroduction of Giant's first freeride-specific bike.
Here's a preview of the bikes to get you stoked for the full report from the 2010 launch article, which will be live in about a week. That write-up will contain all the little details and tech info not covered in this little snapshot.
2010 Glory
The biggest change in the Giant long-travel bikes for 2010 is the introduction of the co-pivot design, which eliminates the pierced down tube. Smaller bikes received that treatment for the '08 model year, and the weight savings that were realized there have shown up on the big bikes.
Another change is that the Glory has become a dedicated DH bike, available with double-crown forks only. There are no Glory bikes with long-travel single crown forks, and rear travel is now 8″ on all the Glory bikes.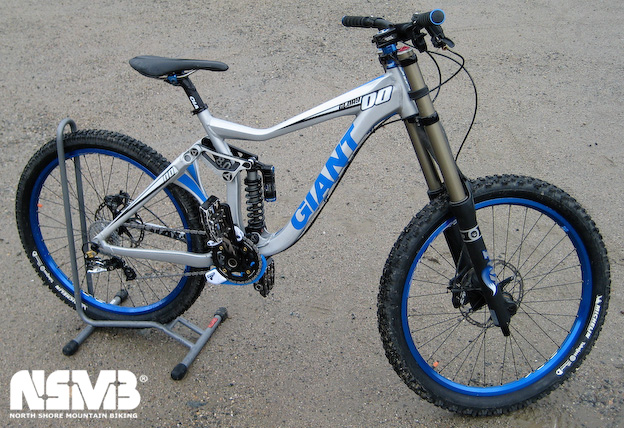 The 2010 Giant Glory 0, all decked out for racing. You'll see this bike under a lot of riders next year.
Weight savings on this bike are huge. Giant sliced 1,500g off the old version of the Glory, for a new frame weight of 4,060g with shock, hardware and paint / decals. Total weight for a size medium bike without pedals is 37.9lbs.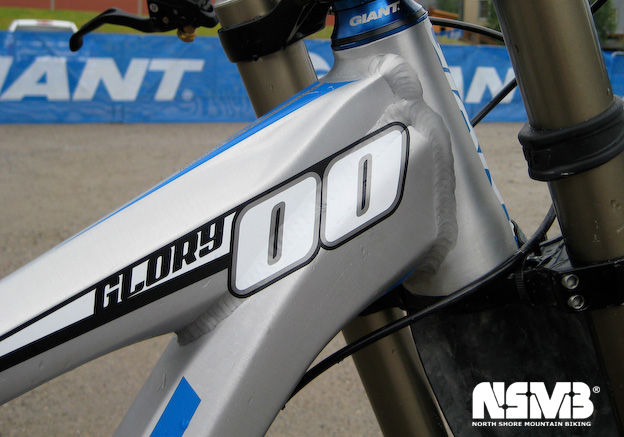 A seriously beefy head tube junction for stiffness. The graphics on this bike are racy, without being tacky.
All of the new bikes also use extensively hydroformed tubing, and Giant's tapered OverDrive head tube with a 1.5″ lower cup and 1 1/8″ upper.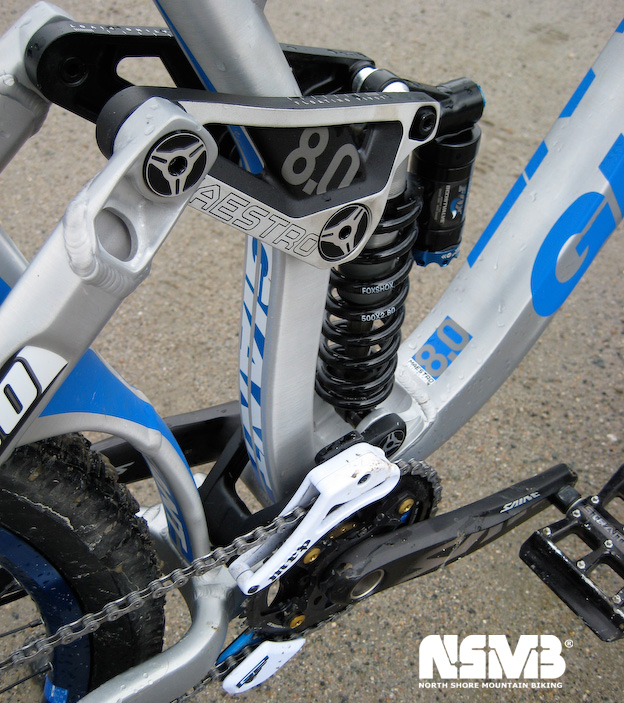 Square seat tube means no front derailleur. But why would you want one with that sweet MRP guide?
The Glory 0 comes with full Saint components and a Fox 40 fork. It's also designed to be run as a DH bike only – the square seat tube makes is impossible to run a front derailleur.
2010 Faith
The second largest bike in the new Giant line is the Faith, which some riders will remember as the first real freeride-specific bike from the company. And like many of the earlier big bikes from Giant, it was a tank.
The new bike was designed with team rider Kurt Sorge, with the goal of reducing weight and making a bike that was equally at home riding bike parks (or Rampage events, if you're sponsored) or big mountain lines and eliminating the overlap between last year's Glory DH and the other Glory bikes with long-travel single crown forks.

The Faith 0 comes with matching ano parts and a proven pedigree. Kurt Sorge rode one of these to 2nd place at the last Redbull Rampage.
The new Faith has 7″ of front and rear travel, and comes in 1,100g lighter than the old bike. Total weight for a medium bike without pedals is 36.8lbs.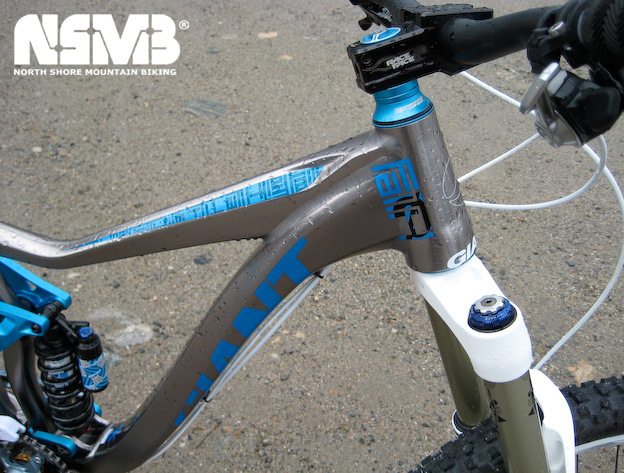 Forged and machined head tube mated with hydroformed top tube and oversized down tube = stiffness.
Like the Glory, the Faith gets the OverDrive tapered head tube and heavily manipulated tubes. The result is a very stiff front end.

Dropouts can be changed for your riding style or preferences. The thru axle uses hex bolts, so fixing flats is possible with a standard multitool.
The other really bike news for the Faith is the rear dropout option. Each bike or frameset ships with two sets of rear dropouts, which allow you to change the head angle by about 0.5° and drop the bottom bracket.
2010 Reign X
The Reign X has been a very popular bike in Whistler and on the Shore, for good reason. It could be ridden up without too much suffering and down without getting schooled on technical terrain or hits. Like other earlier long-travel bikes from Giant, weight was an issue. Well, it won't be any more.

The colours may look familiar, but pretty much everything else has changed about the Reign X.
The new Reign X gets the same co-pivot design as its big brothers, and visited the weight loss clinic along with them. The '10 Reign X is 675g lighter than its predecessors, and total weight for a size medium bike is 30.2lbs. without pedals.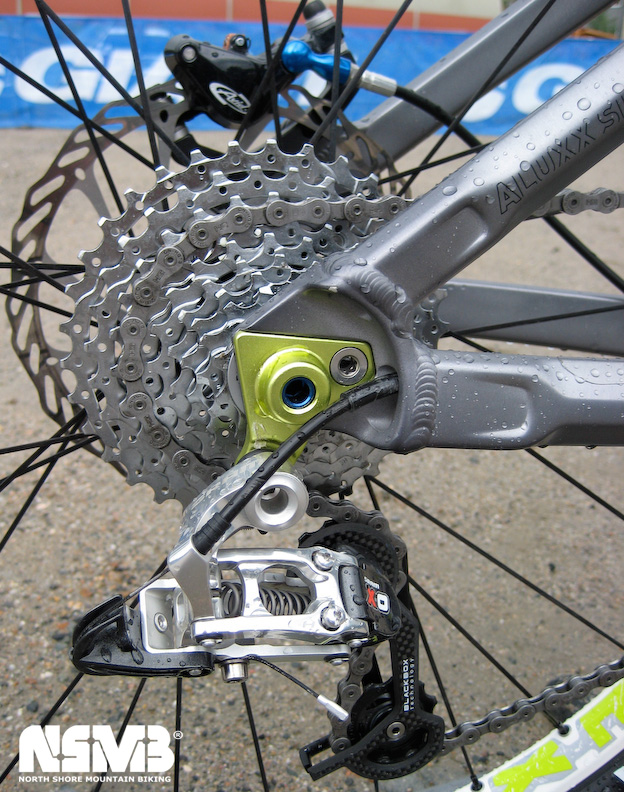 Giant pushed SRAM to produce a Maxle Lite rear thru axle for the '10 Reign X, rather than using the standard Maxle.
A particularly significant change for the new Reign X is the introduction of a Maxle Lite rear axle. And all Reign X models get it, not just the top-of-the-line Reign X0.
In order to give the bikes a cleaner look, rear derailleur cable routing is now through the driveside chainstay. Thankfully, the stay is open at both ends so you won't feel like you're threading a needle.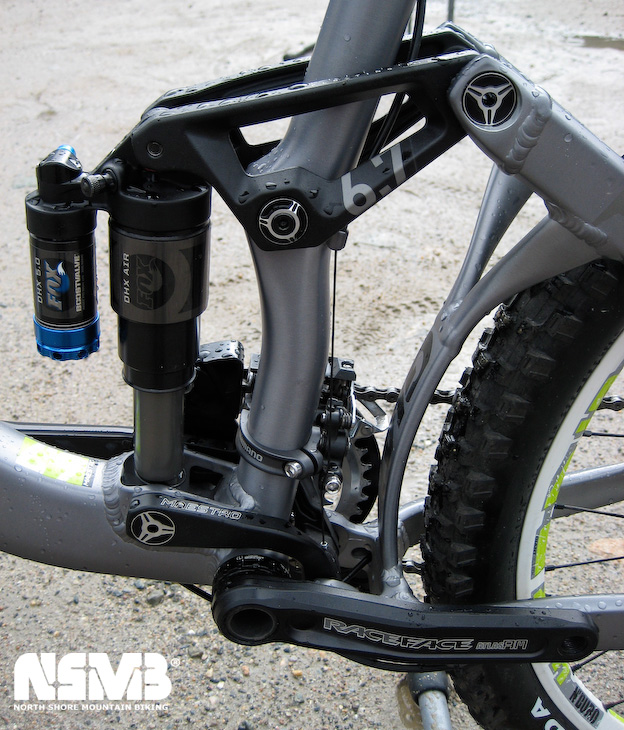 Everything about this bike was refined to drop weight – without sacrificing performance.
Giant changed a lot of things on its bikes for 2010, including the rocker arms. They're forged, but no longer have a cross brace between the two arms. Giant says that the brace didn't add much stiffness, and the weight savings was worth removing it.
Some questions and answers…
Everybody always has questions about new bikes, so here are some of the big ones. And as I said above, if the answer isn't here, you'll just have to tune in next week for the full article.

Q: How much to the bikes cost?
A: Canadian MSRPs are as follows. Dealers may sell for less.
Glory 0: $5,999
Glory 1: $4,659
Faith 0: $4,599
Faith 1: $3,359
Reign X0: $6,359
Reign X1: $3,889
Reign X2: $2,429
US MSRPs are as follows. Again, dealers may sell for less.
Glory 0: $5,350
Glory 1: $4,125
Faith 0: $4,125
Faith 1: $3,100
Reign X0: $5,650
Reign X1: $3,600
Reign X2: $2,250
Q: When will the bikes be available?
A: The word from Giant is "soon." They're on the boat from Taiwan, so they should be at dealers within the next month to six weeks.
Q: Can I buy a frame only?
A: Yes. Giant will be offering framesets for the Glory, Faith and Reign X. Colour schemes may be slightly different than the complete bikes. Check with your Giant dealer for pricing.
Q: Can I use HammerSchmidt on Giant long-travel bikes?
A: No. The HammerSchmidt mechanism and pivot points on Giant's bikes don't work well together.
Q: Does component X come on bike Y?
A: Like I said above, wait for the full write-up. It'll be coming soon.
Q: Will Canadian and American models have the same spec?
A: Yes. In the past, there have been different specs in Canada, but that will not be the case this year.
So there you have it – a quick look at Giant's long-travel bikes for 2010. Like what you see? Want to be the first in line at your local Giant dealer for one? Head on over to the boards and share your sense of joy / indifference / outrage with other people on the world wide web.
– Stuart Kernaghan