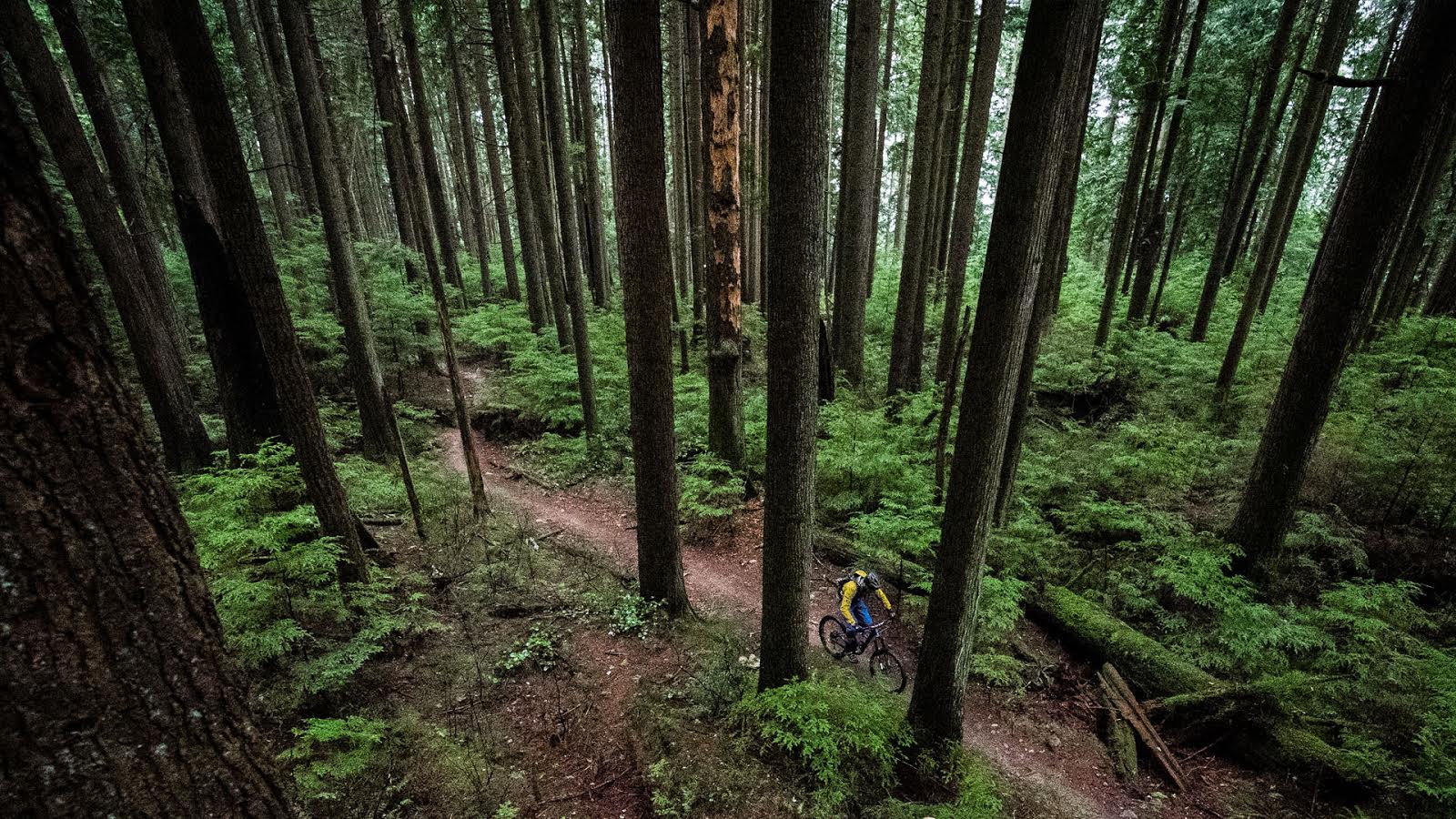 Readers' Rides # 12
It becomes painfully clear when you start riding the trails of Fort Worth Texas that speed does not come easily.  You have to pedal your ass off!  A cross country bike is what I was naturally drawn to with the trails I frequent.  The seemingly instant speed and acceleration generated by the Santa Cruz Blur I used to ride got me hooked on mountain biking.  Going fast seemed effortless.  However, dual crown forks and coil shocks looked mighty tasty after a couple of road trips that exposed me to resort riding and real mountains. Sadly big bikes are too heavy and sluggish for the XC trails I would be riding most of the time.  Lucky for me, my new found interest in longer travel more capable bikes came at a pretty convenient time.  "All mountain" bikes are the hot ticket these days.  One bike to suit all of my riding needs throughout the year is what I wanted, and the options that are available made my head spin.  I am lucky enough to work in a family owned and operated bicycle shop that deals Trek and Specialized (bicyclesinc.com)  It took some time to come up with the money for this bike, but late in the year of 2007 I ended up buying a brand new '07 S-works Enduro frame (medium).  The new '08 Enduro SL had just been put on the market, but I made the decision to wait until the Specialized fork and shock had been on the market for a while.  I didn't want to be the guinea pig that doesn't get to ride because my fork is in warranty.  I soon learned that decision was a good one.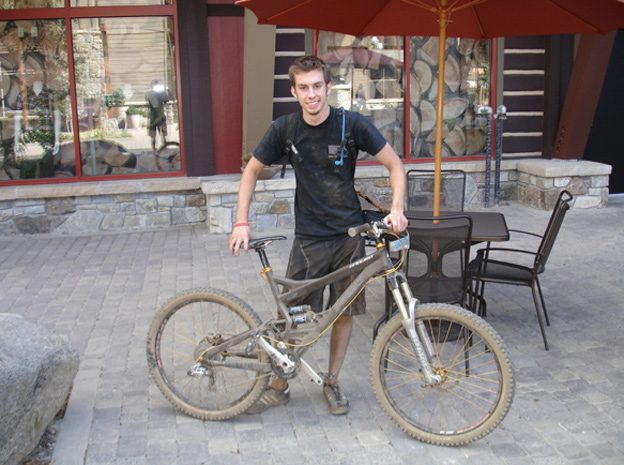 Can a guy from the flat lands be happy with one bike for home and road trips to the mountains as well?

I chose the Industry Nine Enduro wheels knowing that at my weight of 135lb's they would likely take the punishment I can deliver.  Also, the quick engagement is a great performance advantage when you are constantly doing short climbs and descents back to back like I am here in Ft. Worth.  The power is seamlessly transferred to the wheels so that your tires have less of a chance of breaking loose in the middle of a climb.  My tire choice was based off the idea that a larger tire will allow for a higher corning speed.  What's the point of having all the travel without having the rubber to back it up?   A Bontrager Big Earl takes care of the front while a Specialized Eskar balances out the rear.  They are both great for dry conditions, and since I am set up with the DT swiss tubeless kit (with Stan's sealant), Texas Mesquite thorns won't interrupt my ride.
I am a big fan of SRAM shifters because of their decisive action and positive feel at the bars.  I chose to run a shimano XTR 11-34 cassette and chain with an XT crank running a 32t single ring.  Props need to be given where they are due; Shimano has chain and cassette dialed.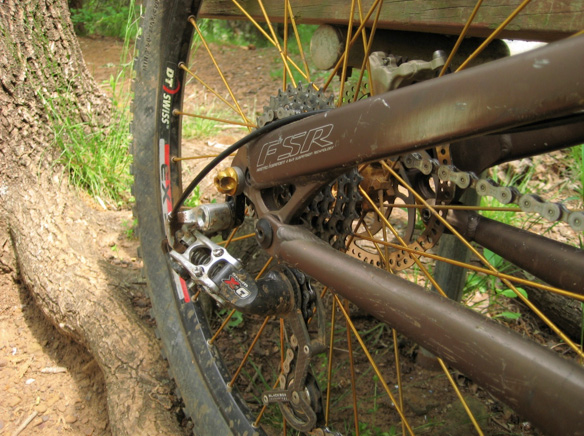 Nothing but the best for this Enduro.
The Gamut chainguide is seen as an ultra lightweight DH guide with a minimal bashguard.  I rarely hit my rings on logs and rocks so i was comfortable using such a thin bashguard.  The plastic roller is loud, but I have never dropped a chain and there is little additional drag in my drivetrain.  The 32t ring takes advantage of my tendency to spin at a high cadence but I top out way too quick in the mountains.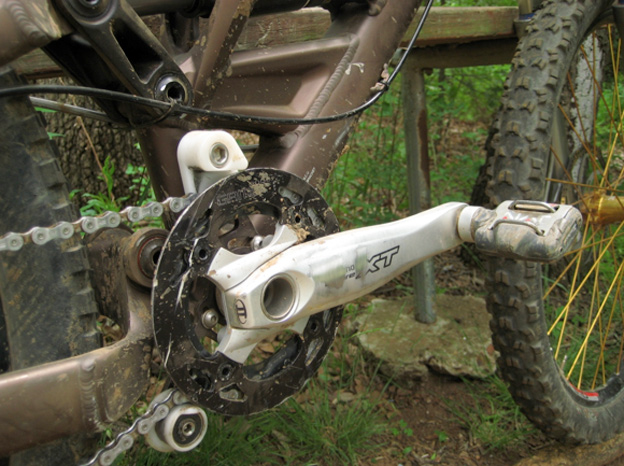 A single front ring on an all mountain bike?  Are you nuts?
The Rock Shox Pike fork was an easy choice at its price point.  A soft spring and a heavier weight (10w) oil kept high speed handling and brake dive under control.  I have recently been feathering the flood gate adjustment for a light platform and a firmer rear suspension with decent results on the lighter XC trails.  Easton and Thomson make up the cock pit for their good strength to weight ratio.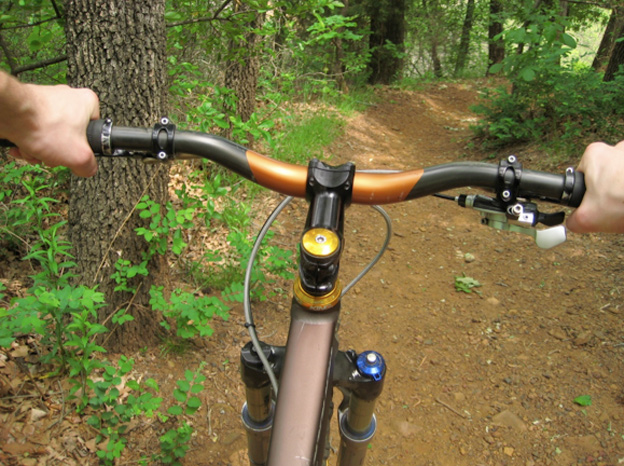 Keep it pointed.
The Formula ORO brakes were the only component I had not read a single review about.  I chose them mostly for their weight, but I soon learned that they didn't offer enough power with the stock pads and a 7"/6" rotor set up.  A larger eight inch rotor up front was the first step to more power.  Then I switched to EBC Red DH pads, as well as a set of Formulas one finger specific DH levers and I was much happier.  After the bikes first road trip however, the stock Kevlar braided brake lines ruptured due to being pinched between the down tube and a tailgate while shuttling.  Goodridge stainless steel lines will ensure I never have to worry about brake line damage again.  I felt no noticeable improvement in feel or power with the new lines.  I am satisfied with the brakes 98% of the time but it bugs me that at the limit of my abilities I don't have all the power I need.  It's not often I can really take these brakes to their limits though here at home so I'll live with them.

 Is this the one magical bike that can do it all?
I had originally called this bike my "dream bike" as I was building it up.  It was intended to become that one magical bike that did everything well.  However, since getting myself a new Stumpjumper Comp hard tail, I have learned that the perfect bike is the one that best fits the terrain you are riding.  My Stumpy makes me happiest when Im at home in Texas.  It's easy to get excited with all the new mid travel and middle weight components coming out.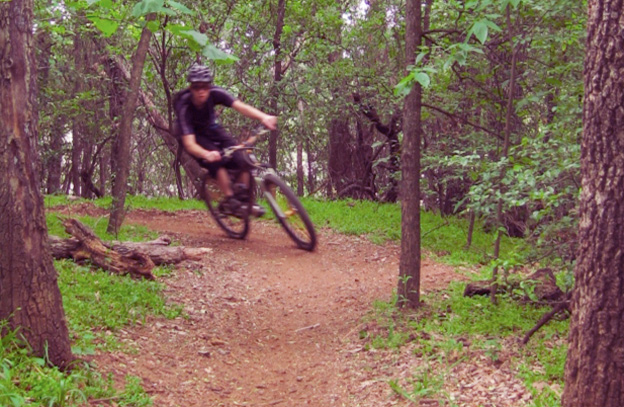 Works pretty well here.
As much as I love the bike that I have put together, it has really proven to me that there is no such thing as the perfect bike.  What I have done though is put together what I would call a road trip bike.  Its middle of the road weight and cramped positioning make it a bit of a drag on the XC track.  Similarly, its limited travel and speedy steering make the steeps a little sketchy.  What I did build myself with this Enduro is the perfect road trip bike.  It doesn't do everything well, but when I can only reach for one bike for a multiple discipline road trip I have one of the best bikes you can get. I'm sure of it.
---
Is Mike right?  Is the 'one bike to rule them all' a myth that won't go away or does it exist?  Is a quiver the only way?  Do you like Mike's build?  Chime in here…