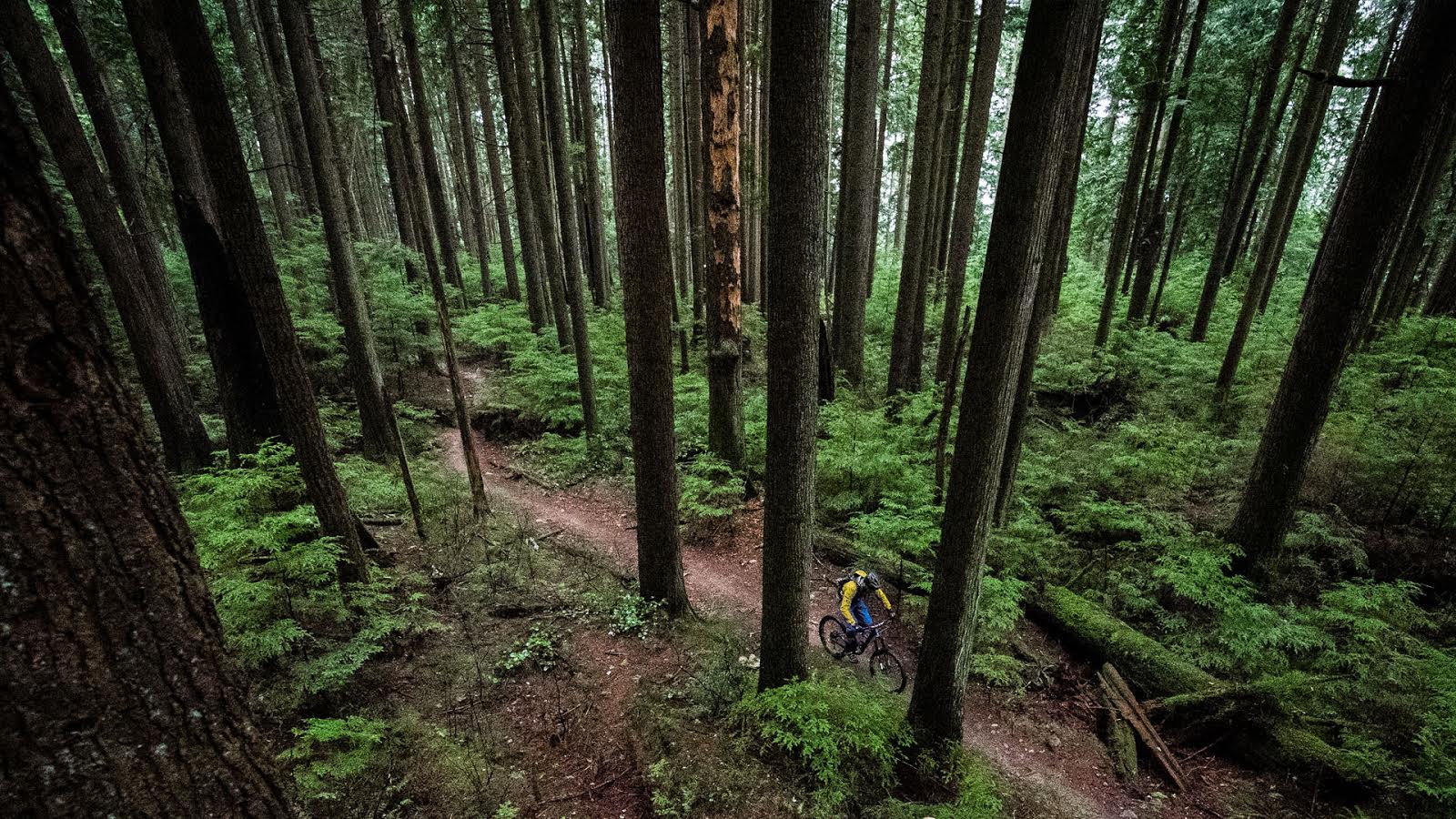 AIRprentice Wrap

AIRprentice can be nerve wracking. There's a lot riding on sunny outcome. If we get a rider who doesn't mesh with our team or fulfill sponsor obligations it could be a a disaster. As a result we spend a fair bit of time sweating the details to ensure little is left to chance. And now we can breath a big sigh of relief because everything at Silver Star went as smoothly as the berms on Rock Star. We love Whistler and making the move was a tough decision – but the change in venue turned out really well.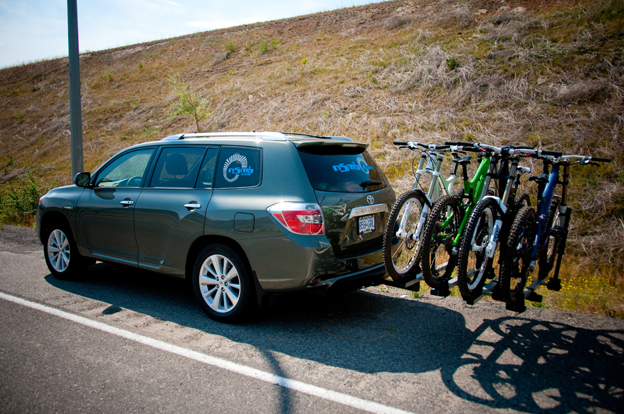 One of the oddest things about AIRprentice is that after five years of doing it we're not sure we're getting any better at it. We've managed to pick up some great riders for our team but it's tough to know if the other athletes would have been as good or better. Luckily we get such strong applicants that you can't go too wrong. It's certainly not as easy as picking the 'best' rider because as any sponsored pro will tell you, it takes a lot more than bike handling skills to keep your sponsors happy. So it's not a science – but it sure is fun.

The other half of the team rolled in our sweet Tacoma that just got the new nsmb.com look. Photo ~ Jerry Willows
This year there was a little hitch in the recruiting process to keep things interesting. Benton Leong put in a strong entry and we decided to put him on the list. He used two different email addresses and two different last names. We thought we had it sorted out though. And then we received an email saying he had injured himself and couldn't make it.

Curtis Robinson keeping The Bulldog smelling fresh as a daisy. Photo ~ Jerry Willows.
Then we heard from him again – a day later – saying that he hadn't actually entered (maybe, he wondered, it was someone at his shop?) but that he'd be stoked to come. Nope – he told us – he wasn't injured and he didn't know Ben Faliszewskin. As you can imagine three Benton Leongs had us a little confused. In the end an authentic, genuine Benton Leong did make it to the comp and he left his mark on everyone with his big bag of tricks.

Ben Faliszewski was posing as Benton Leong – or someone by that name was. If the one who showed wasn't the real Benton Leong we didn't care – because he killed it. Photo ~ Malcolm McLaws.
It was nice and warm on Friday when a lucky few of us hit the Silver Star Bike Park before the event – to scope some lines and then indulge our riding desires. It rained a little the night before to keep the dust down (a pattern that would continue) and Cam Sorenson and his crew had the park in the best shape I've ever seen it. There was hardly a braking bump to be found (except on the road leading up to Blast Off – ouch!) and the lips were sculpted to perfection. A greedy part of me wanted to scrap the comp and just ride all weekend. Instead we rallied at the The Bulldog for some appies and beer and met 8 of the 9 riders who arrived as scheduled.

After the boys got their shirts it was time to give them the lowdown on how the weekend would go. Photo ~ Jerry Willows
In the past the comp has started on a Saturday morning but being able to meet the riders the night before, let them know what to expect and lay down some expectations, worked out really well. Last year we had a crew of riders who showed up to throw down – and another contingent who seemed to just want to chill and specate. Pete Roggeman made it clear that if you coasted on day one we wouldn't need you on day two. It turned out to be a moot point because everyone threw down and gave it their best; this year's group was as solid as they come.

Blast Off is one of the best things about Silver Star. This is Tyler Leblanc following Daryl Ostendorf. Check out that dirt! Photo ~ Malcolm McLaws
We fuelled up at The Bulldog again Saturday morning with eggs and bacon and then it was time to hit the lifts. Riding to the lift is one of my favourite elements of the Silver Star experience because it means Blast Off. It's the closest thing to a luge track you could ever experience on a bike. Six foot tall berms and a sinewy undulating line make it ridiculously fun. I actually felt a little dizzy after my first rip through. Another nice feature at Silver Star is that the chair is actually a six seater so all four bikes sit in a tray and then you have room to spread out on the chair with three of your friends.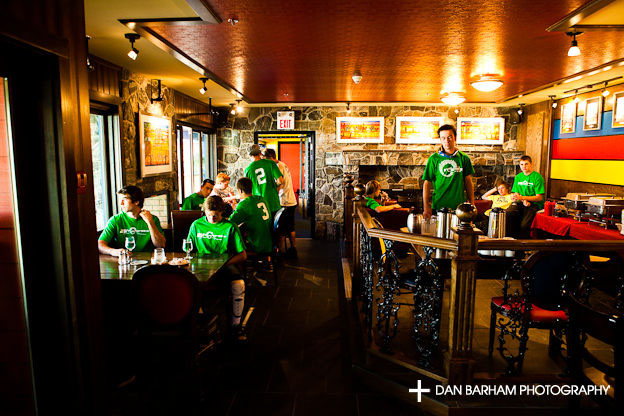 The Bulldog at Silver Star is owned by the same dude who owns The Bull Dog in Amsterdam. Cannabis is not on the menu at Silver Star but the breakfasts are awesome. The Bull Dog At SS is also a hotel.
Our first stop was Pipedream. When this trail was first built it was like a pro level 4X track – all the way down the mountain. There were gaps, hips and berms that kept you on your game at all times. It's been mellowed out some and the lines have been smoothed a little but it's still a full commitment sort of an experience. Sounds like a perfect first stop.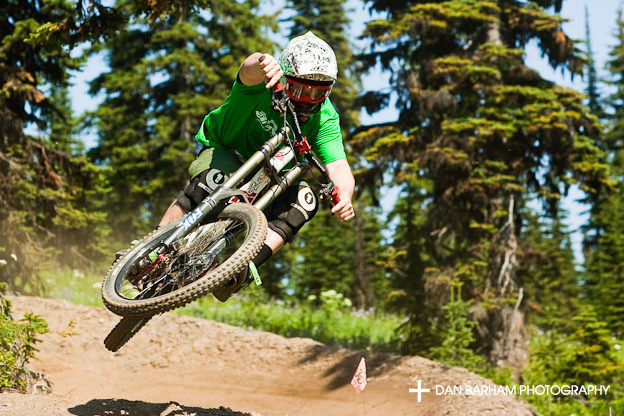 Andrew 'Shrew' Sherry scrubbing on Pipedream. Photo ~ Dan Barham
I didn't take notes this year but they would have read something like this;
Rider 1 – solid, confident and stylish.
Rider 2 – confident, stylish and solid.
Rider 3 – stylish…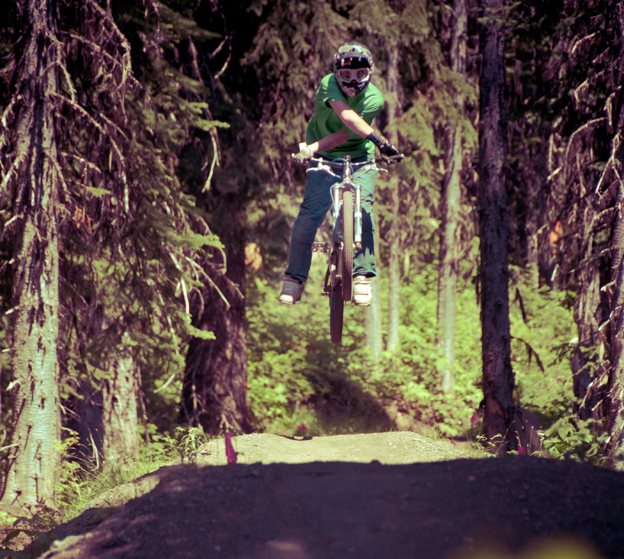 Garrett Robertson quietly impressed us with his finesse. Here he is floating a one-foot x-up on Rockstar. Photo ~ Jerry Willows.
There was little to seperate the rider at this point in the comp because none had any trouble with the technical nature of the jumps and berms on Pipedream. It's not all about the naked eye though and some of the most valuable feedback came from one of our two filmers, Dylan Dunkteron and our photographers – Dan Barham, Malcolm McLaws and Jerry Willows. As we deliberated each let us know who looked best through the lens consistently. It helped that they all had the same feedback. Our next stop was a step-up that allows for some serious air and a few riders tried to spin it – some more successfully than others. Immediately after the step up there is a shredable berm and then a rhythm section that requires some finesse – a dialled spot to see bike handling.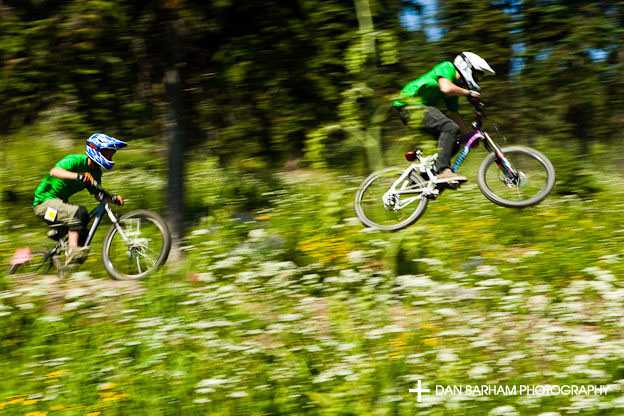 Once again – Tyler Leblanc following Daryl Ostendorf this time at mach speed. Photo ~ Dan Barham
I recently read an article in Fast Company that debunked the idea that an interview is the best way to select an applicant – and a unique situation was examined to prove this point. Because of a change in legistlation, U of Texas had to accept 50 more applicants to their med school program one year. By the time this happened the only candidates left were those who had finished in the bottom 100 of the 800 applicants for the school. Originally only applicants in the top 350 were chosen. The students in the bottom group fared no worse or no better than the top group in their studies and then later on the job; the interviews meant nothing. This wasn't the first time I'd encountered information like this – and my experience running AIRprentice has reinforced this view. We all think we're pretty smart, overestimating our ability to foresee how someone will fit with a company and perform once they come on.

AIRprentice riders with the nsmb team. The team riders in the back row are let to right: Mitch Chubey (in green like the AIRprenti), Jerry Willows, Dylan Dunkerton (ginger), Eamonn Diugan (with his shirt on), Justin Wyper (texting) Ian Nelson, Trevor Hansen and Curtis Robinson. AIRprentice riders let to right; Justin Leong (white pads), Daryl Ostendorf, Garrett Robinson, Mason Mashon, Mark Matthews, Andrew Sherry (lounging), Brett Tippie?, Tyler Leblanc, Ben Glassen and Ian Killick. Photo ~ Dan Barham

Realizing that we are actually pretty bad at interviewing is a bit of a shot to the head. What do you do instead? The article suggested that work samples, peer review and getting applicants to actually do the job for you are the best ways forward. Luckily that's pretty much what we do in AIRprentice. We run it like a photo and film shoot and a competition – two of the main ways riders on our team can get exposure. But then we hold the interview last – and perhaps put too much stock in that. The other part of a team rider's job is to blog about his experiences and shoot a few photos. This was something we got a look at when the riders filled out their forms and applied to ride along.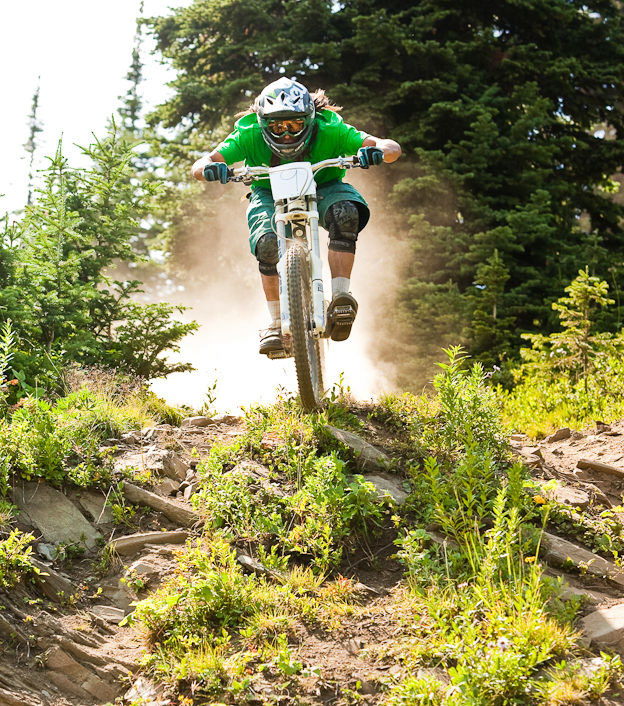 Mason Mashon was the fastest of the AIRprentice candidates down Dag's Downhill and with an impressive time of 3:34 he won the Denny's Cup and a wad of cash. Photo ~ Dan Barham
After shooting on Pipedream we hopped on the lift and stood at the top of Dag's Downhill. We asked Silver Star if we could run a DH race and they said sure, and set up their electronic timing system – another example of how amazing everyone up there was. We wanted to give the riders a chance to look at the course first so on the way to lunch Dag's it was. Denny's ponied up $200 for the winner and the event became the Denny's Cup.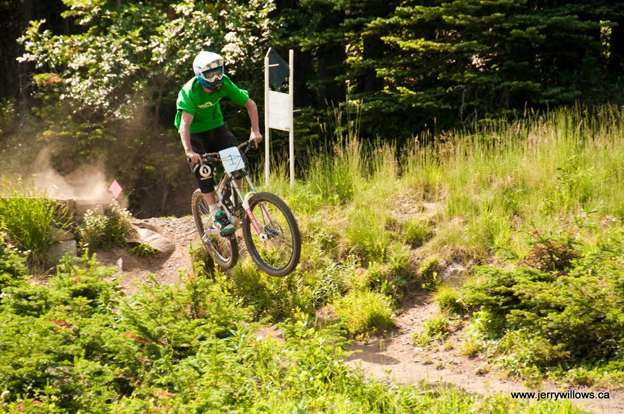 Mark Matthews injured his knee on the Thursday – just before the event – but he never complained and rode hard all weekend. Photo ~ Jerry Willows.
Silver Star ran the timing for a Twoonie race as well and Nokia tossed in an E66 phone to sweeten the pot for the general public. See below to check out how the men's and women's winners decided who got the phone. Dag's is a rocky, jagged, steep portion of trail that asks for a bit of everything; a perfect testing ground to see who can ride trail and ride it fast.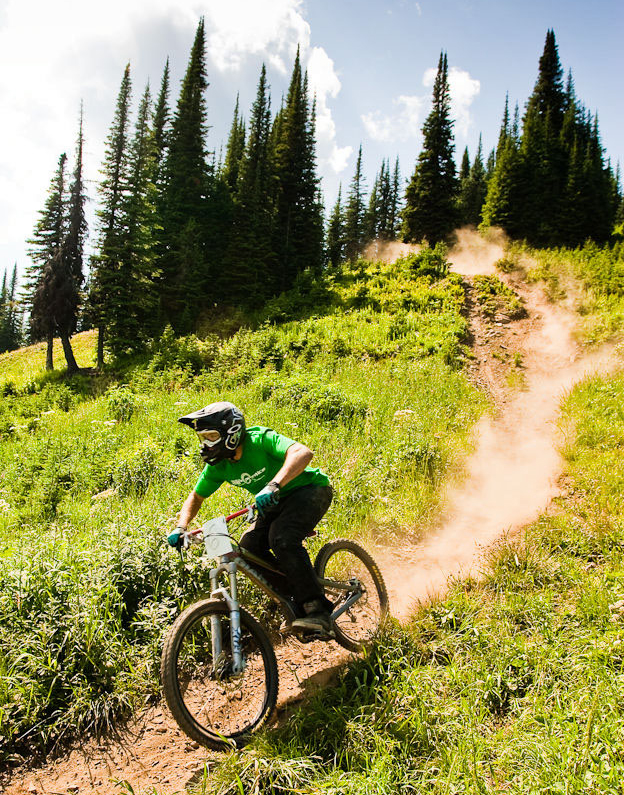 Ian Killick had a very respectable time of 3:58 in the Denny's Cup Downhill on Dag's Downhill. Thanks to Heather, Robin, Ian and everyone else at Silver Star who helped set up the timing and run the show. Photo ~ Dan Barham
Riders were on all sorts of bikes – Mason Mashon was on an Evil Revolt and Daryl Ostendork was on a 4″ travel Kona Bass – with forks and shocks pumped up almost to lock out – but nobody whined about the challenge. A very good sign. Everyone finished their run except Benton who went down hard. He too was on a Kona Bass and was by all accounts ripping until that point. Andrew Sherry laid it down as well but was able to finish his run.

Nokia gave away an E66 phone to the winner of this arm wrestle between the fastest woman and the fastest man in the Twoonie race. Lorraine Blancher chose the competition but Chris Martin won the phone. Photo ~ Dan Barham
The podium looked like this: Ian Killick in third with a 3:58, Ben Glassen in second with a 3:53 and Mason Mashon became the winner of the Denny's Cup with a 3:34. Matt Hunter who joined us all weekend, casually laid down a 3:46 and Curtis Robinson – our resident DH ripper – had the fastest time of the day with a 3:29. Sadly he won diddly squat.

Mason Mashon deciding how to spend the 200 bones Denny's donated for the fastest AIRprentice down Dag's Downhill. Photo ~ Malcolm McLaws
The weather was starting to roll in after the riders had all done their runs and we knew lightning was on the way – which meant the lifts would shut down. We got as many riders as we could to the top of the hill and did a group rip down World Cup, which includes Silver Star's amazingly fun double wall ride. It's impossible to stop giggling as you shoot out of the first one and toward the second.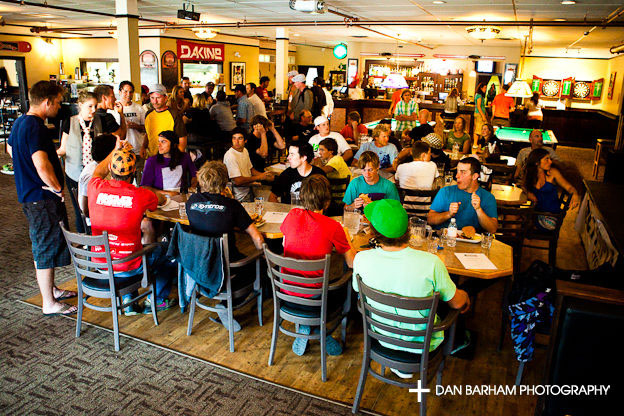 After the twoonie race awards we had a great dinner in the Saloon. Photo ~ Dan Barham
To the vault! First thing in the morning we pointed it toward the jump lines off Rock star to see the riders in the air. There are three nice lines and some hip and transfer options. Benton Leong was nailing clicked no foot cans and linking together some great trick lines. Ben Glassen, his bmx roots showing, had things dialled as well with threes and old school tuck no-handers.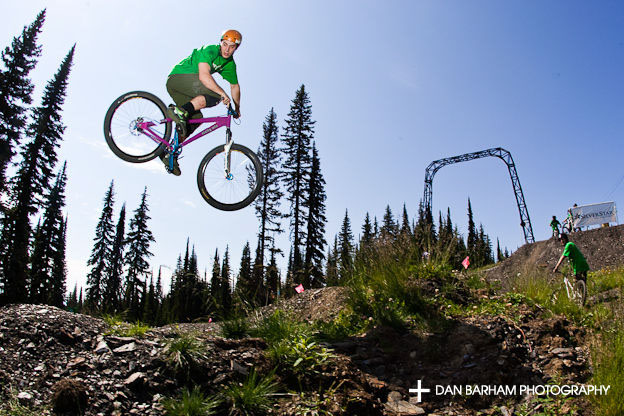 Andrew Sherry had his threes dialled on Sunday morning. Photo ~ Dan Barham
I'm not sure if it was the shale on the ground or the size of the jumps but there were no tailwhips that I saw – and insurance made going upside down a no no – so we weren't blown away by the level of riding on the jumps. It was instead a great chance to see who was hungry, who was having fun and who picked up the shovel to develop new lines and get a little creative. Ian Killick had the creativity part down pulling moto-inspired tricks – like the one I can't remember the name of when you kick your foot over the top tube and land with both legs on one side of your bike. Not a move I plan to work on.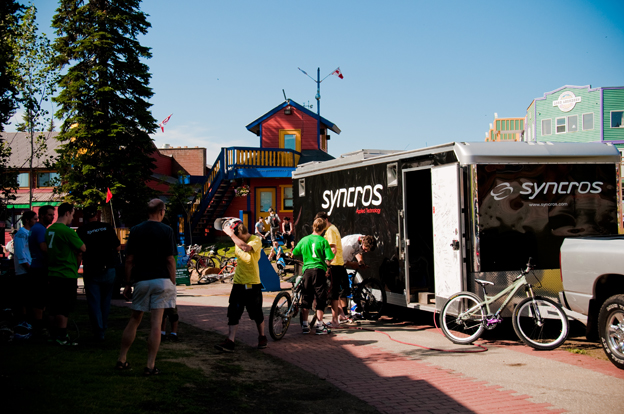 Having Marshall Cant and the Syncros trailer on site was a massive help for the whole event. Marshall can fix anything. Thanks for coming out Marshall!
After the session riders with two bikes had a chance to swap and then pair up with an nsmb team rider to ride some trails and get some flow on. Riding isn't all about photo shoots and dirt jumps. This was also a chance for the rest of us to have a little fun and enjoy what Silver Star has to offer. I rode first with Benton Leong down Flow – which is aptly named. Since I was last on the trail the diggers – Cam, Mike and Jason to name a few – have sculpted berms by hand and a trail I really liked two years ago is about twice as much fun now. Benton ripped without any trouble at all. Then it was Double Dog with Ben Glassen. The upper section of the trail has some cool wall rides and stunts that were built for a Red Bull competition and lower down it gets windy in the trees as well. I could ride both of these trails every day and never tire of either – and Ben looked like he had been riding them every day.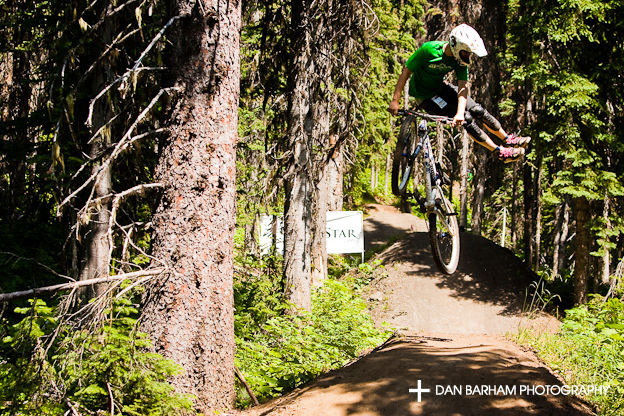 Ben Glassen brought his own style to the comp – and stomped everything. Photo ~ Dan Barham
To finish things off we rode Stubbies straight to the Saloon for some steep old school action. It was time to narrow the field to four, put them on barstools and let Brett Tippie grill them to perfection. This is another part of the process that has become more refined over the years – now that we have a better idea of what we are looking for.

Who better than Tippie to help us concentrate? Photo ~ Dan Barham
After a beer we chose the finalists: Mason Mashon, Benton Leong, Andrew Sherry and Mark Matthews. You'll see more of the hilarity once we start rolling out some videos. With Tippie on the mic suffice to say that it was entertaining. Saying his laugh is infectious is like saying Ebola makes you a bit ill.

Tippie made the riders swear an nsmb oath – so they can never say they don't know the rules of sponsorship. Photo ~ Malcolm McLaws
After the antics of the Tippie show – which was about half our questions and half Tippie jokes – it was time to make a decision. I was delayed getting to the table where the deliberations were being made and when I got there everyone else had come to a conclusion. I didn't disagree so after three times on the AIRprentice podium Andrew 'Shrew' Sherry was our man. It's great to finally have him on the team. I'd really like to be able to take the whole AIRprentice group on the team every year but we pretty clearly can't do that. Seeing the other three riders disappointed faces is my least favourite part of AIRprentice.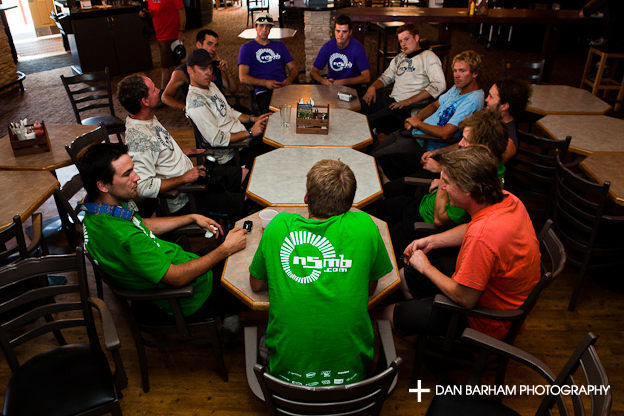 Coming to our decision is never easy – but at least this year it didn't almost come to fisticuffs. Photo ~ Dan Barham.
We've got more to say about this later on – and important folks to thank – but for now we'll let a few more photos do the talking.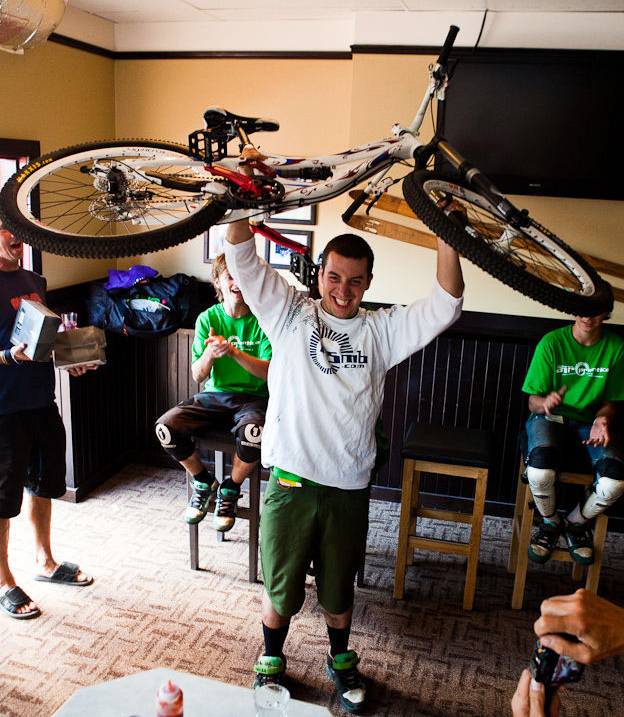 Ever since Ryan Schnepf lifted a Specialized over his head in 2004 it's been a tradition for the winner. Shrew didn't need any prompting. Photo ~ Dan Barham

You get the impression Shrew is stoked to be on the team. We're just as pleased to welcome him aboard. Photo ~ Jerry Willows
There's our preliminary dissection of AIRprentice. We have videos, more photos and more impressions to come.
Any comments about our choice? Should we have taken Tippie? Chime in here…