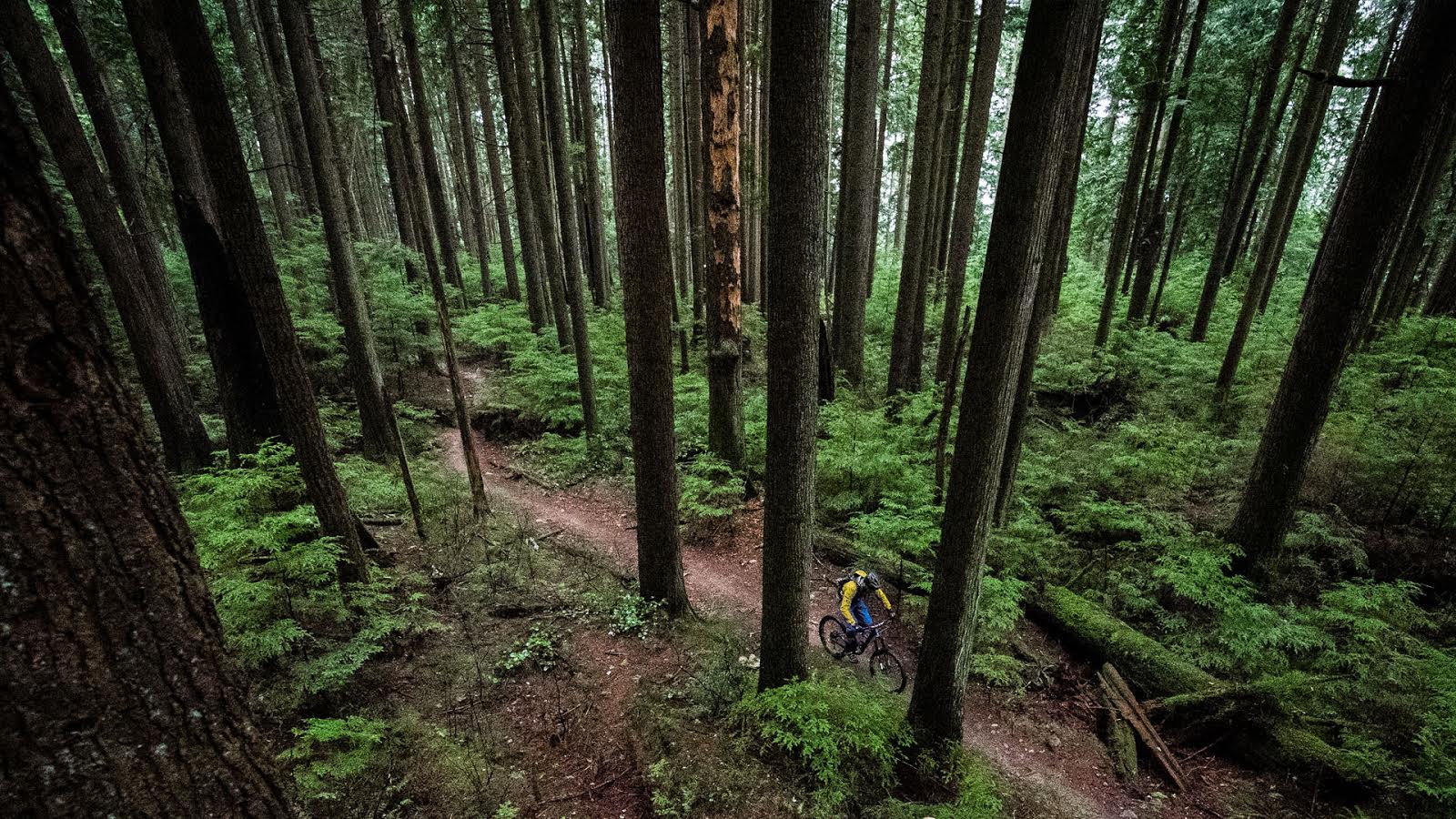 Lillooet – Della downhill
Lillooet Mountain-biking
… really isn't that developed. I would be lying if I said that Lillooet had half the number of trails of New Denver or the diversity of Rossland. Instead Lillooet's signature line isn't even in Lillooet. Instead it's about half an hour south of town on the west side of the Fraser River near an area known to locals as "Della". Della is a buff trail on a ridgeline running SE from Askom Mountain (2553m) then down to a plateau above the Fraser River. Della descends so much that you actually cross several varied bio-geo-climatic zones as you pin it downhill; ranging from sub-alpine forest to mixed deciduous and coniferous then down to desert.
Kevin hits some local features
More importantly for the freeride/ downhill crowd, Della can be shuttled on a pretty good gravel road. Major hazards are wild horses and (at present – July '09) a rockslide that presents a bit of a navigation hurdle at the 1250m elevation mark. Here are some stats about Della:
Trail length is 7.3km (all but 320m on singletrack)

Total vertical drop is 1164m (3818 feet)

The trail has two distinct portions both of which can be shuttled. The top portion starts in subalpine at 1512m (4,960 ft.). The bottom portion starts at 1270m (4,166 ft.) and descends to 348m. (1,141 ft.)


Our average speed on these runs was 41 kmh with 25 – 30 minutes of downhill descending. You will almost always beat the shuttle driver down.
---
Welcome to Lillooet! Mt Brew at 2891 m is over 2.6 vertical km above Lillooet
---
Overview
Typically I am loathe to give beta or hints about undiscovered gems like Della. However, after having spoken to the only guy who is maintaining Della (my friend Kevin Aitken), I decided to run this article about the Della Downhill and showcase the video at the end of this article. To be blunt, Lillooet's main economic driver is logging and, with the collapse of the logging industry in British Columbia, the town is hurting and could use any tourism income it can get. The purpose of this article is to showcase Della; to give the legions of mountainbikers who drive to Whistler and who make treks to the B.C. Interior a reason to stop, ride an incredible trail and perhaps to spend some money in town.
---
A third of Lillooet's regular riding population and the most active builder and maintainer – Kevin Aitken
---
Non-biking things to do
I come to Lillooet to ride so in the name of full disclosure I have to tell you that I have not actually tried any of these activities. You may have dragged non-biking significant others along on your road-trip. They will need to eat (so will you) and be entertained. Some food options are listed at the start of the article. Non-biking entertainment options are listed in the Tourism BC site, the Gold Country tourism site, and more information is available at the Lillooet visitors centre.
Some suggested activities follow:
Cultural tours of the local First Nations (St'át'imc) are available; including salmon spawning and fishery tours, a railway shuttle to Seton Lake, and cultural performances

Hikes in the surrounding area (including Fountain Ridge, the Yalakom, locally around Mt Brew etc.) – pick up the "Canyon to Alpine" guidebook

Pan for gold on the Fraser River or look for jade – lots of old mines in the area to keep rockhounds busy

Go Jet-boating

Hang out at Seton Lake (Lillooet is among the sunniest places in Canada and summer temperatures regularly go above 30 degrees with mercury often hitting 40 degrees)
---
A crew from Whistler joined us. The drive up is on very nicely graded gravel road
---
The access road to the upper portion of trail is partially blocked by rockslide but you can rock-crawl around it
---
Fast, drifty corners
---
Tyler on the upper part of the trail
---
Della – the trail
There isn't that much to say about Della that the stats can't convey. 1140m (3750 ft approx of downhill). 22 to 30 minutes of downhill, hauling ass on smooth fast trails. Chicanes of trees, scrub, cacti and brush. Ridiculous views and sightlines way down a ridge so you can pin it through forest then desert. Very few visitors (this article might change this) so the trails remain buff, smooth and fast. The pictures in this article tell some of the tale but the video best conveys the sense of sheer speed and flow of Della.

Tyler tails Kevin in the natural half-pipe of the lower section of trail
As alluded, Della doesn't see a lot of traffic at the present. Even dirt bikers don't visit (there are MotoX trails closer to Lillooet). Although no-one keeps exact counts, the locals guesstimate that Della is ridden perhaps once a month by usually the same group of locals and invited out-of-towners. This means that Della is in ridiculously good shape for such a long, shuttle-able downhill. It also means that there are no facilities at Della and that riding parties who ride here should plan on being self-supported.
Fanny rails high-speed Lillooet dirt
~ Photo Tom Hey
Here are some important things to consider when you ride here:
Make sure your bike is in top shape and bring spares of more parts then normal; eg spare brake pads; derailleur hangers etc. A spare bike won't hurt

Use downhill tires. You don't need a whackload of travel (this isn't that kind of terrain where you'll have big hits) but you will be travelling through dusty, sandy and sometimes rocky terrain at speed.

Make sure your vehicle is in top shape. The road is good and even a 2WD vehicle could make at least most of the shuttle. But a blown radiator or a non-working spare tire could ruin a good day. There is no cell service out here.

There is no food or water close to the trail. Bring your own food and water.

This is not Whistler. There are jumps but they are long floaters. There are no tabletops. This is not A-line or Dirt Merchant; it's much much faster. You don't have to be in great shape to ride Della but riding a top to bottom downhill for 30 minutes in one shot will give you quite a workout and will be much more fun then multiple stops and coffee-breaks.

Consider ensuring that someone in the group has a good first aid kit and knows how to use it.

I don't wear full-face helmets that often, but I wore one for Della. Don't mess around when you're riding fast downhill for such a long time. Doing odd-man shuttles, we'd average five to six runs a day.

It'll be hot (that's the story of Lillooet summers) but you won't be pedalling much.
More high-speed drifty corners
The Della trailhead is only half an hour to 45 minutes from Lillooet and you can see the Lytton – Lillooet highway from a good portion of this trail. Consider that, at times, you will be about a two hour drive from the closest hospital and almost always out of cell range. Della will give you a flavour of downhill-riding in the "backcountry". It will only be you and your buddies on this trail and it's unlikely that you'll see anyone else here except for the odd black bear, wild horse and rattlesnalke.
If you bring a group out here make sure they are prepared. This is a special place and any freerider/downhiller worth his/her salt should feel privileged to ride here. Don't be like a hapless acquaintance who dragged some bike-park hero friends of his all the way out to Della. They missed the Longhorn and GLC drops so much that he had to leave after a few laps amidst their incessant whining.
You should treat the trail and the consequences of crashing and injuring yourself on Della with the seriousness that is deserved.
---
Whistler meets Lillooet ~ photo Jacques Choquette
---
Tyler airing out
---
There are other trails in the vicinity of Lillooet. Of course, the singletrack nirvana that is the South Chilcotin is 2 hours west of Lillooet but is an area more appropriate for those who enjoy pedalling uphill and in the alpine. There are other freeride trails in Lillooet (I've included a snippet from the Mad "Rectal" Miner – the steepest trail I've ever terrified myself on) but those are very committing trails, with incredible exposure and high consequence moves. Those are not trails for the masses. Perhaps if one displays some degree of riding competence and bribes a friendly local with enough beer you will find those trails. For now, you will have to content yourself with "only" the 1100m + (3500 ft +) downhill white-knuckled speed fest that is Della.
---
Local flora
---
GPS map (click here for a larger size). Right click here and "Save As" to download the waypoints.

---
Google Earth tracks

---
Mountain Biking Lillooet, BC – Della – May 24, 2009 from Lee Lau on Vimeo.
Nearby bike rides
Recommended places to eat
Recommended places to stay
Have you ridden trails in Lillooet? Ridden Della? Any other gems to share? Gems to conceal? Rant, share or lie here….