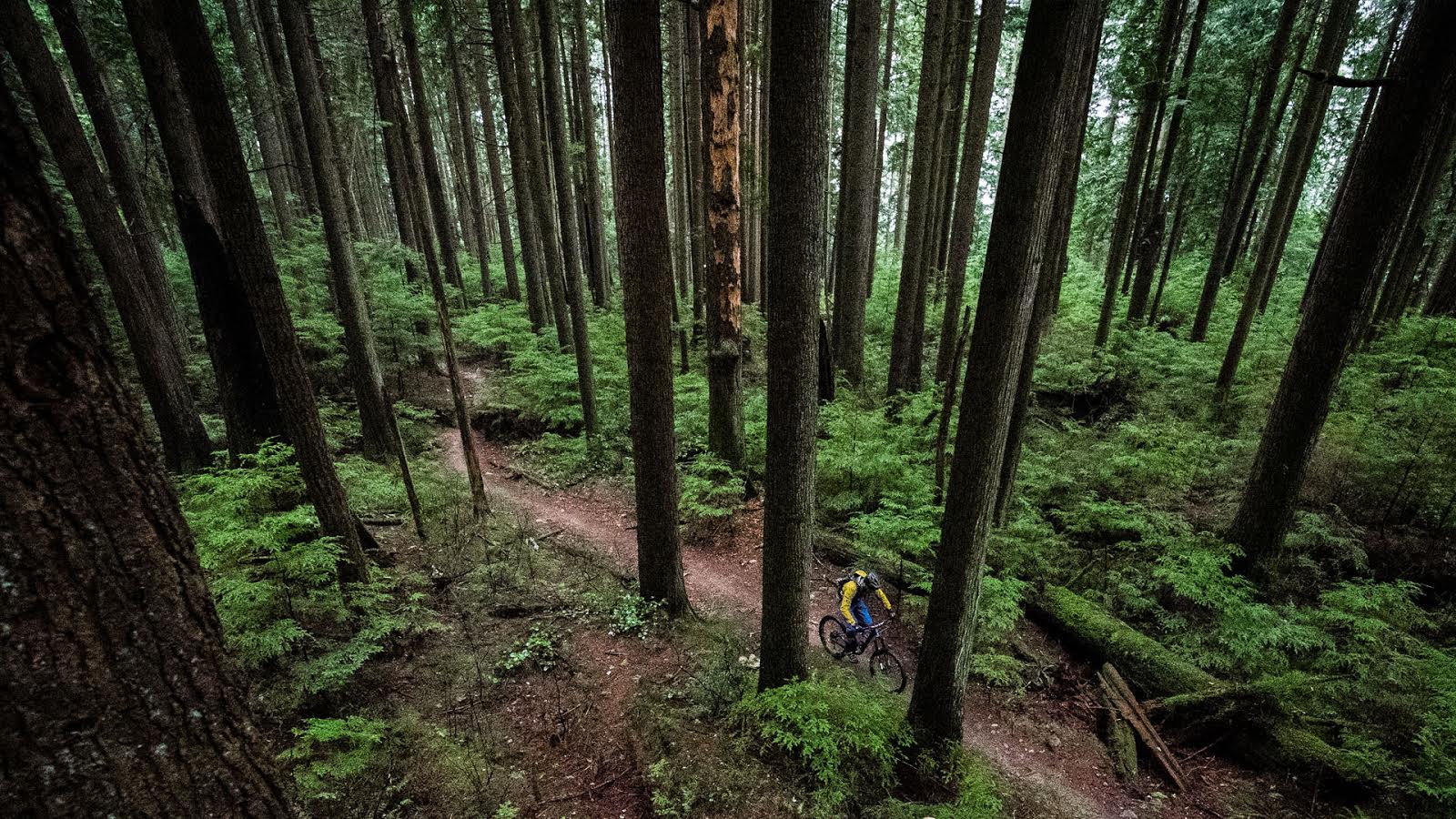 Specialized Big Hit 3 Review
Every sport has iconic brands. It takes good products and good branding to gain that distinction – and few make it.  Specialized and bicycles, mountain bikes in particular, go hand in hand.  My first ever mountain bike was a Specialized Stumpjumper.  That machine taught me about mountain biking.  It was my fun off road and it also became transportation during my poverty-stricken university days.  I still had that bike till some crack-head skid decided to boost it not that long ago.  Today, Specialized continues to lead the pack by living by their motto "Innovate or Die."

 Words to live by.
The Big Hit was Specialized's first foray into the 'big bike' arena.  There were DH bikes before the Big Hit (like Shaun Palmer's FSR Team DH) but nothing that could really deal with the heinous terrain that began to emerge at the end of the 1990's.  The original Big Hit was a reworking of the then familiar standard FSR linkage bike with an interrupted seat-tube.  The framework was burly, there was no such thing as a long-travel single crown fork and the seat was meant to stay low.  A 24-inch rear wheel ensured the bike was raked out like a chopper and the smaller hoop theoretically provided some inertial advantage for suspension performance.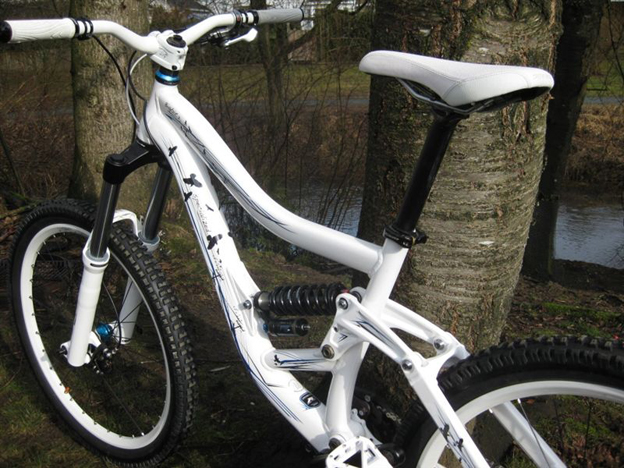 The 2009 Big Hit III – shiny and fresh straight out of the box.
Once the SX Trail hit the scene, the Big Hit model began to look a little haggard.  Aside from this, one could legitimately question the need for such a bike in a line up including a couple of different travel Demo models and the hugely versatile SX Trail.  It was clearly time for a new Big Hit.  Specialized's intention for the reincarnation is to serve up a fun, stout bike that can take a beating, handle itself down steep chutes, ruthless trails or while busting big air without beating you up financially.  Did they manage to hit the mark?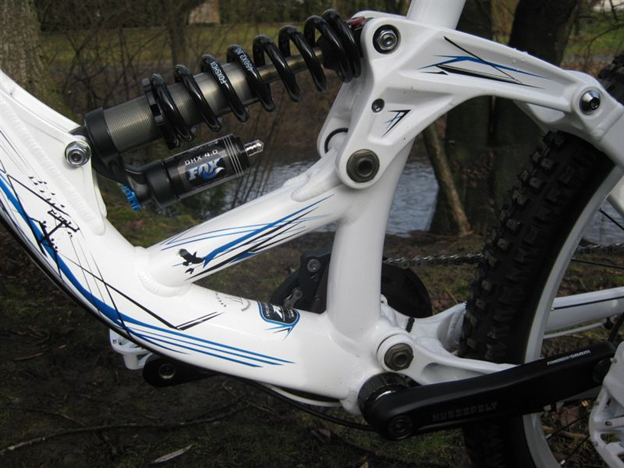 The linkage on the 2009 Big Hit frames allows for an uninterrupted seat tube.

New Design
While the new Big Hit is a complete redesign, it's rear travel relies on a version of Specialized's patented FSR configuration.  The bike has been reworked to allow for an uninterrupted seat tube (is anyone else thinking about Knolly Bikes right about now?).  No need for a telescoping post; you can run a full-length post and slam it when necessary.   Gone are the traditional straight-edged lines, replaced by a more current swoopy tubeset.  One benefit of these curvy lines is generous standover. The innovative headtube is a tapered, with 1.5 sizing at the bottom and 1 1/8 at the stem.  This is not typical budget-bike fare and nor are the carbon fibre spacers – a nice detail.  

 The Big Hit head tube is tapered so the business end of the steerer is a stout 1.5″ while the stem clamps onto a diameter of only 1 1/8 inches.  Strength without unneccesary weight.
The new geometry is a bit schizophrenic with the front end rake to a DH-worthy 65.5 degrees while the seat tube angle is an almost cross-country inspired 75 degrees.  One affect of this change is a compact cockpit.  My medium Big Hit III had a small frame feel.  An upside is that the more upright seat post angle does plant you directly over the bottom bracket in a very pedal-friendly position.  The wheelbase is identical to the older model, which was one of the longest bikes in this category – perfect for a bike aimed at vapour-trail-inducing speeds.  
Build Basics
The Big Hit is available in 3 models (four if you count the kid-friendly Big Hit Grom).  The one provided to me for this test was the top of the line Bit Hit III.  

 Avid Elixir brakes – a top level component on a reasonably priced DH bike.
 
"Spesh" had a big challenge in producing a burly, practical and usable bike at a reasonable price.  The product managers churned out this version of the Big Hit with just enough top notch components to grab your eye while rounding out the build with in-house and budget minded items to ease your wallet.  Avid Elixir stoppers are not typically going to be seen on a budget ride – but they are here.  Budget bikes do often feature downgraded but recognizable suspension elements.  This is certainly true with this build featuring the unspectacularly performing Rock Shox Domain 318 and the Fox DHX 4 coil.  And like so many rigs from Specialized, the build is rounded out with SRAM componentry including the stellar performing X9 derailleur. The build is finished with S branded pedals, bars, stem, post, shifters and saddle.  The white-painted hoops are Specialized-branded DT-Swiss models as are the blue hubs.  Even the rubber is the house-brand Chunder-Dual's (2.3).   A Truvativ guide keeps the chain on teeth.  Everything is colour coordinated.  All that's missing is a rider in a blue-accented white jumpsuit  to round out the look.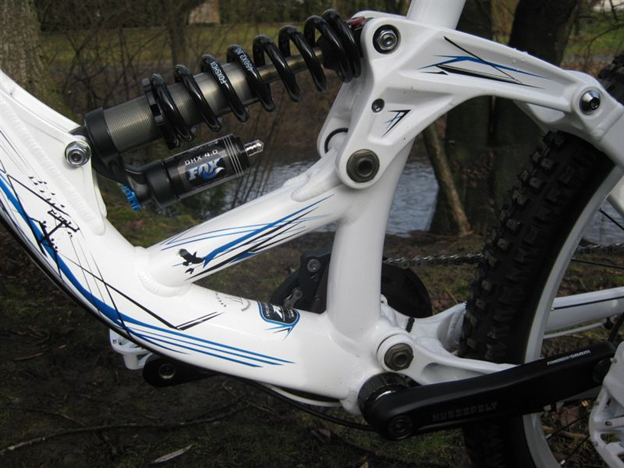 A Fox DHX 4.0 provides the rear squish.

It seemed to me that an oversight is the lack of a front derailleur, and a guide that would support a 2-ring setup (i.e. E13 Dually).  This would not have added substantially to the price nor the weight and would make sense considering the pedal-friendly geometry.  At around 40 lbs this bike doesn't play with the All Mountain crowd – but many of us still like to earn our turns. 
Following the Beat-Down
I am not afraid to mash pedals to get a very big bike to the top.  The 36 tooth front ring and 11-34 cassette will allow hard-core boneheads like me to get this done, but not without getting a glimpse of a white light and Jesus.  After a couple of goes on Vedder Mountain, I succumbed to the lure of the shuttle and often resorted to the good old-fashioned push.  

 The Big Hit III likes the steeps – and so does Mark.

The split personality of a short cockpit and long wheelbase had me wondering, "would this bike like to fly or stay put on terra firma?"  Once out on the trails the Big Hit showed its hand by wanting to go fast like a DH rig.  The shorter travel and the more "budget" shock and fork kept the bike stuck to the ground.  You can point it downhill, lay off the stoppers and hang on.  The Big Hit III is DH worthy and it inspired confidence to really mach some of the runs.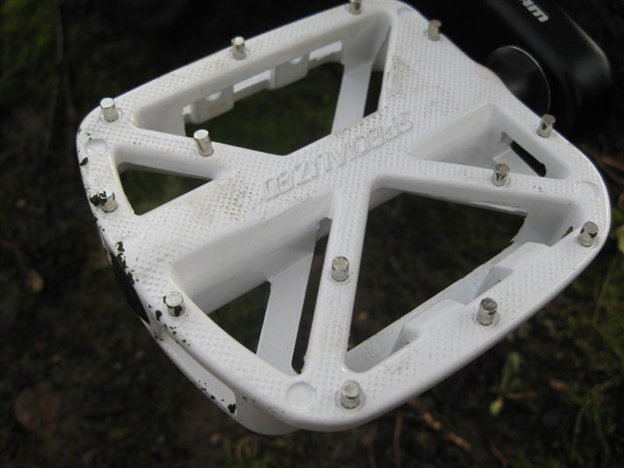 S Branded pedals with lots of grip.
Often when I am riding a new bike on familiar trails, I make the assumption that I might need a bit more speed off jumps to give me a little margin of safety.  I still found myself nearly coming up short, time and again and only some serious body English got me to the trannies.   Like some early virtual pivot bikes this ride doesn't seem keen to leave the ground. This is not a bad feature if you like a stable, terrain-eating ride that inspires you to go faster without beating you to a pulp.  Just don't expect to log a lot of effortless airmiles here.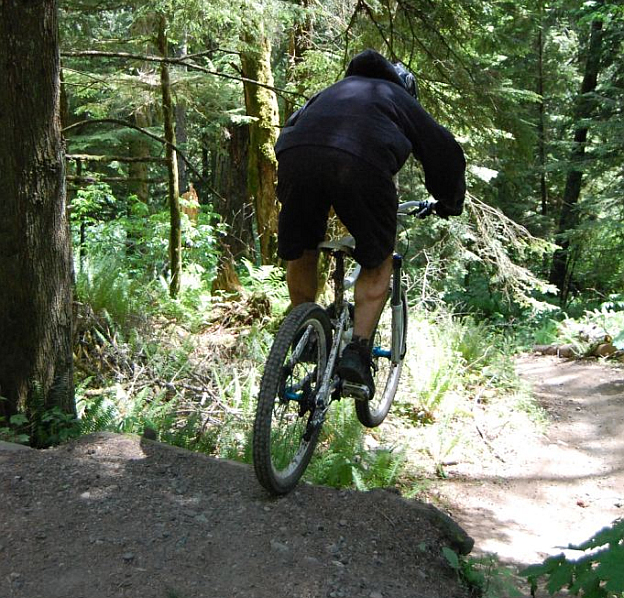 The Big Hit III needed to be coaxed into the air.
After several months of abuse during some of the most grizzly winter months with the attendant mud and slime, the Big Hit worked flawlessly.  I did not so much as clean the chain and aside from some minor drivetrain adjustments, the shifting and braking has been flawless to the end.  The wheelset has remained true and the hoops are un-dinged despite my best efforts to deal them some measure of brutality.  The real shortcoming in the budget-minded build with respect to performance was the fork.  The Domain fork does provide ample functionality but when pushed it begins to show its short-comings.  You will have to make a decision to accept blowing through all of your travel in a rather linear fashion on moderately big hits if you set up for good small bump compliance or choose to have you teeth rattled out of your skull on these small hits in order to have something available when the big work is required. Given that this sled doesn't like getting lofty, one might simply accept that the fork can be set to smooth the small chop and forego the need for more because you won't be flying aboard this bike.  The DHX 4 performed admirably but it just did not do anything that would inspire one to sit up and take notice.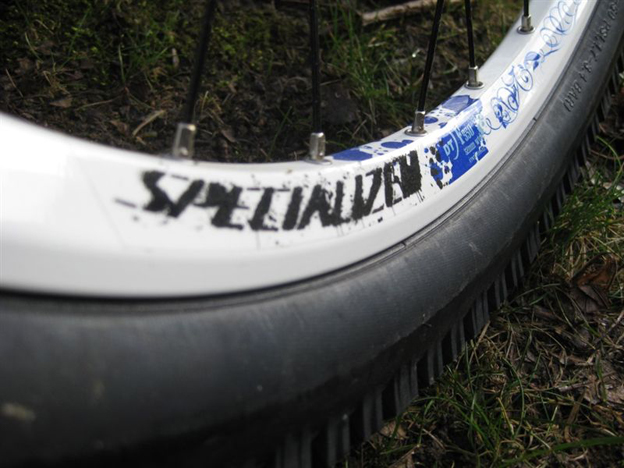 DT rims with some 'Special' flair.
With the Big Hit III, Specialized has done a good job of meeting its mandate.  Despite some short-comings this was a fun bike to ride.  The Big Hit is a burly ride that can take a thrashing without falling to pieces.  This is no Walmart piece of crap and won't disappoint those whom have laid down their hard earned shekels to get their first decent ride. This ride will inspire confidence to go faster by smoothing out the steep and uglies.  The new, budget Big Hit will likely become a stopgap bike in a rider's evolution from newbie-shredder to full-on, experienced rider.  For most on this continuum higher quality gear accumulates over time.  The Big Hit fits nicely on this evolutionary path.  Unlike other similar rides, the Big Hit is built with enough quality that it could potentially evolve with the rider. Hats off to Spesh for taking the "budget" category and making it look decidedly upscale and perform admirably.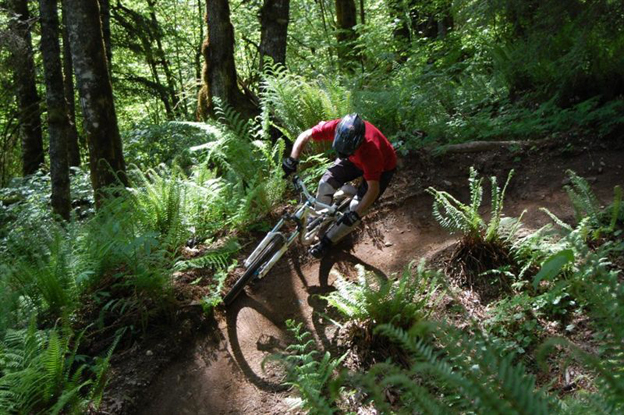 Happy on the ground and in the corners.

MSRP is $3069 CAN and $3000 US
The Good:
• It's a Specialized….need I say more.
• Budget ride without the budget appearance
• Awe-inspiring high speed and "steeps" performance
• Nice mix of non-budget components (i.e. Sweet Elixir stoppers)
• Burly – won't become a big pile of nuts and bolts after one season of riding
• Trick-looking paint and colour co-ordinated componentry and graphics are going to get noticed
• Swoopy tube sets are certainly eye-catching
The Bad:   
• Lack of a front derailleur is a short-sighted limitation
• Mediocre fork performance limits scope of usability
• Trick-looking paint and colour co-ordinated componentry and graphics are going to get noticed.
• Swoopy tube sets are certainly eye-catching (Google AMC Pacer if you want to see why eye-catching is not always a good thing). 
Interested in trying out a Big Hit?  Would you like to see more reviews of bikes that won't break the bank?  Questions for Mark?  Serve 'em all up here…