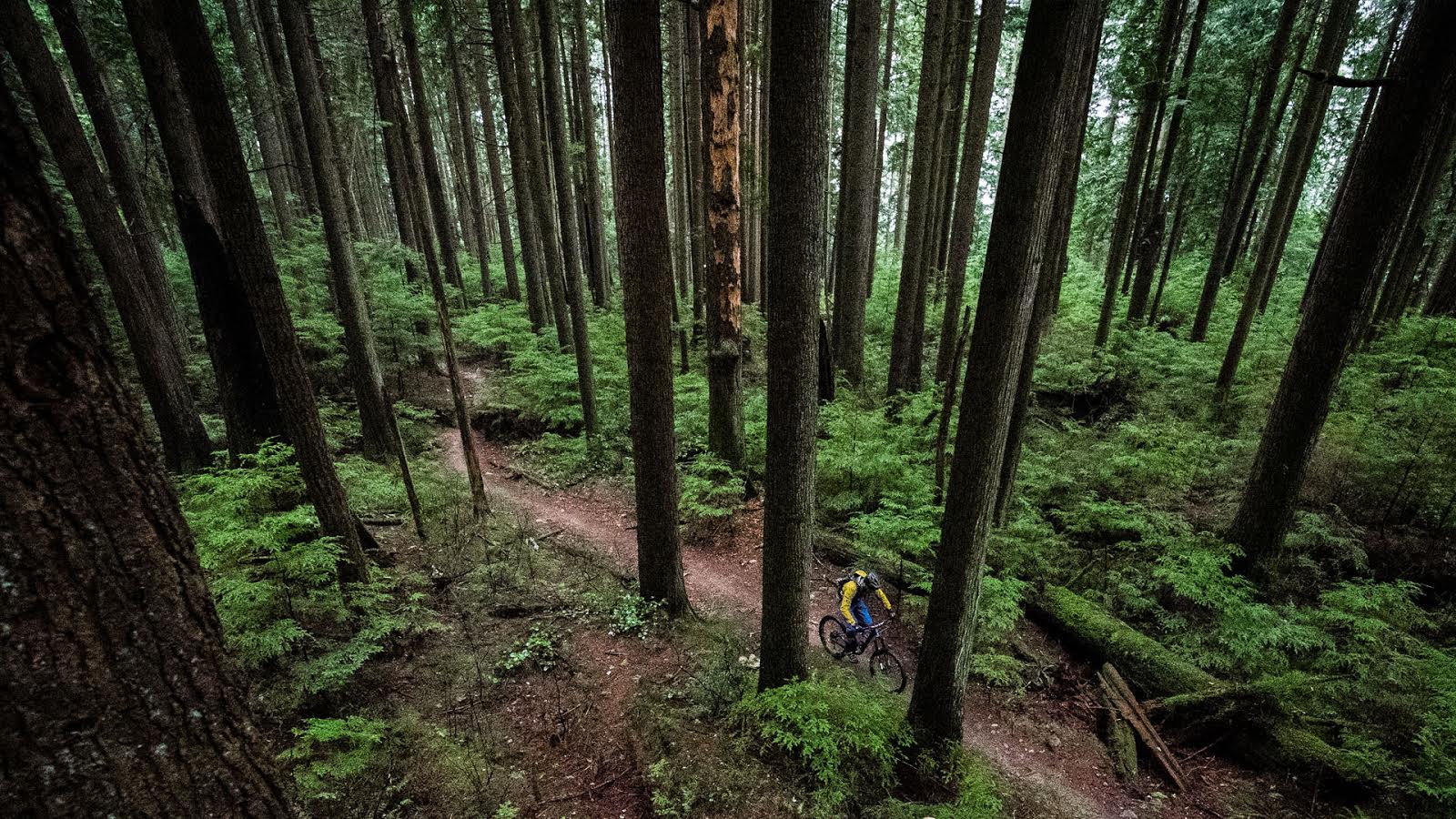 Kona Shonky Inc.
For many of us the search of a new hardtail can be a daunting task. We want a bike that is durable yet functional and kind to your wallet. Fortunately many companies offer just that – but there is often a catch. Manufacturers create beautiful frames that are sturdy and live up to the expectations of riders. Then, to make the bike affordable, they slap on cheap low-end parts and in many cases quality is sacrificed for price. The men and women at Kona were able to design and construct an affordable hardtail that is solid, lightweight and accompanied by an assortment of high-end parts. Enter the Kona Shonky Incorporated
 
Given some assistance by companies such as Atomlab, Avid, and Rockshox, Kona has put together a top-notch bike, with input from Canadian shop owners and riders. Straight out of the box the bike is ready to ride, with no need to change parts to improve performance. The Shonky INC is capable of adapting to a wide range of riding platforms from dirt, street, park to 4X.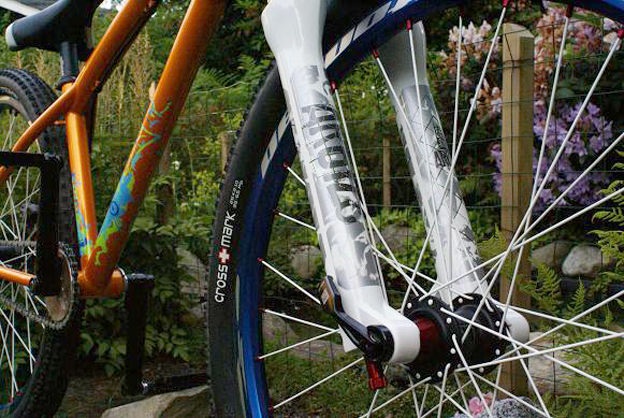 Kona was fortunate enough to have Atomlab provide a custom finished set of Pimp Light wheels that are strong and light. After some quick routine spoke tensioning and maintenance, the singlespeed specific wheelset will be ready to handle the abuse. The hubs are tightly sealed preventing wear and tear on the bearings and providing a smooth roll. Also, the Maxxis CrossMark tires are aggressive enough for dirt while having little rolling resistance on pavement. Suspension is taken care of by a custom painted Rockshox Argyle 409. The 100 mm fork offers convenient and quick adjustability to adapt to any riding style. The Rockshox Maxle also allows the front wheel to be removed with ease.
 

The Shonky INC comes loaded with two 6" Avid Juicy 7s – the front one I removed because I don't need it. After a brief wear-in period the Juicys provide maximum stopping power. Plus the pad contact knob is very convenient.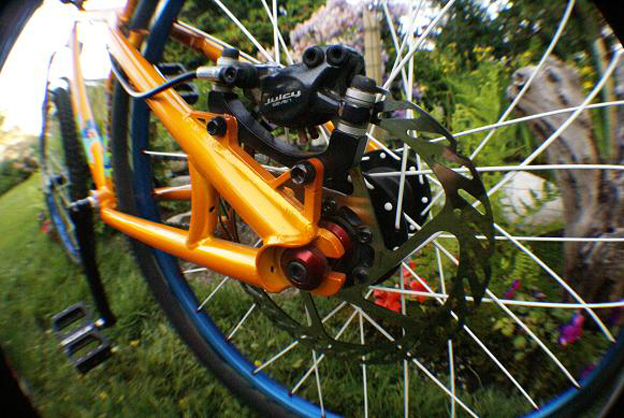 Upfront you'll find 28" Gravity Light bars and stem; light and comfortable. The Kona Race Light grips left something to be desired as they weren't lock on and wore fairly quickly. Kona incorporated an integrated FSA headset into the frame which is a plus.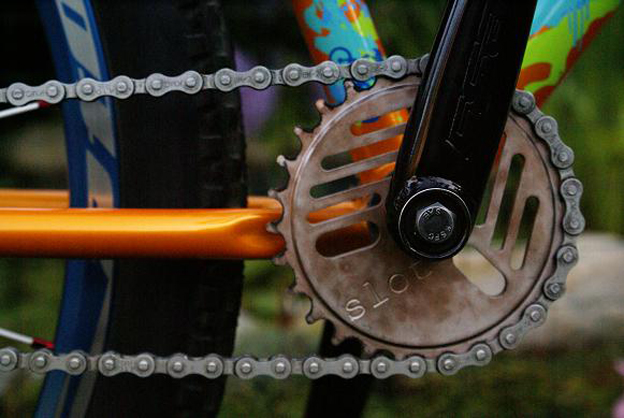 The Shonky INC comes with a FSA Slot 28T crankset. The BMX style cranks were a comfortable length (175mm) and felt very solid. Also, the gear ratio (28 – 13) was suitable for riding to and at the jumps – not too easy, not too hard. Kona threw in a rare set of their jet-black Wah Wah pedals that cannot be bought retail. Alien nation took care of seat by providing a pivotal seat and post – a great accent to the bike's appearance. One downside is that the stock seat collar is bolt-on and can only be adjusted with an Allen key.
                                         
The chainstays – at 15.9" – are long enough to make the bike stable while dirtjumping but are short enough for street. For the rider who likes to spin, tap on their rear wheel or bunnyhop onto obstacles, weight distribution shouldn't be a problem. The same goes for manualling – the chainstays are a suitable length while maintaining a balance between dirt and street style riding. The geometry works exceptionally well for cornering and generating speed. I always felt in control on the bike and my center of gravity felt evenly balanced. When things got squirrelly on a poor landing, the Shonky INC was able to hold its own – to ensure I came out alive.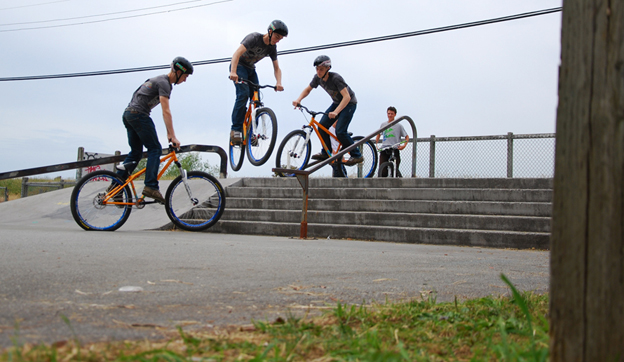 From the start, the Shonky INC never came up short of impressing me. The tangerine gold paint, electric blue rims and complimentary decals are definitely candy for the eye. The bike weighs in at a respectable 29.6 lbs – and even less after removing the front brake and rotor. The frame also features v-brake tabs for the riders who want to save even more weight. After a quick height adjustment with the stem, the bike felt evenly proportioned. And the 69° head tube angle and the 12.7" seat tube felt spot-on. The horizontal drop outs allow for easy removal of the rear wheel as well as the ability to tighten the chain – which was useful to fix some minor chain skip. Overall, any dirtjump or street enthusiast will find the Shonky INC an absolute blast to ride.
The Shonky Incorporated comes in two sizes: 23.1" top tube (small) or 23.6" top tube (large) and can be purchased for a MSRP of $2299. Only 11 frames and 39 complete bikes have been built and they are only available in Canada. If you are interested, act quickly and contact your local Kona dealer for info.