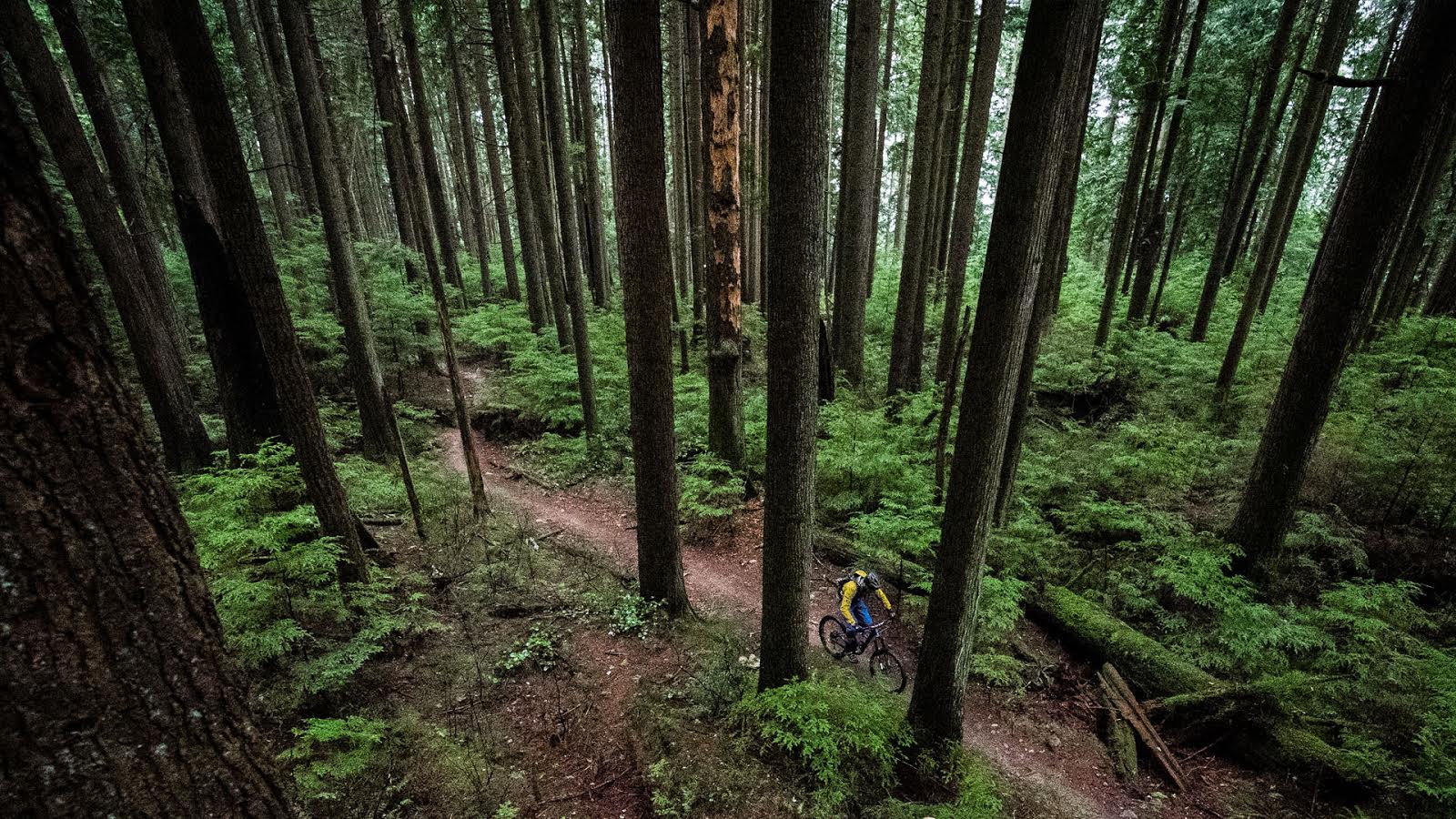 The State of the Park
Hopefully you've put some substantial time in the saddle this season. You want to have your 'jump' on by now, and be fit and ready for Whistler season, where you can conveniently cram the equivalent of a month's worth of riding into a weekend on Fitz chair. No shuttling. No climbing. Don't bother pedaling if you don't feel like it. Just pin it downhill all day long. Despite the berating of the purists who still insist you must earn your descents by pedaling up, you just can't beat 20 000 foot days! The season has been going strong up in Whistler since May 16. It's been 6 solid weeks of Schleyer, Joy Ride and Crack Addict, followed by back to back laps on Dirt Merchant and A Line, just because they're so damn perfect this year. And to think, now that Garbanzo has opened there's another 2200 ft to add to the 1200 ft descent from mid mountain! That's right, do the math, 3400 ft descents top to bottom!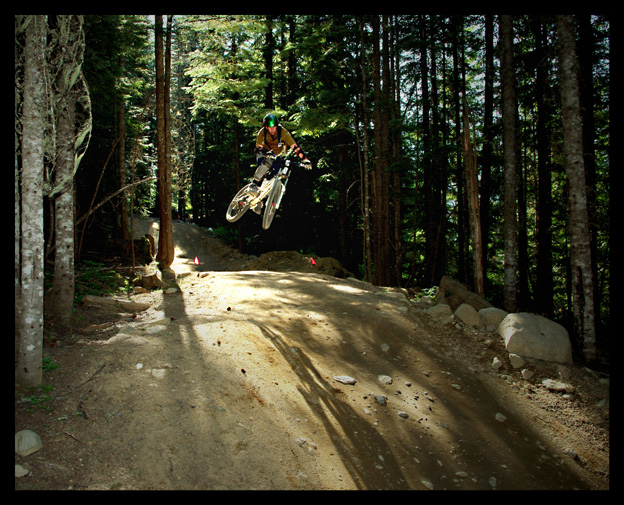 Simon Adcock enjoying A Line in pristine condition.
Mid mountain riding at Whistler marks the beginning of the resort riding season in B.C. June was a big month with another six big mountain resorts opening throughout the province. Mt. Washington, Sunpeaks, Silver Star, Fernie, Kickinghorse and Panorama are now all turning the lifts. Noticeably missing from the list again this year is Cypress Mountain closed for a third summer as they finalize construction for the 2010 Olympics. And contrary to April 1 rumours, Grouse Mountain will not be taking up the slack! That was a heart wrenching April Fool's by the way Cam! You can add the opening of Garbanzo and Extended Play to the list making June in B.C. a massive month.
In fact, it's a big month in North America. It's interesting to put things in perspective. Whistler not only marks the beginning of the park season in Canada, it leads all resorts on the continent. Of the larger resorts in the U.S., Northstar in Tahoe opened June 12, Mammoth, CA June 20, and Keystone in CO opened June 26. The closest opening to WBP is Angel Fire in New Mexico. They opened weekends only May 22, but keep in mind they are nearly 3000km due south! And I'll save your curiosity. When I read the claims last year of Northstar and Mammoth nipping at the heels of Whistler for the crown of bike resorts, I embarked on a first hand investigation. Although any day in the saddle is a good day, my expectations were shattered to say the least. Hats off to their efforts but they hold not a candle…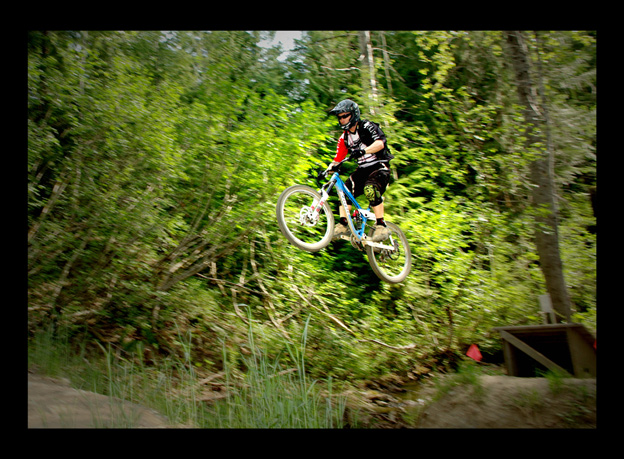 Dom from patrol hitting the creek gap on Dirt Merchant.

Early season in the WBP held fresh dirt, small crowds (especially mid week) and some buff trails with solid improvements from last year. Thanks to the hard working volunteers who removed the late season snow, the trails were for the most part good to go from the start. Sure, there were some soft spots on opening weekend, but things are dry and fast now. And the work the trail crew has done already this season has been inspirational. The berms are buffed and lips smooth as silk. Some brake bumps have materialized, inevitably, but the crew is keeping on top of things with rotating closures to back fill berms and pack in ruts, most recently on lower A Line and Heart of Darkness, not to mention a fantastic new berm at the bottom of the rock slabs on Lower Whistler Downhill meaning you no longer skid out entering the trees on the permanently moist slab. And how about the new look on Angry Pirate!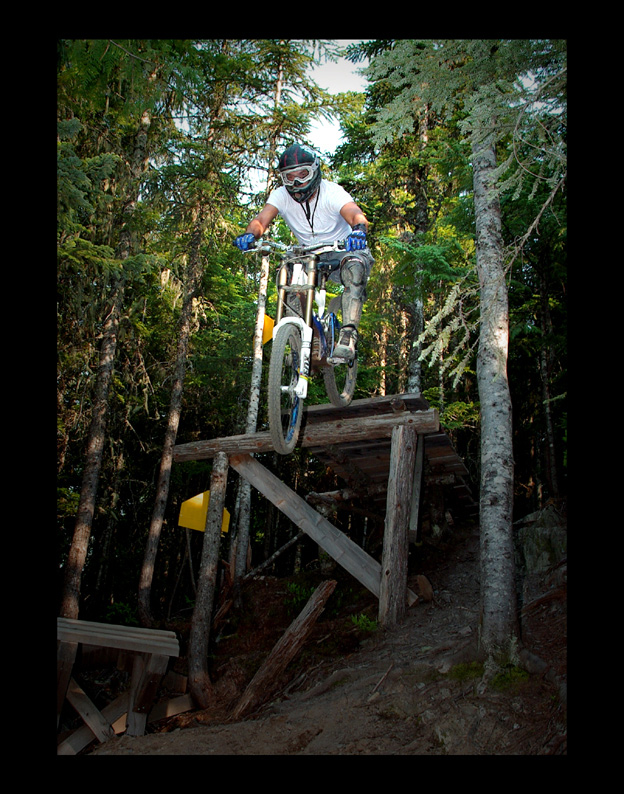 Fred Masse on the Clown Shoes drop. The landing has been buffed this year.
If you haven't been up this year, there's been some significant sculpting and improvements to Dirt Merchant & A Line in particular. These are two trails that see some condensed assaults prior to the upper mountain opening. A Line opened the season the same trail as last year for the most part, but after closing the top and middle sections for a few days each, it reemerged in a state of perfection. They've rebuffed the lips and smoothed the berms and even added some whoops. There's a new mandatory wood feature on entry that I've seen more than one rider overshoot (myself included!). It's a very short table, so be careful on your first time. You can easily roll it, which I've seen some riders do. Makes you wonder about the purpose of trail filters even though I know what the trail builders are getting at. More significant, the first step down into the trees is now a table with a closer landing which means you no longer have to pin it into the first berm to hit the transition. The crew has also put some whoops into the run in to the stump jump (just past Crabapple turnoff) which, at first, made me wonder if they would kill your speed for the high right lip. Even with the new whoops you still easily have enough speed and in fact it they may prevent any pinners from overshooting. They're definitely fun to pump through compared to the previously flat track run in. The four pack seems easier to run clean this year with the new lips but be careful as the second one is pretty easy to overshoot now. And the shale section has been repacked with dirt and saves you from the risk of high speed flats. All in all, a heck of a lot of work has been done already. Any rider who makes the pilgrimage to Whistler has A Line at the top of their list, for good reason. It's become a rite of passage for visitors new to WBP. "Did you run A Line?" is the first question anyone's asked on their return home. It just might be the best known trail in the world. And according to my nurse at the Whistler Health Care center, it's responsible for the most carnage.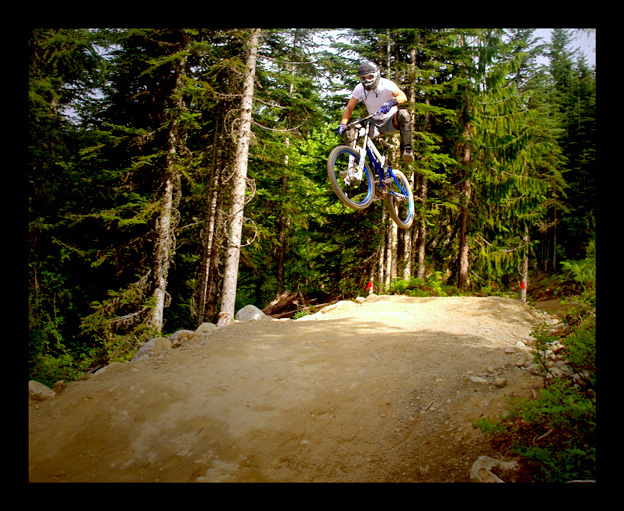 Fred Masse doing some business with the Dirt Merchant. This year's incarnation of the Merchant is the best ever.
Dirt Merchant has some slight changes too and when it opened a week after the park's official opening with the traditional expected delay, we were advised to take a recon run to check out the changes. First run was comparable to getting fresh powder. When it did open it was mid week and there wasn't another rider to be seen. Not a tire track or a brake bump in sight, the new, massive berms were even tacky! The step down near the start has been stretched out, and the lips on all the jumps are perfect. The dirt was a bit slow in spots first run but has since packed in and the course is now dry and fast – comparable to a pump track. You don't even need to pedal, it's that smooth! Ok, maybe just one or two strokes before the wooden creek gap. The berms are bigger and better than last year and the two prior to the bridge have finally been perfected.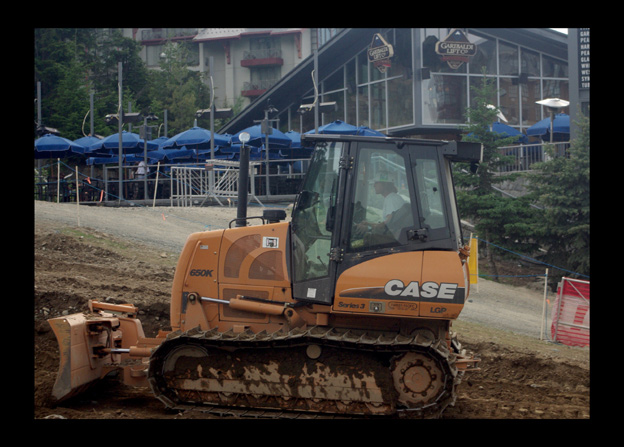 John Cowan building the Boneyard.
But yes, we have hit our fair share of the techie trails too; Joyride, Schleyer, French Connection, Rock City, Whistler Downhill, Clown Shoes, etc. However, there's really nothing new to report on those other than a smoother landing on the Clown Shoes drop and the new berm on Lower Whistler Downhill. Its business as usual for the tech trails thus far. Other changes include the Crank it Up wall rides which have some cool new paint jobs (thanks to Race Face), and the new trail Samurai Pizza Cat which is a rooty, loamy (yes loamy!) almost hidden trail that albeit short, has some great flow to it (it's reminiscent of Renegade, although without the steepness). It's a great new addition to connect to Crack Addict/B Line/Devils Club. Angry Pirate has been significantly resculpted both upper and lower and is faster and flowier than last year. Lest I forget to mention Crabapple Hits which are perfectly sculpted, meaning I can only blame myself when I spear my landing which I've done on two close calls already this year. You wouldn't want to mess up your landing at the speeds you hit on CH. We all know where that can get you.
The crew has set the standards high early in the season, just in time for their workload to increase another 2200ft with the opening of Garbanzo, and things have changed up top too, so stay tuned for an update on Garbo.

Unknown riders on Heart of Darkness. (email me if you can identify the suspects).
The Park is a great place to see some local pros. Brandon Semenuk and Adam Billinghurst have been in the park on their Session 88s, with Billinghurst wearing a shirt saying 'your bike sucks'. Winning the chainless BLine race (some controversy ensued!) he may have a point. Richie Schley graced us with his presence on his German Rotwild. Thomas Vanderham has made some sporadic appearances as well. The line up is a great place to see some new bikes too. In fact, there have been just a handful of Trek Session 88s in the park this spring. There's been a fair amount of the sold out and anxiously awaited 09 SX Trails – one word; sexy. Riders are turning their heads at the new releases, and that goes for Evil Bikes as well. Gabe Fox was running one on a weekend visit and a handful have been seen on the mountain since. Recently, Scott Pilecki from Steed Cycles was seen smiling diabolically from ear to ear with his new Evil machine. I've even seen two riders running the limited edition front/back Gee Atherton World Cup Fox suspension and the reports are in; "Phenomenal! It's like a new bike!" said Fred Masse, who mounted the new suspension on his Giant Glory DH. He managed to get #2 in the edition from Cove bikes. Gee, I wonder who's got #1? The other set was on an Evil DH from Dunbar Cycles. At $3 000 (front & back), and only 200 in the world, you won't see many of those setups this year.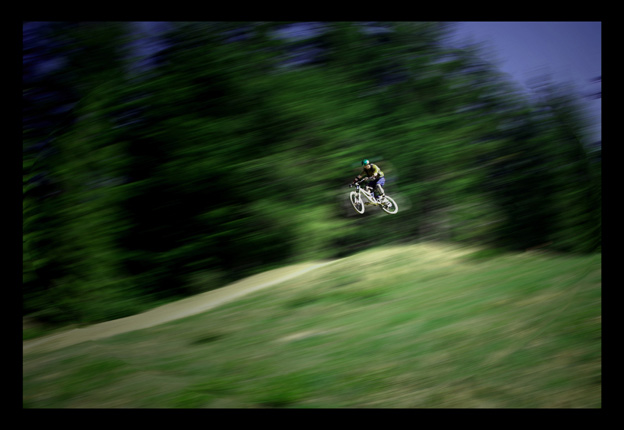 Simon Adcock at mach 3 on Crabapple hits.

John Cowan has finished the Boneyard and Dual Slalom. This year the two mingle together, with the slalom passing right under one of the massive wall rides! The main complaint of the Dual Slalom thus far is its slowness; tight berms and relatively flat traverses. It's a real challenge to get it dialed this year, especially on a DH bike. Some recent changes have been made, the track has firmed up, and some of the slopestyle rippers look like they're getting it dialed in. Semenuk was out on his jump bike doing an exclusive tour of the Boneyard before it was opened to the general public, chaperoned by Boneyard crew and now-local Aussie ripper Sammy Collins.
It's only just begun, as the Carpenters sing. There's lots happening this month in BC and I already feel like I've put in a full season of riding over the last three months. It seems like so long ago that we were all 'jonesing' for the snow to melt. Our tribe has made voyages already to Pemberton, Vedder, Sumas, Ledgeview and even a road trip to Kamloops to take in Harper and a few other local stashes this Spring. But now that summer is here and the Bike Park has opened, we haven't gone on any road trips. We haven't even made the drive up to Pemby. We dove in head first and are bike park junkies again this year. It was inevitable, as it is every season. No one in our crew can resist the lure of the Dark Side, and we each happily slapped down the $446.25 for a season's pass. With 30 days in the park already, even with 2 weeks out of commission, I'm easily on target to hit 100 this year. That's $4.47 per day-not a bad deal if you ask me. Hats off to the trail crew at WBP who've done a phenomenal job thus far. In fact here's a tip of the hat to all the trail crews at all of the resorts who've shoveled the muck and battled inclement opening day weather (who rode Mt. Washington opening weekend?!). I'm stoked for what's just around the corner, and now that my separated shoulder has healed, all the bike parks are open and ripe for the picking! Take it from me, stay injury-free, it's a long season and we're only now just about to enter into the heart of darkness.
Check out our Whistler Forum for more on the Bike Park.
Or roll over to whistlerblackcomb.com/bike