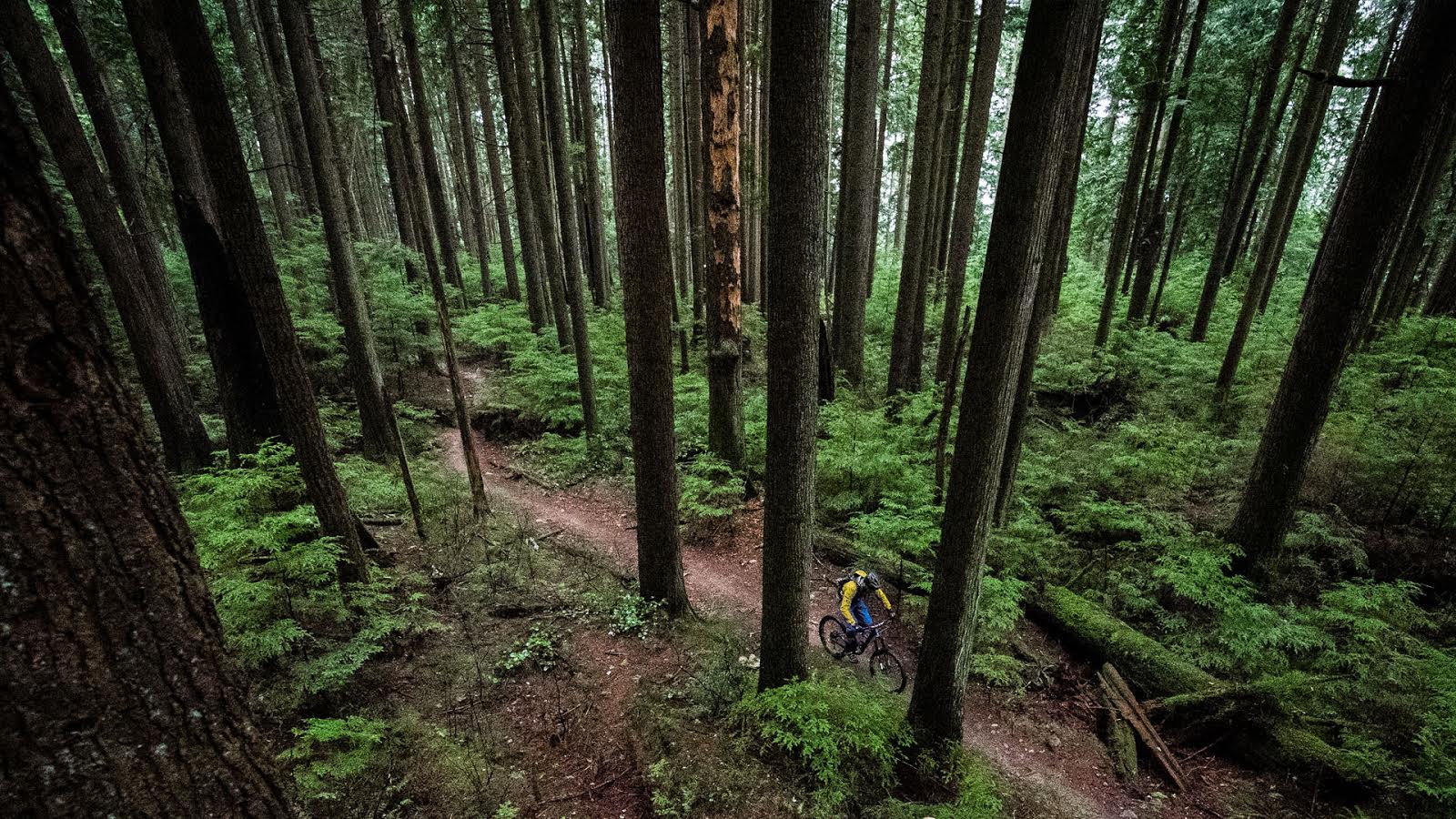 Smackdown DH Photo Essay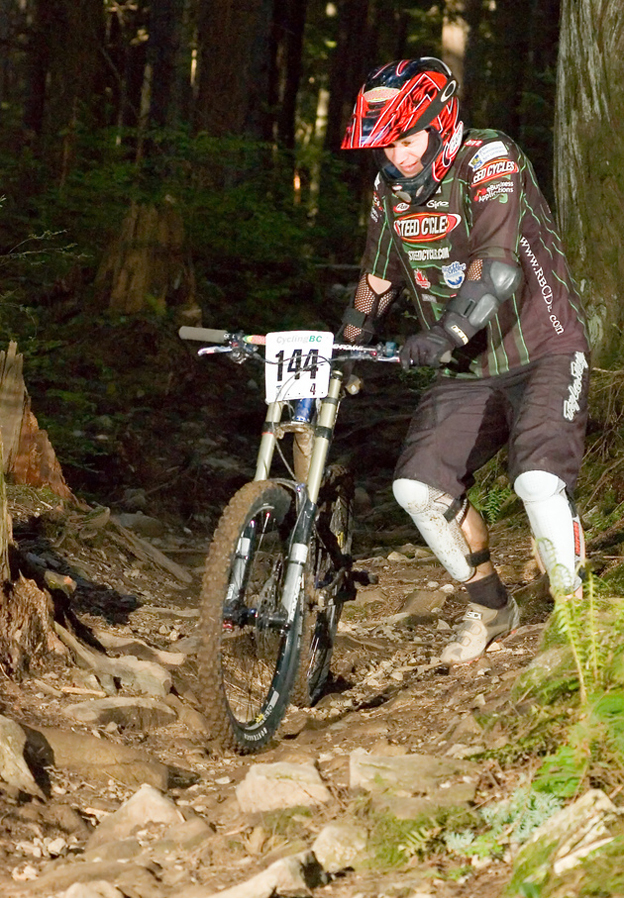 Bryon Enns has been racing for a long time. Some might say a long, long, long time. As a wily veteran, he seldom shares his secret race lines, and he's famous for playing possum in practice to psych out his fellow racers. This time he took it to a whole new extreme!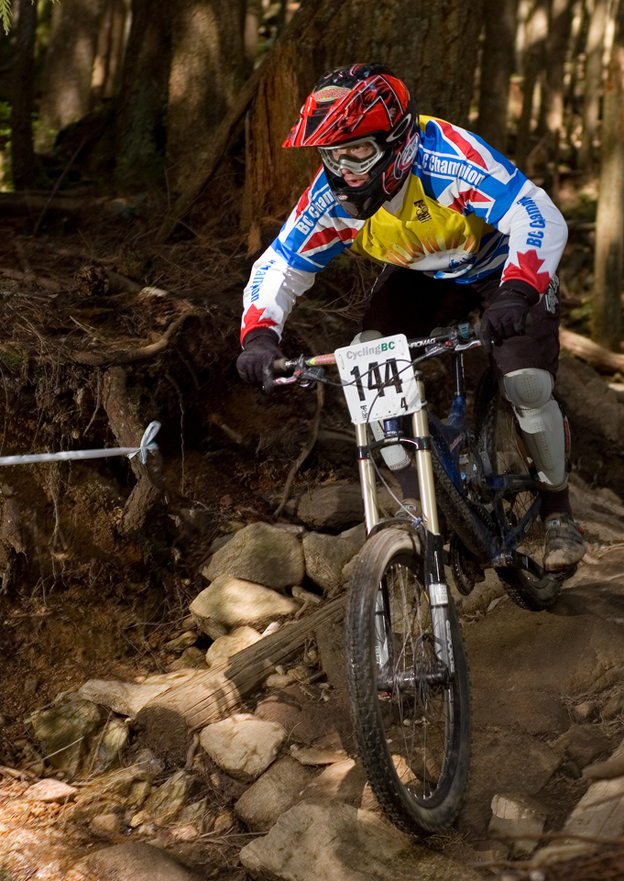 Of course, his methods pay off. Bryon is the reigning BC Champion in the Masters 30-39 class. At the age of 43, he still lays a whooping on the young sub 40 year olds with consistent podium finishes.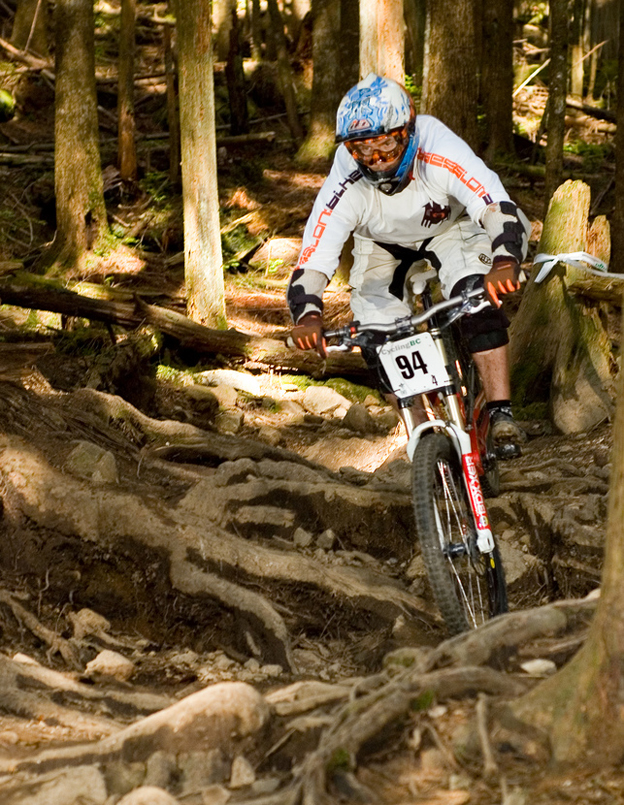 This weekend's top box in the Masters 30-39 would not belong to Bryon though. Eric Anderson would lay down a blistering 3:00:85 run to take the win. The Masters classes are likely the most highly contested group in most races. These guys have been racing for years, stood on their share of podiums in the Pro/Elite category and now are just doing it for fun. The comradery is huge, as well as the heckling. The bench racing usually starts in the NSMB forums months before the race.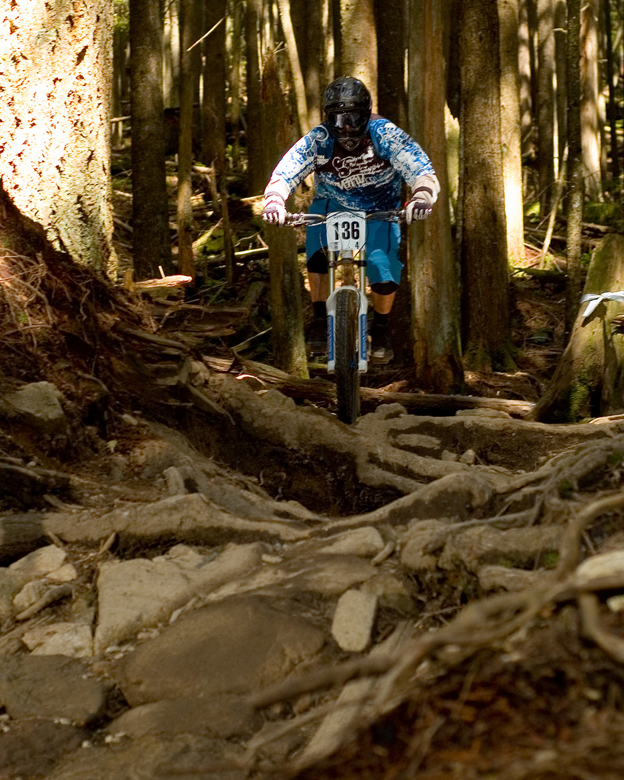 Bryan Gioia is a long time local ripper. Most local riders are familiar with the Burke Mountain riding area and the trail named Vic's. Well Vic is Bryon's dad, and this father and son team have been working on trails and riding bikes for over 20 years. Last year Bryon decided to give racing a go and has stood on the podium in every event he has entered. The Neds race would deliver a little smackdown on Bryan though, coming into the natural drop a bit hot and a lot loose, he crashed upon landing, knocking himself unconscious for a brief moment. He would gather himself back together and still finish the race (hitting the remaining gaps btw) before heading off to the hospital for a safety inspection and CT scan. Fortunately the picture of his brain didn't show anything (couldn't resist buddy!) and he'll be good to go again with some rest.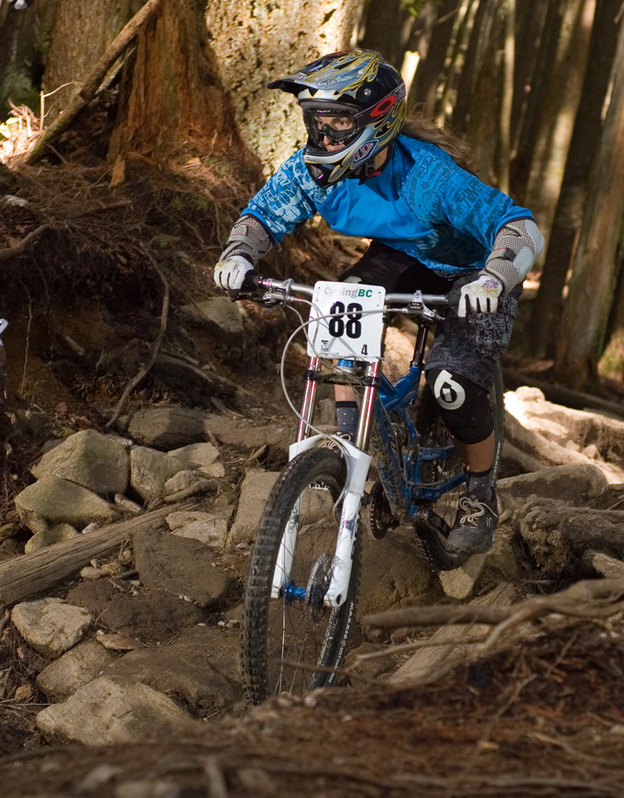 Keeping it in the family is Bryan's significant other, Karaleen Westmoreland. Also a long time local ripper, she is racing her first season this year, and like Bryan has stood on the podium in every event she has entered so far. Despite a disappointing run on Neds, she still took the 3rd spot on this weekend.


 I was fortunate to snap a shot of Bryan and Karaleen training the Neds gap in a practice session a week before the race. They say couples that play together, stay together. These two do it in style!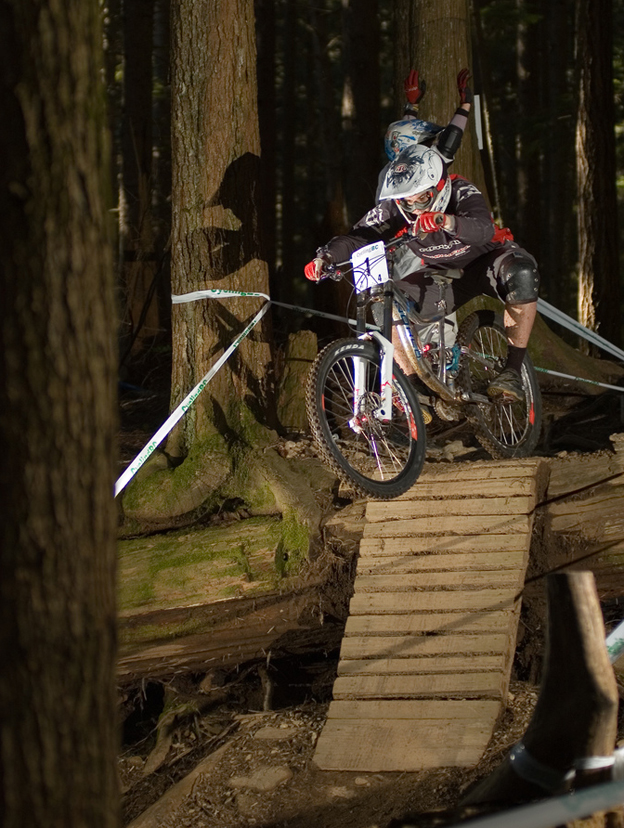 Enough about the old folks, here's a shot of Tim Coleman on the natural drop in practice. There was much pre-race discussion on this particular drop. Many felt the speed carried through this section would be much too high to land the drop without risking bike and body. Here Tim hits it fast and low.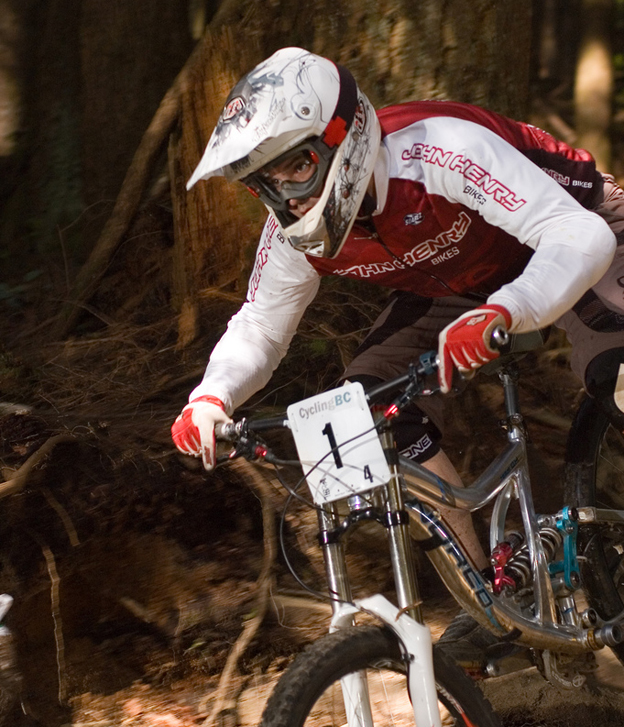 At race speed, the racer's concentration is crucial. When I first started shooting with flashes set up on the course I was concerned that the burst of light necessary to freeze the action for a photo would break that focus, even for a split second. Talking to a few guys about my concerns proved that my worries were unfounded and that they are so focused on the trail ahead that it was of no concern. In the above shot of Tim Coleman and the one of Ewan Fafard below you can see in their eyes that the only thing on their mind is the next 30 feet of race course.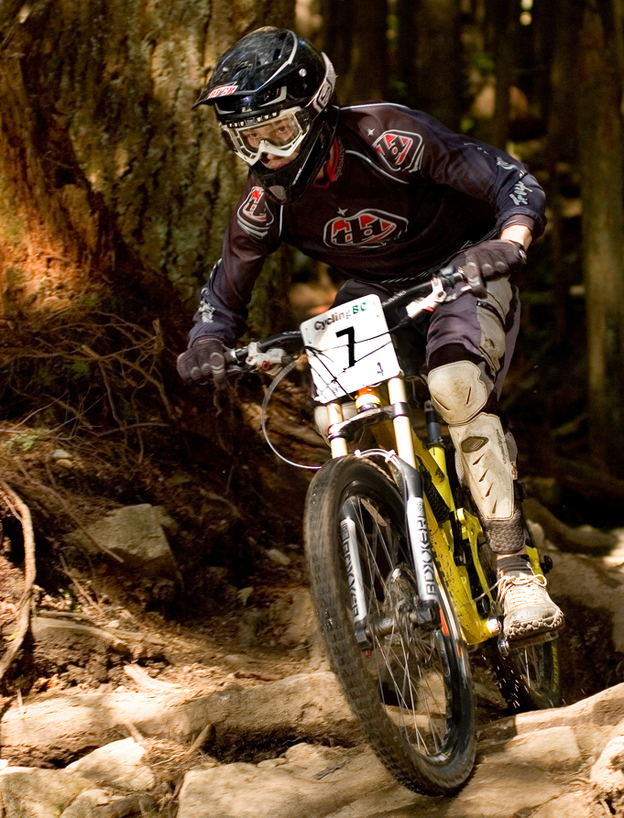 Ewan Fafard – all concentration.

 Here's a shot of Dylan Dunkerton, most know him as "Stubz."  Dylan is part of Team NSMB and is an incredibly talented rider. He opened more than a few eyes at the recent Rat Race by cleaning house on the entire pro class………while riding chainless on a course that most racers consider "pedally." Being a Sunshine Coast local, this Neds course must have been a real eye opener.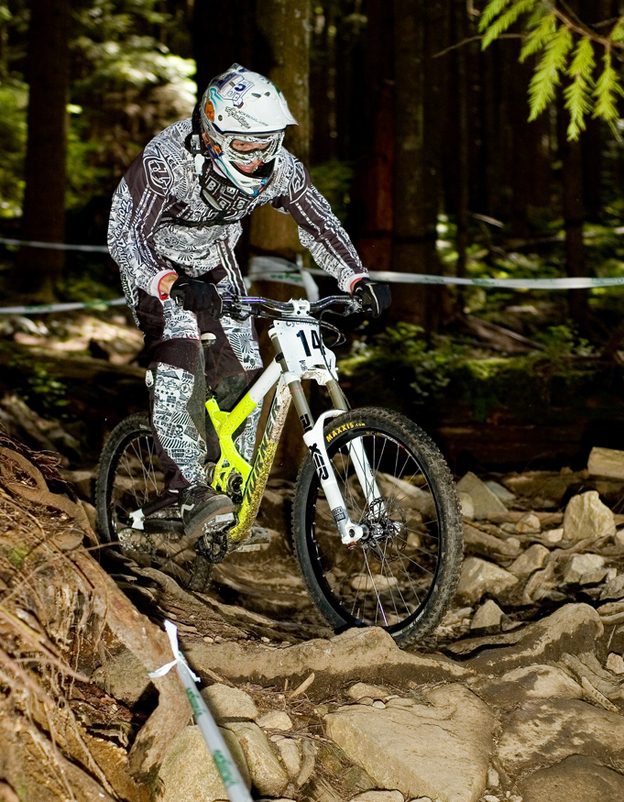 The fast time of the day and overall winner at the first (of hopefully many) North Shore Bikefest Smackdown DH race was Whistler resident Tyler Morland. I saw Tyler run a few practice laps and no one could match his smooth and fast style. He rode all day with a smile on his face, all the way to the podium

 Here's another of Tyler – where you can see his grin.
While I didn't see much of the event other than the sections I was photographing, from talking to many racers after the event it sure sounded like the inaugural North Shore Bikefest was an astounding success. Full compliments go to the tireless efforts of the organizers and volunteers that came together to make this happen. I can imagine there were more than a few hoops to jump through, hopefully they paved the way to make this an annual event.

 We're not sure what Eric is doing in this shot so we're hoping you can help us come up with a caption. 
Toss in anything else you'd like to say about the event here…
Dave Mackie shoots most of the local DH races and for a small fee you could pick up a shot of yourself in action.  Click here to check out his Web site for more info.