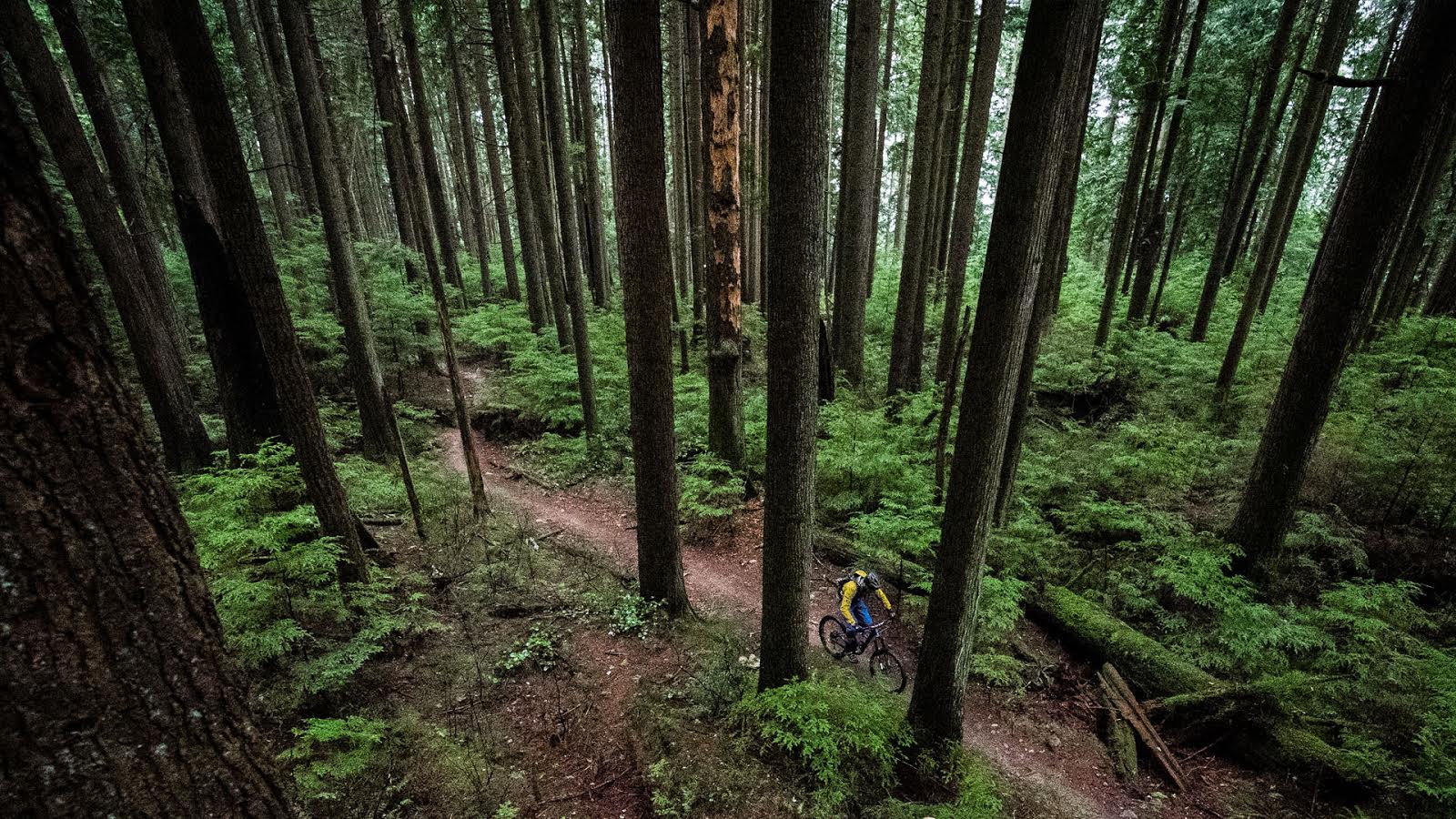 Mike Hopkins In Utah
The lyrics of the barely tolerable and constantly repetitive top forty were crudely interrupted by a sudden burp of static as it faded seamlessly into the mundane "hymn-sical" murmur before being over-powered by the abrupt words of the gospel, preached with the monotonous enthusiasm of a sloth who has consumed his fair share of Nyquil.  Nothing against religion but there has got to be a better way of delivering "The Word."
Now if the Church did a little collaboration with the late great James Brown and let's say … Keith Richards, then they might garner a few more living listeners, and at the same time, provide the perfect example of an oxymoron for teachers and students alike.  What place on Earth would allow such a depressing tone to pollute the wavelengths of the open air?  With Washington, Montana, Idaho and Utah in the rearview the answer was clear – Arizona!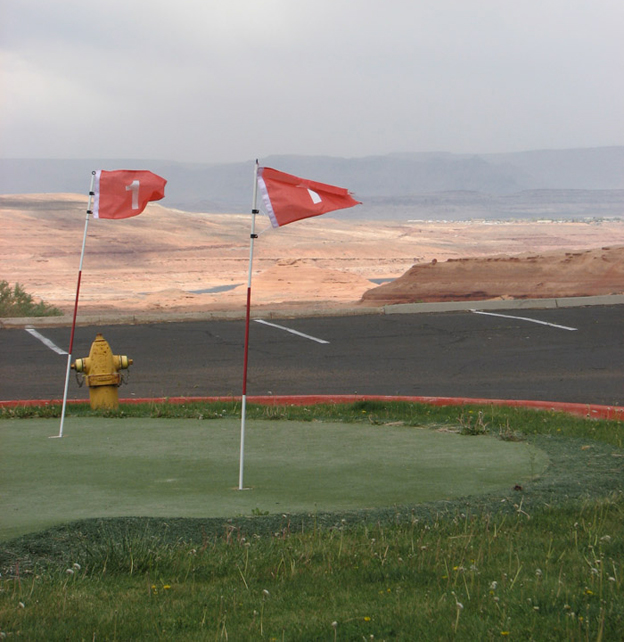 When a human's journey forces him to be belted into a capsule for twenty-four hours, one begins to feel like he is in space.  Other than the odd spacewalk to refuel, you are bound to your vehicle.  It took Apollo 11 just over three days to travel to the moon and return back to Earth, meaning, if my truck were powered by NASA I could have been 2/3 of the way to the moon, rather than the southern reaches of the United States. How's that for a little perspective?  Another little piece of advice; no person should ever spend more than a "working day" in a vehicle … the risk of cabin fever shoots through the roof.  Write that down.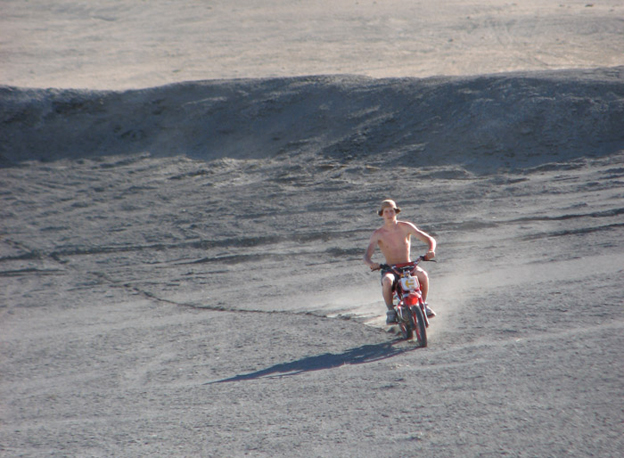 Page Arizona is a small shire on the vertical banks of Lake Powell, made famous for its role played as the  "backdrop" in the 1968 cinematic adventure "Planet of the Apes."  It is also home to the 710 foot powerplant known as the Glen Canyon Dam.  A small town with a big history.  The pink architectural marvel that is the Quality Inn would be our dwelling for the next two weeks.
It was actually quite a gem; accommodating rooms, pool (no water but it's the thought that counts), and best of all … a putting green. Four holes of AstroTurf-inspired delight, and who better to enjoy a couple rounds of putt-putt with than Derek Frankowski, Ryan Gibb, and Andre Nutini … aka … "Life Cycles." Performing in-front of the lens would be the likes of all around nice guy and mountain biking's new "It" kid … Brandon Semenuk and yours truly (Michael James Hopkins).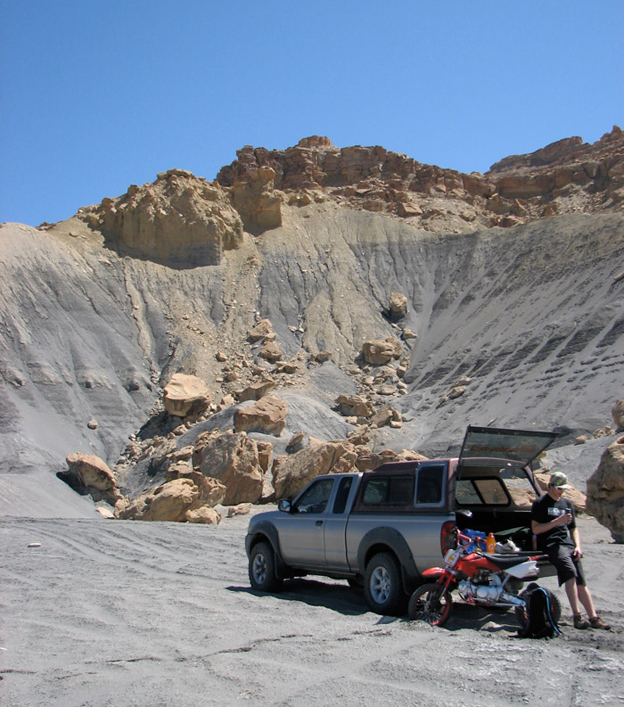 The first days of our expedition routinely consisted of the following … coffee at Starbucks, a stop at our Gatorade dealer (Wal-Mart) before making our daily thirty-five minute commute across the state line into the Utah wilderness, which preceded numerous hours of meandering through washes, canyons, ridges, hoo-doos, and large boulders suspended numerous stories over-head by small pinnacles of solidified soil (not the least bit nerve wracking), until decisions were made to construct jumps, berms, trails … finishing with near heat stroke and exhaustion, which usually brought us to sunset, and finally dinner at the Dam Restaurant before our bodies completely shut down for the night's hibernation.
After three revolutions of this fine planet we felt we had amassed an acceptable amount of shoot-able features.  Of course with any and all film trips we would run into a snag (of monumental proportions).  Mother nature served us up an elephantitis sized helping of torturous desert weather.  It was like someone was periodically taking tornadoes, flipping them horizontally and bowling them down the valley we were filming in.  The wind would subside long enough for our hopes to spike, before being swiftly shattered by a 95 km/h sand storm curling over the ridge faster than a big break at Waimea. And then came the pain as we were repeatedly sand-blasted by a soothing mix of coarse soil and quarter-sized pieces of slate.   Nothing like one of nature's phenomena to make you feel terribly insignificant.  Conditions were impossible for filming.  It was hard enough to stand let alone ride a sail of a bike down a narrow ridge.  This weather continued for forty-eight hours putting a cork in the production bottle. 
When the desert finally did lift its sandy veil we were more than ready to pull the trigger.  The crew's focus was concentrated on Brandon, as he would be heading back to Vancouver in only three days.  The first shot of the trip would be a technical scrub over a domed dune amidst a bouldered Mars-esque landscape. I watched from behind the handle of a "Goon spoon" as Brando progressively hovered his handlebar closer to the ground.  All looked to be going well until he over shot his "L.Z." and collided awkwardly with the earth.  Things then went from bad to worse as a hobbling Brandon fetched his bike, only to be delivered another crippling blow in the form of a broken fork.  After a brief phone call there was a fresh front "squish" on it's way, but with only two days until he was jet-setting back to the west coast it was going to be difficult to make this a productive trip.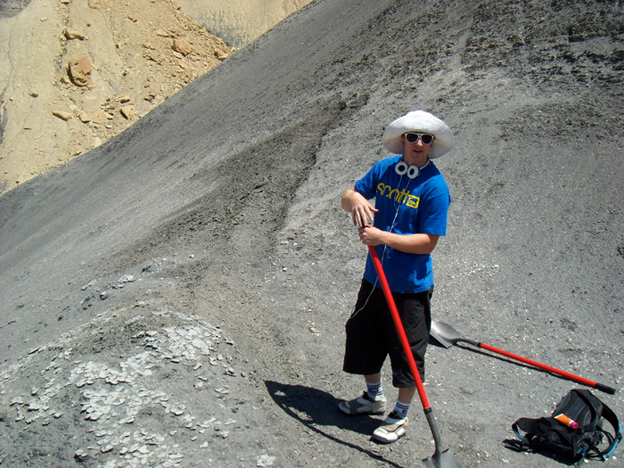 Unfortunately when Brandon's fork showed up so did the winds, and after one last fleeting attempt to shoot, we were forced to retreat into our hobbit hole of a hotel room.  Brandon flew home the following morning, and as his plane left the ground it was like "Big Mama" said "Enough" … the winds died, the sands settled, the desert regained equilibrium.  It was game time.  With one week left and a valley full of untouched features, we unleashed the beast and let the tape roll.
My riding leans heavily towards the big mountain/downhill spectrum of the sport so the majority of my lines consisted of railing berms, putting together fast fluid top to bottom runs and of course a few airs for good measure.  The week turned out better than any of us could have expected.  The weather held and we brought life to the Utah landscape for the first time in 138 million years.  I slashed ridiculously steep fins of slate during golden sunsets in the company of one hundred foot hoo-doos that stuck such a compelling resemblance to the spines of AK, I felt like I was skiing…  I aired between jagged masses of red speckled boulders that looked like the discarded handiwork of a Swiss giant who had given up his day job in the turnip fields for the craft of stone cutting. We even found a naturally-bermed scrub that precariously falls away into the belly of one of your classic Utah lines, but I will have to let the motion do the describing because it could quite possibly be the coolest looking move I have ever had the pleasure of executing on my bike.  The best part was the feeling that I experienced completely translated to film, which usually isn't the case, but with Gibb behind the lens all that was left to say was "Next Shot !" The phrase "Next Shot!" quickly became a staple vocal response whenever action met the camera.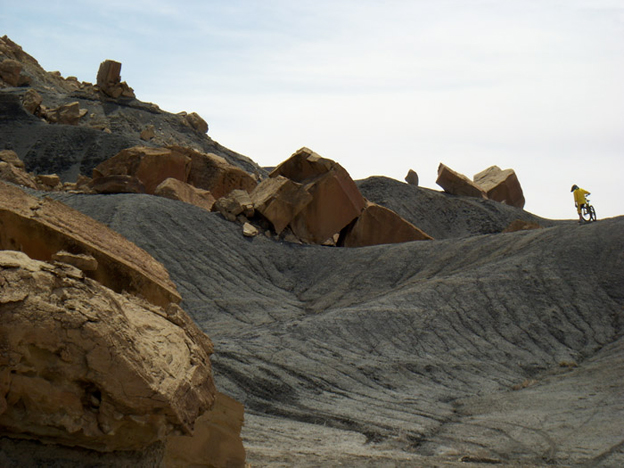 When the last day of the trip rolled around we had hard-drives loaded with video gold and enough optimism to make Eeyore smile.  We returned to a jump I had built between two large boulders to re-shoot a run-in / take-off shot that the crew felt they could one up.  This was now my second session on the feature and the launch tally was running well above twenty-five, so I was more than comfortable.  The cameras rolled and I repeatedly played in the medium we call air.  The shoot went like clock work, the sun was out, the cameras were sharp, and I was riding strong. 
We quickly polished off the motion, but I was pushing Frankowski to shoot a unique angle with his still camera from atop one of the massive lingering rocks.  He agreed and I stutter stepped my way to the starting point and absent mindedly dropped in.  Once up in the atmosphere my absent mindedness caught up with me like a freight train hitting a field mouse. I was uncomfortably sideways and struggling to get back on course, but with the ground fast approaching and all my recovery tactics exhausted I had no choice but to "ditch the bird".  What came next was anything but poetry in motion. It was more like German death metal with a harsh gong undertone.  I landed feet first on the windy side of a spine that had been weathered to the cushioning consistency of concrete.  I luckily went through my leggy suspension without breaking both of my ankles, but my knees impacted with enough force to split my solid kneepad clear in half.  Once I had finished compressing my body to the point of combustion I tumbled violently down the slope being shredded by shards of slate.  Things progressively worsened when my bounding bike caught up with me further complicating the situation.  When I did come to a stop approximately a hundred or so feet from my landing zone, I made hast in moving all my limbs to ensure nothing was broken or out of order, and luckily, somehow, all was horribly beaten but not broken.  Frankowski, Gibb, and Dre raced to untangle the balled mess of bike, desert, and body, and like all good film crews inquired if I could still ride.  But with a broken helmet, bent handle bar and brake, a severely bruised bicep, and a numb shoulder it was safe to say I was down and out.  Thankfully it was the last day of the trip.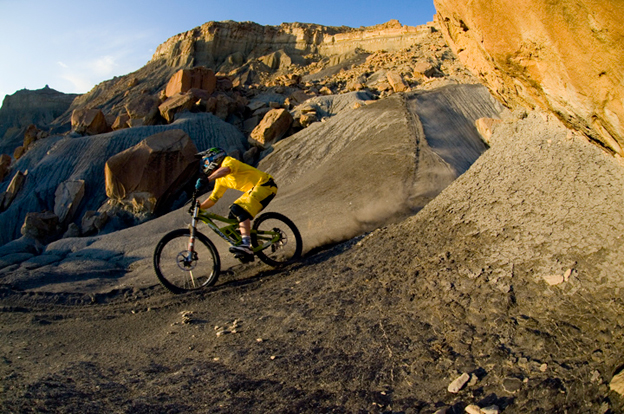 We sat and weighed our options for a mere nano second before concluding "That's a Wrap!"  Life Cycles Utah trip had its peaks and valleys but we had amassed an incredible amount of footage that we feel captures Utah's true colours.  Two hours after the incident, the trucks were packed, shoulders were being iced, crew was stoked, and we were on our way home to the green pastures and frosted tips of British Columbia.  Hats off to Derek, Gibb, and Dre … Life Cycles is killing it.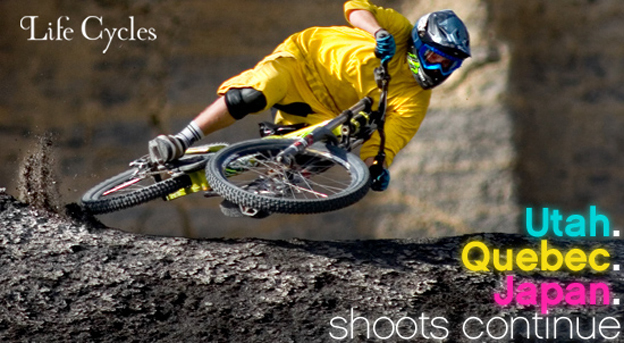 Cheers,
Mike
Sounds like a rad shoot.  Looking forward to seeing the footage.  I'm a fan of Hopkins' writing style and his riding style.  You?  Chip in, or putt, here…
For more check out mike-hopkins.com and lifecyclesfilm.com