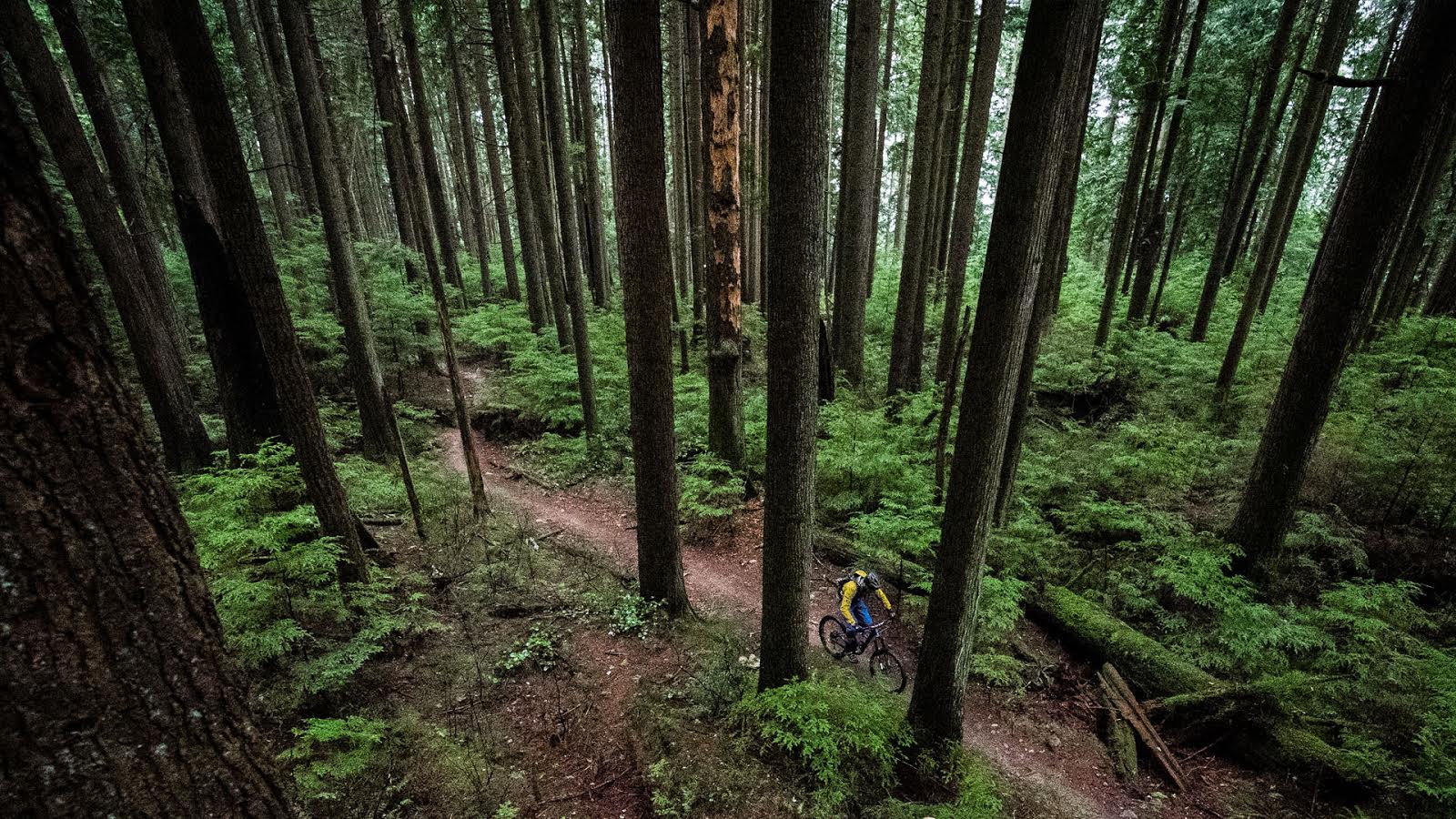 REVIEW – Sugoi women's gear
Sugoi active wear has been a part of my athletic clothing line up for many years now. It started when my sister passed along a pair of standard black running tights and a simple black warm layer that was perfectly suited for my favorite activity at the time: running.  Those items are still a part of the layering lineup when I suit up, but now it's for a ride.
I'm not a fan of shopping and really feel no need to indulge in new outfits for time spent in the woods unless it's necessary for function. I'm not interested in keeping up with the latest trends. This may explain why the Sugoi pieces from my sister are in year 10 and still part of my wardrobe. So when I had a chance to try out the Sugoi Greta capris and Verve ¾ top – pieces from the company's all-mountain riding line-up – I was confident they'd be up to the challenge of some serious trail riding in B.C.

Aimee testing out the all-mountain capabilities of the Verve jersey and Greta capris. || Photo: Corey Toews
Greta Capris
The Greta capris have a casual design with technically excellent elements. Made of what Sugio calls Mobil Carbon and Mobil Mesh, the Greta has two front pockets, two back pockets, a seamless crotch gusset, and a removable liner with RC Pro chamois.
The capris I chose are a basic black (available in other colours) with an outer shell layer and removable inner chamois layer. The back pockets use a basic zip, while belt loops are provided for fit and two sets of snaps on the bottom of the capris provide fit options. 
The Gretas could pass as a casual capri pant based on their streamlined fit and form, and despite the chamois liner, the pants didn't appear bulky. I have honestly never gotten so many compliments on a piece of my riding gear than with the Gretas. On my Muddbunnies club ride, many of the gals liked the simple, clean look of the capris' style and a length that was a happy medium between shorts and full-length pants.
It took a little time for me to warm up to them in the function department. I've worn traditional spandex shorts in the past but with the variety of loose-fitting yet comfortable riding shorts these days, I usually choose the single-layer option for my rides.
For the inner (and removable) layer Sugoi boasts the "RC Pro chamois technology" which in laymen's terms means it aims to tackle the issues of chaffing from friction and move with your form. I climb at least 75% of the time when I ride, so the chamois was going to come in handy on some long grinds up the hill. 
When I put the liner shorts on, I wasn't used to the added padding and it felt like I forgot to take my old shorts off. Things were a bit bulky and a bit awkward, and just different from my norm. The Gretas aren't made for lounging, though, so I figured the best place to test comfort and design would actually be on the bike.

Aimee modelling the jersey and capris while taking a break. Good looking riding gear that isn't limited to the trails. || Photo: Layne Marrett
Within a few rides, the chamois was moulding nicely to my build,  and I found the combination of the liner and capris were breathable and comfortable to wear. They were also useful in dealing with the friction you can run into in some cycling gear.
I've been doing a lot of North Shore climbs with my Greta capris and I must say the chamois/pant combo conforms to your body the more you wear them. The material on the outer layer is extremely comfortable and flexible, and the inner chamois shapes to your form surprisingly well. The bulkiness of the chamois isn't nearly as much of an issue when you're in a riding position.
I was also pleasantly surprised at how water resistant the Capris proved to be after getting caught in the rain during a ride. Water beaded off the capris, and didn't penetrate the surface of the material in the slightest. I can't tell you how it would stand up in torrential rain all day, but having both breathable and water resistant qualities proves to be a great combo.
Verve ¾ Sleeve Jersey
The Verve top layer has a Sugoi flat seam, mesh and shoulder panels with one zip side pocket and a drop collar and neck tape. It's available in Azure (which I chose), Black, Citrine and White/Gunmetal. The Verve ¾ top is an easy piece to like right off the bat based on the vibrant colour, lightweight material and attractive design. The ¾ sleeve is characteristic of many riding tops and for good reason: it provides arm coverage but keeps the hand and glove area free to move.
I've put the Verve through its paces, wearing it to the gym, for hiking, running plus cross country and all-mountain riding. The shirt is breathable, light and hangs nicely without being too tight and or overly form fitting. It's a good choice for activities that involve less wear-and-tear on gear.
This is a lightweight top, and it's not really designed for many of the spills, tree branch run-ins and random spills that can happen on the trail. The Verve wasn't built for downhill riding but it's great for the climbing and descending that all-mountain and cross country riding entails. On the other hand, I've worn the Capris for gnarlier rides and they've been right at home.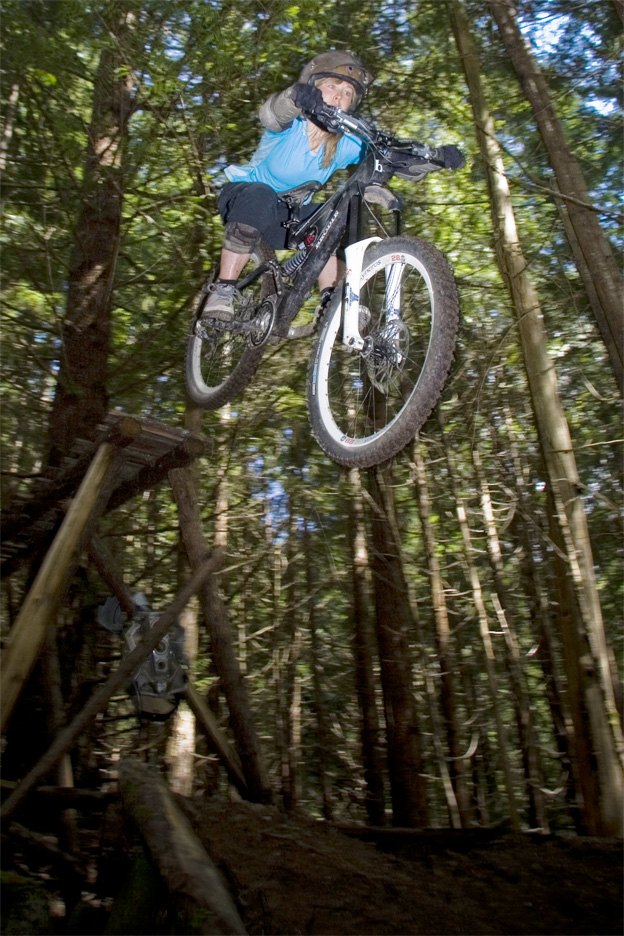 Aimee put in a lot of time on the capris and jersey, and really liked what she found. || Photo: Corey Toews

Over the last few months, this shirt has been worn a few times a week on average and I really enjoy its comfort and feel. It washes easily and although I mostly hang dry, I have given the Verve  a quick dry in the machine a few times. The machine drying of the shirt has lead to some minor pilling but this could be avoided by strictly hang drying.
To sum it all up… I found this outfit a sensible and appealing choice for all-mountain riding – the purpose of its design. It offered comfort, style and function for the pedal up and the descent down. The Gretas and Verve became my combo of choice for most Shore riding, as well as cross country rides where I didn't want to wear spandex only but appreciated the chamois.
If you enjoy a variety of activities and aim to maximize your gear and pieces, this outfit (or either piece on its own) will fit nicely into your sporting repetoire. Sugoi clothing has a great track record from my experience for longevity and sensible comfort for multi-purpose use. In our climate where weather patterns are always a bit unpredictable, it's great to have pieces for water resistance, breathability and work well with the layering approach.
Capris Pros & Cons
Pros
  great cut for function and appearance
  water resistant and comfortable material against the skin
  chamois guards against potential chaffing issues
  ample pocket room
  resilient snaps and zippers
  nice looking casual pant if the chamois is removed
Cons
Chamois may feel bulky with the dual layers.
Jersey Pros & Cons
Pros
  lightweight and breathable
  sensible cut for movement and function
  appealing colour
  functional for a variety of activities
  easy to machine wash
Cons
 a few dirt stains that the material soaked up
 pills a bit with washing & drying
Think this is the perfect gear for you or a female friend who rides? Wondering why Aimee is hucking on a big bike wearing clothing designed for AM riding? You know what to do – head to the boards.