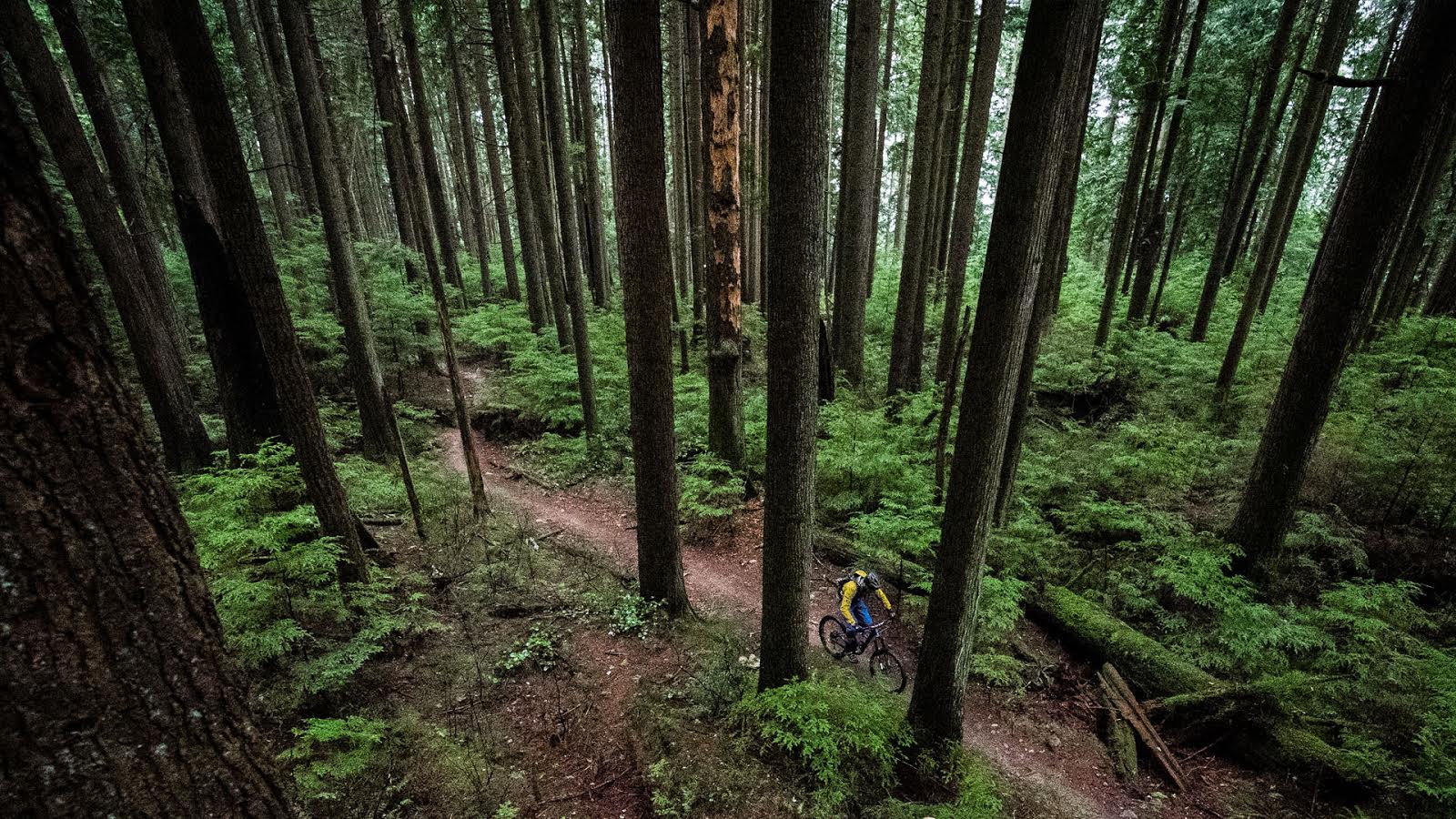 Off to Ride in the Yukon
Pete Roggeman, myself and Dan Barham will be boarding an Air North flight to Whitehorse in the next few days – to ride in the land of the midnight sun.  Actually sundown right now is about 11:23 pm so we'll get midnight dusk – but it won't get any darker than that for the 5 days we'll be north of 60 degrees lattitude.
After receiving an invitation from the the proprietors of Boréale Mountain Biking I had a few questions.  I like to be prepared and Marsha and Sylvain generously offered up answers. The first query was about what sort of bike to bring and as expected Marsha suggested a 5 or 6″ travel bike that pedals well.  We'll have more answers when we return of course – along with photos from Dan Barham – so stay tuned for the whole story.  For now here's our preview.
Cam McRae – I've never ridden in the Yukon before.  What kind of trails can we expect to encounter?  Are there any technical sections?  Mostly singletrack?  Rolling hills or big climbs and descents?  Rocky, muddy, sandy or…?
Boréale  The trails around whitehorse are fast flowy singletrack, rolling hills and sandy/clay on one side of the valley and a little rockier on the other side of the valley. Yes there are technical sections.
 The trails around Carcross are all singletrack, from intermediate to advanced terrain, big climbs (haha shuttle) and decent, rocky, man made obstacles. all trails built by a trail crew All the trails are very scenic. Mountain views everywhere. 
CM – What tires do you recommend?  Something that rolls fast or something with more grip?  Are we going to be doing long days in the saddle?
Boréale  For around Whitehorse a fast rolling tire is really good, I like the Schwalbe Racing Ralph For around Carcross something with a little more grip is ideal, I like the Schwalbe Nobby Nic. I mainly ride my Norco Fluid 1 with Nobby Nic tires all the time, it's a good all around set up.
Yes we would be doing some long days in the saddle around Whitehorse and Carcross will be 99% downhill because we will be shuttling up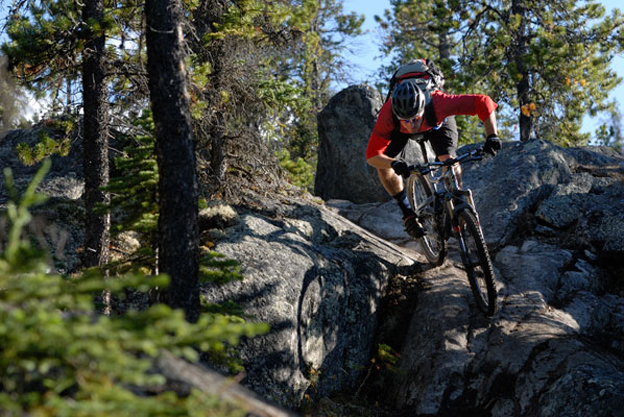 That looks like our cuppa!

CM – What sort of weather should we expect and what type of gear would you recommend both in the saddle and for apres riding?
Boréale  We can expect all kind of weather from 10 degrees to 30 degrees and it's likely to be sunny.  It never usually rains for long if it does… knock on wood.  The nights and mornings are usually chilly and the days are pretty warm, perfect riding temperature.  I usually ride in shorts and a short sleeve jersey but always carry a long sleeve jersey with knee warmer and arm warmer in my pack.  For the après-riding I would bring some warm clothes as it can get a little chilly at night. Bring a warm jacket. You probably won't need it, but you will be happy you have it if you do!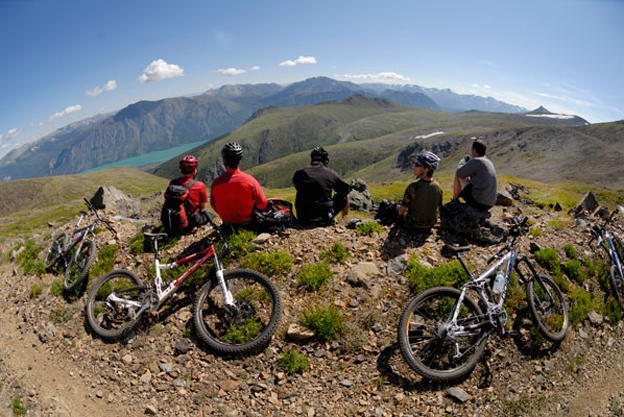 CM – Will we be doing day trips from a base location or will we be staying in remote locations?  Staying in the yurts? 
Boréale  Our base camp is in Whitehorse and we use yurts as buildings.  We will be doing day trips from there since most trails are accessible from our door step. Our yurts are gorgeous, boutique style accommodations. It really is the best place to stay in town.
CM – What sort of wildlife might we encounter? 
Boréale  It is possible to encounter black or grizzly bears, coyote, wolf, lynx, caribou, moose… But chances are slim we will see anything. We are lucky to live in a place where animals have freedom to avoid human contact. The Yukon is a huge place – why would they hang out around us? 😉
(However, in one ride Sylvain came across a mom and 3 cubs, TWICE, and then was 'racing' with a moose. we now call him the animal whisperer)

 Your Yurt or mine?  From the outside these appear to be humble dwellings…
CM –  How are the bugs/mosquitoes this time of year?
Boréale  The bugs are usually not bad when we are riding but they can get worse at night after 9pm. Mosquitos add to the charm, right?
CM – I see you have some swanky food options.   What might a typical day of meals be like? 
Boréale  Yep, we have fantastic chefs at our disposal! Meat options will be local – caribou, moose, elk. Fish will be halibut or Arctic Charr. All food is gourmet. You will have a big breakfast, lots of snacks, a big lunch, snacks, big dinner, snacks. I promise you won't go hungry!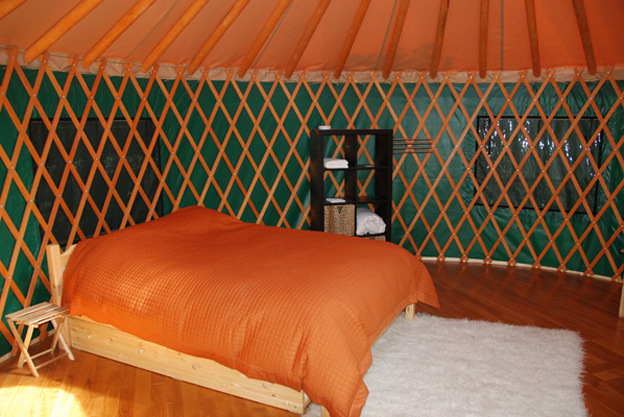 But inside is a different story.

CM –  Any other considerations we should know about?  Dos and don'ts around Whitehorse?  Things we should try and experience when we aren't in the saddle?
Boréale  There are lots of things to do. If you would like something for an article, I will get back to you. We are doing a brewery tour, very fun , checking out some sights. Some of the best things to do here involve scenery and just taking in the vastness that is the Yukon. Geeky I know, but true. We can figure out what you guys want to see when you get up here. Remember, the days are long!
CM –  Bring a bathing suit for a dip in the Yukon River?
Boréale  Sure, and if it's really hot, there is a lake nearby the yurts where the locals go for a dip.
 
CM –  Drink lots of beer in preparation so the locals don't drink us under the table?
Boréale  Yes, your beer consumption will increase greatly in the Yukon. It is a territorial past time. Be ready for the midnight sun… It leads to long nights!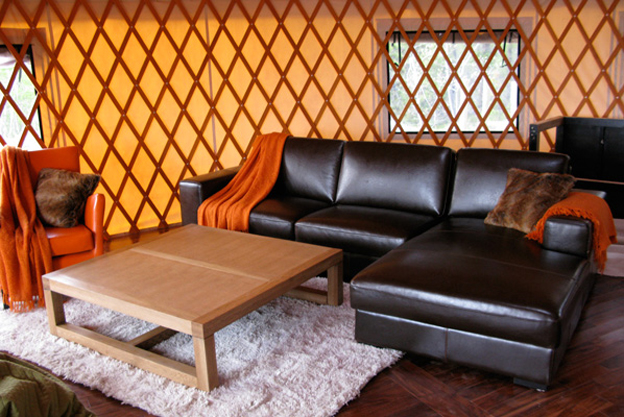 'Luxury Yurt' is not an oxymoron.
And here is the tentative itinerary that has all of us giddy with excitement.  I may have wet myself some when I first read it.
Day 1 – Arrive in Whitehorse.  Build bikes, 2-3 hour ride – a little taster – BBQ at yurtville
Day 2 – Big brunch, shuttle ride Goat Trail, tour of Whitehorse, brewery tour, early dinner, big night ride. Epic evening/night ride (midnight sun ride) We will be shuttling up Grey mountain then hike a bike for 45 min to the top of Grey mountain and start our way down from there. From there we will be making our way down to the Yukon River and then follow the river bank for about 15km. The entire ride should be about 4 to 5 hours
Day 3 – Carcross all day, Skagway AK for dinner
Day 4 – Grey Mountain/Yukon River/Carcross – which ever is the favourite! BBQ and party with a bunch of local mt bikers
Day 5 – recover, fly home
Here is a listing of the main areas we will focus on while you are in the Yukon. Remember that we have almost endless hours of sunlight. When you will be here it will still be light long after midnight, which adds a twist to a bike ride. The riding around Whitehorse is all singletrack and mostly XC, fast and flowy. Carcross is DH with 4×4 shuttle truck access. Hopefully we will have enough snow melt to ride these trails. We will really have to see, as it is high in elevation and we had record snow this year! Fingers crossed.
Area: Grey Mountain and Yukon River trail networks (Whitehorse)
Type of riding: XC, some DH
Access: there is a dirt road heading up to the top of Grey Mountain. Quad trails should be sufficient to get the camera gear out to the shooting areas. I will do more research on this end.
Skill level: mostly intermediate to advanced
Trail type: singletrack
Point of interest: Most popular mt biking area in Whitehorse. All singletrack XC, rolling hills, technical, ride by the historic Yukon River, see previous Gold Rush camps, hours of riding. Lots of great vista points
Area: Montana Mountain (Carcross)
Type of riding: DH
Access: Shuttle truck
Skill level: Intermediate, advanced
Trail type: Singletrack
Point of interest: Very scenic, over looking the end of the Chilkoot trail, really fun biking trails, all trails created through unique First Nation partnership called Singletrack for Success. All trails (historic and newly created) and man made obstacles are mt biking specific.
Area: Mount MacIntyre/Haekle Hill (Whitehorse)
Type of riding: DH, XC
Access: Shuttle up, ride down
Skill level: Advanced
Trail type: Singletrack
Point of interest: Alpine, scenic, massive views
How does that sound?  It sounds like we'll have some internet access so we hope to do some blog-type posts from Whitehorse.  Until then let us know what you think and if you have ridden in the Yukon please point us in the right direction here…