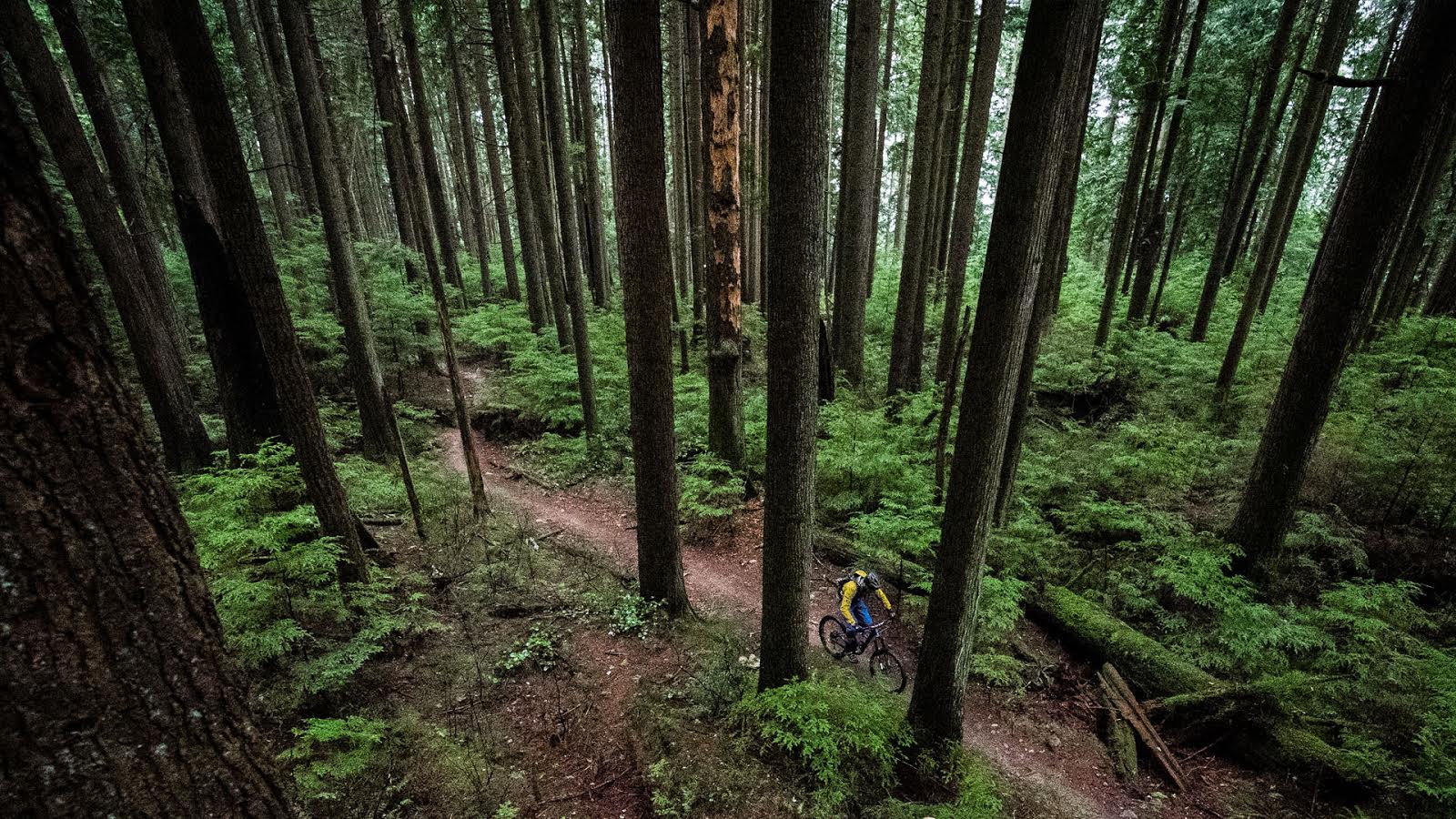 Gear Swap This Weekend
North Shore Mountain Bike Association once again presents the 2009 Annual Bike and Gear Swap on Vancouver's North Shore.
Once again the North Shore Mountain Bike Association is providing the best opportunity to buy and sell new and used cycling equipment in the lower mainland. The swap, the largest bike‐related swap event in Canada, is also the NSMBA's largest fund raising event during the year. Funds raised are used to maintain and sustain the myriad mountain biking trails throughout the north shore, the birth place of mountain biking. This includes upgrades an additions to a special trail built in 2008 to honour deceased NSMBA Director and well‐regarded, cycle business enthusiast Richard Juryn.
"We have been holding the swap at BC Place in February at the Vancouver Outdoor Show in previous years thanks to Richard's efforts and due to the magnitude of product and people interested in our swap," stated Robin J. Harvey, Director for the NSMBA. "The NSMBA decided to hold the 2009 Bike and Gear Swap back on the North Shore, so we would be able to service our supporters, continue to raise much‐needed funds and not lose our momentum in 2010 event during the Olympic Games.", she added.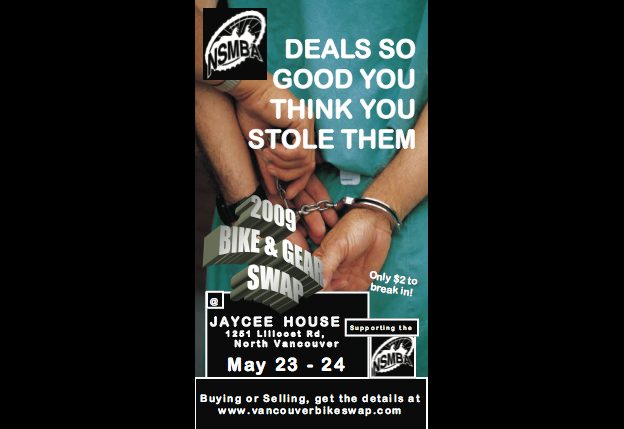 The NSMBA Bike and Gear Swap, sponsored by North Shore News, Contact Printing, Telus, Kona, Save‐on Foods, Lynn Valley Centre, Snowcovers and Bean Around the World, will be held at Jaycee House, 1251 Lillooet Road, North Vancouver the weekend of May 23 and 24, 2009. Easy access to the location by bike, bus or car is off the Ironworkers Memorial Bridge and located across from Capilano University.
You will find a huge selection of new and used equipment ranging from beginner youth bikes to professional riders' gear including clothing, shoes, parts, tools and related equipment for all disciplines and levels of expertise. We've added DVD's, magazines and other promotional materials to the swap. Volunteers will be available on site throughout the area to assist you with your questions and purchases. If you know a lot about bikes ‐ why not volunteer too ‐ see our site for registration details.
Drop your clean and working equipment off at Jaycee House starting Friday, May 22 with additional drop‐off location and dates added, of Wednesday, May 20 and Thursday, May 21 at Lynn Valley Centre, 1199 Lynn Valley Road, for added convenience. Details regarding buyer and sellers instructions can be located by accessing the website at vancouverbikeswap.com.
Along with the "swap" and just down the hill and all weekend too, is another event hosting races, an expo area and kids activities that will sure to be a huge draw for all. You'll find Specialized North Shore Bike Festival, "The Resurrection" at Inter River Park. Access and parking is available around the area or ride your bike over; there will be loads of opportunities to lock up your bike and check out the swap and the festival. You will find a map to the location, along with hours of operation at vancouverbikeswap.com.
Gear Drop off times and locations:
Lynn Valley Centre drop off:  1199 Lynn Valley Road, North Vancouver INSIDE THE MALL ACROSS FROM WESTLYNN BAKERY – AND NEAR THE RED MUSTANG.
Wednesday, May 20th – 3:00 PM to 6:00 PM
Thursday, May 21st – 3:00 PM to 9:00 PM
Jaycee House drop off:
1251 Lillooet Road, North Vancouver

Friday, May 22nd – noon to 8:00 PM
Saturday, May 23rd – 9:00 AM to 3:00 PM
The NSMBA Gear Swap will be open to purchase gear during the following hours:
Saturday, May 23, 2009 ~ 10am -4pm
Sunday, May 24, 2009 ~ 10am – 3pm
Any swap questions?  Serve 'em up…
See you at the swap!
Contact: Robin J. Harvey,
NSMBA Marketing & Communications Director
Cell: 778‐837‐7637
[email protected]
For more information regarding the NSMBA, to join our membership or make a donation, see nsmba.bc.ca.