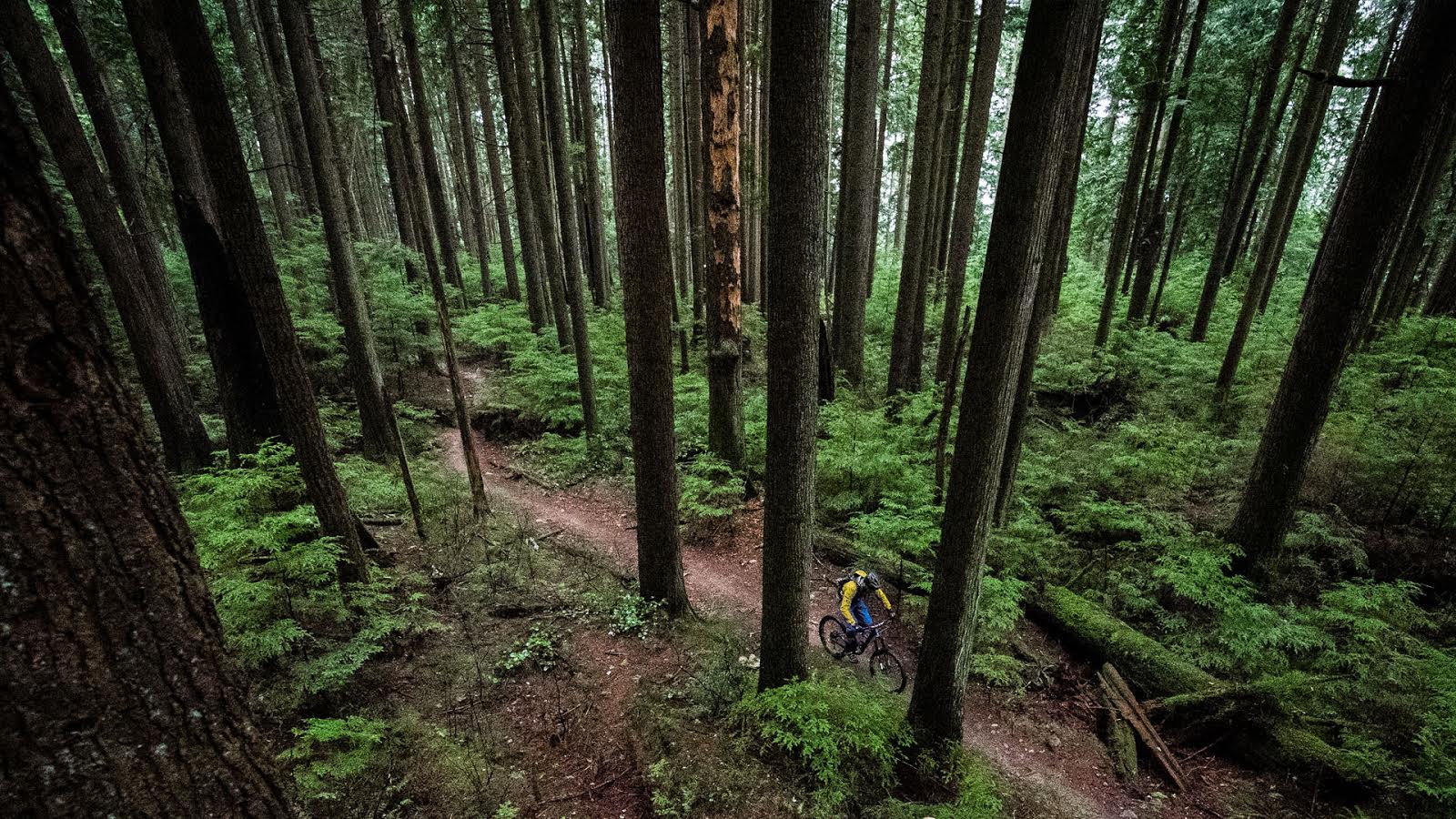 Readers' Rides #5
Readers' Rides is an equal opportunity feature. You might work for a bike company, own a shop or be a sponsored rider – as long as we make that clear and expose any biases you may have then give 'er (We're just as happy to have submissions from riders with no industry affiliation of course). Matt owns North Shore Bike Shop (A Transition dealer), and you may think he's keen to convince you to buy the latest and greatest. In fact it seems Matt would rather stick to a product he's built some confidence instead of jumping on the new and fresh wagon. And now I'll turn it over to Matt so he can tell you about his trifecta of Transitions.
If you'd like to tell us about your ride please send me an email.
Cam McRae
Mattj's bikes
My goal with this quiver was simple; to build extremely functional bikes for the exact types of riding I do. I used to do everything on a big bike, but I was always watching and learning what works in what cases, and what the shortfalls of certain bikes are. Using this knowledge I have built what I believe is a true North Shore quiver.

Matt does crazy things – like ride the Ripper Triple Crown, climbing all three North Shore mountains – on a big bike. We're not sure he's entirely human.

First up, my old friend. Allow me to introduce my Transition Blindside, which up until this year saw the vast majority of my riding. This bike has been built for one purpose; ultimate reliability. I put it together in March 2008 and it hasn't changed much at all. It's very difficult, being the new-gear-whore that I am, to not flip a bike. After long consideration, and test riding many bikes, I came to the conclusion that there is nothing better for me than what I already have. I am using a 2008 Marzocchi 888 RC3 which worked perfectly for me all last season, and Naz and Nick at Marzocchi Canada have tuned my fork to perfection for the 2009 season. I'm torn on the fork issue because I already have a 2010 Boxxer Team. Do I retire the professionally prepped fork that's treated me so well, or do I go with the shiny new toy? As of press time, I am utterly undecided.

Keep the tried and true Bomber or swap it out and a 2010 Boxxer?
There are some other extremely reliable products I cannot ride without; my Race Face Diabolus cranks, MRP System 3 chainguide, WTB Laserdisc DH wheels, Avid Juicy 7s with Straitline levers, Straitline pedals, and my Super-tacky Minions. This combination of parts makes my Blindside a true workhorse. I put in about 160 days on this bike in 2008 and these parts have not failed or disappointed me once. There is nothing more I can ask from my equipment and I find it difficult to use new products in favour of familiar and trustworthy components. There is only one word that comes to mind when I think of my Blindside – workhorse.

Matt tossing the Warden's gap on Fromme. I've never seen anyone ride this before – in person or in photos. It's large.
For this year I am trying my first Maxxis 3C Minion tires and a 30" wide Transition T-Bar. I have been quite impressed with both, although the handlebar is suspiciously light and I wonder if I can trust it as much as the Diabolus bar it replaced. Time will tell, but so far the bar has been bomber strong and the performance boosts in the extra 2" of width are stunning! Carving traction, high-speed stability, even low-speed skinny handling are all drastically improved.

You may not call this an XC bike but for the Shore it's just about right.

Next, my XC bike. For this project, I tried two different paths, and I am much happier with the latest. Last year, I built myself a Transition Covert with Fox RP23, Fox 36 Van RC2 fork, full Race Face Atlas components package (dual-ring), and WTB Laserdisc hubs laced to some Mavic AM rims I had kicking around. I thought this bike was going to be a "Fromme bike" and that I would just use my big bike on shuttle days and Whistler and stuff. Well, after a few rides, I was quickly reminded that my entire skillset is big-bike based and that riding the little bike was quite scary and not nearly as much fun. When I raced the bike xc, I found the Fox 36 to be entirely too much fork, and the bike overall was too heavy. I have been following the weight weenie threads in the gear forum and I have to say it's extremely fun building a bike as light as possible, without compromising its capabilities for the intended application.
Ooooh, Aaaah – Carbon cranks!
Since I still ride my big bike all the time in the mountains, I decided to turn the Covert into a much more XC-oriented ride, while keeping it strong enough to handle anything I may encounter on the more technical trails. I swapped out the Fox 36 for a 2008 Manitou Nixon Elite with TPC+ (145 mm), I swapped the heavy Race Face Real Seal DH headset for a Cane Creek 110, I got rid of the time DH pedals, changed my entire Race Face Atlas group into a Race Face Next carbon component group, and treated myself to a Selle Italia Flite saddle while I was at it. The bike is now a 31-pound ripper and while only losing about 3.5 lbs., the difference in efficiency and maneuverability is huge on the lower slopes of the North Shore.

A rare shot of Matt with both wheels on the ground.
I have confidence in the durability of the carbon bar, seatpost, and cranks. There's something extremely satisfying about running a complete component group like the Race Face Next. A lot of thought, engineering, and R&D went into making these components stand up to the challenge of long-term North Shore durability, and I believe that the Race Face crew have hit a home run with these products.
As with my Blindside, I am running gripshifters and Juicy 7s and of course my beloved Straitline levers for the ultimate in ergonomic performance. These levers are stiffer and better fitted to your finger than a factory lever, so you get better power and increased modulation.
Finally, my newest friend, the one that has been getting the majority of my riding hours since I built it; my new Transition Double. I have been dirt jumping for years and I have always done it on a big bike. I am motivated to improve in 2009 so I wanted to have the right equipment. I also wanted to have a bike to enjoy for entire A-Line/Dirt Merchant/Boneyard days and I am interested in doing some 4X racing if time permits, so this was a logical choice.

The Transition Double is a duallie for hardtail lovers.

I wanted to keep my Double build on par with the rest of my fleet. Nothing too fancy, and everything based on pure function. I stuck with Juicy 5s for this bike because it will not get ridden in the nasty, wet, cold conditions that cause you to need the pad contact adjust feature. I also stuck with the Transition Revolution wheelset because I am not concerned about saving weight and these wheels can withstand the abuse sustained when a 30-year-old, 190-pound rider tries to learn tricks. A full complement of Straitline goodies, a Rock Shox Argyle, and the Race Face Atlas cranks complete the functional nature of the bike.

X ups? Bar spins? Maybe even tailwhips? Matt obviously has something in mind.

As for the drivetrain I struggled for a while with the X9 system. I couldn't get into the ergonomics of the shifter so I installed a new '09 Saint shifter and derailleur and I have been in love ever since. Powerful crisp shifts, drivetrain stability through lots of jumping, and ergonomics which my body is well-accustomed to from my 15-year old XT-equipped hardtail (check out this thread for an ode I recently wrote for my trusty old ht). The Shimano Saint drivetrain is the pièce de résistance on my newest workhorse.

Flattening out the Double(s).
There you have it. Three bikes with very different functions that together have me completely covered for every form of mountain biking. There is almost no overlap in these three bikes' function and it's amazing having three top-of-the-line machines to ride. Also, with the strong focus on durability, I am experiencing next to no down-time which is allowing me to focus more on actual riding during my spare time! Happy trails!
Matt Juhasz
Working in the bike biz won't put a Bentley in your driveway but it helps you build a quiver. Tell us about your quiver – and what you think about Matt's – here.