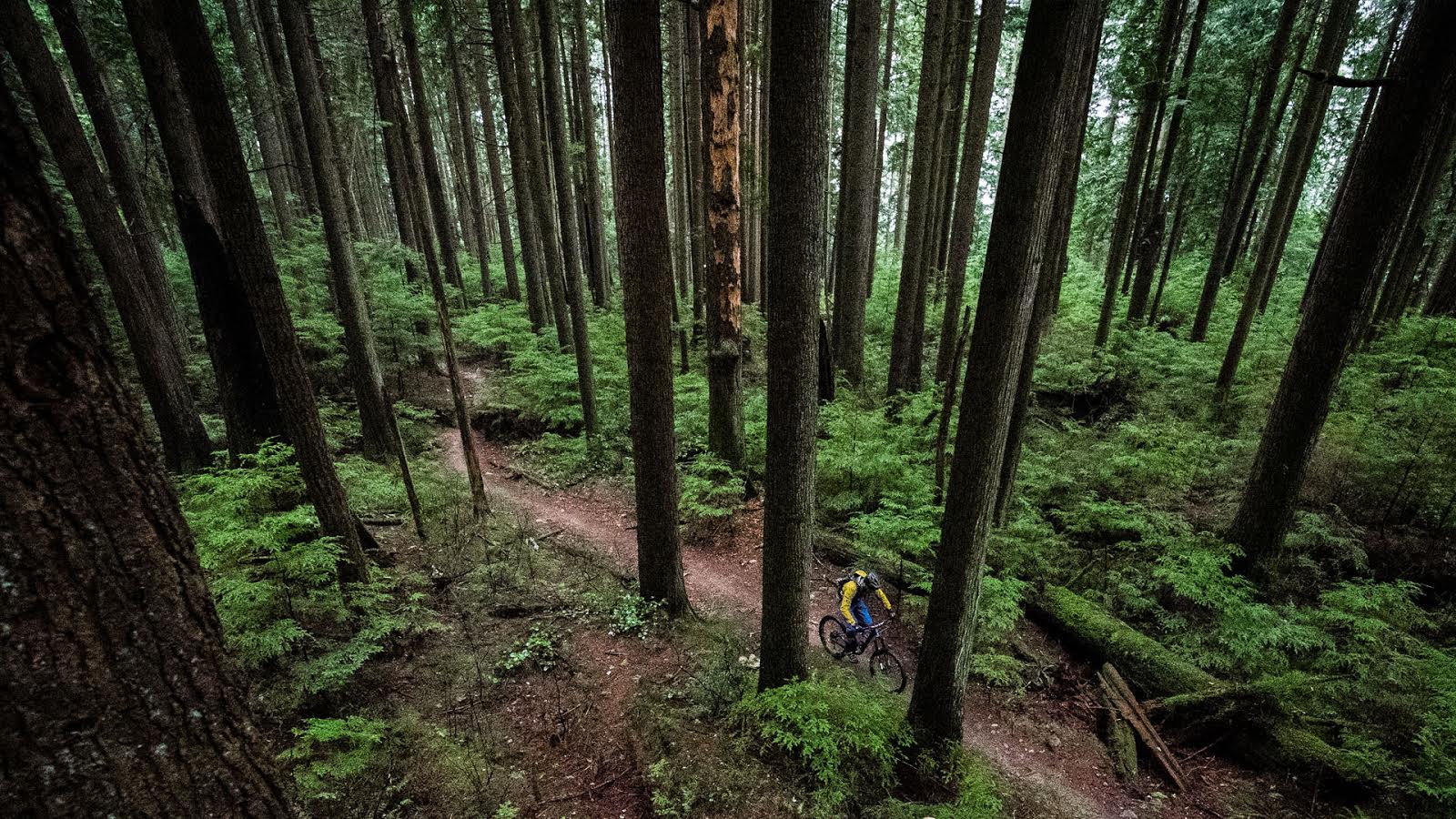 Company Profile: Chromag Bikes
Words and photos by Stuart Kernaghan
Chromag Bikes from Whistler, B.C. has been cruising along under a lot of people's radar for a few years now, but has been steadily building a loyal following among hardtail afficionados and component buyers looking for something other than the standard option.
The company is becoming even better known as its products start showing up on more and more bike store shelves, and as word about Chromag frames and components make their way around the world.
I spoke to Ian Ritz, the man behind Chromag, to find out a little more about the brand. Which, it turns out, is a lot more than "just" another B.C. bike company.
---
nsmb: Can you give us a short history of Chromag?

Ian Ritz: Chromag started in 2003. It wasn't so much a business intent at that time, I just wanted to make a hardtail frame that we couldn't find anywhere and a couple of cool parts. At that time, most manufacturers had diverted their development focus towards full suspension bikes and hardtails had been moved into the entry level category.
Myself and a number of local riders were looking for a hardtail that would compliment the most recent components and riding dynamics. It was hard to find anything that would work well or stand up to the new developments in tires, disc brakes or front suspension and the resultant progression in riding. Local DH pros like Chad Onyschuck, Eric Paulson, and Tyler Morland were looking for hardtails to train on in the early season, and a lot of us just wanted the simplicity and reliability that a hardtail would offer.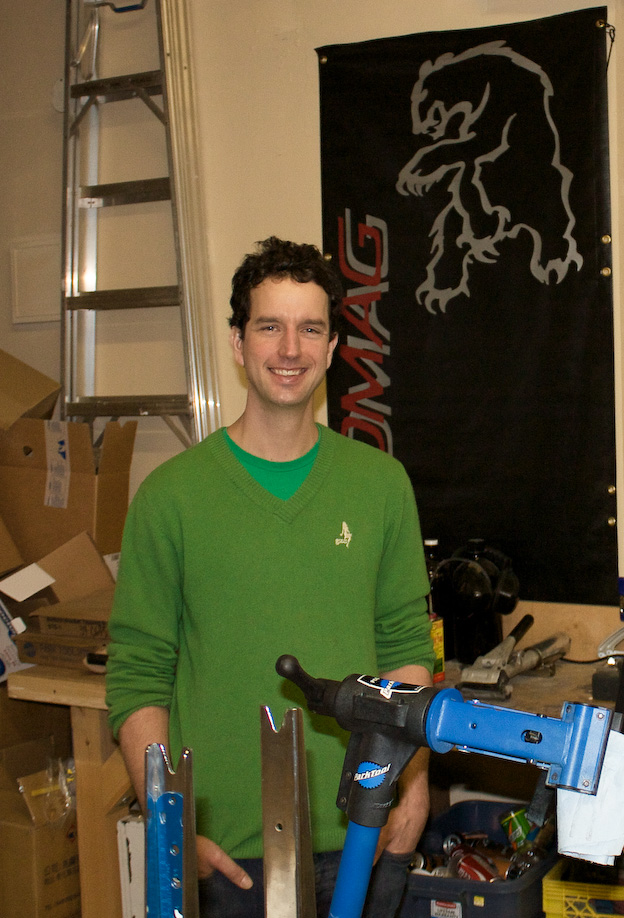 The man behind Chromag Bikes, Ian Ritz. Ian and Tyler Morland were hanging out at the shop when I dropped by.
I had been an owner of Evolution Bike Shop in Whistler for the past eight years and between the shop and the riding community in general, product feedback was about as subtle as a thousand pound hammer, so once we went down the road of product development, things just seemed to snowball.
I had the fortune of knowing some key people who would become assets in the developmental and production process. In the shop, Tyler and Eric were the frontline mechanics who dealt with a massive volume of service issues from the bike park and the Sea to Sky [Vancouver to Pemberton. – Ed.] riding community in general. That year, I met Mike Truelove, a frame welder with over 20 years of experience working with some of the primary mountain bike pioneers of the Vancouver area. I also worked with Peter Hammonds and Chris Allen, the founders of North Shore Billet machine shop.
In hindsight, we were well positioned to understand the needs of the riding community we were connected to. And, as it turns out, a riding community that is very present all around the world. I ended up selling my share at Evolution in '03 and not knowing if it would go anywhere, I incorporated a new company and started working on Chromag full time from then on.
nsmb: A lot of brands have a very specific customer base. Who is the "typical" Chromag customer?
IR: If we were only making hardtails, we would be focused on a very specific niche market indeed, but over the past six years, the brand has grown to encompass a wide variety of parts in several categories and this is actually the majority of our business now. We make a lot of handlebars, saddles, stems, seatpost, and seat QRs so our customer range is very diverse.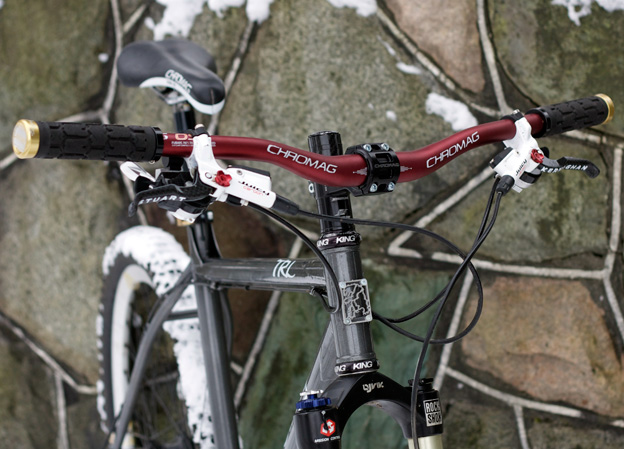 The Chromag Fubar OSX bar and Ranger stem on the Chromag TRL frame I'm testing. The bar also comes in purple, chrome, blue and black.
Our focus is on high quality, durability and finish details so typically, but not always, it's someone who has been riding a few years, has been through a few bikes and has a good idea of what they want and is looking for something better than before.
nsmb: Chromag actually has a pretty wide line of products: five frames, five stems, a couple of bars, and eight (yes, you read that right – eight) saddles. So what are your most popular products? And what's your most popular frame?
IR: Handlebars are without questions our strongest category, but saddles are a close second. For frames… right now it's pretty much a three way split between the Samurai, the Stylus, and the Monk.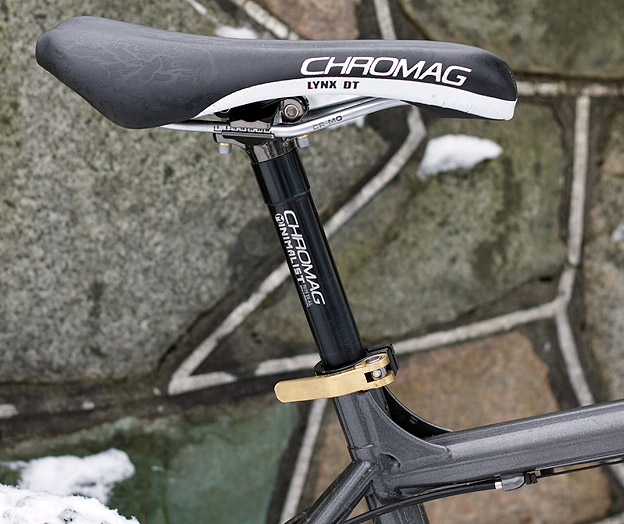 Lynx DT saddle, Minimalist post and seatpost collar on the TRL. They were a perfect compliment to this frame, but they'd be at home anywhere.
nsmb: Small builders aren't known for turning out a large volume of frames. How many frames does Chromag do in a year?
IR: This year, we will probably make about 250-300 frames in five models combined.

Chromag frames on the rack and in boxes, just waiting to go out to eager customers.
nsmb: Chromag has strong roots and ties in the community, but has that translated into a strong market for the bikes on the south coast of B.C.? 
IR: Absolutely. Our local region has been the strongest from the start, specifically Vancouver, Squamish, Whistler, Pemberton, but really B.C. in general accounts for a huge part of our business. We are now doing a lot of business in Japan, and growing quickly in Europe, specifically in Spain, France, UK, Italy, and Germany.
nsmb: There are three frame sizes to choose from in most models (small, medium and large). What about riders who don't fit the standard frame dimensions – do you guys do custom sizes?

IR: Not typically. The top tube lengths between our frames sizes are increments of 1" or less. You can bridge that gap with less than 15mm of stem extension. We will do custom variations if someone is really sure of what they want, but I find it's rarely necessary and there is a significant cost in setting up a one-off frame.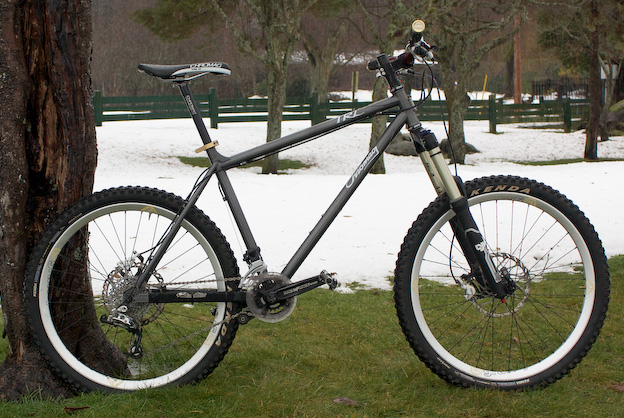 A size Large Chromag TRL spec'd out to fit the (tall) author. A 6″ fork and a stack of spacers under the stem helped out with the fit.
nsmb: Living where you do and running your own business, you've got to ride a fair bit. What's your favourite type of riding?
IR: I love all types of riding. I have been joining friends for "Friday rides" for the last nine years, and those Fridays best define my favorite riding experiences. We usually get together at somebody's house, make breakfast, and ride out the backdoor for the whole day. It could be anywhere and it all depends on whose back door we are leaving from.

This is where Ian spends his time when he's not hanging out with his new baby girl or out riding. That's Tyler in the background, working on his polka dot Turner.
nsmb: Sounds like a nice life. What would you be doing if you weren't running a bike company?
IR: I like making things. Lately, I've really wanted to make high-end ghetto blasters… I guess they would be called a docking station nowadays. Or maybe custom furniture. Not sure how viable either is…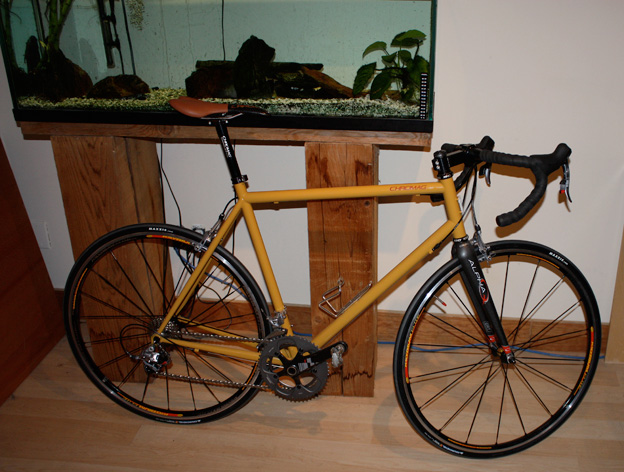 It's not exactly a high-end ghetto blaster, but this was just sitting around the Chromag office when I stopped by…
nsmb: "Innovate or die" is the slogan for one bike company, but it holds true for everyone in this industry. Can you tell me what you're working on these days?
IR: There are lots of new things coming down the line here. You can expect to see at least half a dozen new products from us for next year and a whole lot of revisions as well. We will be expanding our handlebar lineup, and we have some new stem models on deck as well.  Our frames are constantly being refined with new details every year.
There will be an expansion of our saddle line as well – one thing I am particularly excited about is a project I am working on with Brandon Semenuk. Brandon came to me this spring because he wanted to develop a saddle that would compliment his style of riding. It's perfect timing for us because I have been planning to focus more on this category. As with all of our products, it's important to be working with the people who are most directly connected to application. In 2010, we will be releasing a saddle category called "blueprint" that will include several models designed with Brandon's input.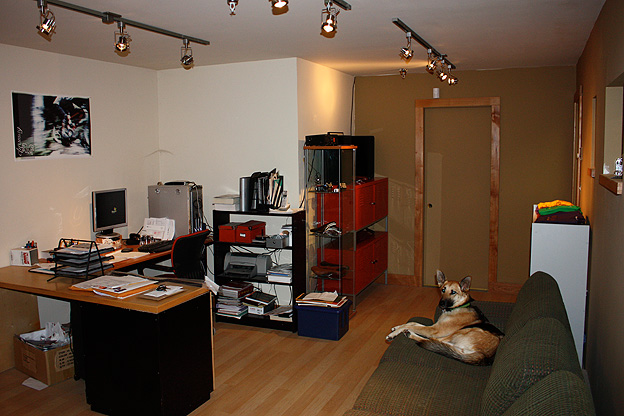 This is command central for Chromag. If you think this is modest, you should see what the place looks like from the outside.
nsmb: What's the one thing people would be surprised to learn about Chromag?

IR: A lot of people don't realize that we make most of our products here in B.C. That's particularly true for three models of frames where we machine all the junctions and dropouts ourselves here in Whistler, weld in Squamish, paint in Prince George and finish and prep again in Whistler. We machine all of our stems and QRs right here in Whistler as well.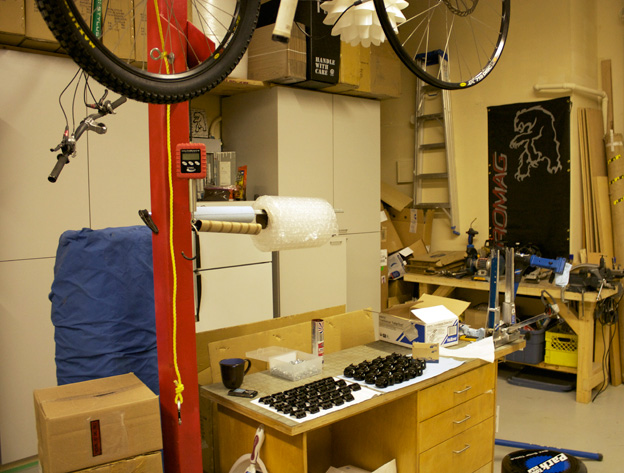 A whole pile of stems just waiting to get a final inspection and assembly before they head out to Chromag dealers and discerning customers.
nsmb: Anything else you'd like to say to nsmb readers?
IR: I'd like to thank everyone who has supported us and uses our products. I'd also encourage anyone who is interested in Chromag to contact us with any questions. Also, if you ever have comments or feedback, we want to hear that too. Our success is entirely based on our relationship with the riding community and that connection is very important to us.
Want to send a shout out to Ian? Share your love for Chromag parts or a certain frame you can't live without? Head on over to the boards and spill your guts.