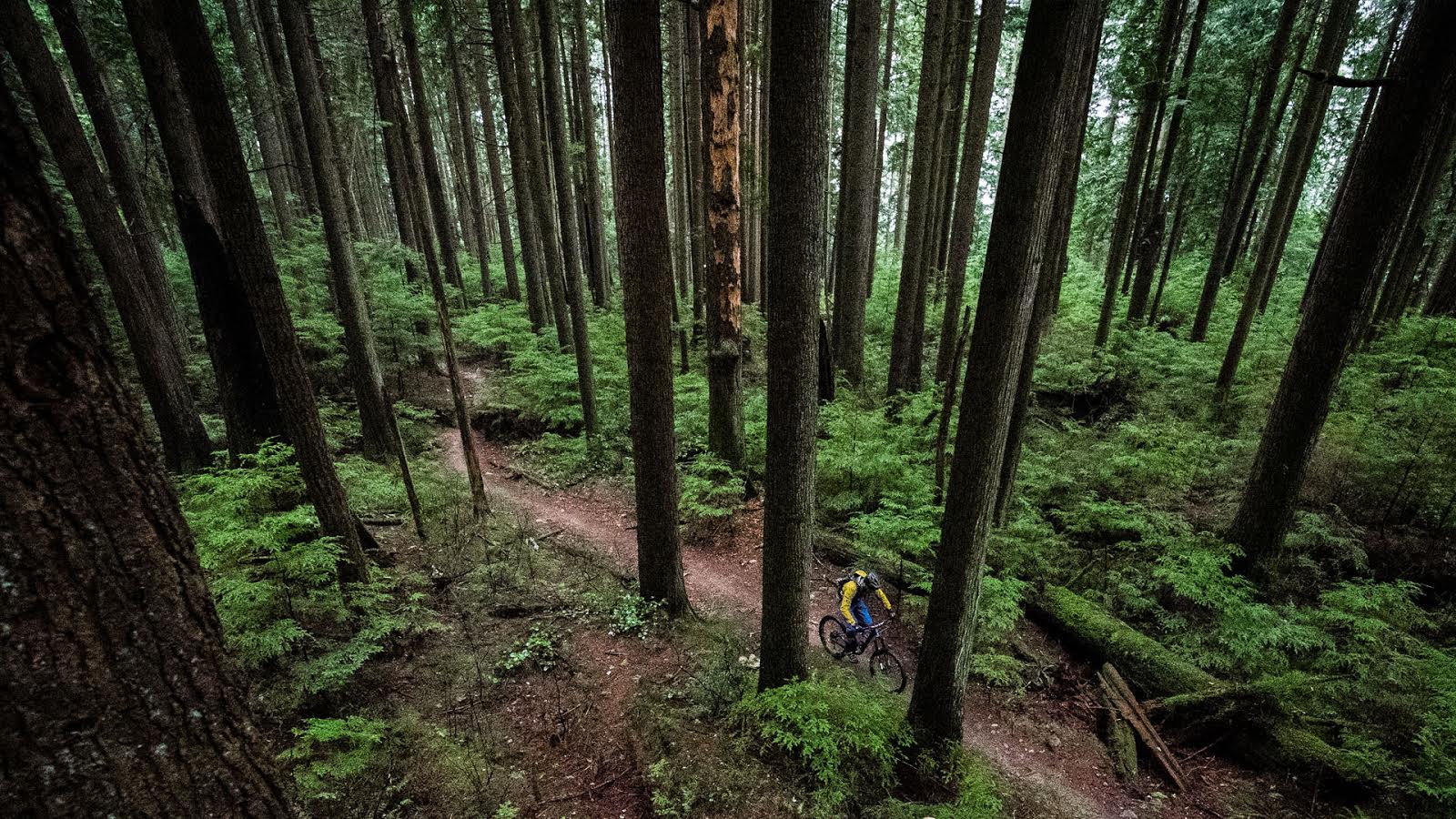 Schley and Tippie
Working on an interview with Mike Hopkins got me thinking about a couple of the pioneers of crossing over between snow and dirt; Richie Schley and Brett Tippie.  They weigh in on the positives and pitfalls of playing for both teams – so to speak.

nsmb – Did you find working for winter and summer was complimentary or was it tough to find balance between the two?

Richie Schley – At first it was complimentary and then it became more difficult to stay at the top of the game when all the other guys were doing off season training riding and I wasn't. The levels in riding were progressing so fast, that it was super hard to keep up the progression. I think now the level is much higher, but things have leveled off a bit.

 Richie carving a fluffy line.  Photo ~ Yorick Carroux. Check out Yorick's blog here
Brett Tippie – I was sponsored snowboarding before biking. I was racing for Burton snowboards for years before Pulp Traction and Kranked 1 came out. (I actually got the Gary Fisher Joshua I was riding in the Kamloops segment of Kranked 1 for a snowboarding photo incentive bonus from Oakley. One little video clip of the things we were doing to the right people and all of a sudden I was on a sweet Rocky Mountain.)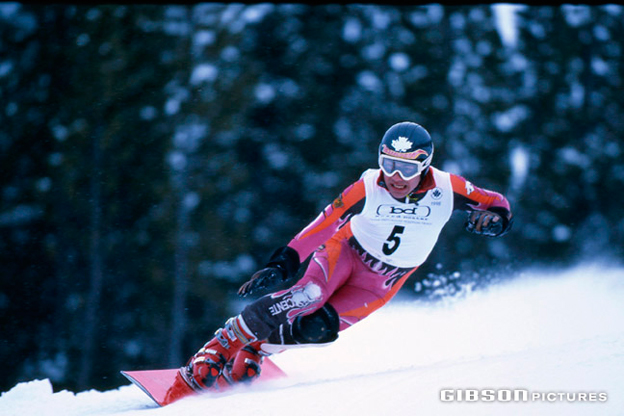 Tippie rocking the skinsuit and hard boots back in the day.  Photo ~ John Gibson

nsmb – The snow world changed fast.  Did it get tougher to hang on to a winter sponsorship at a certain point?  Were you forced to choose between the two?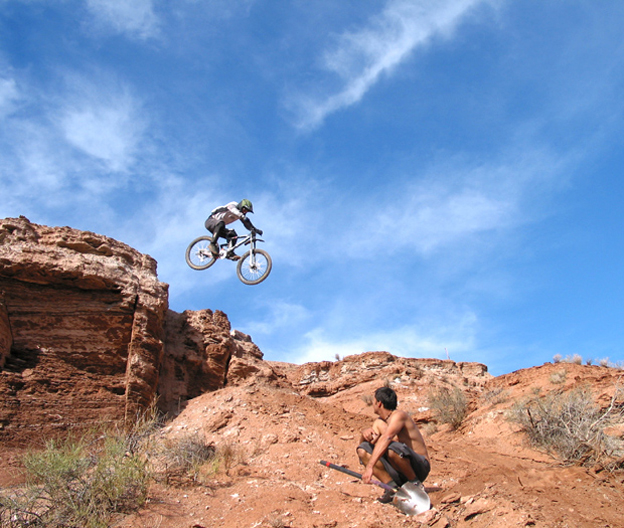 Richie practising at Rampage in 2003 while Ian Hylands looks on.  Photo ~ Cam McRae

Richie Schley – It got a lot tougher to hang in the winter because the jibbing came into it and that wasn't my thing. As a big mountain guy, you had to be at the very top and I was slightly under that spot, so I did get pushed away, but I didn't fight very hard to continue. I had and still do have such a good thing going with biking, that I thought the right choice was to put all of my focus on it.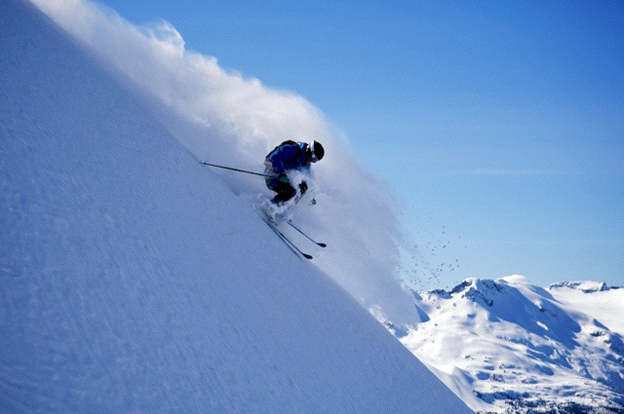 Now that looks like fun.  Schleyer getting his steep on.  Photo ~ Yorick Carroux. Check out Yorick's blog here
Brett Tippie – I found working both seasons mostly complimentary. The psych factor was always high as you would be switching gears from tires to edges and back again just when the burnout factor was starting to smolder. I used a lot of things I learned from shooting photos with pro snowboard and ski photographers in the bike world when we started to capture mountain bike freeriding… line choice, composition, working the magic hours for light, good riding technique, big balls, consistent 3,2,1 countdowns, professionalism (shut up Richie!), as well as having a stacked network of the world's best photo guys in my little black book.

 Tippie's back!  Here's Brett killing the Cherry Bomb.  Photo ~ Layne Marrett
Tippie cont. – The down side was that everybody else was going hard in their respective sports year round and there was always a little catchup at the beginning of the season to get the rust out, but it got easier as the years went on.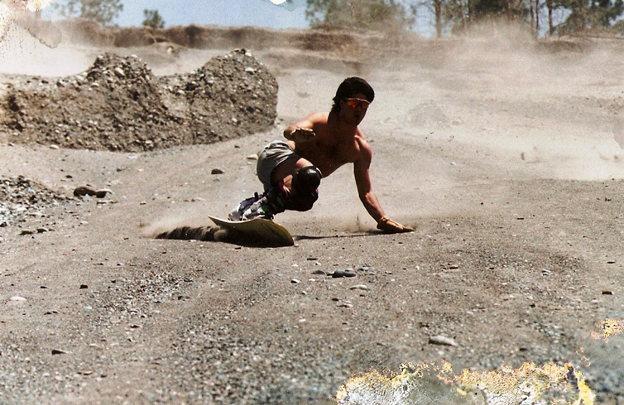 One of the original badasses.  Tippie carving a nasty, rocky scree line – shirtless of course.
I wonder why we don't see more athletes sponsored for more than one sport?  Or perhaps it's surprising, given the level of commitment required – that there are any at all?  Who are some other dual sport sponsored athletes you know of?  Pipe up here…