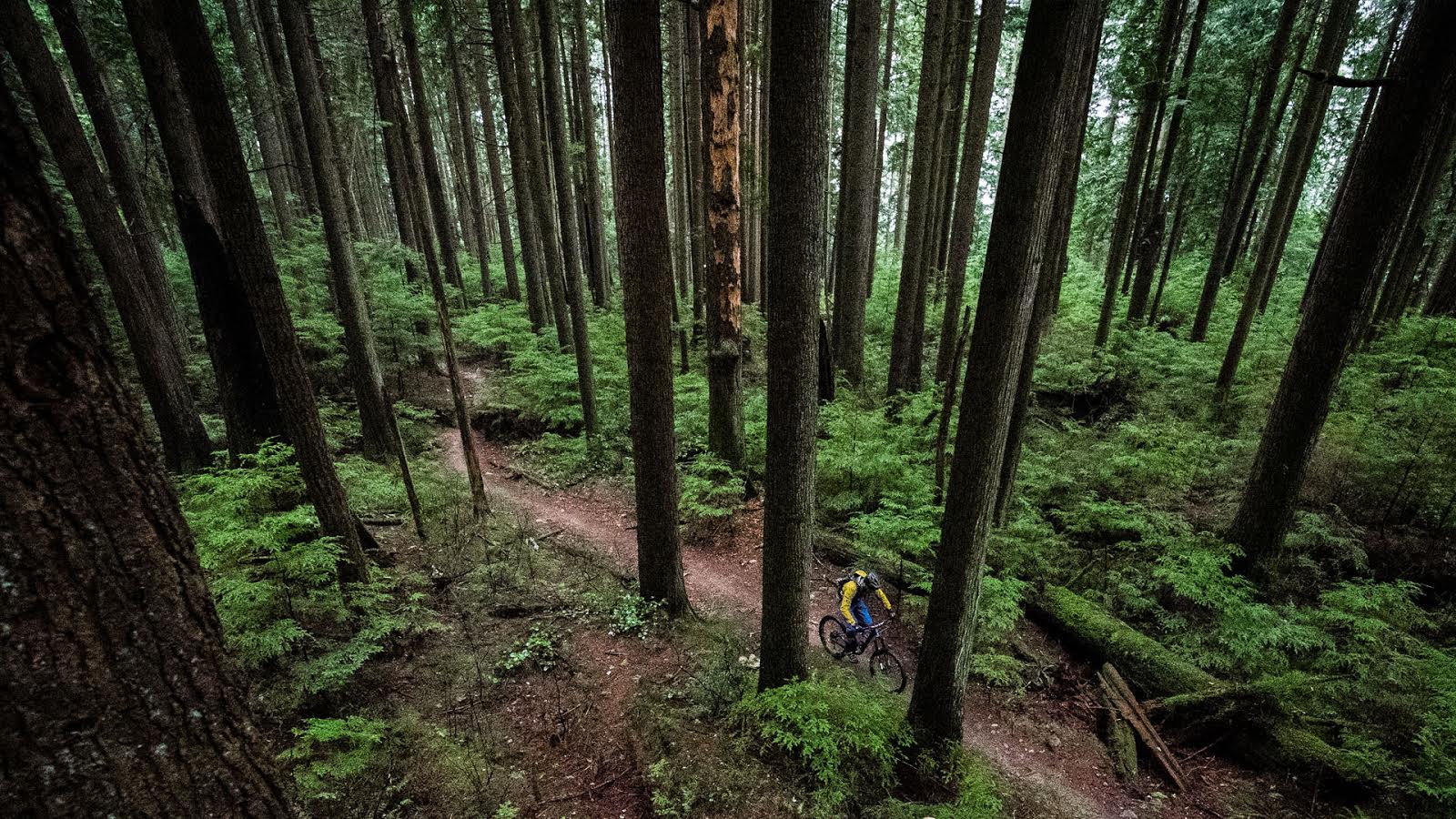 First Look: X-Fusion Vengeance Fork
Spy shots and sketchy reports of a new prototype X-Fusion freeride fork have been floating around the web for months. The suspension maker spilled the beans at Interbike, but the actual fork was nowhere to be found. Fast forward seven months to Sea Otter, which served as the new fork's public debut. Dubbed Vengeance and aimed squarely at the heavy-hitter market, the new fork made its appearance on the front of the X-Fusion / Intense race team bikes and showed up on a few websites' Sea Otter photo sections.
The new X-Fusion Vengeance in the flesh. White, light and proud of it. 2.5″ tires will fit through the arch without a fuss.
X-Fusion sprang to life as the suspension division of a Taiwanese frame maker in 1999, to supply rear suspension for the company's own frames. They quickly progressed to producing suspension forks as well, and have built both front and rear suspension under their own brand as well as for other major manufacturers.
Three years ago, X-Fusion introduced their first fork aimed at the upper echelon of aftermarket forks, the Velvet. The fork was a success and gave X-Fusion the confidence to start developing the Vengeance and take on the top names in the industry in one of the hottest fork categories going: 6″ single crowns.
So if I turn this knob counter clockwise it makes my bike go faster? Sweet! Oh… rebound damping. Right.
When the good folks at X-Fusion dropped me a note a few days after Sea Otter event saying that they were coming to town and wanted to see me, I was pretty sure they would have their new flagship front bump-eater in tow. Nothing draws a bike tech junkie to a meeting like a potential look at shiny new fork, and I said "yes" faster than a mountain biker chows down a post-ride burrito.
I met up with U.S. general ganager Rodger Bradford and U.S. sales manager John Valera at a local restaurant and got the full low-down on X-Fusion. They let me know how the company got started, who they have built (and supplied) suspension components for and why they chose to step it up and take on the big boys with their new fork design.
The example Xfusion brought along was sporting the tapered steerer, but have no fear: the fork will be available in all three common steerer standards.
The folks at X-Fusion are not simply releasing a new fork: they are aiming to transform their entire company. They know where they have been (producing original equipment and budget suspension) and where they want to be (mentioned in the same breath with the best suspension manufacturers).
In order to provide a completely different level of service and support this new vision they have made several large-scale changes. All the final say on product quality and when they are ready to be released rests with the California office now, and all of the marketing materials for the new suspension parts has been moved to the U.S. offices in California along with the service facilities.
This will hopefully allow X-Fusion to hit their target of a 48-hour service turnaround for their forks. To ensure riders get all the support they deserve, X-Fusion is also offering a two-year warranty, a year longer than any of their competitors.
The alloy cap on the right covers the high and low speed compression adjustment knobs. X-Fusion is still in negotiations regarding which 20mm QR axle standard to use.
X-Fusion has had some serious pros on their forks for a few seasons now and continue that trend this year with the likes of Andrew Taylor and Phil Sundbaum thrashing the forks and providing priceless real-world feedback to the team in Cali. Both of those riders have been instrumental in bringing the vision of the new Vengeance to life.
The technical specifications of the Vengeance are in line with the class leaders in the category: 6″ of air-sprung travel, 36mm stanchions, high- and low-speed compression (for the HLR model) and a 20mm QR thru-axle, all wrapped in a sub 5lb. package. On paper, the fork is very impressive. In person, it's downright drool-worthy.
While most of the decals are under the clear coat, the adjustment guideline stickers are on top for easy removal is you so choose.
The Vengeance will be available with all three steerer tube options (1 1/8th, OnePointFive, and tapered steerer) and two trim levels. The higher end HLR will have high- and low-speed compression damping along with rebound damping, while the RC will only have rebound and low-speed compression damping.
X-Fusion knows they have to price aggressively to break in to the market and is aiming for a very reasonable US$799 for the HLR and $699 for the RC version; Canadian pricing was not available at press time. Both forks are slated to be available by July 2009.
They are also planning a adjustable travel version that should roll out in time to be on some lucky rider's holiday wish lists (November 2009). This line-up should present riders looking for a fork in this ever-growing category with plenty of options at very competitive prices.
Note to self: do not to try take product photos after drinks while balancing on overstuffed restaurant benches. Blurred images will result. X-Fusion was nice enough to send along this stock image of their high and low speed compression adjustment knobs. || photo: courtesy of X-Fusion
The finish on the fork that Rodger and John brought along for show-and-tell was the HLR model with the tapered steerer. Fit and finish seemed top notch and they didn't skip the little details. The high- and low-speed compression knobs are anodized two different colors and designed to be easily operated even with gloves on. The rebound knob on top of the rider's right fork leg is a large diameter design with texture on the edges and is imprinted with clear tuning instructions. The white and blue color scheme of the fork is eye-catching but if you prefer basic black, that will be the alternate color option.
All in all it seems like X-Fusion is well on the way to producing a legitimate new alternative in the aggressive 6″ fork category. Like all good designs, however, the proof will be in how it performs in the dirt, not how it looks on paper. X-Fusion feels strongly enough about their new design that they have promised to send along one of the first production forks for testing. Then we'll really see whether the Vengeance is a contender or a pretender. I for one can't wait to find out.
Ed Snyder
Eager to see some worthy competiton enter the high-end fork market? Too brand-loyal to ever consider switching? Let the rest of us hear it right here...