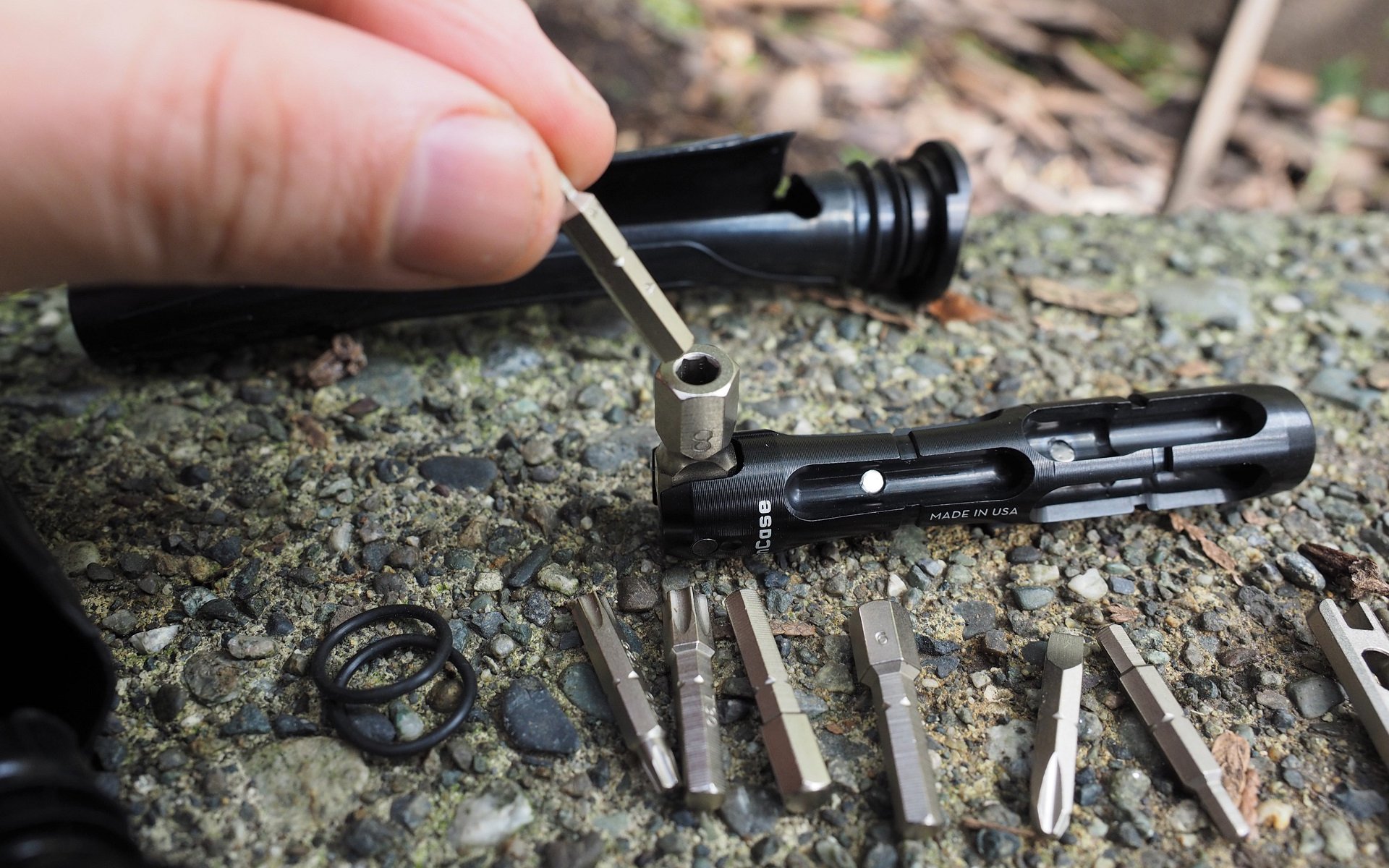 FIRST LOOK
3 Test Products for Andrew Major: Spring 2020
Local mountain bikers are normally coming out of hibernation around this time, or loudly parroting the lack of an off-season. While the forest is doing its spring thing as normal, things are entirely more somber in our local community and the world over. I can't find the words exactly, but I've settled on really hoping that you and your family are well. Hopefully reading about bikes here provides a bit of escape, stimulation, or at least helps keep your spark for charging hard on mountain bicycles.
I'm very much looking forward to future days when I can justify pedaling 1440-gram DH tires up my local climbs so I can try and prove myself worthy of them on the way down, trying to rip the cleats out of my shoes on janky descents, and needing a multi-tool to straighten my handlebars when it all goes awry. Here are some shoes from Giant, tires from Bontrager, and a stash tool from Wolf Tooth that are all ready when a full-throated unleashing of the hounds comes to order.
Giant Line Clip-In Shoes
The Giant Line is a great looking shoe. It also has the features one would expect in shoes that sell for 200 CAD | 150 USD, including a seamless, vented, hydrophobic upper that should breathe well without retaining water. Usually, I'm all laces all the time with shoes these days, with a velcro power strap on my clip-in options, but the Lines have an interesting hook: their ExoBeam, ExoFlex, and ExoWrap construction.
I popped that into Google translate and, when converted from Marketing, it means that shoes are stiff under direct pedaling loads while allowing toes to flex normally, and fit really nicely. They also pass my number one go/no-go test for shoes these days which is a cleat pocket that allows the same rearward cleat position as my much-loved Rally shoes.
I'm sure there's a pun in there somewhere but suffice it to say I'm not stuffing a waterproof sock into my usual size 43, which fits me very well lengthwise. The nice pair of the woolies my mom knit me won't even squeeze in. These Giant shoes are not giant shoes by any measure.
My feet are medium-wide and width doesn't usually come up as an issue for me. What's exciting here is that I know quite a few people who complain about the lack of options for long and narrow feet and for them here's a potential choice. My Merino NSMB socks fit fine and I often wear an even lighter sock in summer so fit should be fine.
So far I've worn these around the shop, mounted cleats, and ridden around the block. I'm running the cleats all the way back, as I've generally been doing since I started riding flat pedals part-time again, and I'm very impressed that Giant can match the most rearward position of any shoes I've ridden and realistically I have the range to go forward a bit. I don't generally think of them as trendsetters but there are a lot of companies still wasting half their cleat adjustment range up near my toes.
I've started off running the shoes with Mallet DH pedals but they're easily stiff enough to run a pedal without a big cage. I'm certain that I'll have more to say about stiffness vs. comfort once I have the opportunity to put some big, mean days into them.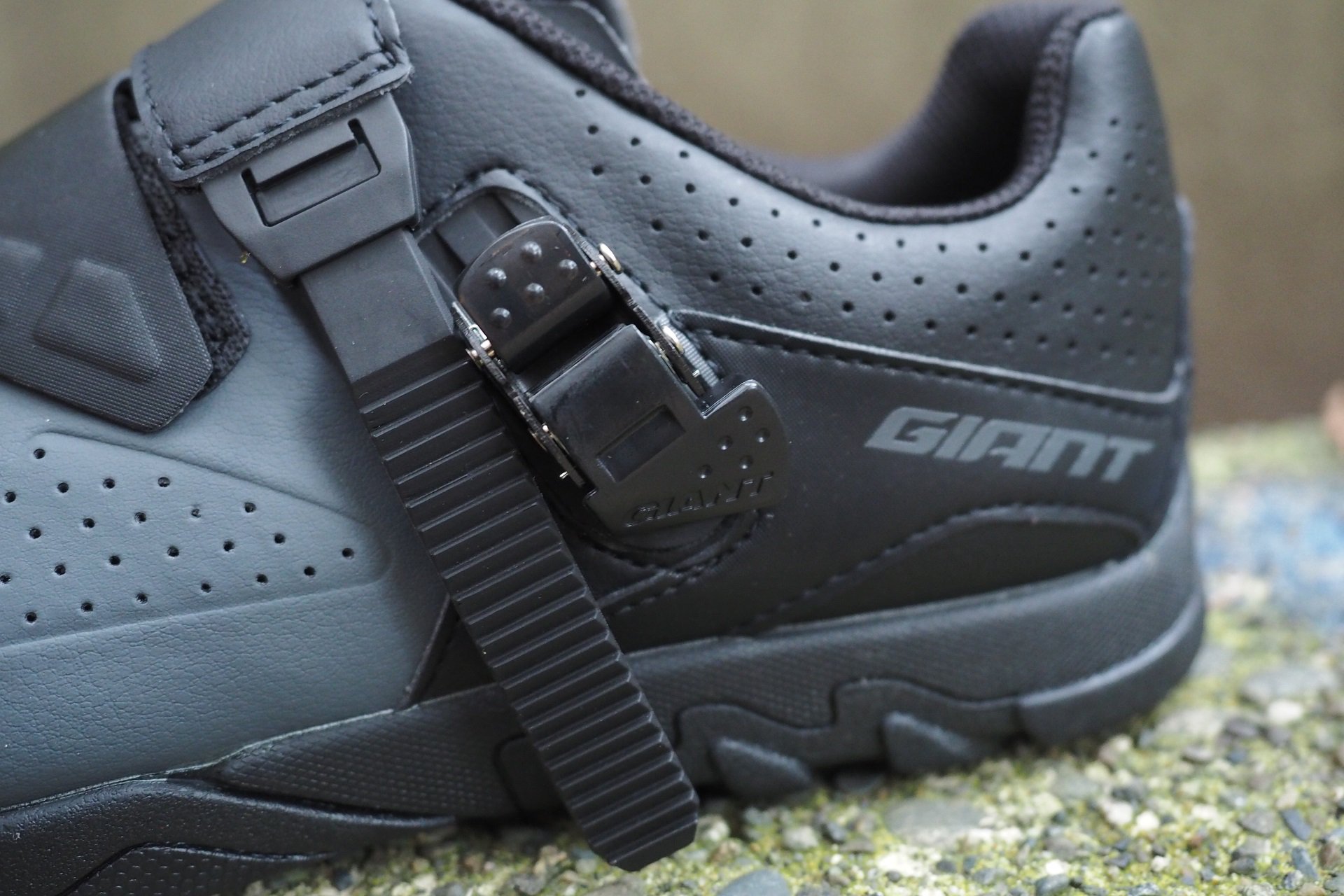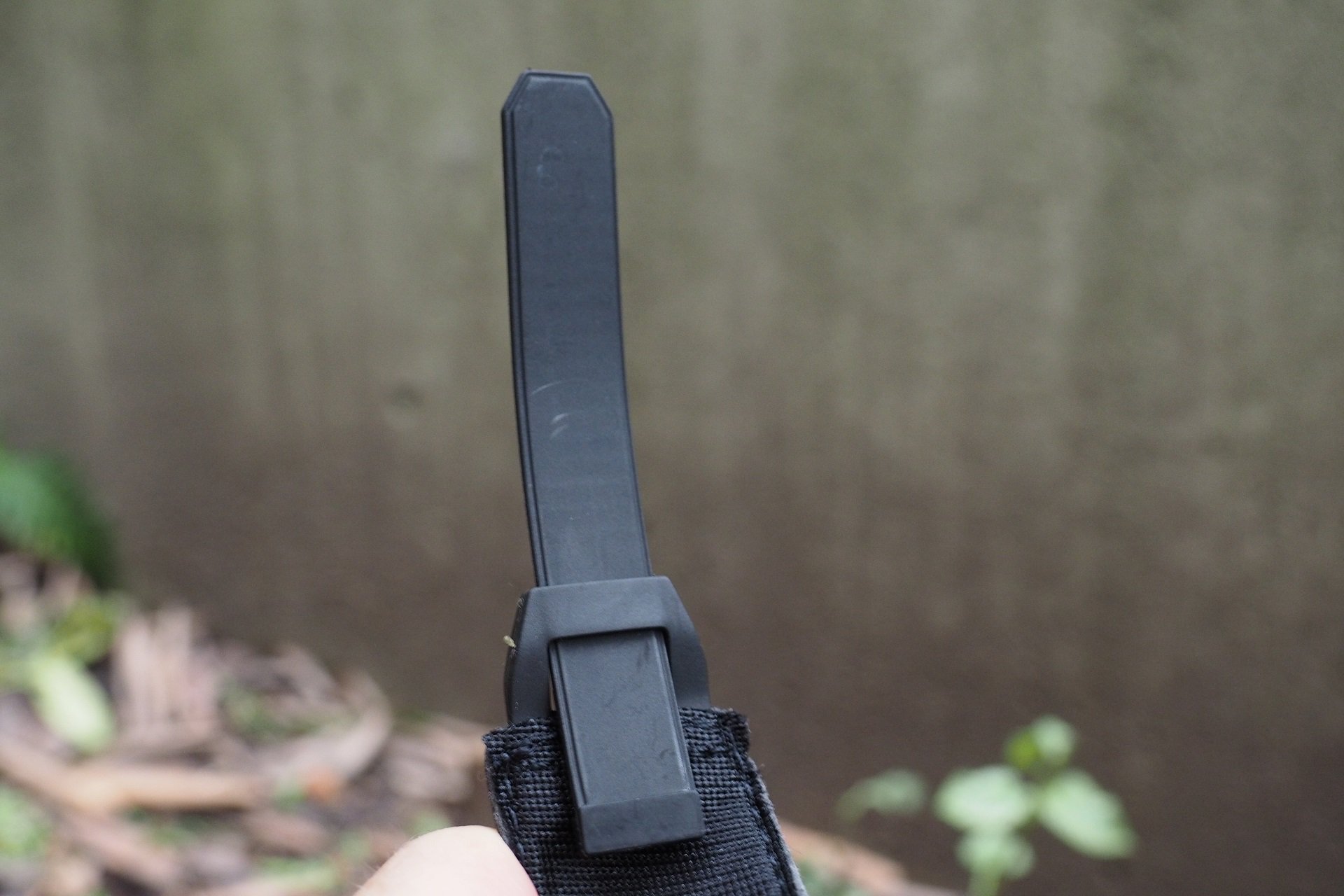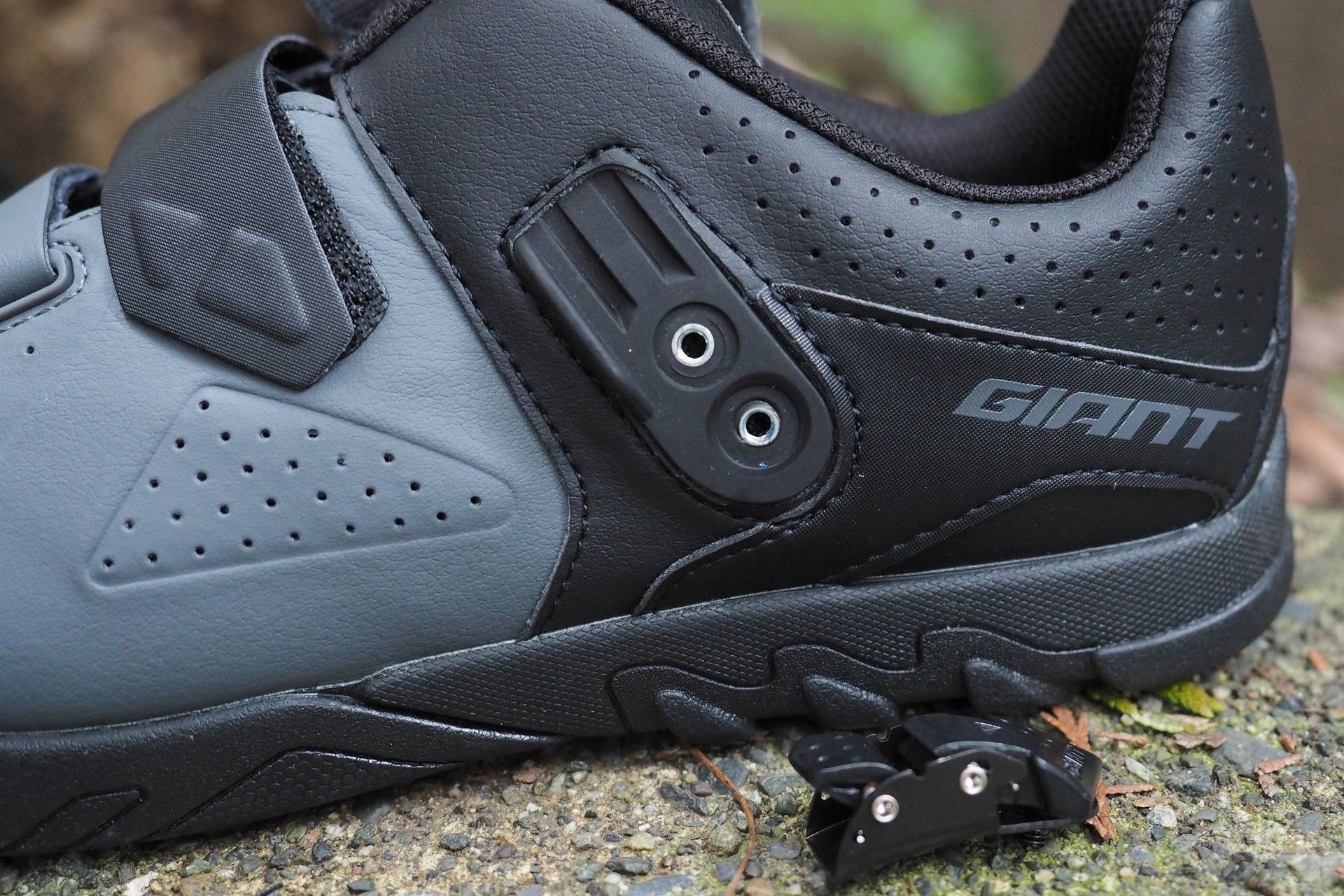 Bontrager G5 Team Issue Tires
Bontrager's original G5 tire was a collaboration with Aaron Gwin back in 2012 when DH racers were all still running 26" wheels. Now DH and Enduro are racing larger wheels and the true DH tire has been morphed into a 27 x 2.5" and 29 x 2.5" option, both sporting wire beads, and weighing 1440 grams for the 29er version with dual-ply casing for support and durability and an added butyl rubber layer to prevent flats.
These rim-shoes weigh even more than my go to WTB Vigilante 29 x 2.8 Tough Casing tires, in a smaller size, but I knew I'd be running them without an insert so the extra-extra support from the carcass should be a win. I've set a life goal of never again having to insert a tube on the trail so some combination of tire plugs, beefy sidewalls, and inserts is going to get me there.

I've set a life goal of never again having to insert a tube on the trail...
These tires are beasts to install compared to all the folding bead options I've been working on forever. I actually can't remember the last time I popped on a wire bead tire and my thumbs were out of practice. I did eventually get out the tire lever just to finish the job.
The G5 frankly looks like a well-designed tire with no voodoo magic going on. They have open tread spacing, an obvious transition from center-line braking to side knob support, and they feature soft 42a rubber from edge to edge. The rubber feels soft to the touch and threatens to make for quite a chore pedaling up the road to hit the trails but I'm still excited to try them on the downhills.
The G5 Team Issue sells for 70 USD, which is just under 100 Beaver Bucks, giving it the potential to be an incredible value if performance lives up to its billing.
Two more quick hits. Bontrager's tire sealant is now blue. I had a perfectly fine experience with the first version but the new stuff is claimed to last longer and seal punctures faster than the original. The first is an easily verifiable claim that I'll report back on. I run DH casings in the hopes of not getting any punctures but if it comes up I'll mention it.
Lastly, I'll abuse this pulpit to remind anyone at Trek-trager that's reading that the Stache is a wicked platform that's absolutely worthy of getting 3-4° kicked out of the head tube angle, 2cm cut off the seat tube and added to the reach on every size, and so on as it goes down the path to a modern bicycle. That new bike is going to need some mean shoes as well and a 2.8" or 3" SE5 or even G5 would be the perfect companion! Why not make both? Happy to help and looking forward to testing the 2021 model!
Wolf Tooth EnCase Tools
Working on my bike today, three feet from my toolbox, I decided I'd like to roll my bars back 0.5°. I can see my Park Y-hex sitting on top of my Shimano torque wrench, next to my colourful Wera hex set, and instead of taking a single step I pull the Wolf Tooth EnCase tool out of my handlebar, pop out the 4mm bit, and go to work.
It's early days and the only trailside stuff I've done with Wolf Tooth's solution to getting tools out of my pack is adjusting saddle tilt and tensioning my chain, but I think they have a winner on their hands. EnCase has a real and usable 8mm hex on a swivel head and a whole pile of nice steel bits that pop into the center of said hex-head to do my bidding.
It's really convenient to grab, genuinely nice to use and takes a few seconds to swap from bike-to-bike. The EnCase hex-bit wrench and its sister chain tool sit in a pair of rubber sleeves and then push into either side of my handlebar and are held in place by bar plugs.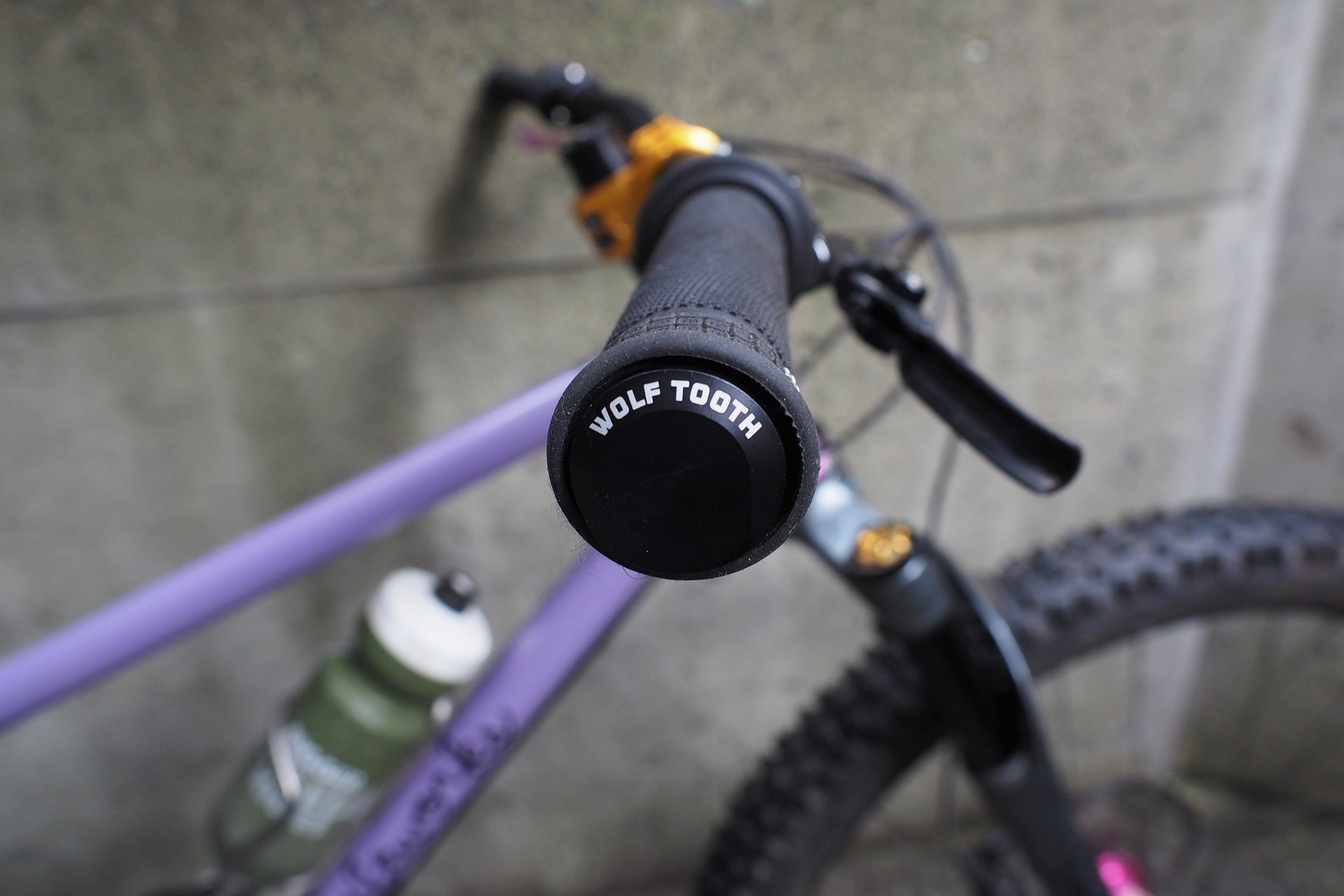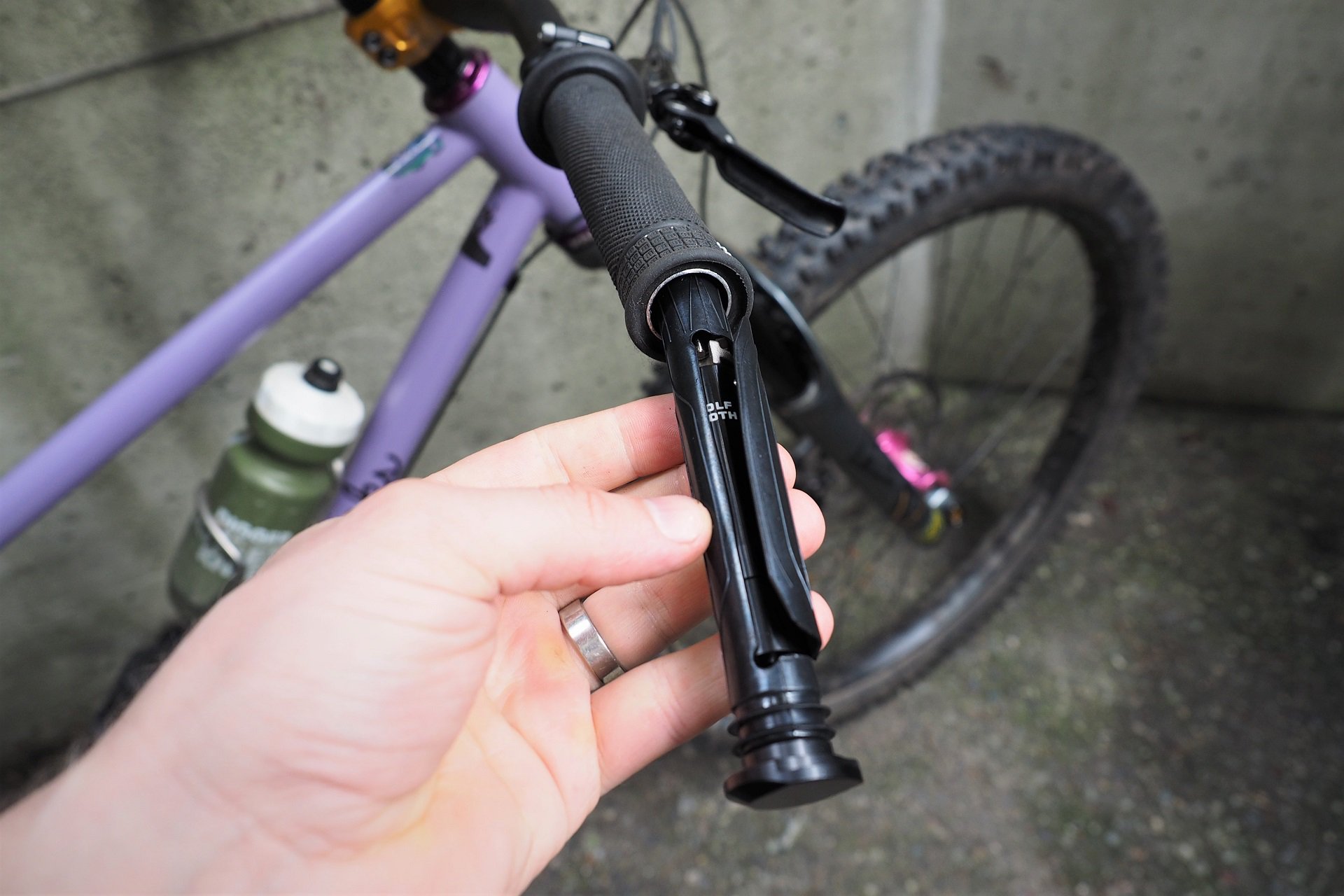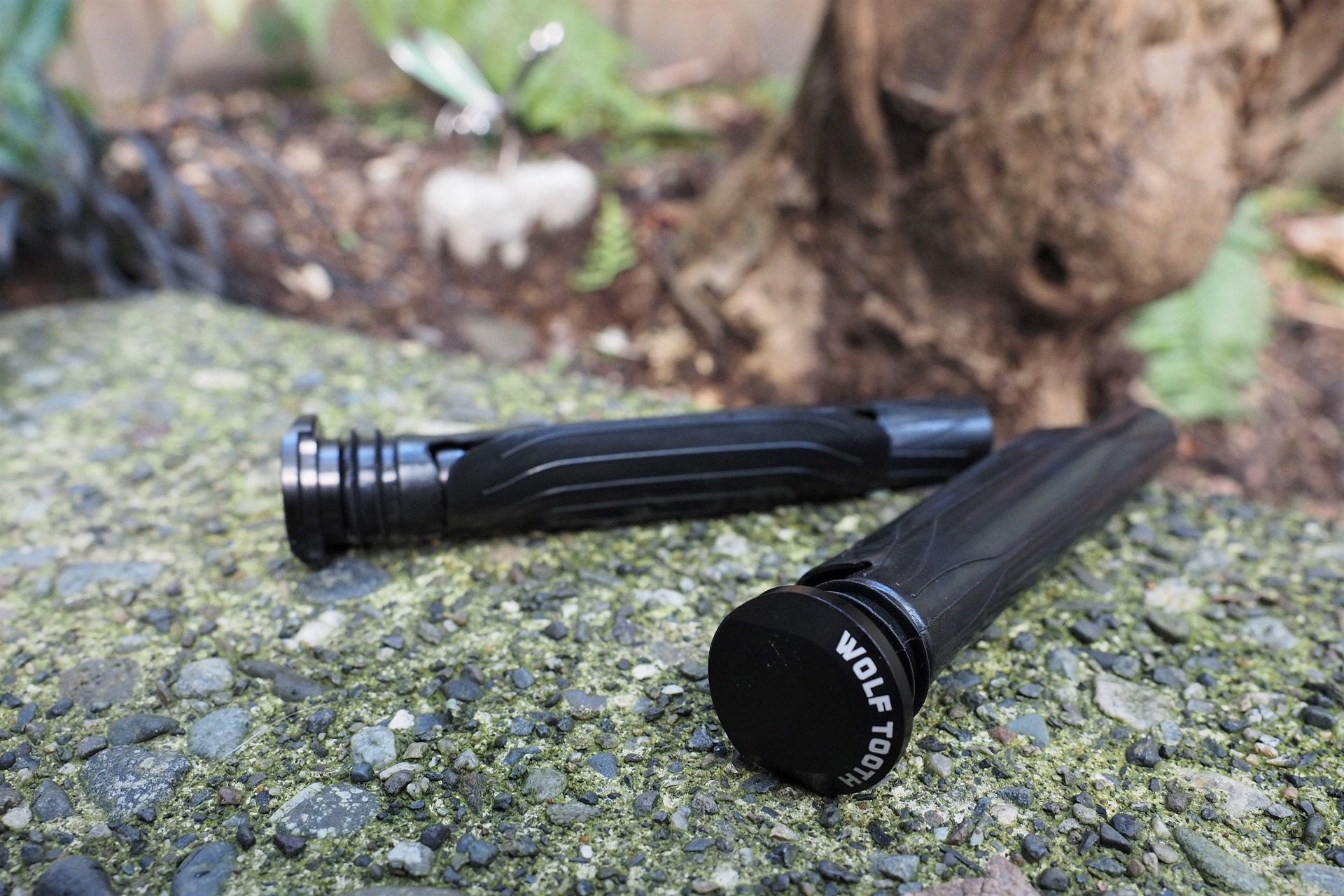 It's early days, but I'm impressed at both the quality of the tools and the fact the system is completely silent. I don't normally ride with a chain tool, just some quick links, so for me the hot buy would be to pick up the hex-bit wrench for 50 USD along with a single sleeve for 20 USD.
The hex-bit wrench has the 8mm hex swivel head, and the additional inserts include a spoke wrench, valve core tool, flat head & Phillips screwdrivers, all the hexes (2mm, 2.5mm, 3mm, 4mm, 5mm, and 6mm) and three Torx options: T10, T25, and T30. That totals 14 tools.
I know it's a lot of money for bike tools, but assuming everything holds up and someone does want to carry a chain tool & bacon inserts, the fit-and-finish combined with the lack-of-pack will justify the 120 USD outlay for plenty of riders.
The EnCase system includes a fit kit for drop bars which tend to have a wider internal diameter at the ends. As it would turn out, I had a need to install them. My SQLab 30X aluminum bars are fairly thin-walled and with a more flexible push-on grip, I had the EnCase tool walking out about a centimeter under hard climbing and full-English descending situations.
This wasn't an issue using the same model bars with lock-on grips, using carbon bars with push-on grips, or other thicker aluminum bars, so I'm concluding that my fitment issue stems from a perfect storm in a sea of varying internal bar diameters.
The fit kit consists of an o-ring that goes between the spines of the bar plug for support, and some heat-activated shrink wrap, and it's simple to install. I'm right on the cusp of a too-tight fit with the kit installed but I'm happier with a bit tight than too loose.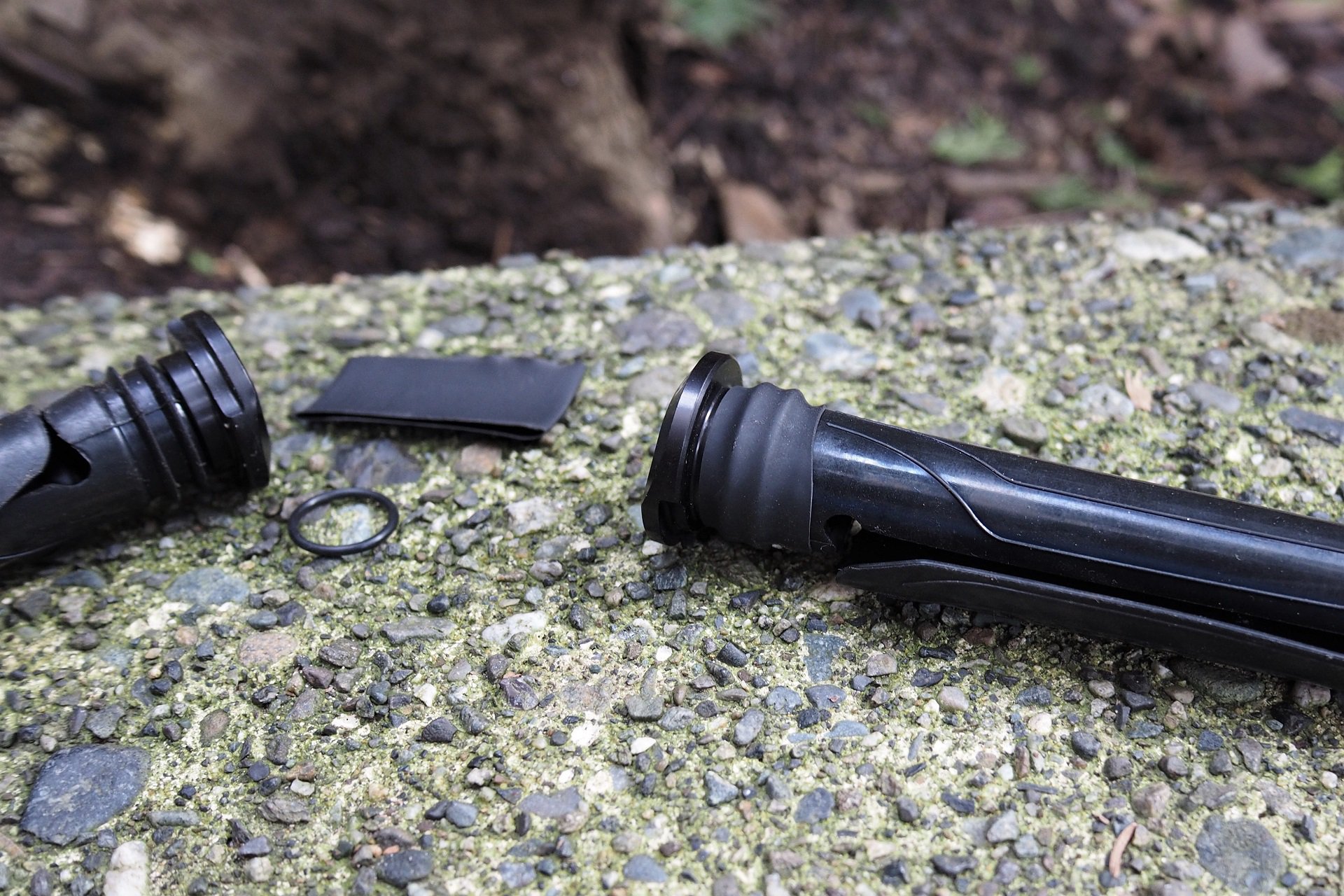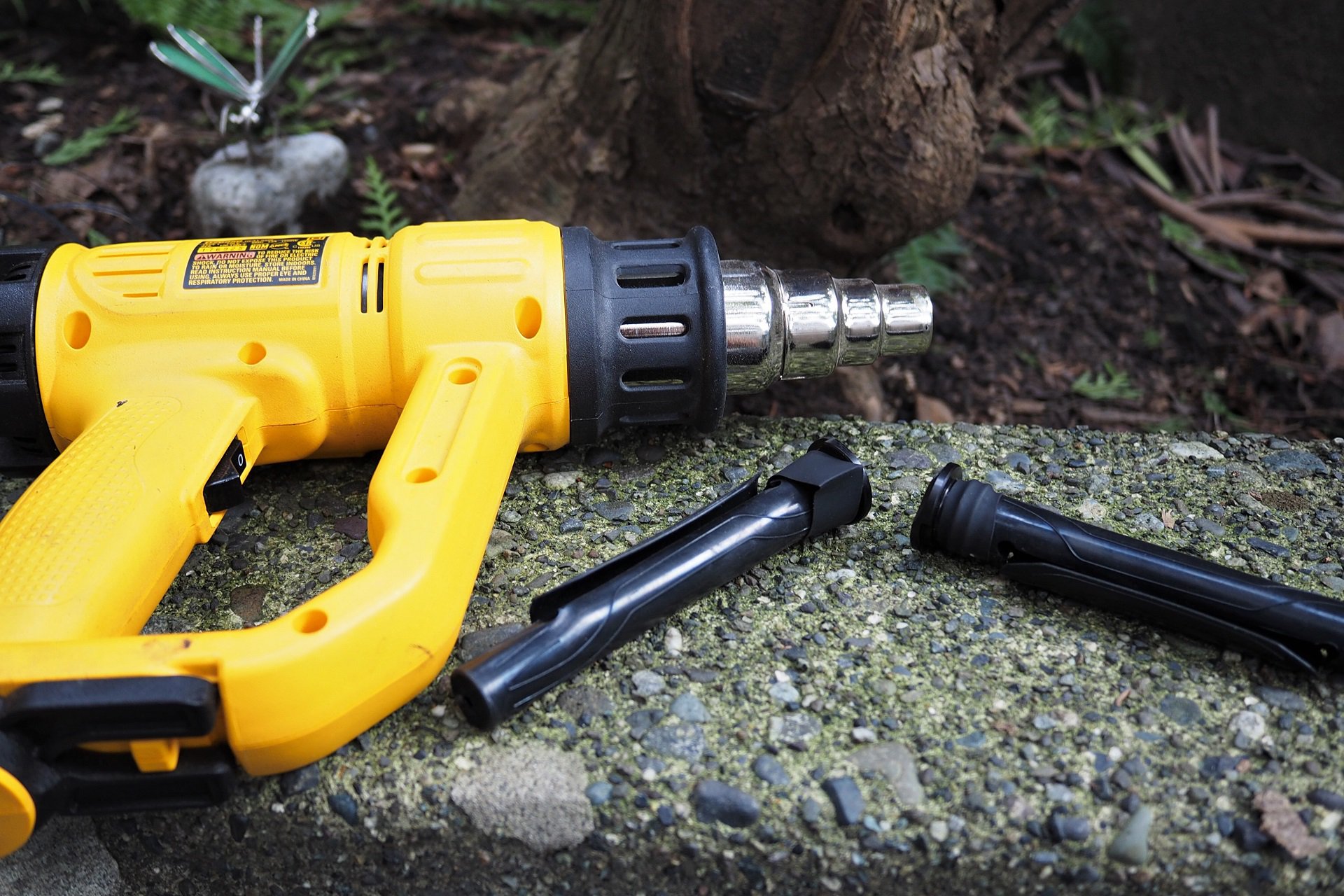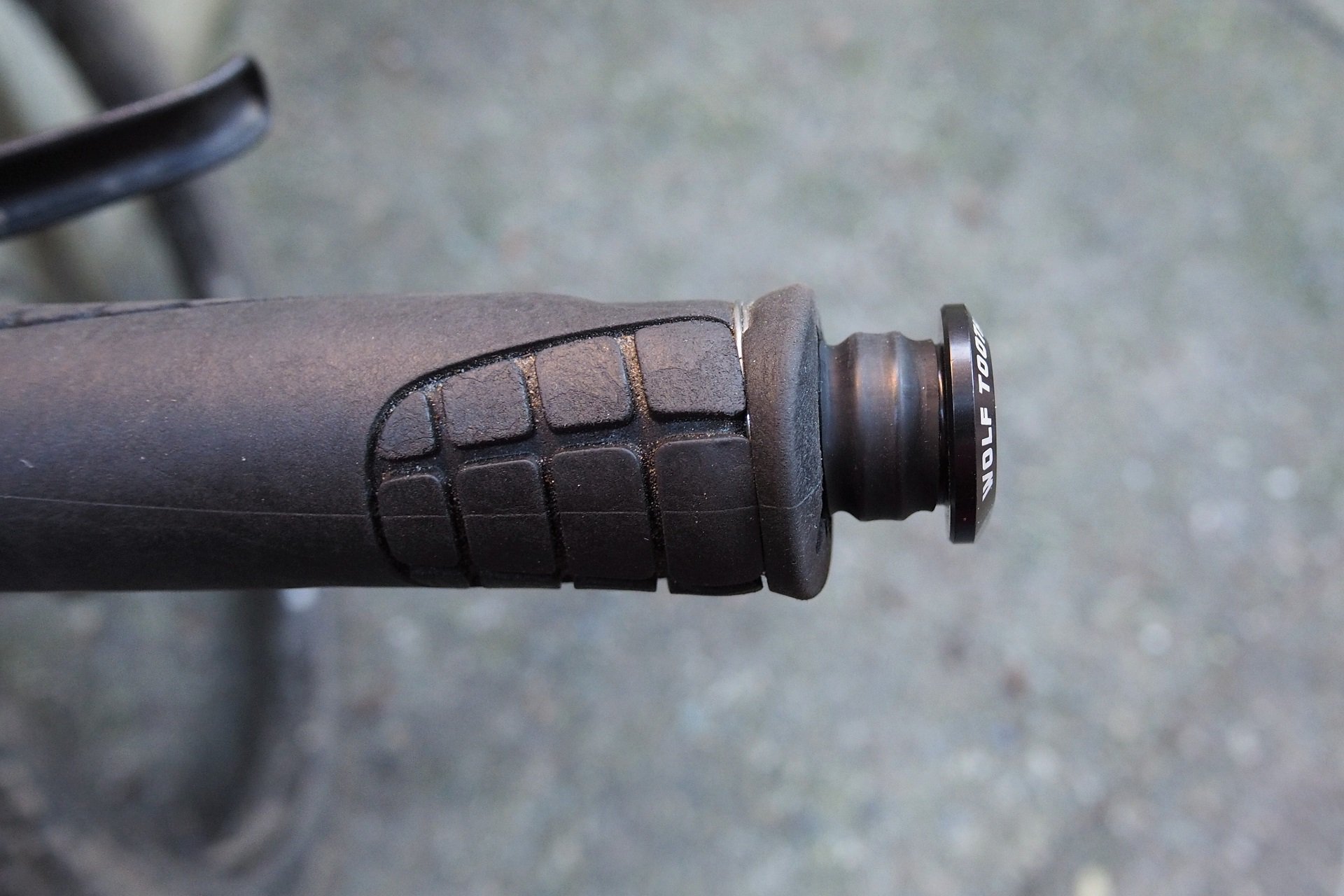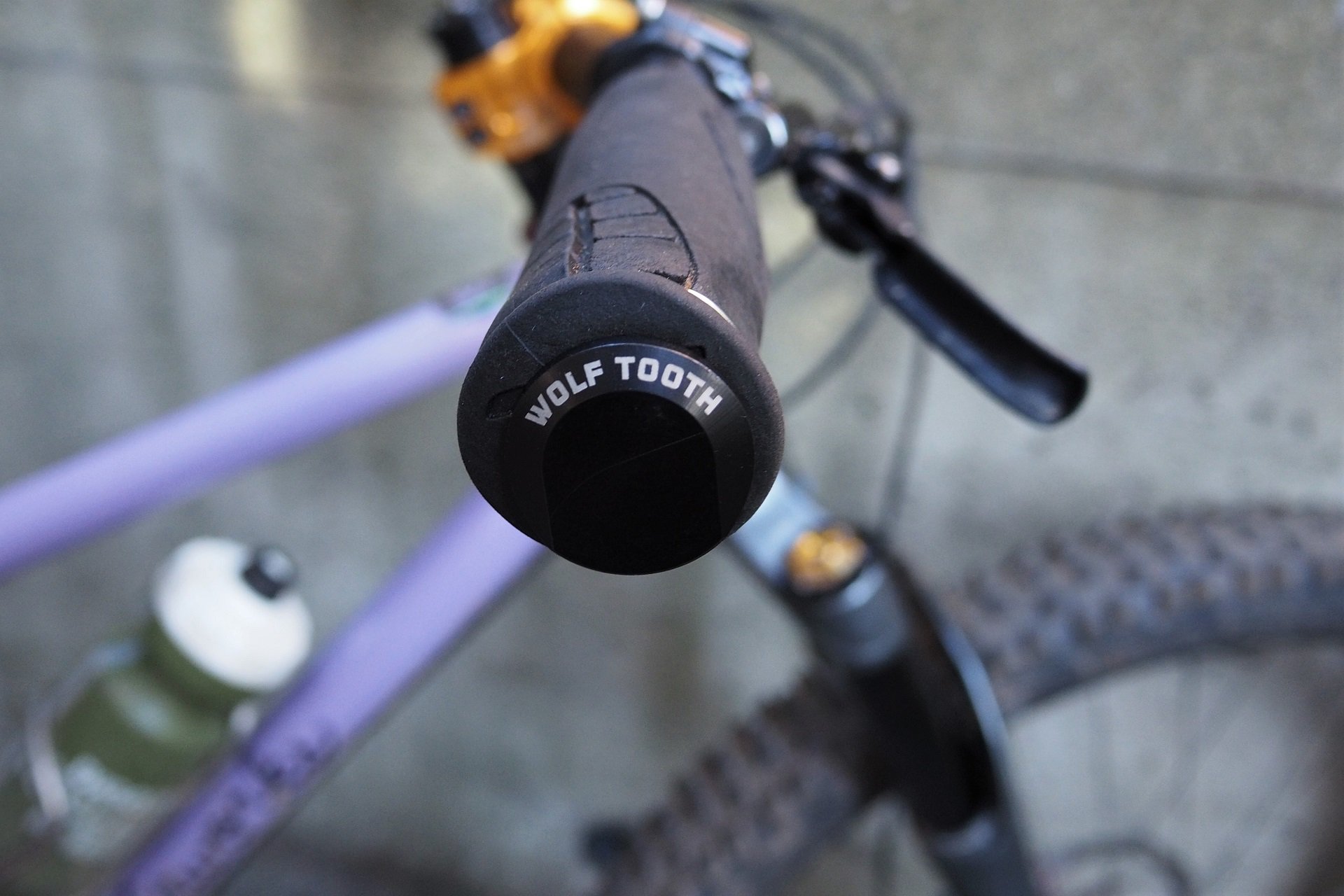 The EnCase wrench is plenty stiff and there's ample leverage for the 8mm hex. It's able to tighten my single speed dropouts or an 8mm bolt crankset, like a Race Face Cinch model. But, but, but, with great power comes great responsibility. If you stick the high-quality 2.5mm hex head in here and go full ham-fisted-Joey on a bolt, you'll either strip out threads, round out a bolt, or pop the head off. Either way, the tool will be fine but you'll be 'that guy.'
While talking about potential negatives, Wolf Tooth has a list of known incompatible bars, presumably due to the minimum internal bar diameter of 17.5mm. Here's the list as of today: Syntace Vector, Diety Skywire, Jones H-Bar Loop SG 2.5, Chromag BZA, BMC RCB01, and the S-Works Hover Carbon. If in doubt, grab some calipers or send the good folks in Minnesota a message.
In typical Wolf Tooth fashion, the various components of the EnCase system are available individually from o-rings to chain tool pins, and so on. I'm curious if the vibration-damping rubber storage sleeves will end up being a wear item, but that's something I'll keep a close eye on as part of the review. When we can all get back to sharing tools I have a feeling I'll be pulling the hex-bit wrench out constantly when someone needs to make an adjustment.
Folks who are more than happy to chuck their 20-buck multi-tool in their pack need not apply. These tools are made in the USA, function excellently, appear to be very high quality, and are a unique solution to a pack-less rider's needs. For some riders that could be enough to justify the 120 USD outlay for the complete Wolf Tooth Bar Kit One set.