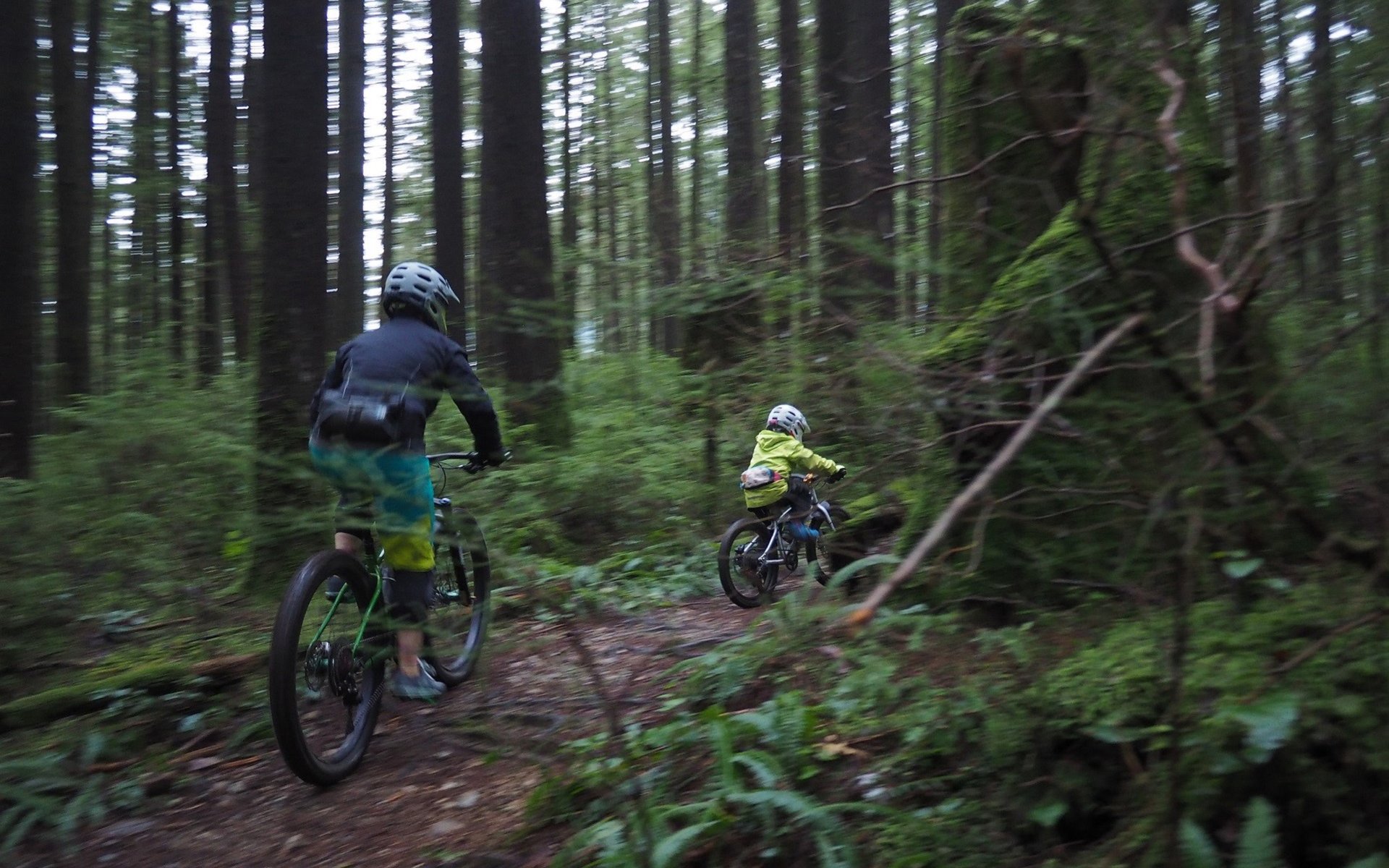 REVIEW | EDITORIAL
Andrew's 3.5 Best Kids' Bike Upgrades
Upgrades v. Monies
I know that quality kids' bikes are already expensive. Even fully rigid ones. Hydraulic disc brakes make a massive difference to control on real mountain bike trails, shiftable gears that hit every time and don't derail are huge for confidence, and it really does all start with good geometry.
Despite some two decades working in the bike industry, I was caught out like everyone else last summer when my daughter outgrew her 16"-wheeled single speed and I had to track down a 20"-wheeled bike for her. I knew I wanted hydraulic discs, good geo, and the lighter weight and reduced complexity of a rigid fork. I was lucky to track down an Early Rider Seeker 20", and I have to say that it's easily paid for itself in terms of the number of rides we've done since.
My kid chose to start mountain biking in September and chose to keep mountain biking at night (with lights) in the pissing rain all through the fall and winter months.
I get a fair amount of correspondence about kids' bikes and riding gear and I also voraciously devour the information I can find. For example, I have to give some props to The Bike Dads for the riding pants find. My grom-ripper has hit the deck in her Adidas Tiro19 pants more times than I care to reflect on. They're very comfortable to ride in, and they make putting knee pads on and taking them off truly easy.
None of the upgrades I'm suggesting here are cheap but whether you're fixing up an old Kona Kula 24" you borrowed from your neighbours or making the best go out of a half-a-grand Giant, these are the keys to your shredder's best mountain bike experience.
Pedals that grip in any weather, in any terrain.
A seat post quick release they can operate themselves.
Maximum tire traction.
An introduction to one of the most important parts of mountain bike culture - past if not present.
1) Great Pedals
I'm still holding my breath for Chromag to put out a composite (plastic) version of their Radar pedal, or for OneUp to do a smaller version of their excellent composite pedal, or for Kona to add a third, extra-small, size of the composite Wah Wah 2. Or, well, you get the picture.
Until a brand gets out there with a truly good kids' pedal for half the price, Chromag's Radar remains the gold standard and there's a reason I saw them on 90% of the kids' bikes being ridden in the rain this winter. It's no different than buying into a shoe-pedal interface for adults. In the summer, a pair of hard-rubber soles on a poorly pinned pedal is totally survivable, if not comparably enjoyable. In the winter, anything less than confidence-inspiring grip sucks.
Even before Gramma came up with a pair of Five Ten kids' shoes as a gift (more on that below) the Chromag's paired with some Keen hiking shoes was a very good combination. Yes, they're 100 USD | 125 CAD kids' bike pedals. But, assuming they're bombproof, or at most need some bearings, I'm anticipating we'll be amortizing them over some ten years of usage before a bigger size is called for and that's a bargain based on the performance.
Five Ten (or Adidas if you prefer) has figured out what many mountain bike companies have not: hook 'em young. I take Manitou as an example with their high-performance kids' Junit suspension forks. There's a whole generation of kids who are going to think that the Reverse-Arch appearance is entirely normal because they grew up with that being the aesthetic of the best fork available for them.
We had a great result using the Radar pedals with 'regular' kids' footwear, but now that my daughter has experienced real riding shoes I don't think we'll be going back. Where are Shimano, Crankbrothers, and Leatt when it comes to this category?
All the same, I bring it up because if paying for a dozen pairs of mountain bike-specific kids' shoes over as many years isn't realistic for your usage or budget, investing in a pair of Chromag Radar pedals will bring many happy returns with other footwear, whether it be skate shoes or hiking boots.
2) A Kid-Friendly Quick Release
The smile on my daughter's face the first time she used this Wolf Tooth quick release was amazing. I realize some folks are going "WTF?!?" right as I advocate spending 37 USD | 47 CAD on a flippin' seat post binder for their kid, one that likely won't be compatible with the next size of bike, but I come at from a few perspectives.
1) Cheap quick releases SUCK. And anyone who has had one fail in the woods, usually from the little insert everything slides on disintegrating, is nodding their head right now. My kid is not tall enough for a dropper post yet, and even if she was that's a huge investment in itself, but a great quick release like a Chromag QR or this Wolf Tooth is going last forever.
2a) A high-quality quick-release is actually usable for little hands. My daughter can open it herself, raise or lower her seat, and close it herself. She can close the lever with enough tension that the seat stays straight when she's riding unless she has a big off-the-bike moment. I don't have to get off my bike to raise and lower the seat ever.
2b) Whether it's up higher for climbing, lower for descending, or an inch for fun my kid is way more likely to be at an optimum seat height now that she can do it herself.
3) Self-sufficiency. My six-year-old carries her own water and snacks, and extra gloves, and can raise and lower her own seat. That's better than a few adults I've ridden with. With this admittedly expensive little USA-Made QR came a lot less anxiety for me about taking multiple kidlets riding or putting mine in a summer camp and that's a value as well.
The Early Rider uses a 31.8mm post binder, and a 27.2 seat post, and I didn't have a spare in that size, nor did any friends I asked. While my love of Chromag QRs is well documented, for use on a kids' bike I think in the two-way battle of best boutique QR this Wolf Tooth is the winner.
My rationale is that kids seem to be able to snag themselves on any protrusion from their bicycles no matter how benign. I've seen kids' bikes (plural) with broken shifter levers that get caught in the wee rider's shorts during a crash, and with that in mind, the Chromag QR lever sits rather proud. It's never been an issue for me personally, but the way the Wolf Tooth tucks around, while still providing ample length for leverage, is the more grom-friendly layout.
3) Tubeless Tire Conversion
I have it on pretty good authority that Maxxis will be selling a 20" Minion DHF in February of next year. In other words, around the time my daughter will be getting into a 24"-wheeled bicycle. It's not that I think the DHF is the best tire around, but barring a sudden onslaught of awesome kid-sized mountain bicycle meats - Butchers, SE5s, Vigilantes, Hans Dampfs, etc - I'd spend for a folding-bead DHF tire upfront in a heartbeat. Heck, I'll take a pair.
For those of us debating which of the current grom-ripper-rubber options is the best for actual offroad use the best answer I've come up with is: whatever ones you can air up tubeless. I'm not too concerned about my 50-lb rider denting rims or snake-biting tires so I can cheat, cheat, cheat on air pressure once the tubes are tossed. It made an instant difference to climbing traction and descending brake control and it makes the rigid bike more comfortable as well based on my own experiences.
Airing up wire bead rubber tubeless is never a joy, even when we're talking about tubeless-ready rims. My secret is to build out a couple of layers of Gorilla tape to tighten up the interface between the tire bead and the rim wall. That may eliminate any weight savings compared to a tube once a little too much sealant is added but this is about traction, control, and no flats on the trail rather than weight savings.
I don't ride with a spare tube anymore, I just stay on top of the tire sealant to make sure there's fresh juice in there and carry a pack of tire bacons so I can plug any tears that may occur, just like how I roll with my own machine. I've been running tubeless myself for so long that I'd forgotten what it was like to ride with over-pressurized tubes until I reviewed the Growler 20 in December 2019. At my size, it's actually really nice to have some internal support from the tube (I get it from CushCore inserts myself) but at the same time, it was a nice reminder of the extra traction and suppleness gained from going tubeless.
The conversion is third on my list, and some distance down from great pedals and a high-quality quick release, but every parent of a little shredder would do well to give the conversion a thought, especially if you're doing it at home and we're just talking about materials. To save a couple of bucks, hit up your friend who just converted to CushCore for their old valve stems.
3.5) A Multi-Tool
This is an honourable mention, hence the half marks, as I'm very realistic about how little bolt turning my mini-mechanic is going to do in the forest. First off, the only mechanicals she commonly gets are shifted brake levers (from crashing) - which I leave loose enough to pull back into position without tools - and bent brake rotors which I straighten when we get home. Secondly, just based on hand strength, if something does really need to be tightened, I'm getting in there. In fact, the only bolt she has loosened or tightened herself on the trail is the one that adjusts the tension on the Wolf Tooth quick release mentioned above.
I'll also note that between my bike, frame bag, and pack, I'm practically carrying enough tools to open a mobile shop, so investing in a multi-tool for my grom, whether to put in her pack or on her bike - is on the surface - some unnecessary duplication.
For me, the multi-tool lands in the same loose category as a seatpost quick release that my kid can open and close herself. It's no different than pedaling herself up to trails we're going to ride: when she's ready for trails that are further away, she'll be able to ride to them. You could also include packing her own snack and spare gloves. Mountain biking is, or was, a self-supported activity that's forged in personal responsibility and that's part of what makes it great.
Obviously this needs to be tempered when applied to a child, but I have to admit that the couple of times my kid has lent an adult her multi-tool, and when she changes her own drenched gloves, and even when she pulls out her emergency rations, that's a big deal for me.
As much as mountain biking is an awesome and super fun activity on its own, there's a lot to be learned about resilience, personal improvement, attitude management, self-sufficiency, and even how to dress. And in that framework, I think of these upgrades as a relatively cheap investment.