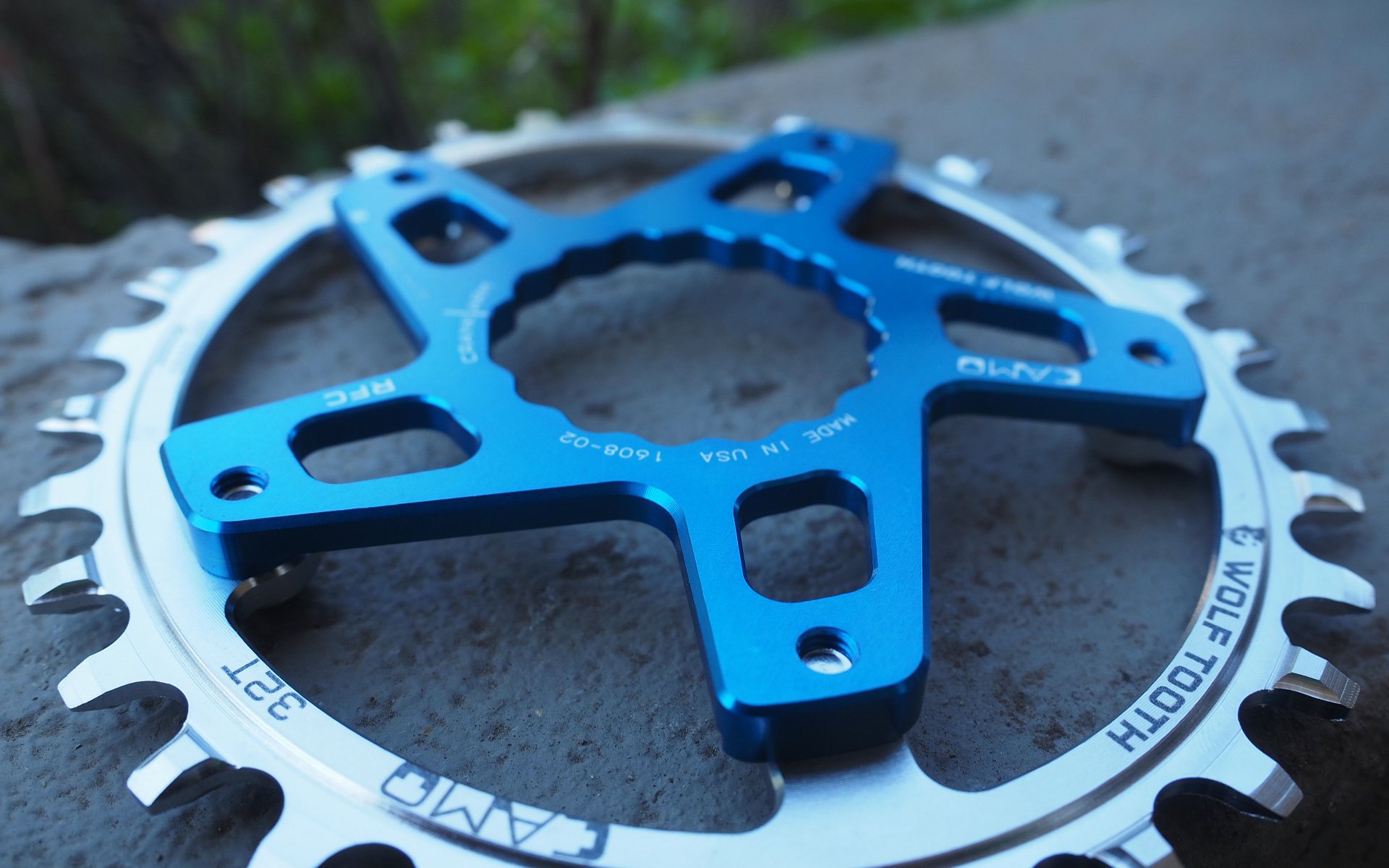 First Look
3 New Products For Spring
Three Things
A saddle for bad backs. A pair of shoes for wide or awkward feet. A chainring system for riders that eat chainrings - with an oval option. 

In all three cases it's too early to make any pronouncements about durability or to fully evaluate features. Conversely, all three products offer something unique so I want to bring them up now at a time of year when a lot of riders are updating their bikes and kit. 

SQLab 611 Saddle
SQLab is one of the biggest saddle names in Europe and possibly the biggest when it comes to ergonomic saddles. I know, the word 'ergonomic' usually makes me scroll through as well, especially when the company makes bars with crazy back sweeps, weird shaped grips, and bar ends. Please, hear me out.
There is nothing ridiculously weird, or 'ergo', about the SQLab 611 Ergowave Active - as long as you don't count the name. It's firm & supportive with a comfortable pedaling pocket much like the Chromag Moon and WTB Deva saddles that are my go to options. 
Like the Moon the entire 611 saddle lineup has a long nose to use as a perch when cranking up steep climbs. It's definitely a feature I like on full suspension bikes with slacker seat angles. 
I've already been asked once if the Ergowave is a "suspension saddle" from a keen observer who noticed the elastomer out back and the answer is most certainly no. The fore-aft support is on par with other performance saddles meant for a fairly aggressive climbing position.
The swap-able elastomers control the amount of flex the wings of the saddles have since the rails are supported off a central tower instead of the outsides of the shell making for quite a bit of potential flex.
Why does it matter? Because I know two people on these saddles who swear by the difference it made in lower back pain when riding - in both cases from previous injuries. $190 (USD) is a lot of money to spend on a saddle unless its a product that makes a difference in the length of rides you can do or is the difference between being able to do back-to-back days of riding.
I've tried the medium and soft elastomer options and settled on the soft. I like a saddle with firm support but the flex at the wings of the shell during long in the saddle efforts really does make a difference to comfort and fatigue on a long ride.
I only have a few hours on the saddle at this point. As mentioned, it's too early to talk about durability or to recommend it overall but I think anyone who finds that back pain decreases their ride time should check this out. If it works it's a small price to pay to get out on the trail more. 
Lake MX332 Shoes
Lake has been making cycling shoes since 1982 and they claim a few firsts. They were the first company to market with mountain bike shoes, the first to make winter shoes, the first to make heat moldable shoes and the first to use BOA adjusters which are now ubiquitous on high-performance road and mountain shoes. 
They are premium shoe company; their best selling model is the MX237 at $300 USD and in addition to quality a huge part of that is the variety of sizes they produce. In almost every model they offer from size 36 to size 50 in half sizes and both standard and wide models. Some come in three different widths and as the standard shoes are already wider than most companies.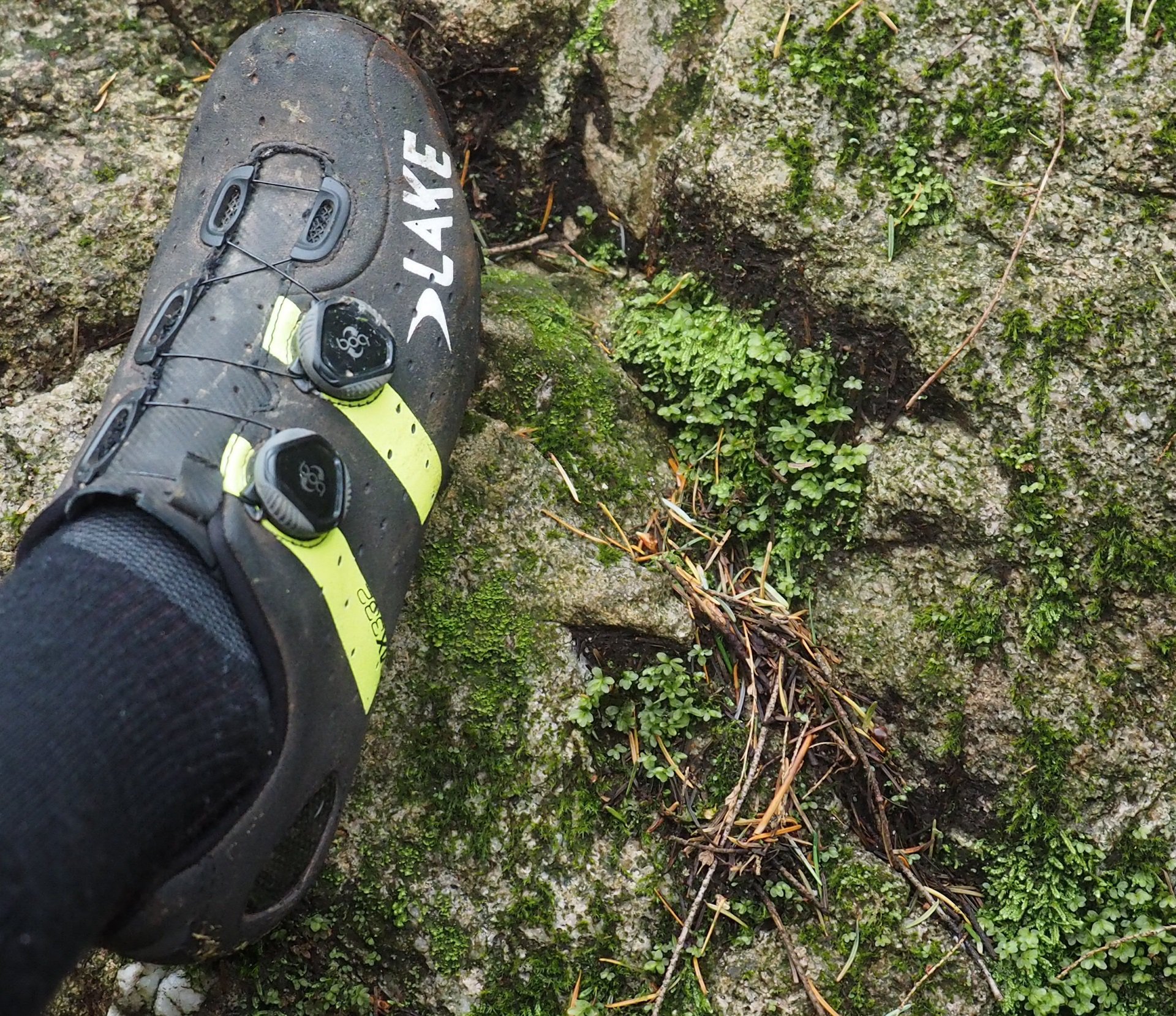 The Lake MX332 shoes I'm testing are a premium product; carbon soles, heat moldable heal cup, natural rubber sole and a real leather upper chosen for durability and breathability. Once I've beaten the hell out of them I'll be reviewing them for what they are.
The reason I mention the shoes is that my weird-wide-voluminous feet fit very few XC style shoes without lots of hot spots and discomfort. Especially as I need to run an insole with some arch support* which takes up more space. I know lots of riders who fit Trail' or Enduro shoes (like my current favourite Mavic Deemax Pro) but what about those looking for a racier option?
The Lake shoe line is built on 11 different lasts so where many brands have a certain fit (I.E. a rider may be a Specialized fit or a Giro fit or a Diadora fit) there is a lot of variation between different Lake models in terms of fitting higher or lower volume feet or those whose feet are simply weird. If you have a hard time finding clipless shoes that fit well try and track down some Lakes to try on. 
Wolftooth Camo System
SRAM, RaceFace, Specialized, Cannondale and E13 cranks are all supported by Wolftooth's spider and ring Camo system. What's unique about the system is that the unique 5-bolt ring actually sits on posts on the spiders meaning the bolts themselves are under no sheer loads.
The five alloy bolts are light and very quick to remove and install for fast chainring swaps as necessary. This a great feature for riders looking to get the most out of their 1x drivetrains by swapping rings to vary gear ratios for different terrain.
My real interest in Camo lies in the availability of both round and Oval stainless steel rings at approximately half the weight of a direct mount stainless chainring. I eat chainrings so provided the stainless Wolftooth rings survive as advertised they have the potential to be an excellent value/investment for my usage. 
The spiders are also relatively cheap so even though it's a proprietary system, moving my stainless steel investment from one crankset to another is a lot less painful that I would have expected.
I know it's a seemingly uncharacteristic choice for someone advocating GX drivetrains and SunRace cassettes but my hope is to enjoy a life way beyond the Renthal 1XR I was so impressed by without a significant weight increase and with my preferred oval option.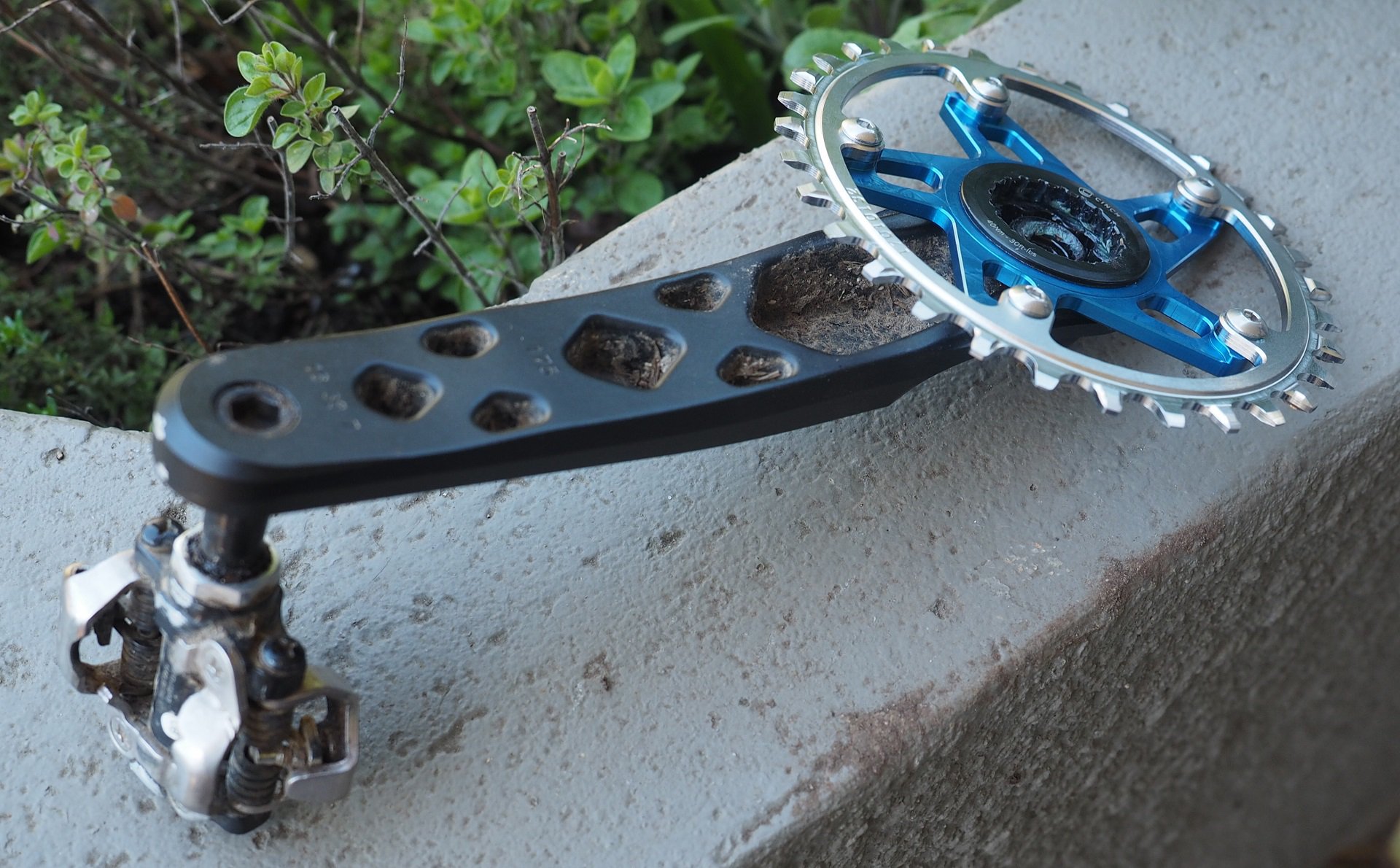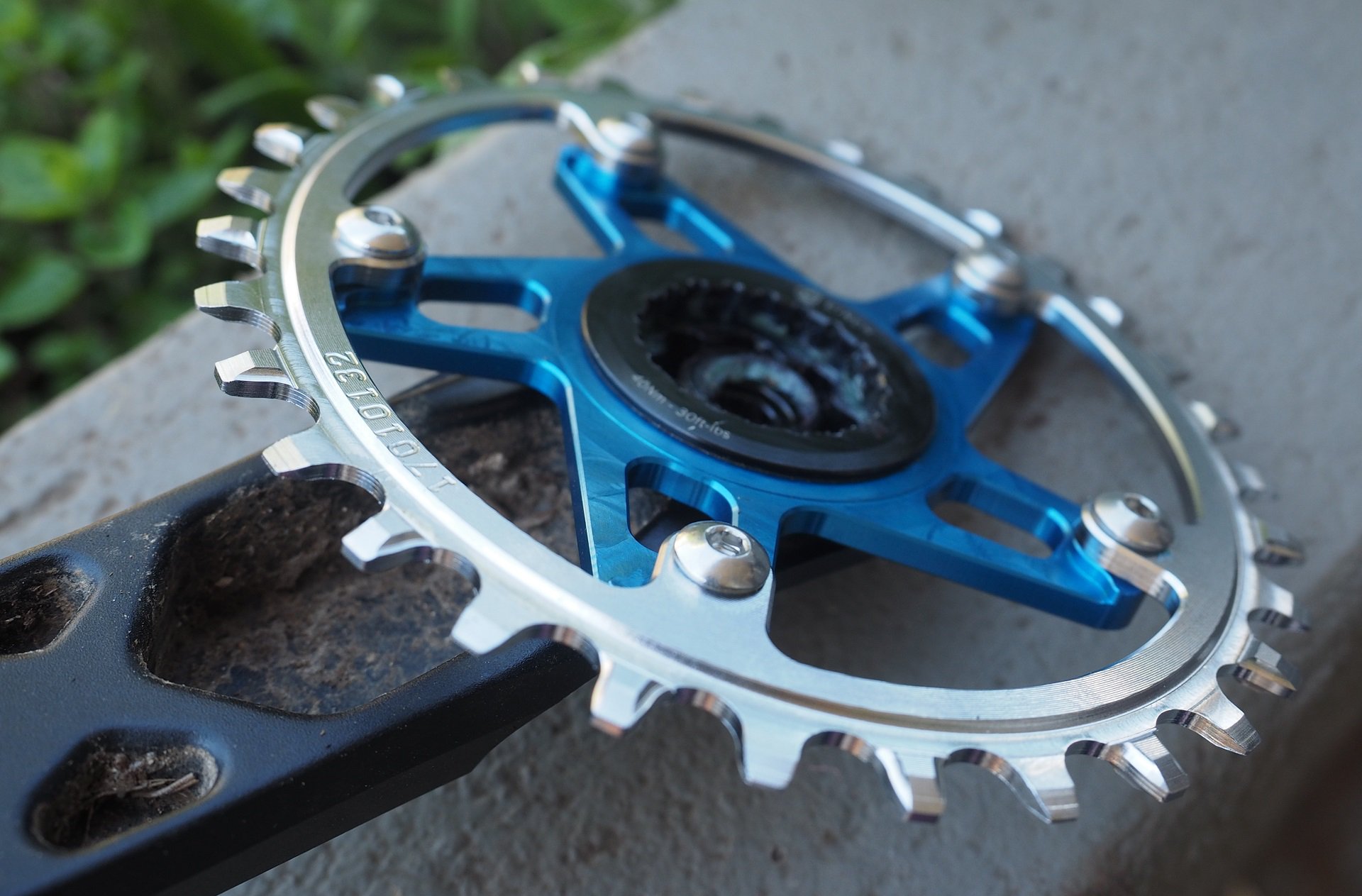 I'm months away from being able to truly report on the return on investment that a stainless Camo setup offers but I know a lot of riders frustrated by the limited lifespans of narrow wide rings - particularly the oval models on the market - so I want to put this option out there now. 
Future Reviews
I'll go deep bike nerd on all these products in the future once I can fully talk about performance and longevity but I wouldn't mention them if I wasn't satisfied thus far. I think these products have the potential to improve some riders' experiences now.
If you have any questions I'll answer them as best as I can now and follow up as I have more information and feedback.  
For more information:
*I run Specialized's Body Geometry +2 or SQLab's 215 insoles for the record.