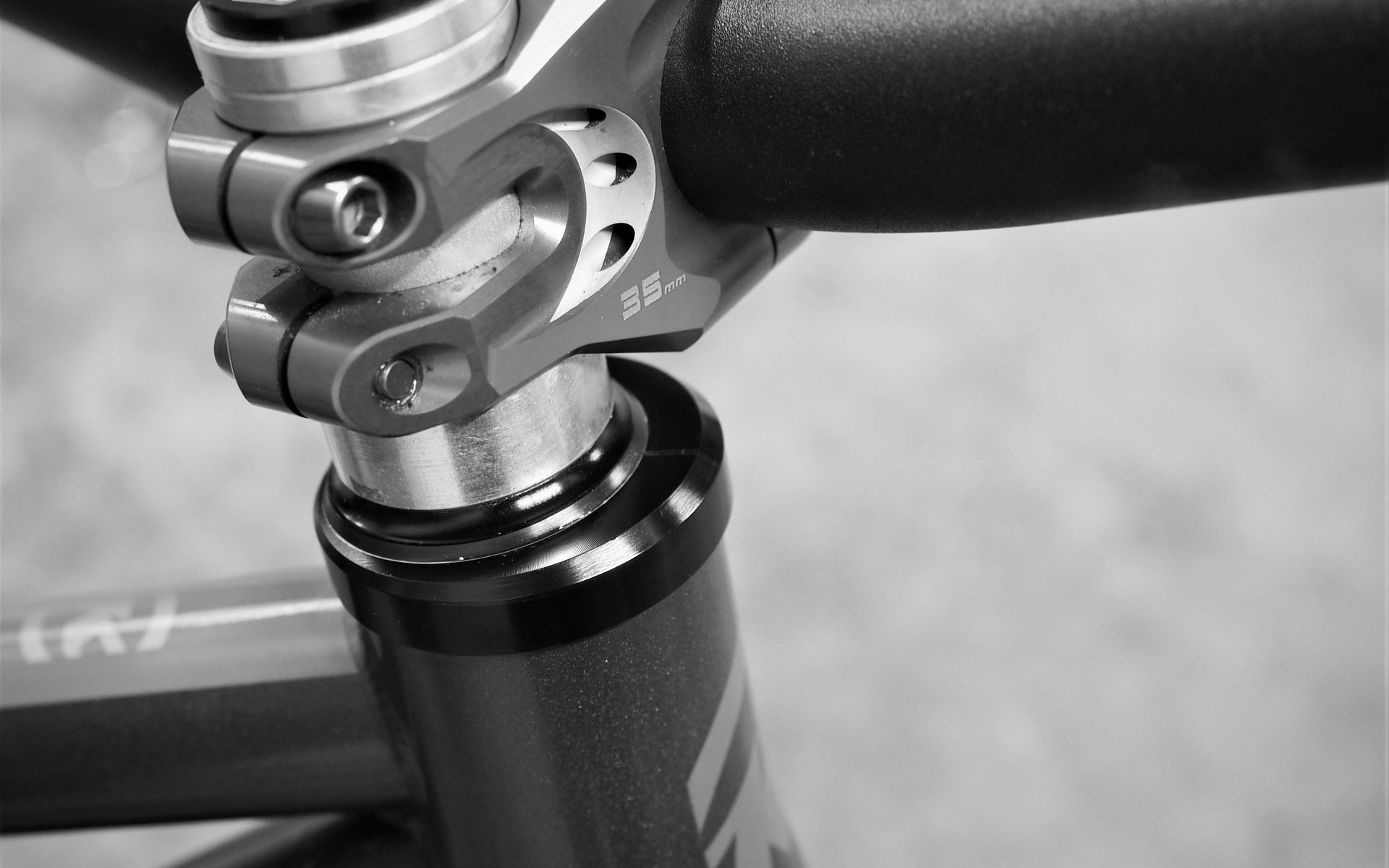 FIRST LOOK | TEARDOWN
3 Fresh Products For Fall
Fresh Finds For Fall
In the spirit of prior art* and an ongoing answer to the question What's Fair As A Bike Reviewer, here are three products that have recently arrived for a long-term test. Everything is installed and running great but it's early days and I like to beat the crap out of review product which can sometimes take a bit of time.
The Works Components Angleset is headtube-size-specific and it kicks the fork slacker by 2°. Bontrager's JFW boots split the difference between a regular cycling shoe and their epic winter boot the OMW. FSA's Afterburner crank may deliver the best performance-weight-price ratio of any crank on the market.
Works Components Angleset
The Works Angleset is a simple structure but installation is somewhat complex. The cups have to be aligned perfectly and it's important to get the right size to match my headtube length. If that's triggering your OCD there are a couple of brilliant trade-offs that make it worthwhile.

Once the cups are in, the Works headset is like any other and in the case of this ZS44/ZS56 model it slackens* the head angle of my bike by 2°.
*technically it can also be used to steepen a head tube angle by 2°.
The combination of a rear-offset upper cup and the slacker head tube angle (HTA) shortens my bike's Reach and top tube numbers but the slacker HTA compensates quite a bit. I'm between sizes and luckily I sized up when I purchased my new Honzo ST frame or the angleset may have made the effective cockpit too short.
Running the same bar as I had with a standard King InSet, I've gone 5mm longer on the stem and I could certainly go another 5mm. My SR Suntour Durolux Fork also has a 44mm offset to help stabilize high-speed steering with the dinky stem and my prefered 16° backswept bar.
My bike is significantly over-forked compared to a stock Honzo ST and the slacker head tube in addition to the much taller fork improves both climbing and descending.

The manufacturing quality looks good and for under 80 USD | 105 CAD for the complete headset the value is excellent for such a niche product. It's early days and I may yet lower my fork, but either way this headset does exactly what Works says it will and being from the UK, I assume the bearing and seal quality is high.
There is helpful fitment information at Works and I'll follow up with more insight once I ride the headset through our winter.
FSA Afterburner
The Full Speed Ahead Afterburner crankset weights 670grams for a set of 175mm crankarms, 32t chainring, spindle, and hardware. I'm not a weight weenie but I still think that's impressive between their initial performance and a very reasonable 130 USD wallet whomping including the chainring*.
Also on the impressive list, thanks to their forged shape they are as stiff as any alloy crank I've ridden thanks to the 7050 aluminum forgings. I've been spending a lot of hours lately riding a Race Face Atlas Cinch crank so I think that's a solid comparison.
*BB is additional.
The Afterburners also meet my one inalienable requirement for any mountain bike crankset; they're compatible with my treasured Wolf Tooth Camo System. Since reviewing Camo I've been running alloy spider and stainless steel narrow-wide oval rings on both my bikes and all that's needed to transfer one of the immortal sprockets to the Afterburner is an inexpensive spider.
Don't see it on the list? The FSA cranks use the same direct mount pattern, and installation tools, as Cannondale's HollowGram crank program. That means a plethora of sweet aftermarket ring options from Absolute Black, Wolf Tooth, and etc exist when it comes time to change out a ring in addition to OE replacements from FSA or Cannondale.
Full Speed Ahead has also put energy into future-proofing the Afterburner by adding a swappable spacer to their direct mount interface to accommodate different chain line options. They call the system Modular which lacks the poetry of the Flowtron dropper post but is on point.
The Afterburner looks to be a sweet setup for 130 USD. I'll be testing the cranks with both the stock round rings and my prefered stainless Oval option from Wolf Tooth.
Bontrager JFW
The Jack Frost Weather boot is intended as Bontrager's performance off-season shoe for milder climates. It's rated from 40F/4.4 to 25F/-3.9C and so far I've used the pair in temperatures as warm as 8°, albeit in the pissing rain, without complaint. Water cooled if you will.
Combined with the excellent Agent riding pants they are close to waterproof without being too hot. Even when a bit of water gets on wildly wet days, when combined with wool socks, they're doing a great job of keeping my tootsies warm.
With hundreds of hours of winter mountain biking and commuting ahead of them, this 200 USD boot has the potential to prove a great value if the upper proves durable, the sole maintains its stiffness, and the weather resistance proves sufficient.
As an aside that doesn't matter on the dirt, the passive reflectiveness of the boots is impressive when I'm riding to the trails.
I'll report back on the Bontrager JFW once I trash them thoroughly.