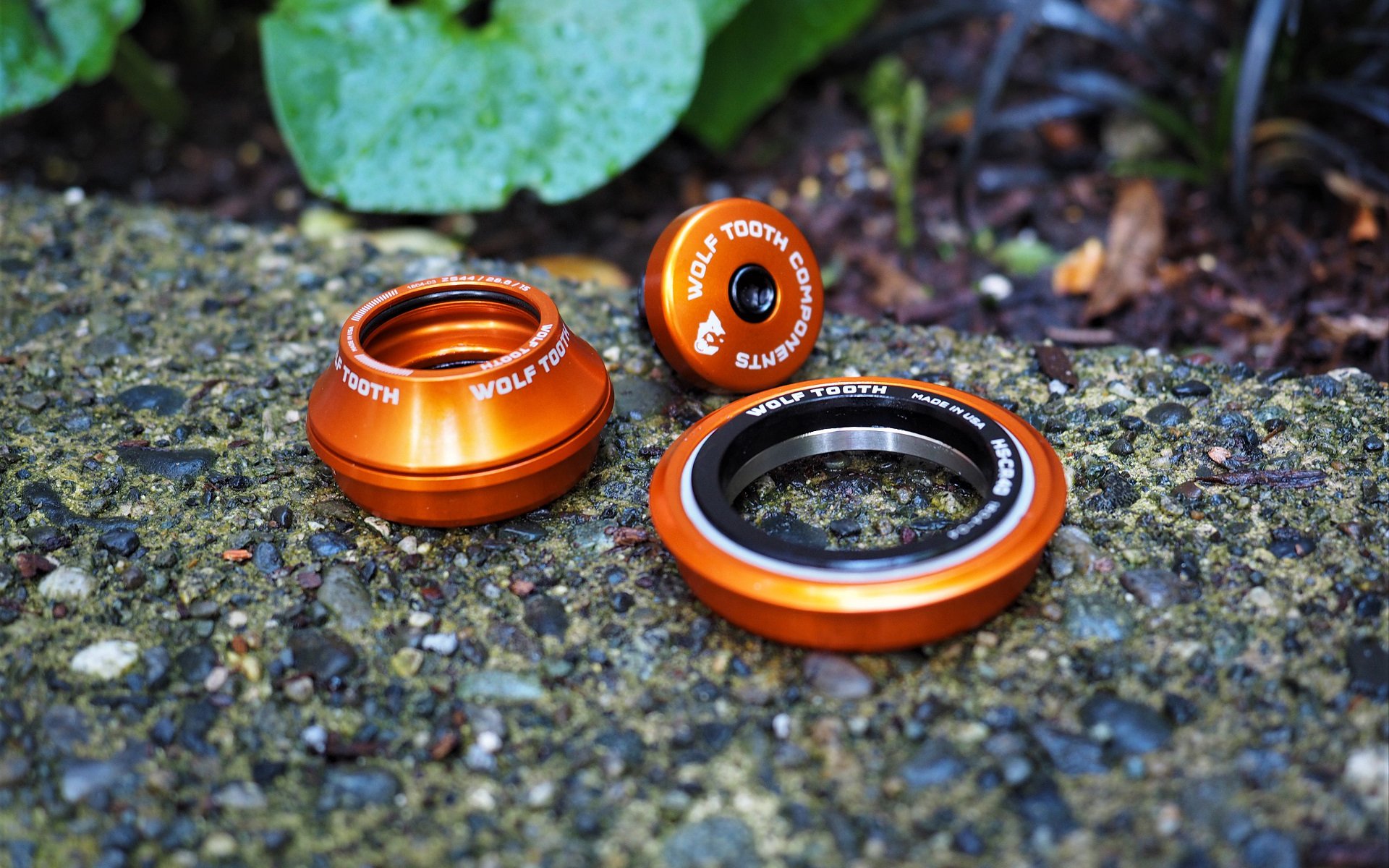 FIRST LOOK
3 Even Fresher Products For Spring 2018
As I've noted a couple times in the past #testwriterproblems are real. It often proves a challenge to balance a sufficient review period with my excitement to share products that are delivering awesome first impressions. In April I introduced Race Face Vault J-Bend hubs, the new SQLab 610 Ergolux saddle, and the Speciale pedal from Time. Please check them out here.
In round 2 I'm looking at the new Wolf Tooth Precision Headset program, the Crankbrothers Klic Floor Pump with their Burst Tank feature, and the Comp version of the Scott MTB Lace shoe.
Scott MTB Comp Lace
Laces are my preferred way to snug up a pair of cycling shoes, with a double BOA system being a close second. I love a diverse range of lace-up shoes from the Mavic Deemax to my original pair of Giro Empire's but by the features the more budget-friendly Comp model of Scott's MTB Lace lineup has become a new personal favourite.
First and foremost, the cleat pocket is oriented generously rearward of most 'XC shoes' to the point that I actually don't need to run the cleats rammed to the back to find my happy space. Great news for riders that prefer the cut, feel, and weight of a short track slipper but the pedaling ergonomics of an Enduro boot.
Also hitting on some E-word influence is the Scott Sticki race rubber sole. This is not Five Ten Stealth Rubber by any stretch but, thus far, finding walking traction on greasy half-collapsed old-school ladder bridges is surprisingly good. In general, I like the ratio of stiffness to walkability which reminds me of the Deemax. Scott calls these shoes an 'Index 6' on their stiffness scale. By comparison the RC version of this shoe with a carbon sole is an 'Index 9'.
There are a handful of other neat features I will get into once I have enough miles to properly discuss the shoes. One more thing I'd like to note now is sizing. These shoes are available in whole sizes only but they feel about a half size bigger than most shoes on the market.
My guess from years fitting shoes is that anyone who wears a half size in most brands will be okay to go down to the nearest whole size in the Scott Comp Lace. For example, if you prefer a 43.5 in most Shimano shoes then a 43 is likely a great fit.
These sell for about 120 USD. For more information check back after I've thrashed them or see Scott Sports here.
Crankbrothers Klic Floor Pump with Burst Tank
My solid experiences with the Highline dropper post and Mallet DH pedals, which are still both operating famously, opened my mind about trying other Crankbrothers' products, regardless of my past experiences. The company has a whole range of new floor pump models and this is by far the most interesting and the most expensive. It combines the Crankbrothers Klic floor pump, the removable Burst Tank, an easily replaceable digital gauge, and a five-year warranty for 225 USD.
The pump itself is rebuildable, ergonomic to use, and damn sexy to look at if you're into tools. The Burst Tank is awesome for entertaining your three-year-old and really helpful for airing up tubeless tires. Fill the tank, flip the switch, and start pumping.
Now, to be frank, I've had good long-term experiences with basic 30 USD floor pumps from Beto for home use. There are lots of good pumps on the market. Personally, I'm very intrigued by the 100 USD Crankbrothers Klic Analog, which is in my budget for a shop-quality pump.
I also have an apartment-quiet air compressor which negates the need for the Burst Tank to some extent. For a road trip or living situation where an air compressor, even a really really quiet one, isn't a feasible option my first impressions are very good. Compared to stand alone inflators, I love being able to jump right on the pump and assist the tank in banging on my tubeless tires.
So far I haven't aired up any really challenging tires so in addition to general wear and tear my full review will also include putting some Plus tires on fat rims and other tire jobs where I'd normally start by setting up my compressor. I'm also going to try and use it to install and remove grips.
More information pending the beating I'm going to put on this thing and also here on Crankbrothers site.
Wolf Tooth Precision Headset
I wrote the preamble for the NSMB post of Wolf Tooth's new headsets so for the technical details on their 'Headsets In Halves' I'm just going to post a link here. As I noted there are amazing options for high-end headsets on the market already from Chris King, Hope, White Industries, and I previously failed to mention Cane Creek's excellent 110 model. So, what sets Wolf Tooth apart?
The feature I find most interesting is the aluminum crown race. Wolf Tooth used aluminum for in this application for two reasons. For one, it allowed them to easily machine a groove to support the massive double lip seal that keeps grease in and grit out. It also will not corrode steer tubes.
There are two types of riders in the world; those that have never seen a badly corroded aluminum steerer tube flaking apart at the interface of the crown, steerer, and crown race, and those that have the occasional sleepless night pondering when they last inspected and re-greased their steerer tube (I know what I'm doing tomorrow).
What I'm saying is the Wolf Tooth unicorn-race should keep water out, grease in, prevent steerer tubes from corroding, stop delicious luncheon meat from going bad, prevent beer from getting warm, and give me a foot massage. The split ring is also aluminum so everything contacting the steerer tube is aluminum.
Downsides? As part of the test period, I'll be sure to install it on a few different forks to see how it keeps its shape. For those that use a punch, screwdriver, or Park steel DH tire lever* to install their stainless steel crown races I'd recommend following best practice for all crown race installations and use a proper tool.
*Incriminatingly suspicious?
The schtick here is to have the best-sealed headsets on the market in a range of colours, with stainless steel Enduro bearings Wolf Tooth also sells them in halves so I can mix-and-match tops and bottoms.
The pricing is very reasonable for the level of product Wolf Tooth purports this to be, and I have no reason to doubt this based on my experiences with their dropper ReMotes and stainless steel chainrings. Lower headset assemblies are 55 USD and upper headset assemblies are 65 USD.
I'll write a full review once I've installed the headset and have a good number of hard hours on it. I also plan to do small future updates as I think product success for a high-end headset needs to be measured in years.
To mix up your own headset cups, stack heights, and colors please click here.